In October, Nintendo (OTCPK:NTDOY) finally announced its upcoming next generation gaming console Switch, previously known as NX. While we don't have a lot of information about the console at the moment, Nintendo said that the full presentation of Switch will take place next month in Tokyo, Japan.

Many Seeking Alpha contributors already described the potential of Switch and its effect on the entertainment and gaming industry. However, the new console will also have an impact on the future of the current management team and will give Nintendo's shareholders a look on Tatsumi Kimishima's leadership skills and his ability to execute big plans. As I described in my last article about Nintendo, Tatsumi Kimishima was appointed as Nintendo's president last year, after the company's long-term executive Satoru Iwata passed away. Due to his banking experience and little involvement in the gaming industry in the past, rumors came out that Mr. Kimishima wouldn't be a leader that Nintendo needs and will eventually step out shortly after his appointment. Satoshi Tanaka, who is a respected analyst that covers Asian companies for advisory firm Daiwa Securities, said:
He will retire in one or two years. This might be a temporary position … Nintendo wants to push the company to mobile, he is not bad, but he is a very old type personality. His first job was at a bank, his way of thinking is still traditional. They need someone with a new way thinking.
However, in the last few months, Mr. Kimishima showed substantial progress in executing Nintendo's plans and it's unlikely that he will step down in the foreseeable future. First, he was the one to release the first mobile game under Nintendo brand (Pokémon Go), which became a hit among players worldwide. Then, the release of Super Mario Run showed investors that Nintendo has a lot of potential in the mobile market due to its popular franchises and the fact that its stock almost doubled after the release of the first mobile game. However, the real challenge for the company and its executive team will be the release of Nintendo Switch, which will occur in 2017.
A Road Ahead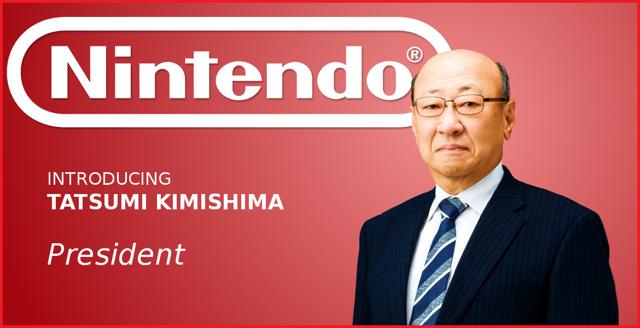 The success on mobile front helped Mr. Kimishima gain support from shareholders and improve Nintendo's position in the gaming industry. This was an important goal for the company, which after the unsuccessful release of its latest major console Wii U saw the decrease of sales and a plunge of its stock to the lowest levels in the company's history.
The latest earnings report for the first half of 2016 showed that Nintendo still lacks in terms of sales growth. Its net sales for the period were ¥ 136.8 billion, which is¥67.3 billion less than in the same period last year. Operating loss for the first six months of 2016 was ¥5.9 billion.
As we can see, the company continues to lose money and the recent mobile initiatives still lack enough power to contribute vast amounts of capital in order to substantially stop the losing streak. Hardware continues to be the top contributor for the company and this won't change anytime soon. However, Pokémon Go and Super Mario Run helped Nintendo to gain momentum and the executive team should use it in order to successfully launch its major hardware product Switch and show users why their console is superior in comparison with the competition. Unlike with Wii U, I don't think that there would be any problem in convincing customers to purchase Nintendo's upcoming console.
First of all, from the announcement video we can see that the console will be portable, but the gameplay will stay the same without loss of mechanics, no matter if you play in front of your big TV screen or on the small tablet screen that Switch provides.
Then, we saw a lot of interest from major publishers of the video gaming industry that see a lot of potential in developing content for the console. UbiSoft (OTCPK:UBSFY) and Take-Two Interactive (NASDAQ:TTWO) already announced their plans to create new IPs for Switch players.
In addition, we have a number of minor benefits, like the opportunity to play in co-op with your friends in the same room or play the games on your TV at home and continue the gaming process later outside of your home. With the increasing presence of mobile technology in our lives, these functions will undoubtedly gain traction and will help Switch to succeed in the industry.
Final Words
As we can see, Nintendo has momentum going for it and the leadership team should use it in order to successfully launch its major hardware product - Switch. Analysts at JPMorgan believe that the company will benefit from the low expectations that the upcoming console has and see nearly 25% upside in the company's stock.
In addition, despite his banking experience in the past, Mr. Kimishima showed all of us that he has a lot to offer to the gaming industry and to Nintendo itself. Back in 2012, he was skeptical about Wii U sales numbers that the former executive team targeted and was right about it. Now, as a President, he shouldn't repeat the same mistake that his predecessor made a few years ago, and should restore shareholder faith in the company by having a successful launch and realistic goals for the upcoming Switch.
Disclosure: I/we have no positions in any stocks mentioned, and no plans to initiate any positions within the next 72 hours.
I wrote this article myself, and it expresses my own opinions. I am not receiving compensation for it (other than from Seeking Alpha). I have no business relationship with any company whose stock is mentioned in this article.
Editor's Note: This article discusses one or more securities that do not trade on a major U.S. exchange. Please be aware of the risks associated with these stocks.