Nvidia (NASDAQ:NVDA) is one of the best growth stories available in the market. Many investors believe that Nvidia will power the next wave of computing and eventually surpass traditional chipmakers like Intel (NASDAQ:INTC) and AMD (NASDAQ:AMD). Goldman Sachs (NYSE:GS) also believes that Nvidia is a "unique growth story in semis," and expects that its revenue and profit will grow to record levels in the next three years.
The current year has seen a stunning rally in Nvidia's stock. How much of the company's growth is built in the price of its stock is the real question as we enter 2017. Another question is can Nvidia really exceed traditional chipmakers, particularly Intel in the coming years? If investors who are bullish on Nvidia can't answer these questions with a fair degree of certainty, the stock could end up in a disaster for them. What I want to mean is that it's not impossible for the stock to suddenly start reversing before their exit if the rally is driven by irrational exuberance, not fundamentals.
Is Nvidia Being Driven By Irrational Exuberance?
Is irrational exuberance driving Nvidia's stock? If yes, my advice would be: Caution: Bump Ahead. The following paragraphs of the article will delve deeper into the subject.
NVDA PS Ratio (Forward 1y) data by YCharts
As the above chart shows, Nvidia is trading with a one-year forward P/S ratio of almost 8x compared to Intel's 2.9x and AMD's 2.4x. In terms of one-year forward P/E ratio, Nvidia is trading at 36.95x compared to Intel's 13.27x and AMD's 292x. However, AMD is a turnaround story, and its P/E ratio is irrelevant at the current stage of its revenue growth curve.
For Nvidia, its revenue has grown more than 25% and diluted EPS has grown more than 100% in the past five quarters. In this light, its one-year forward P/S ratio of 8x and P/E ratio of 36.95x are telling me that the stock isn't overvalued if revenue continues to grow at this speed in the coming three years. Even if EPS falters during this period, I wouldn't worry because the management may use a certain portion of its profit to finance revenue growth.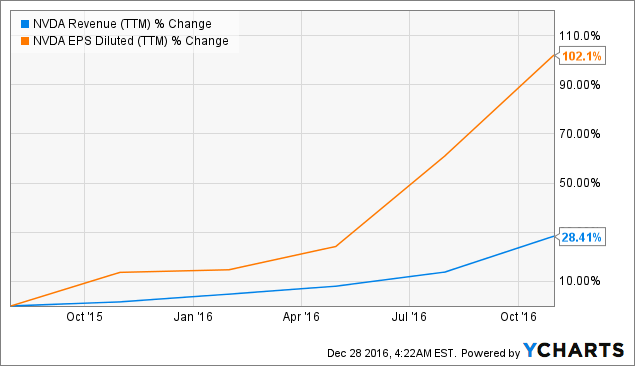 NVDA Revenue (TTM) data by YCharts
Now, let's come to the original point regarding irrational exuberance. It's well known that the HPC (high performance computing) space, and the AI (artificial intelligence) space, in particular, will fuel Nvidia's growth in the next three years. Per the estimates of Goldman Sachs, revenue from Nvidia's datacenter business will more or less double in fiscal 2018 and grow 53% in fiscal 2019. Revenue from the HPC market is the primary source of Nvidia's overall datacenter revenue.
Nvidia's strong presence in the HPC market is challenging even Intel's datacenter dominance. This particular market is thriving based on massive parallelism offered by Nvidia's GPUs instead of Intel's CPUs and FPGAs (field-programmable gate arrays). No other chipmaker in the world has the ability to make GPUs for this market that can match the performance of Nvidia's GPUs. It's noteworthy here that today's AMD is a new entrant in this market and poses no immediate threat to Nvidia's supremacy.
The ongoing rally in Nvidia's stock is backed by solid fundamentals. Among multicore CPUs, general purpose GPUs and FPGAs, an optimal combination of multicore CPUs and general purpose GPUs is capable of offering significant performance boost in the field of HPC, according to a project that evaluated 66 benchmarks. CUDA, Nvidia's software platform, has set the company on a strong foundation. However, when the Street will realize that CUDA's competitive edge can also be challenged, the rally will come to an end.
CUDA: Nvidia's Competitive Advantage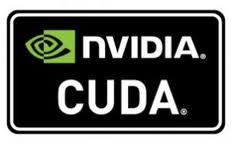 Nvidia invented CUDA (compute unified device architecture) software framework to accelerate computing on GPGPUs (general purpose computing on graphics processing units). CUDA is Nvidia's proprietary software framework, which competes against OpenCL (open computing language), which is open source. CUDA's support for parallel computing is far better than OpenCL at present, on which Intel and AMD rely. This is the central point of the bull thesis on Nvidia.
In addition, there are other reasons that make investors bullish on Nvidia. The reasons are outlined below:
Nvidia offers huge support to app developers for embracing CUDA-based hardware acceleration instead of OpenCL-based.
CUDA is Nvidia's proprietary platform which has been around for more than a decade, which keeps investors within their comfort zone.
Although OpenCL can improve and even surpass CUDA in the long run, that's not going to happen in the next three years.
Nvidia is making its latest GPUs OpenCL-supported as well for grabbing the market share of Intel and AMD and retaining its dominance in the GPU-accelerated computing space.
Nvidia's No. 1 Competitor Intel's Strategy Is Different
With Moore's Law losing relevance quickly, Intel is betting on its Xeon Phi and FPGA coprocessors to compete with Nvidia by offering customers performance boost. Intel's plan is to offer customers parallelism with the help of FPGAs by using them with CPUs like Xeon Phi in tandem.
The current rally in Nvidia's stock is driven by not only the company's strong fundamentals such as its ability to grow revenue, but also certain external factors. Nvidia bulls are expecting that its GPUs will drive the next wave of computing, and as a result, its top line will continue to rise exponentially, which in turn will boost its bottom line. The phrase "next wave of computing" implies computing related to AI (artificial intelligence), ML (machine learning) and DL (deep learning).
Since GPUs are driving the rally, AMD's stock is also surging despite the company being a new kid on the block. What's so special about GPUs? The answer is that GPUs can deliver massive parallelism, without which the so-called "next wave of computing" won't flourish.
I don't believe it's impossible for Intel to offer customers the kind of parallelism and performance boost Nvidia's GPUs can deliver. However, attracting customers to this technology which is still evolving won't be easy. But for us, the investors, there's enough evidence that Intel's technology can be successful in the long run.
How Intel Is Influencing Nvidia's Stock Price?
Is the Xeon Phi a GPU is disguise? It actually is since it's a byproduct of Intel's first advanced GPGPU Larrabee, which INTC abandoned in 2009. The most advanced Xeon Phi consists of 72 Atom CPUs and two AVX-512 vector units. Although today's GPUs depend heavily on stream processing, vector processing is what GPUs are primarily supposed to do in order to deliver parallelism. In the sense that modern GPUs are designed to be "mix and match" versions of stream processors and vector processors, we can certainly infer that the Xeon Phi is actually a GPU. The mix and match, though, is done by the chip manufacturer, not the customer.
Although technologists can conclude from evidence and reasoning that Xeon Phi is actually a GPU, investors won't believe it in the absence of explicit statements from Intel. As a result, Intel's stock will continue to languish in a range and smart money will flow towards Nvidia. The question now is, how much of Nvidia's growth is built into its stock price? Well, that's a tricky question. It's not about valuation any longer, it's about the Street's expectation that Nvidia can really surpass Intel and AMD, although that's a myth.
Since Intel is synonymous with an age-old branded product, which is CPU, it's difficult for the company to tell customers that it's also a maker of a rival product. Intel's strategy to grow its HPC market share involves delivering parallelism with the help of two CPU accelerators, also called coprocessors, which are Xeon Phi and FPGA. However, since it's a late entrant in the market, it will take time for the company to establish itself as a strong force in the HPC space.
Nvidia's CUDA is the secret sauce of its success. And CUDA's secret of success in part is that it is supported by MAGMA (matrix algebra on GPU and multicore architectures), which is a next-generation linear algebra library. MAGMA works by combining the power of multicore CPUs and GPUs. With MAGMA also supporting Xeon Phi and OpenCL, in addition to CUDA, CUDA's competitive advantage will gradually decrease. As a result, Nvidia won't be able to surpass Intel in the long run despite its current GPU expertise. Researchers are already considering Xeon Phi as an alternative for GPUs. According to a research article:
In fact, Xeon Phi is often considered to be an alternative to the hardware accelerators from AMD and NVDIA despite the fact that there exist many technical differences between the three.
Furthermore, the new AMD has also entered the HPC space with its FirePro series of GPUs and OpenCL support. Surpassing traditional chipmakers like Intel and AMD isn't possible for Nvidia by any stretch of imagination, as many investors believe. But that's not enough to halt Nvidia's current rally. Since it's impossible for Intel and AMD to damage Nvidia's revenue growth curve in the foreseeable future, the Street's expectation, as stated above, will remain alive.
Final Words
In conclusion, I'd say the rally in Nvidia's stock is partly driven by irrational exuberance, but a sudden reversal is a slim possibility. Nvidia's CUDA is still the dominant force in the HPC market, and I expect that it will continue to remain as such for a few more quarters.
Intel's Xeon Phi and AMD's FirePro will take at least four to six quarters to challenge Nvidia's supremacy in the HPC market. In the meantime, Nvidia's stock will continue to scale new highs because I expect the company's revenue to rise at a CAGR of 20% plus. Investors willing to buy the stock should patiently wait for a meaningful dip.
Disclosure: I/we have no positions in any stocks mentioned, and no plans to initiate any positions within the next 72 hours.
I wrote this article myself, and it expresses my own opinions. I am not receiving compensation for it (other than from Seeking Alpha). I have no business relationship with any company whose stock is mentioned in this article.
Additional disclosure: The analysis presented above aims to help investors balance the risk and reward associated with Nvidia's stock. It should not be construed as an investment advice.