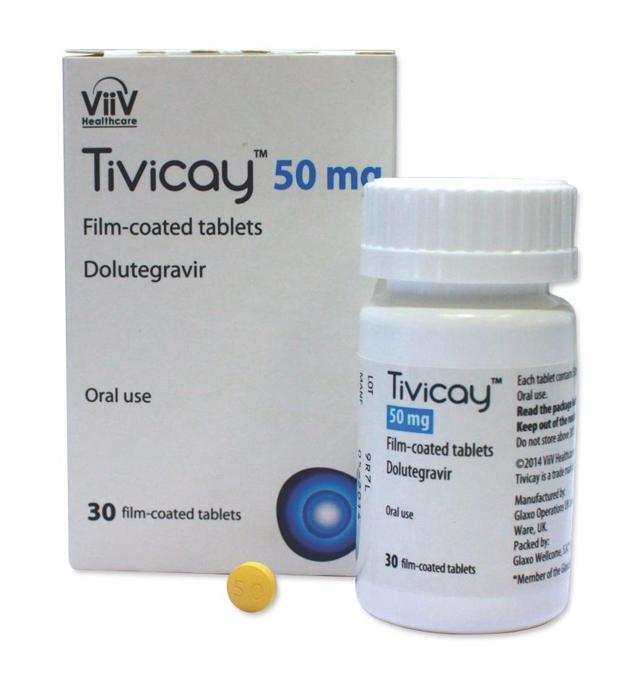 Source: Mims.com
Success breeds a lot of enemies and right now everybody hates Gilead (NASDAQ:GILD). I hate Gilead because my short play wasn't as profitable as I expected. Merck (MRK) is following through on a $2.54 billion HCV patent infringement award against the company. Now GlaxoSmithKline (GSK), (OTCPK:GLAXF), (OTC:GLXKY), (OTC:GLXQY) wants to bring heat to Gilead with its two-drug HIV regimen:
GlaxoSmithKline's HIV drug unit, ViiV Healthcare, has placed a risky development bet on two-drug regimens. But on Monday, the company announced some data that so far affirms its approach.

Two phase 3 studies showed that a combo of GSK's dolutegravir-already marketed solo as quick-launching Tivicay-and Johnson & Johnson (JNJ) compound rilpivirine measured up to three- or four-drug cocktails in the efficacy department, the company said. Glaxo will roll out more details at a medical meeting next year, and it's also planning to apply for regulatory approval in 2017.
GSK's two drug regimen could trump the three med combos provided by Gilead, and take share away in Gilead's main growth engine.
The Situation
Gilead's vaunted HCV franchise is in decline. Last quarter HCV represented about 43% of total revenue, down from 58% in the year earlier period. HCV revenue was also off 17% sequentially and 31% Y/Y due to declining starts and average sales prices. The company's HIV franchise -- including leading products like Truvada, Atripla, Genvoya and Stribild -- paid off handsomely; revenue from HIV and other antiviral medicines grew 12% sequentially.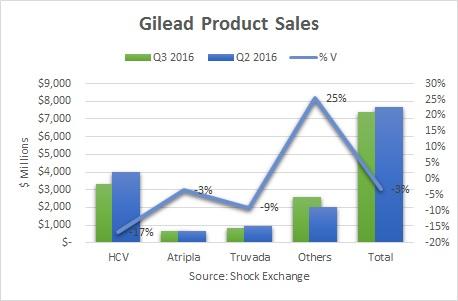 Now that HIV has emerged as Gilead's new growth engine GSK and J&J could pose a threat. The question remains, "Does the two drug regimen work?"
Does Two-Drug Regimen Protect Against Emergence Of Resistance?
In the past many have tried to produce a two-drug combo to fight HIV and potentially upstage three and four-drug combos already on the market. The hurdle as been the two-drug combos' inability to provide adequate emergence of resistance. In August Piper Jaffray threw cold water on GSK's two-drug combo for this reason:
Piper Jaffray said in a note Monday that other two-drug options "have come and gone without success, often because they do not offer adequate protection against emergence of resistance either in the clinical trial or the real world setting," according to Barron's.

"We strongly doubt the field will rush to a novel paradigm any time soon," the firm added. "The cost of HIV resistance are very high, whereas the advantage of a two-drug regimen over a 3-drug regimen is minimal."
Last week GSK's Viiv Healthcare put out a press release that at week 48, its two-drug combo met the primary end point of non-inferiority versus three or four-drug regimens (integrase inhibitor-, non-nucleoside reverse transcriptase inhibitor-, or boosted protease inhibitor-based).
GSK Could Attack Atripla On Efficacy ...
GSK could be a direct threat to Gilead's Atripla. Atripla is a popular 3-in-1 HIV-1 treatment. It generated Q3 product sales of $650 million in Q3, down 3% sequentially and down 21% from the $818 million it generated in Q3 2015. Atripla's sales have likely been cannibalized by Gilead's single-pill regimens, Genvoya and Stribild.
Genvoya's TAF-based regimen allows it to generate similar efficacy at much less the dosage than competitors. In the U.S., about 80% of people on antiretroviral therapy receive a Gilead regimen, and Genvoya is the most-prescribed drug for treatment-naïve and switch patients; 10% of switch patients are incremental to Gilead which implies Genvoya is taking sales from competitors.
If approved, GSK could potentially market its two-drug regimen in the same manner that Gilead has marketed Genvoya -- similar efficacy with fewer pills and at lower dosage levels. If approved, regimen could potentially speed up decline in sales of Atripla.
... And Punish Genvoya, Stribild On Cost
While Piper Jaffray previously assumed a two-drug combo would not protect against emergence of resistance, Jefferies is bearish for a different reason:
At least one analyst isn't worried about Gilead ceding its lead, though. Jefferies' Brian Abrahams sees "little incentive to switch" from a Gilead regimen to a potential GSK one-two punch. "We believe most patients on older regimens, … if they were going to switch, likely already switched to an integrase-based regimen like Gilead's Genvoya or Stribild, or to ViiV's Triumeq," he wrote in a Monday note to clients.
Abrahams might have a point. Stribild and Genvoya are already getting customers to switch from older HIV treatments. However, GSK might be able to compete on price. The annual costs for Genvoya and Stribild are about 31,362 and $28,500, respectively. They generated combined sales of $1.1 billion in Q3. The sell to payers could be that not only does the two-drug combo have less side effects, but it is cheaper and offers an alternative to Genvoya and Stribild. Having alternative suppliers could increase competition and further drive down costs. That would be beneficial to payers and patients.
Conclusion
GSK's two-drug combo poses a real threat to Atripla and potentially to Genvoya and Stribild. It it's approved then I expect it to turn up the heat on GILD. GILD remains a sell.
Editor's Note: This article discusses one or more securities that do not trade on a major U.S. exchange. Please be aware of the risks associated with these stocks.