Spectra Energy Partners (NYSE:SEP) is an American natural gas transportation company with major footing in the Texas Eastern Transmission pipeline, which spans from the Gulf of Mexico to New York. This pipeline transports over 10% of the total gas being consumed in the United States. SEP further owns and operates Algonquin Gas, Maritimes,Gulfstream Gas, Express-Platte Crude, Sand Hills NGL, Southern Hills NGL, and Northeast pipelines, which in total supply shale, natural gas and crude fuel through its intricate piping layout to a majority of the Eastern portion of the United States. They have connected all of their owned pipelines directly to their main pipeline Texas Eastern, allowing them to have full control of all the fuel flowing through their system. Furthermore SEP offers a conservative & low-volatility investment in the MLP Energy space. Through the roller coaster of a trip the energy sector has experienced over the last year, SEP has managed to merely have a price range of approximately 20% downturn from its YTD high of $50.43 down to $40.35, which it has since been steadily increasing at a healthy pace back up to $46.06 with significant upside potential. This upside is attributed to by stellar financials which will be analyzed below, ever expanding company projects and a pro-fuel friendly government & OPEC agreements having been agreed up to raise fuel prices. The cutback in global production which OPEC has agreed upon with allow for fuel prices to increase, especially shale which makes up a large sup of SEP's supply and bring greater profits to the company. These increased profits couples with a new political administration which is in favor of lowering corporate taxes, helping American corporations prosper & not pro-alternative energy sources, will allow for SEP to rapidly become more profitable and expand operations. The company does not face significant competition as the market for energy transportation is heavily regulated, and once a pipeline is established within a geographic market, it typically operates in a monopolistic or duopolistic environment for some time. Risks from increase in use of alternative energy sources is mitigated due to shifting regulatory regime away from renewable energy subsidies. The market risk is further lowered through a low market correlation with a beta of only 0.66 which further affirms to my point of SEP being a low-volatility MLP. SEP's general partner Spectra Energy Corp. (NYSE:SE) is set to merge with Enbridge (NYSE:ENB) over 2017 and the combined entity is positioned to be the dominant energy transportation giant in North America.
Company operations
Spectra Energy Partners manages holdings in two reportable segments - US Transmission and Liquids. The US Transmission segment provides interstate transmission and storage of natural gas, with substantially all operations being subject to the Federal Energy Regulatory Commission (FERC) as well as the Department of Transportation's (DOT) rules and regulation; it includes investments in Gulfstream, SESH, and Steckman Ridge. The Liquids segment includes Express-Platte pipeline system, which is a crude oil pipeline system connecting U.S. and Canadian producers to refineries in the US Rocky Mountain and Midwest regions, these operations are primarily subject to the rules and regulations of the FERC and the National Energy Board (NEB).
Over the last three years the company has decreased its exposure to the oil markets by decreasing a third of the assets in its Liquids business and scaling back Capital Expenditures by over 80% from 2013 to 2015. Despite this, the Liquids business has commanded a revenue CAGR of 21% and operating income CAGR of approximately 43%.
The US Transmission business has seen a steady asset turnover of approximately 12% over the past three years, which together with healthy operating margins puts the company at a top Return on Assets across its peers.
Spectra's ability to generate excellent return on assets coupled with their vast liquidity allows for them to operate and expand beyond many companies due to ease of access to capital. SEP has liquidity of over 1.7 billion dollars and a credit rating of BBB by S&P and Fitch, as well as Baa2 by Moody's. This liquidity coupled with high grade credit rating gives SEP access to the capital needed to fund operations and future company growth which should assure investors that future projects will not run into financial pitfalls that will stop them from progressing for monetary reasons.
In aggregate Spectra Energy Partners operates 15,000 miles of natural gas and crude oil pipelines. This equates to 170bn cubic feet of natural gas storage and 4.8 barrels of crude barrel storage in the SEP network. The merger with Enbridge will increase 1,900 miles of pipelines in the US, and additional 1,433 in Canada, further increasing the company's footprint. Enbridge has continually operated with Asset Turnover ratio of 40%, demonstrating ability to effectively monetize assets; this will be certainly be accretive to the combined entity. Further, Enbridge has historically maintained a higher ratio than Spectra Energy Partners LP, while showing discipline with a modest interest coverage ratio. The combined capitalization is likely to improve financial efficiency at the combined company and contribute to a stronger total return for shareholders.
The market environment and company scale is best demonstrated by following notes from the company regarding the merger with Enbridge:
96 percent of pro-forma free cash flow is underpinned by long-term commercial agreements (cost-of-service, take-or-pay, of fixed fee);
93 percent of customers are strong, investment grade or equivalent counterparties;
less than 5 percent of combined pro-forma cash flow will have direct exposure to commodity price risk.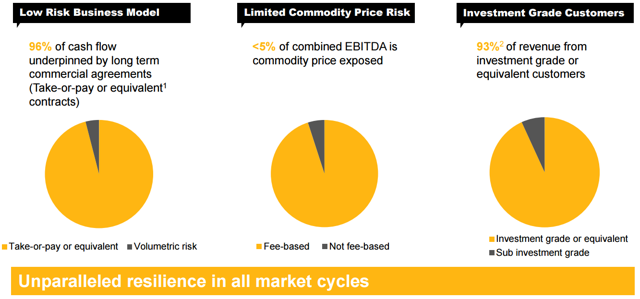 Technical Analysis
Many MLPs have experienced volatility and market headwinds, often due to short term oil price fluctuations. In the table below, Spectra Energy Partners is spread against competitors of similar market capitalization.

As seen, the dividend yield is slightly below the average, however forward yield is approximated at 6%. Additionally, the increase in Distributable Cash Flows due to the merger anticipate 8% to 15% dividend growth, and 10-12% yearly through 2024. Unlike industry peers, however, Spectra Energy Partners LP is not as high in its 52 week price range and still offers upside potential. The stock exhibits a fairly low beta of 0.66 to the overall market and approximate correlation of 0.30 to major MLP Exchange Traded Funds (ETFs).
Fundamentals
Compared to the industry, nearly all of SEP's fundamental indicators are at the top of the pack. The company boasts a conservative Price-to-Earnings ratio of 15 and a Price-to-Book ratio of 1.2. Together with a Debt-to-Equity ratio of 0.5, this limits the downside risk in event of a market downturn. The principal protection aspect with a growing dividend makes Spectra Energy Partners LP a model MLP. The low levels of leverage has prohibited SEP from taking full advantage of the low rate environment, however, with the merger with Enbridge, the combined entity should have a significantly a more efficient capital structure.
Spectra Energy Partners LP has consistently maintained operating margins of approximately 50%, far in excess of the 8% market average. While Enbridge operates at more modest margins (11.8% TTM and average of 7% for past three years), the company has been able to overcome market headwinds in 2015 and achieve 14% TTM Return on Equity. The combined entity aims to leverage combined scalability, as well as commercial and operational synergies to achieve impressive dividend growth while maintaining a stable payout ratio.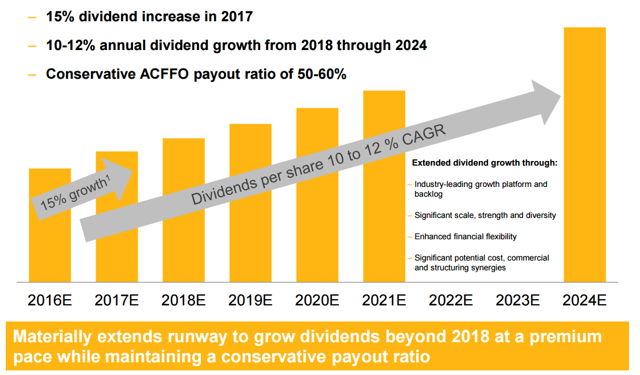 Institutional & fund investments
As the famous saying goes, "the numbers don't lie." This phrase can be used to depict the current investment space into SEP. Over the last three weeks firm and institutional investment has increased significantly. Miller Howard Investments Inc. has taken a 189,580 stake in SEP. Morningstar Investment Services LLC, has upped its position in Spectra Energy Partners LLC by nearly 10% in the final weeks of November and December 2016 to a total of 352,375 shares. J.P. Morgan has purchased an additional 527,744 shares to up their position in SEP to 1,165,088 which is an 82.8% increase. Payden & Rygel has a total of 203.600 shares, up 44,600 from last S.E.C filing. Hamlin Capital LLC, has further increased their position over 20% in recent weeks to over 1,075,775 shares. Lastly in recent weeks Global X Management has 243,742 shares after a 25% increase. These increased positions adds value to my analysis and belief that SEP is an excellent long play with upside potential. Furthermore SEP does not have more than 3.55% of total shares outstanding owned by a single Fund or Institution which gives investors a piece of mind that it is not a Hedge Fund Hotel. Even if one owning firm sells out its entire position it will not be enough to detrimentally impact the firm and no single firm has an abundance of voting power to make it work in their favor.
The outstanding shares of SEP further increase investor confidence because of the 64.96 Million floating shares , only 1.57 million or 2.42% are short. These values show that the investor sentiment is positive and SEP has an excellent positive outlook as a long position.
Enbridge merger & new pipeline expansions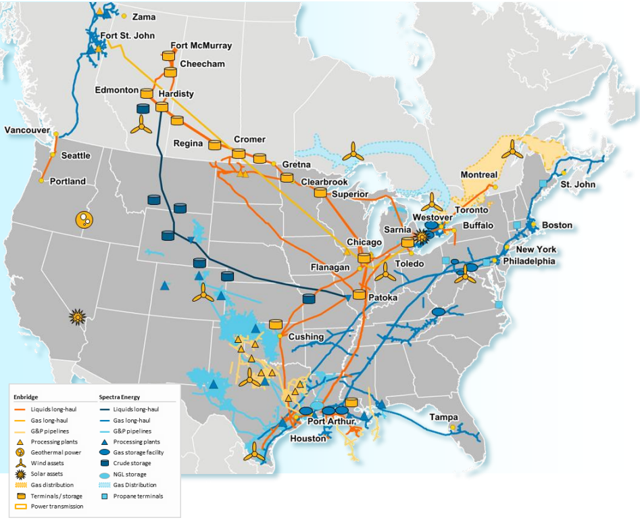 On December the 15th, 2016 Spectra Energy announced that they will be merging with Enbridge during a special stockholder meeting that was called on behalf of that matter. The feedback from the event that it was nearly a unanimous approval for the project and that it has been a strong catalyst for greater staked being taken by major firms & institutions in the brand over the last few weeks. The merger is going to be Stock for Stock from Enbridge to Spectra Energy . The merger upon completion is going the be the largest energy infrastructure corporation in North America. Enbridge's assets will greatly benefit Spectra because of their excellent footing in the natural gas transport and Western Canadian pipelines which expand on the already excellent infrastructure portfolio help by SEP. They will now have footing in the only rich gas export pipeline called the Alliance pipeline in the Basin of Western Canada which transports fuel from Canada to the Midwest United States. Like Spectra , Enbridge believes is strong long term take or pay contracts for all of their business ventures which secures them from commodity price risk which is one of the largest issues typically plaguing the energy sector. This also allows Spectra Energy to better regulate their income streams to properly fund their projects and not risk over leveraging through decreases in long term income from commodity price risk causing an excess in the cost of capital. Enbridge's natural gas footing is Canada's largest gas distributor and has a customer base that spans from Ontario to New York State. This entity has performed excellent consistently year after year exceeding a 10% ROE on average. The underpinnings of excellent financial streams and strategic infrastructure of Enbridge will make Spectra a more lucrative investment than previous years and will offer investors vast upside potential through a low-volatility investment.
Spectra has furthermore just announced that their New England pipeline is nearing its completion which will increase the transport capacity to the region significantly for the first time since 2010. This will allow SEP to further expand their footing in the region, expand operations and increase profitability.
Potential risks
The risk involved with SEP is the inherent with all MLP investments. This risk included access to liquidity for company growth and future projects. The risk of the underlying commodity substantially decreasing in price below the price flooring that is necessary to cover the cost of operating. This risk is mitigated by SEP's contractual agreements used in all business ventures of theirs that lowers the commodity price risk. Further the ecological risk is the region supplying the fuels and gas depleting, experiences detrimental weather delaying production & transport or supply line malfunctions due to natural disasters. A political risk is taken by conducting business in states that may not be fossil fuel industry friendly that try to stop expansion of operations through legal bills and actions or future expansion plans having to be cancelled due to a change in legalities surrounding the operation.
Yet all risk is significantly decreased through the transparency offered by SEP to its investors with healthy financials and excellent investor support & relations being offered. Also the possibility of MLP'S tax favorability being changed to an unfavorable treatment is highly unlikely with the new political party that can come into power in the United States. This change in political landscape is in the favor of SEP and will benefit them continuously thought increased income from decreased taxes & regulation over the years to come.
Disclosure: I/we have no positions in any stocks mentioned, and no plans to initiate any positions within the next 72 hours.
I wrote this article myself, and it expresses my own opinions. I am not receiving compensation for it (other than from Seeking Alpha). I have no business relationship with any company whose stock is mentioned in this article.