A recent article by SA contributor Michael Markowski posits a race among the largest tech companies (by market cap) to be the first to reach a market cap of $1 trillion. In so doing, Markowski challenges the popular "law of large numbers" notion that very large companies become incapable of substantial growth. This concept has been invoked time and again in order to show that companies such as Apple (NASDAQ:AAPL) are incapable of substantial growth. Why then does Markowski preemptively dismiss Apple from this race?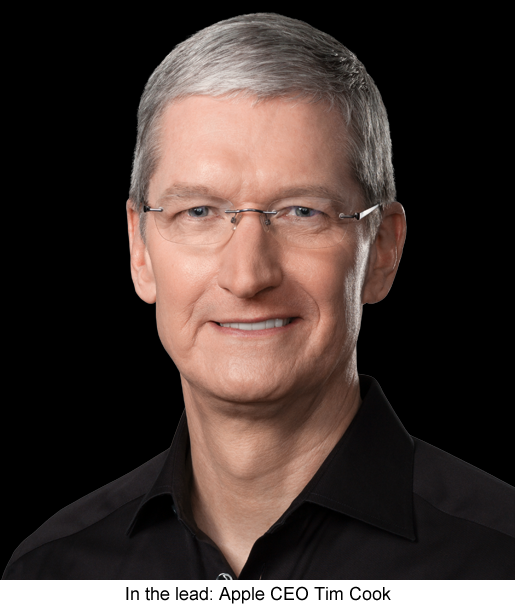 Source: Apple
In the Race
I was very gratified to see Markowski's article on SA since it flies in the face of conventional wisdom that "large companies can't grow". For some time, I've been trying to argue that Apple's size was not in itself an inhibitor of growth. And this can be said for any of the top five companies by market cap as of 2016 Q3:
| | | |
| --- | --- | --- |
| Company | 2016 Q3 Market Cap | Free Cash Flow Yield |
| Apple | $612.6 B | 8.49% |
| | $541.7 B | 4.16% |
| Microsoft (NASDAQ:MSFT) | $448.2 B | 5.60% |
| Amazon (NASDAQ:AMZN) | $401.6 B | 2.70% |
| Facebook (NASDAQ:FB) | $368.7 B | 2.47% |
The source for the Q3 market caps is Wikipedia. The source for the free cash flow yield is Markowski's article, except for Apple, which I calculated from Apple's fiscal 2016 results, the fiscal year having ended in September. I calculated the Apple FCFY as follows:
Free Cash Flow Yield = (Free Cash Flow for fiscal 2016)/(Current Market Cap)
= $53.09 B/$625.27 B = .0849 or 8.49%
where my source for the fiscal 2016 FCF was marketwatch.com. I used the market cap given by marketwatch also, as of 12/28/2016, when the share price was $117.17/share.
In effect, Markowski is arguing that not only are companies with around $500 B market cap capable of substantial growth, but that they are capable of actually doubling in value. It's a refreshingly iconoclastic view, and one I wholeheartedly embrace.
Markowski qualifies this bullish view of big tech growth with the proviso that the companies must be "digital" companies, which he feels rules Apple out. I'm not exactly sure what he means by "digital" in this context, except that he appears to be referring mainly to companies heavily invested in cloud services. Markowski offers this description of digital companies:
Digital companies have highly scalable models that address more than a billion individuals. More importantly, digital companies have the highest profit margins and have superb cash flow compared to non-digital companies.
This is a disagreement that I often have with those who assert that "Apple is just a hardware company". On its face, this is a difficult assertion to disprove. Apple's Services category only generated $24.35 billion in fiscal 2016, a mere 11% of Apple's total revenue.
What this ignores is that most of Apple's important cloud services are included at no extra charge with its hardware. A consumer buying a new Mac or iPhone automatically gets free access to cloud-based OS updates for the useful life of the device, iCloud file storage, FaceTime video calling, iMessage, iTunes, etc. Apple doesn't provide a breakdown of the cost of providing these services in terms of infrastructure and software development, but it must be substantial. Every year, Apple releases new versions of iOS and macOS, and never charges its customers a penny.
My point here is that Apple is a major provider of cloud services, but at a retail consumer level where the cost of the services is folded into the hardware purchase price. We can only guess at the value of these services, but I'm sure it's considerably greater than the Services line item.
And Apple's cloud services certainly are scalable to at least a billion users. In January, Apple announced that it had an installed base of 1 billion devices of all types (iOS, macOS, tvOS, watchOS). This probably means that Apple didn't have a billion active users, since many users have multiple devices, but it indicates that there is nothing standing in the way of Apple acquiring 1 billion active users. It may already have.
So, by the metrics that Markowski proposes, free cash flow yield, cloud services, and user scalability, Apple deserves to be accounted in the race.
Handicapping the Contestants
The more difficult question is who will win the race. Here, I want to avoid an us vs. them mentality that one finds so often among fans of Apple and Microsoft. They're both fine companies as far as I'm concerned. I use products from both companies. I use Windows and macOS.
I tend to favor Apple as an investment because of its commanding lead in mobile devices compared to Microsoft, as well as the enormous profitability Apple has built into its iOS ecosystem. I've been favorably impressed with Microsoft's leadership, and the recent decision to partner with Qualcomm on a new generation of Windows mobile devices is a bold, innovative move. I'm currently reviewing Microsoft for inclusion in my portfolio diversification this year but haven't reached a final decision.
I'm inclined to think that the winner of the race will be the one with the most profitable mobile device ecosystem. Mobile devices are driving the cloud services explosion, as well as interest in machine intelligence for various "assistive" applications that mainly run on mobile devices.
Apple has the clear lead in mobile device profitability, but clearly, Google has the lead in a sheer number of mobile devices with Android's roughly 1.8 billion. Microsoft has a roughly comparable number of PCs, about 1.5 billion, but many of these run legacy Windows operating systems such as Windows 7 that don't have access to Microsoft's cloud services such as Cortana, the Windows store, etc. According to netmarketshare.com, 47% of desktop operating systems are Windows 7.
In order for Microsoft to win the race, it will need to convert its legacy Windows users to modern Windows 10 platforms, and that will take some time. While Microsoft is doing this, its main mobile competitors are running flat out.
And what of the thesis that LinkedIn will drive a revolution in crowd funding investment activity? It's an interesting thesis, but I note that it was not given as a rationale for the acquisition in Microsoft's official blog. LinkedIn doesn't appear to offer much advantage in a crowd funding business model. I'm skeptical that even if LinkedIn were used for this end, that it would constitute a source of significant revenue growth.
Investor Takeaway
I wouldn't want to hazard a guess as to who will win the race. We investors have a unique opportunity to place our bets and change or hedge our bets while the race is underway. The race is underway and Apple is in the lead, so that's what I'm betting on. Apple is in the lead, not merely in market cap, but according to the free cash flow yield metric in which Apple blows the doors off its competition.
I've often criticized Apple, but I keep coming back to support it as an investment because Apple is enormously successful. Most importantly, Apple still has plenty of room to grow. I remain cautiously optimistic that Apple will resume growth in fiscal 2017, thereby unlocking some value for investors. I remain long Apple and recommend it for investors with a 3-5 year investment horizon.
Disclosure: I am/we are long AAPL.
I wrote this article myself, and it expresses my own opinions. I am not receiving compensation for it (other than from Seeking Alpha). I have no business relationship with any company whose stock is mentioned in this article.