The energy sector took a hit since mid-2014 when OPEC decided not to cut production amidst a growing supply of oil in the marketplace. The supply glut drove the price of oil from $100 per barrel to below $40 per barrel over a two-year period. Most energy related stocks fell significantly as a result. The following factors are likely to drive the energy sector to outperform in 2017: OPEC's decision to cut production, an improving economy and the potential for reduced regulations.
Many investors are skeptical that OPEC will cut production. This stems from the idea that OPEC cried wolf in the past by talking about cutting production but not following through with it. However, I think that OPEC will stick to its commitment to cut production. Many OPEC countries have been hurt from the lower profits as a result of lower oil prices. So, I think they really want to do something different to achieve a supply/demand balance to keep the price of oil at attractive levels to improve profits. This time, OPEC and non-OPEC countries actually agreed to make production cuts, which were announced at the November 2016 meeting.
I explored the specifics of the OPEC production cuts in a previous article. While I won't reiterate the details, I will summarize by saying that the cuts are likely to bring the supply and demand closer to a balance. I projected that global demand will actually be slightly higher than global production in 2017. The supply/demand balance will help keep the price of oil at sustainable levels for exploration and production. This will be a key factor that will contribute to higher profits for most energy related companies.
The other factor is that the economy is improving. This will help drive demand higher for oil and natural gas consumption and for oil based plastics and other products. The improving economy is reflected in forecasted U.S. GDP growth of 2.1% in 2017. This is higher than the 1.9% growth that the U.S. economy achieved in the first three quarters of 2016. GDP is expected to continue to grow to 2.5% in 2018 and 3% in 2019. Higher GDP growth means that there will be more fuel consumption for commercial/industrial buildings, more vehicles on the road, and more petroleum-based products being consumed.
Another key factor that will help improve the performance of energy related companies is the potential for less costly regulation. The combination of a Republican president and Republican controlled House of Representatives and Senate increases the chance of energy regulations becoming more business-friendly for the energy sector.
All of these factors are likely to lead the energy sector to achieve double-digit revenue growth of about 28% in 2017. This is the only sector expected to experience double-digit growth in 2017. The next highest growth sector projected for 2017 is Information Technology, which is expected to grow about 7%. Earnings for the energy sector are expected to grow at an even higher triple-digit rate in 2017. This strong top line and bottom line growth is likely to lead energy-related stocks to outperform the S&P 500 and the other sectors.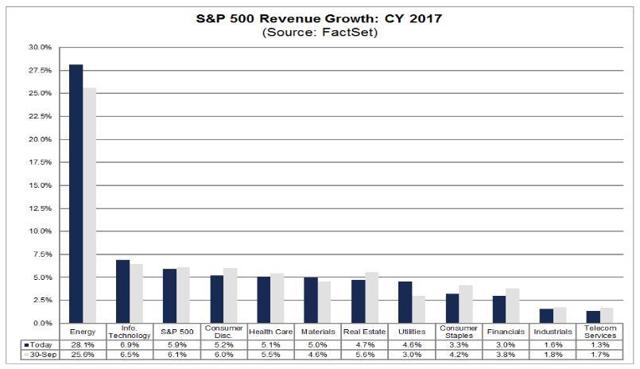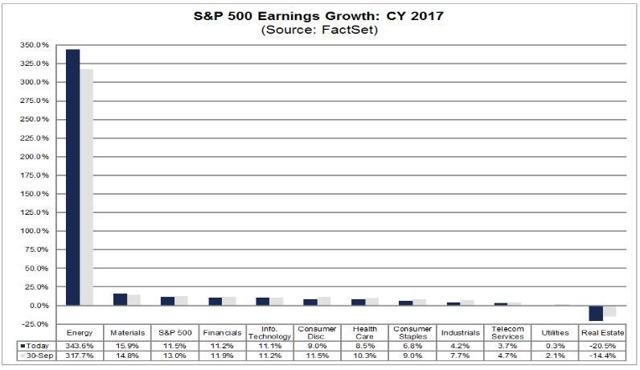 Image source for both charts: FactSet Research Systems
How to Invest
The least risky way to play the expected growth in the energy sector would be through an energy-related ETF. Consider the low-fee Vanguard Energy ETF (NYSEARCA:VDE). VDE is a collection of 133 energy-related stocks, with a primary focus on oil and gas companies. By using the ETF, you will reduce risk by spreading your investment over many energy related companies, rather than an individual stock. However, the lower risk means you might give up the higher gains associated with an individual company.
If you want to take on more risk with the expectation of reaping a higher reward, consider owning some individual energy stocks. The oil majors: Exxon Mobil (NYSE:XOM), Chevron (NYSE:CVX), CONOCOPHILIPS (NYSE:COP), BP plc (NYSE:BP) and Royal Dutch Shell plc (NYSE:RDS.A) (NYSE:RDS.B) are all solid picks. They all have low forward EV/EBITDA ratios below 10, which is a bargain. Given the low valuations and turnaround in earnings growth, they are all likely to outperform in 2017.
You can also consider a large pipeline company such as Energy Transfer Partners (NYSE:ETP) to stay on the lower-risk side (but higher risk as compared to an ETF). This MLP yields 12% and is trading with a forward EV/EBITDA of 7.7, while competitor Plains All American Pipeline (NYSE:PAA) is trading much higher with a forward EV/EBITDA of 13.8. ETP is expected to grow revenue at about 18% in 2017, while earnings will grow by a higher percentage.
Smaller companies can be considered for those who like to take on more risk with the hopes of achieving a higher reward. Chesapeake Energy (NYSE:CHK) is in a turnaround phase and projected to grow revenue at 11% in 2017 while earnings are expected to turn positive. Chesapeake's stock is highly sensitive to the price of natural gas and that is one of the main reasons why it is risky. The current outlook for the price of natural gas is strong in 2017. According to the EIA, the price of natural gas is expected to average $3.27 per MMBtu in 2017. If the price of natural gas is strong, Chesapeake is likely to outperform in 2017. The risk is that the winter could be warmer than normal, reducing the demand and the price of natural gas.
Another small company with strong expected growth is Ring Energy (NYSEMKT:REI). Ring Energy is trading with a forward EV/EBITDA of 13.2, which is lower than its competitor, Pioneer Energy Services (NYSE:PES), which is trading with a forward EV/EBITDA of 19.2%. Ring Energy is expected to more than double revenue in 2017 and earnings are expected to increase from negative $0.66 to positive $0.31. That growth should drive the stock to significantly outperform in 2017. The risk for Ring Energy is that an unexpected drop in the price of oil could hurt the company more than the larger companies.
Conclusion
The catalysts are in play to drive revenue and earnings higher for many energy related companies. Many energy related stocks are undervalued after taking a beating over the past two and a half years. I think the outlook now looks positive to add energy-related stocks to the portfolio. The low valuations and higher than average expected earnings is likely to drive energy-related stocks to outperform the S&P 500 in 2017.
Disclosure: I/we have no positions in any stocks mentioned, and no plans to initiate any positions within the next 72 hours.
I wrote this article myself, and it expresses my own opinions. I am not receiving compensation for it (other than from Seeking Alpha). I have no business relationship with any company whose stock is mentioned in this article.
Additional disclosure: If you like my analysis, click on FOLLOW at the top of the article near my name. That will allow my articles to display on your homepage as they are published. The article is for informational purposes only (not a solicitation to buy or sell stocks). I am not a registered investment advisor. Investors should do their own research or consult a financial advisor to determine what investments are appropriate for their individual situation. This article expresses my opinions and I cannot guarantee that the information/results will be accurate.