For the last 7 days now, we have consistently reported that January will start off with colder than normal temperatures across the US (except for Florida). Natural gas (NYSEARCA:UNG) prices on the other hand have moved up quite nicely over the last week and reaching $3.83 as of this writing (1:26 PM EST).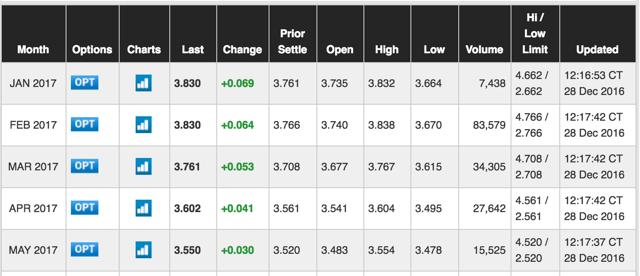 Yesterday, when we published our usual NGD saying that $4 gas could come as early as next week when all the traders returned, one commentator said that the temperatures in New York was in the 50s and buying DGAZ was the right move.
First and foremost, we'd like to highlight some things to the casual followers of natural gas. If you think natural gas prices move on "today's temperature" or even next week's EIA storage projection, you don't understand the natural gas market.
Total storage is a big driver in the direction of natural gas prices, but markets move more on the anticipation of weather events that lead to total storage changes. What do we mean by that? Natural gas storage forecasts are usually very hard to pin down several weeks out. For example, we only give forecasts 4-weeks out. The fourth week is past the 11-15-day forecast, so what we usually do is take what demand would look like under normal weather scenarios, and current supply and forecast the storage draw (obviously a bit more complicated than that). As overnight weather updates come in, HDDs get recalculated and usually, we can get a good grasp of where the storage figure should be come that week. Once the week arrives, we use physical flow data to correct the weather forecasted demand. This is why we give our natural gas storage forecast for the week after on Fridays.
With that said, markets move more on anticipation of where storage ends up. If total storage is expected to fall into a much deeper deficit come Jan, then there's a high probability you will see natural gas prices continuing to move up. Positioning and sentiment plays another key role in determining near-term price action, so we pay very close attention to that as well.
What we want to talk about today is the latest forecast showing the possibility of an arctic blast across the US back to back following the cold week ending 1/13. The latest forecast we've seen has us projecting very hefty storage draws for 1/13 and 1/20. Our estimates are currently out of consensus, and most forecasters are projecting warmth to reappear in the East in the 11-15-day forecast. We think that forecast is wrong, because that was the exact same forecast consensus had a week ago for the 1/13 week. How did the warmth turn out then? Hint: not so warm.
Overall, if our current projection turns out to be true, and the consensus model aligns with what we are seeing, $4 gas shouldn't be an issue.
We normally post our weather, storage, and major updates to premium subscribers first. If you enjoy our natural gas daily articles, we think you will find the premium service to be of great value to you. You can sign up here.
8-14-Day Outlook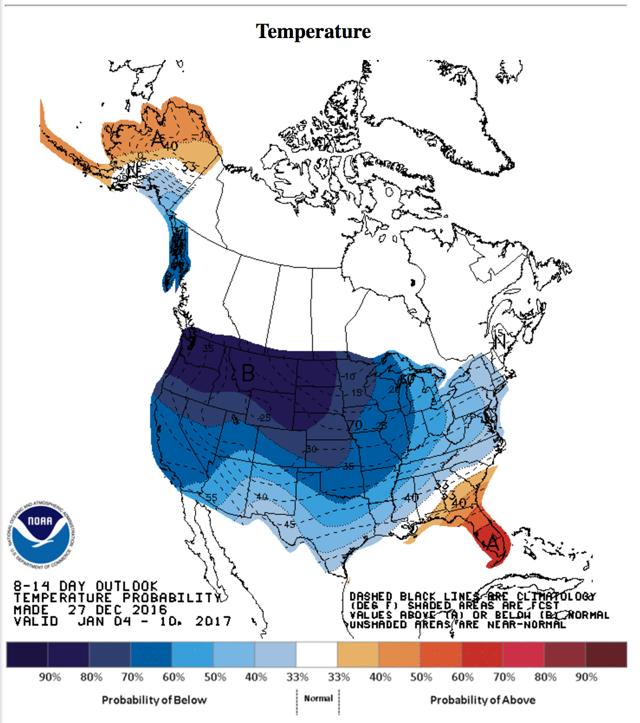 Disclosure: I/we have no positions in any stocks mentioned, and no plans to initiate any positions within the next 72 hours.
I wrote this article myself, and it expresses my own opinions. I am not receiving compensation for it (other than from Seeking Alpha). I have no business relationship with any company whose stock is mentioned in this article.