Since August, REITs have been in a bear market, with the iShares Real Estate ETF (NYSEARCA:IYR) falling more than 14% through mid-November. Since then, however, IYR has been showing some strength, putting in progressively higher lows, indicating some potential strength. Take a look at the chart below: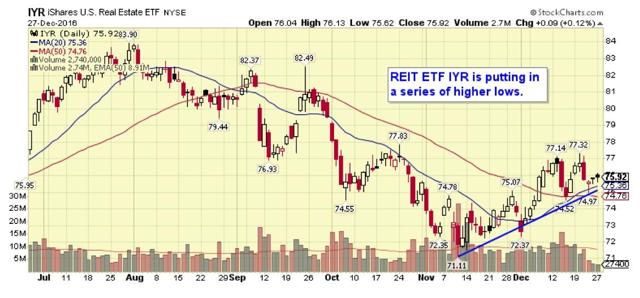 While not definitive, it's possible that this means that the real estate sector has put in at least a short term low. It's also possible that there's another (bearish) pattern setting up, which I'll discuss later.
If this is an initial signal of a reversal in the real estate sector, it bodes well for several stocks in the sector, as the same pattern of higher lows and even bullish trend channels can be seen in several dividend growth REITs.
Six REITs With Bullish Charts
Realty Income Corporation (NYSE:O) is well known among REIT investors, paying out dividends monthly. The company, which focuses on retail properties, often provides investors with small dividend increases between 4 and 5 times a year. The dividend growth over the last 5 years has averaged 5.7%. As you can see from the chart, Realty Income has the same pattern as IYR. Realty Income currently yields 4.3%.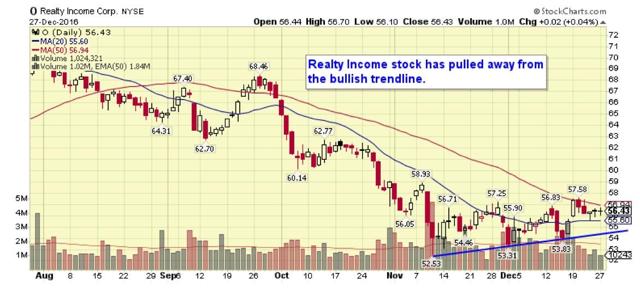 Omega Healthcare Investors (NYSE:OHI) provides financing and capital to long-term healthcare facilities, specifically skilled nursing facilities and assisted living facilities. Currently yielding 8%, the price pattern is displaying a bullish channel, with the stock price towards the bottom of the channel. Except for when it suspended dividends in 2001 and 2002, the company has paid dividends continuously since 1992 and grown them since 2003. Omega Healthcare has compounded dividends at more than 9% over the last decade.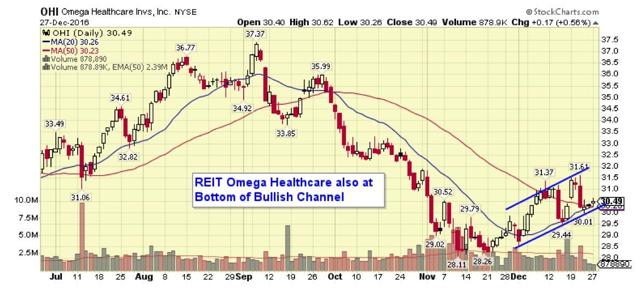 W. P. Carey Inc. (NYSE:WPC) specializes in sale-leaseback deals with commercial companies and works with other companies to develop non-traded REITs. The company has grown dividends year-over-year since 1998 and each quarter since 2001. Although the 5-year dividend growth rate is over 12%, much of that is from a nearly 40% increase in 2013. In each of the last two years, the year-over-year dividend growth has been less than 4%. WPC currently yields 6.7%. The chart is showing a price pattern of progressively higher lows, like IYR.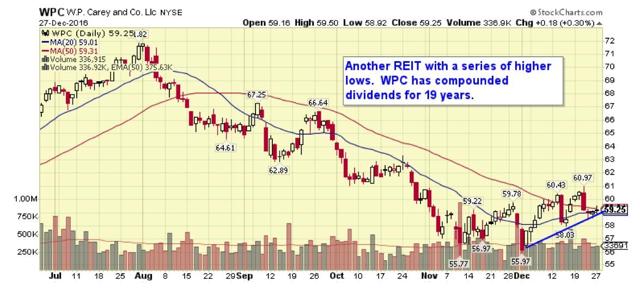 Federal Realty Investment Trust (NYSE:FRT) focuses on residential and retail real estate in urban areas in the Mid-Atlantic area. The company also has projects in California. Federal Realty stock is also in a bullish channel, with the stock towards the bottom of the channel. Currently yielding 2.8%, the company has compounded dividends at 7% over the last 5 years.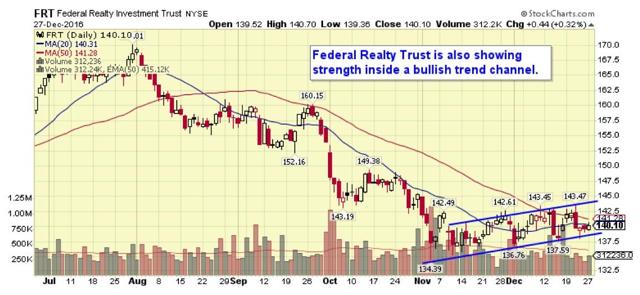 While not components of the IYR, National Healthcare Investors (NYSE:NHI) and Urstadt Biddle (NYSE:UBA) are also showing similar types of bullish patterns. National Health Investors focuses on mortgages and financing for assisted living facilities and other medical properties. Urstadt Biddle focuses on retail properties. Both stocks are in bullish trend channels, with UBA having nearly recovered all of the losses it took during the recent real estate sector drop.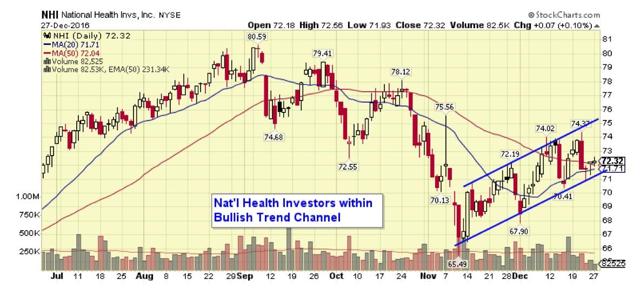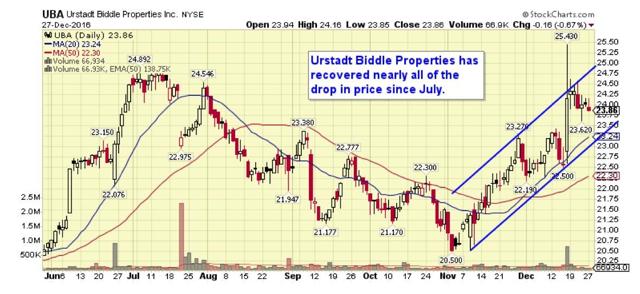 While UBA has more than two decades of dividend growth under its belt, NHI has grown dividends for only 8 years. UBA's dividend growth is slow, averaging less than 2% a year, while NHI has averaged about 7.6% over the last 5 years. NHI currently yields 4.9% while UBA is yielding 4.4%.
An Alternative Scenario
I mentioned earlier that there's a possibility that the pattern that is forming is a bearish flag pattern. It takes its name from the shape of the price pattern: the downtrend represents the "flagpole" and the short-term uptrend the "flag". The pattern is triggered on a break below the trendline connecting the higher lows. I think it is less likely that this is a bear flag pattern, particularly if you look at the UBA chart, but I would be remiss if I didn't at least mention it.
The bottom line is that a break below the upward sloping trendline on IYR with follow through would be bearish for the entire sector.
Summary
REIT investors, while having taken a bit of a beating over the last several months, may be seeing the initial indicators of a reversal in the sector. For dividend growth investors, this may be the time to get these stocks with a higher-than-usual yield.
If you enjoyed this article and would like to see more information on using technical analysis to help decide when to buy or sell your dividend investments, please follow me by clicking on the "Follow" button next to my name above. Thanks!
Disclosure: I/we have no positions in any stocks mentioned, and no plans to initiate any positions within the next 72 hours.
I wrote this article myself, and it expresses my own opinions. I am not receiving compensation for it (other than from Seeking Alpha). I have no business relationship with any company whose stock is mentioned in this article.
Additional disclosure: I am currently long DRN, the 3x leveraged real estate sector ETF.