"When I see the crumbling roads and bridges, or the dilapidated airports or the factories moving overseas to Mexico, or to other countries for that matter, I know these problems can all be fixed, but not by Hillary Clinton. Only by me"
The Trump-led infrastructure boom hasn't even begun but infrastructure-linked stocks have already outperformed the S&P 500 (NYSEARCA:SPY) so much that there's been talk of overheating. The reality is that the government has room to service a larger deficit and thus, the $1tn number being thrown around is feasible. However, obtaining the requisite buy-in from Washington will be a massive challenge and the plan will likely go through cutbacks and modifications before it sees the light of day. Even if the proposal comes through intact, infrastructure players will only start to see benefits in 2019-20 at the earliest. Hence, I would caution against chasing infrastructure names any further.
Throughout his campaign, Trump has been highly critical of the "terrible" state of U.S. infrastructure and in this case, he isn't wrong. US infrastructure, as a whole, currently has a "D+-rating," defined as "poor to fair condition and mostly below standard, with many elements approaching the end of their service life." The American Society of Civil Engineers estimates that US infrastructure demand will require $3.6tn of investment through 2020 to achieve a more satisfactory national score of "B-" ("in good to excellent condition; some elements show signs of general deterioration that require attention [while] few elements exhibit significant deficiencies.")
On that note, Trump's $1tn proposal distributed over a five-year period sounds lofty on paper but considering the existing state of American infrastructure, it really isn't. Historically, such fiscal injections have been some of the more effective methods for reinvigorating growth and should continue to play that role, though it would ultimately depend on the size of the program.
Is there room for more spending?
"We have to fix our infrastructure. But we have to fix it without cost overruns."
Indeed we do. But the key question is how? After all, the government is already contending with record debt levels and the threat of a widening deficit. The answer lies in context.
Right now, Federal debt is 106% of GDP, up from the ~60% levels we got used to during the 1991-2007 period. But debt alone is not evil. In fact, running record debt levels can actually be sustainable if you're able to service it. Don't let the scaremongers fool you, the government can quite easily service its existing debt load, even more so than it did before.
Interest expense relative to GDP currently stands at 2.3%, the lowest in over 30 years. It is important to remember, however, that interest rates include an expected future inflation rate, so it's helpful to compare real interest expense to GDP - i.e., the real long-term interest rate times debt to GDP. On this basis, the US has a roughly 0.2% real interest expense burden, which compares to a more typical 1-2% real interest expense burden of GDP post-1960, when debt was usually only 40-60% of GDP.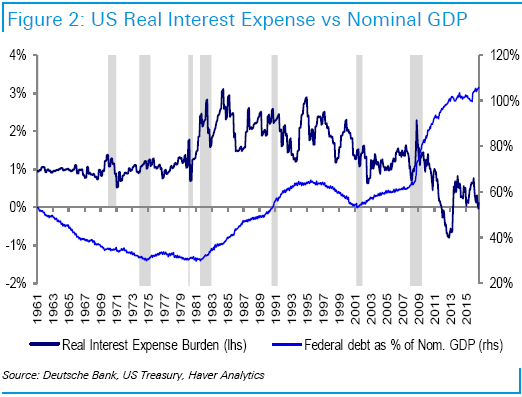 The key takeaway is this - there is room to up spending as today's debt burden isn't as troubling as in the 1980s and early 1990s when real interest was ~3% of GDP. The Obama administration oversaw a deleveraging process which has seen the deficit fall from a high of 10% to sub-3%, allowing the new administration sufficient leeway to increase spending on infrastructure. Considering the deficit today is at 2.5-3.0% of GDP, it would likely need to be above 3.5% to raise debt/GDP.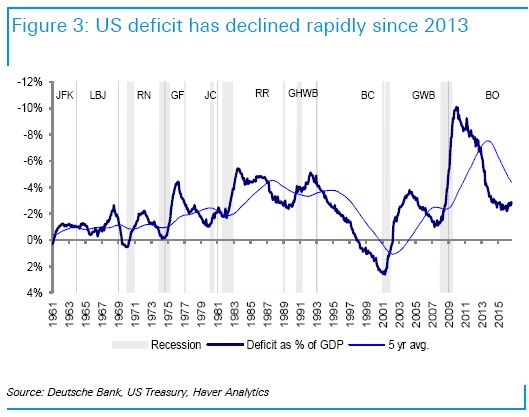 According to Deutsche analysts, they would "be comfortable with a ~4% deficit on a medium-term basis to stimulate growth. This could provide about $200bn of fiscal stimulus annually, enough to cut taxes and fund more infrastructure." $200bn a year may sound like a large sum, but the Trump administration will probably have a lot less leeway should the Fed accelerate its rate hike cycle. There will need to be some degree of offset should rates normalize too quickly and thus, Trump will not have the luxury of fiscal indiscipline.
Plugging the infrastructure shortfall
The American Society of Civil Engineers estimates that US infrastructure demand will require $3.6tn of investment through 2020 to achieve a national score of a "B-rating. Going by those estimates, there will be a $1.4T infrastructure funding shortfall over the next 10 years.
If split according to ASCE estimated needs, Canaccord Genuity analysts believe there would be an increase in funding of $786B for surface transportation (84% funding increase), $75B for water infrastructure (167% increase), $126B for electricity (17% increase), $30B for airports (26% increase), and $11B for ports and inland waterways (50% increase). Overall infrastructure funding would thus receive a 50% boost with water and roads the big standouts.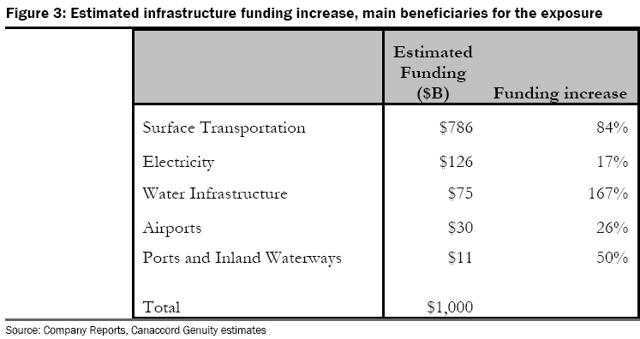 How will the government allocate an extra trillion in infrastructure spending? For some perspective, the top 10 proposed new US projects based on cost, total $50bn (see table below). Among the more notable: 1) a new Hudson River rail tunnel and new Penn Station, ~$25bn, 2) new international Detroit-Canada bridge, ~$3bn (Canada paying), 3) LaGuardia expansion, ~$4bn, 4) airport modernization, at LA, ATL, SF, Chicago, $6-10bn.

However, these multi-year projects are unlikely to be more than $4-6bn of activity in 2017-2018, especially not until the new Hudson River tunnel starts. $5bn is only 2% of the $260bn spent on non-residential public construction. It will take a rapid start of many new mega-projects to significantly affect the $18.5tn US economy. It will thus be difficult to launch enough special infrastructure projects to materially accelerate US non-res public construction, let alone accelerate US GDP.
To drive strong infrastructure spending growth, the country will need to get much more aggressive in not only maintaining and replacing existing infrastructure but also building new major transport bridges and tunnels, and to reach for Earth-altering infrastructure that addresses national risks like floods, droughts, environmental, etc. Potential 10-figure projects could include repairing and enhancing the Gulf Levee system, a Sacramento River Delta water tunnel, NYC storm protection system, Yucca mountain solution, river dredging, wetland reclamation, etc.
Alternative energy, which was a key feature in Clinton's infrastructure plan, likely will take a backseat to surface transportation under Trump. Sentiment will fare badly for wind, solar and other renewable companies, but then Federal support was already dwindling (e.g. the ITC/PTC phaseout engineered in December 2015). Going forward, it is unclear what further blows the GOP Congress will be interested in landing given the strong support for wind, solar and biodiesel in the Senate. Trump's campaign was, after all, built with the promise to "build the next generation of roads, bridges, railways, tunnels, seaports, and airports." Thus, look out for new science and technology super structures like new rocket building and launch facilities, biotech labs, next generation communication and air traffic control.
If Trump is to meaningfully stimulate the economy via infrastructure, he will have to think bigger, act quicker and ensure efficiency through targeted spending on projects which offer the most advantageous returns.
Tapping the private sector
Specifics on Trump's proposed $1tn infrastructure plan remain limited but a recently published policy memo by senior policy advisors to the Trump campaign laid out additional color. One key takeaway from the memo is that the new administration is leaning towards a public-private partnership (P3) approach to fund infrastructure spending.
Private-sector participation is generally a good thing as it allows governments to tap into the private sector's design and engineering expertise, better manage construction timelines, reduce costs, and improve the delivery of services to the public. Investors benefit as well since such projects generally offer higher yields than lenders might get from more traditional assets such as investment-grade sovereign and corporate debt. The track records of P3 projects in the U.K. and Australia suggest P3 projects generally suffer fewer construction delays and smaller cost overruns. However, P3 project savings tend not to accrue to smaller projects where economies of scale cannot be achieved. Thus, the P3 model is more suited for large-scale projects.
The government plans to incentivize private investors to take equity stakes in projects in exchange for tax credits on their investment totaling 82%. An incremental $100B/year ($1tn over 10 years) suggests public infrastructure spending could increase by 35% and the mix of P3 projects would increase from <5% to 30%.
When will the infrastructure spending push take off?
According to Deutsche analysts, it typically takes six months for infrastructure bills to become law, so a Trump infrastructure plan could become law by mid-2017 (six months after inauguration) at the earliest. Historically, public infrastructure spending inflects upward 12-15 months after a law passes, implying late 2018 before any meaningful benefits filter through to the economy.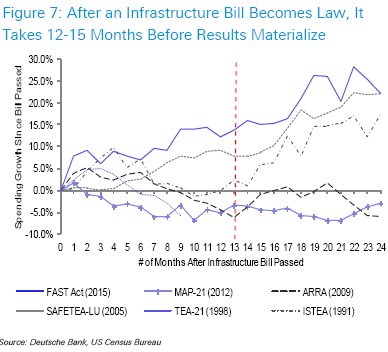 Another key point to consider is that the mega projects which typically receive P3 funding currently total ~$60B, which would only absorb 6% of the $1tn infrastructure push. As it stands, P3 projects are the key projects that would be eligible to benefit from a Trump infrastructure plan. However, this pipeline is very limited ($60b only represents 6% of the proposed $1tn spend).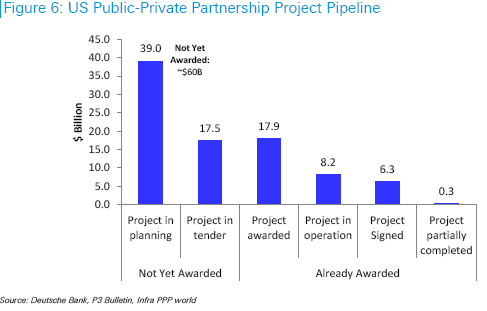 This means that a lot of projects need to be kickstarted from scratch and project planning will need to quickly increase to absorb the $1tn in funding. Now it takes a full two years to plan/design a large project before they go into construction, which suggests E&C players will only start to see benefits in 2019-20 at the earliest.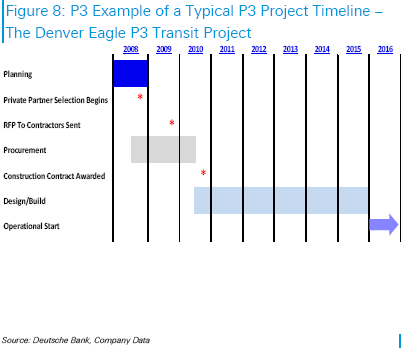 Also worth noting is that most infra funding is deployed at a state/local level which implies that P3 funding will need to go through similar avenues. The catch is that only 60% of states have P3 legislation, suggesting additional state-level action will be needed before such projects can be embarked on.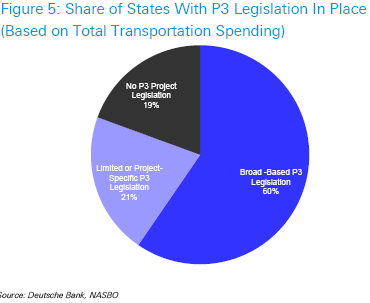 Based on the released memo, a potential Trump infrastructure plan will be built around the P3 delivery model, so benefits will be also delayed by however long it takes to pass new state-level laws or restricted to states with legislation in place.
In Washington, Trump will push his novel infrastructure plan on Capitol Hill but it is unclear how much interest Republicans will have in its particulars. His proposal for an infrastructure fund backed by private sector investors, financed by Federal tax credits/repatriation dollars, will be picked over by Congressional tax-writing and public works committees for whom such a proposal represents uncharted waters. Congress is more likely to look to existing programs such as the Highway Trust Fund and use repatriation to finance an additional cash infusion. Of course, the reconciliation process is always on the table, but there are serious procedural flaws with that approach (i.e., the "Byrd Rule") that might make regular procedures more attractive. More likely than not, spending numbers will fall short of the $1tn discussed on the campaign trail.
On that note, a 2019-2020 time frame seems to be the most likely scenario. Anything earlier would imply enough shovel-ready projects to absorb the influx of infrastructure spending, which simply isn't the case. In fact, the majority of incremental infrastructure projects have not even made it to the drawing board.
Has the market priced in too much too fast?
The simple answer is yes. Even before the election results were finalized, some form of infrastructure-based stimulus was already priced into the market. Clinton laid out a five year, $275 billion Federal infrastructure plan while Trump stated support for $1tn in new spending. As a result, some form of infrastructure stimulus had already been priced in to the market pre-election and even more so post-election. Infrastructure-linked stocks have outperformed the S&P 500 so much this year that there's been talk of overheating. These talks are certainly not unfounded as the bounce has, to a large degree, been driven by valuation expansion.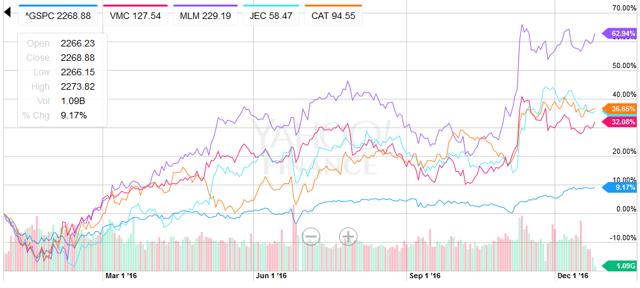 (Source: Yahoo Charts)
Engineering and construction, aggregates, and heavy-equipment manufacturers (Caterpillar (NYSE:CAT) looks to be a dual beneficiary on both infrastructure stimulus and tax reform, for example) will definitely have a seat at the table in this new world order. Vulcan (NYSE:VMC), for instance, would also be a key beneficiary in the value chain as a leading construction materials supplier, along with Martin Marietta Materials (NYSE:MLM) and Summit Materials (NYSE:SUM). In machinery, the infrastructure boom could provide a floor for certain end markets and kickstart the early stages of recovery. Hence, watch Caterpillar, Terex (NYSE:TEX) and Deere (NYSE:DE) for exposure to this theme.
Conclusion
I'd rather not buy in at this point though as the risks surrounding the infrastructure spend theme look to be skewed toward the downside. $1tn sounds great on paper but considering the 2019-2020 time frame (at the earliest) and the likelihood of further cutbacks, as well as the fact that the run-up has been largely driven by valuation expansion, the outcome might not be quite as rosy as the market is pricing in.
Disclosure: I/we have no positions in any stocks mentioned, and no plans to initiate any positions within the next 72 hours.
I wrote this article myself, and it expresses my own opinions. I am not receiving compensation for it (other than from Seeking Alpha). I have no business relationship with any company whose stock is mentioned in this article.