Global Influence:
The Fed has recently raised rates due to raising inflationary pressures. These inflationary pressures have left many investors looking for ways to hedge against a possible increasing inflation. One of the more overlooked areas to invest is commodities. There are several ETFs that can help protect your portfolio against these inflationary pressures. One of the more unique commodities is livestock. However, you don't need to be trading futures on the CME with ETFs such as the iPath DJ-UBS Livestock Total Return Sub-Index ETN (NYSEARCA:COW). COW has bounced back since its five year lows at $18.20 in July 2016 and is currently trading in the 20-24 range. This is trading far from its 10 year high at $48. With is BETA at .17 this is also a stock that can protect your portfolio from systematic risk. There are several reasons to invest in COW other than a low beta and large potential upside. One such reason is that for the inexperienced investor this allows you to invest in commodities without trading livestock futures. While COW does not follow cattle prices directly it follows them indirectly by following them through various food packaging and agricultural companies. While this fund does not invest directly in commodities it is influenced by movements in commodity prices. This allows investors to invest in cattle while not having to deal with trading futures.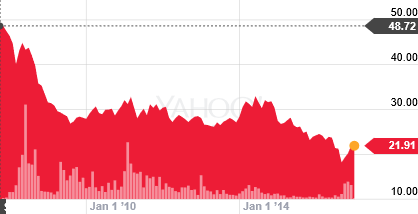 Chart provided by Yahoo Finance
Cattle Industry:
The Wallstreet Journal has recently published an article shedding light to the inconsistency of correlation between future contracts and cattle prices. This volatility in cattle prices has led to a decrease in ranch incomes. This volatility according to the CME Group Inc. has been so devastating that future markets can't get the signals it needs to set prices. Already this year there have been delays to new contract listings, this industry meltdown has attracted many speculators. For this reason cattle prices have taken an justified nosedive. Cattle ranches everywhere are turning to other ways of raising capital without having to sell futures. Online auctions involving cash have increased more than 5% over the last year due to these inconsistencies and future contracts do not account for these cash transaction and do not represent the increase in price in cattle futures. Agencies such as the Georgia Agriculture Department have even suspended indexes using future contracts for inconsistent prices. The Fed Cattle Exchange also offers weekly reports of cash sales of cattle. Reports like Farmington Cattle Market in Missouri can also provide more insight into rising cattle prices. In their more recent steers sold 6.00 higher, heifers traded unevenly but showed some returns of up 2.00. These increases in cattle prices can even be seen with a couple transactions of feeder heifers in the $1.37/lbs. and feeder steers $1.30/lbs. This is far from the January futures which have seen lows of $1.25/lbs. Cattle can often be tricky to predict but bullish returns on the soybean market due to increase in Chinese demand can push cattle prices higher as the cost for grain feeding increases. Increasing commodity prices have a positive impact on this ETF.
Similarly with the new administration coming into power, the activist touting the negative effect beef has on climate change will be at ease for the term of this presidency which allows the beef market to gain traction for a rebound. Cattle placements for November were up 15% which were the highest since 2013 and marketing was up 16% which is the highest since 2006. Cattle slaughter demand is up 41.6% from the previous year. The announcement of China importing US cattle can also influence a rise in cattle prices. Other factors such as weather can play major roles in cattle production. With weather sources such as The Weather Company, predictions have indicated that this winter can be expected to have above normal temperatures throughout two-thirds of the United States. This can have a major impact on the beef industry. Warmer temperature can influence how much feed and grain must be given to livestock. Similarly warmer temperatures can put to rest many risks of adverse health risks.
Technicals:
From a technical standpoint COW is also nearing its moving average over the last 5 years. Which can indicate a potential upside move in the near future.

Chart provided by Yahoo Finance
Conclusion:
While cattle futures and COW have taken a recent downturn in prices, the outlook on the cattle market does not match the current and future outlook of the cattle industry. Now may be the time to begin to track COW for a possible entry point. This ETF has several upsides that cannot be overlooked.
Disclosure: I/we have no positions in any stocks mentioned, and no plans to initiate any positions within the next 72 hours.
I wrote this article myself, and it expresses my own opinions. I am not receiving compensation for it (other than from Seeking Alpha). I have no business relationship with any company whose stock is mentioned in this article.