Right now, Turkey is in a state of intense political and economic turmoil. Revolts and riots are commonplace, and the nation's "democratic" leader, Recep Tayyip Erdogan, a strongman with a penchant for utilizing the military, isn't too far from being totally overthrown. In fact, in July, he was overthrown for a brief period, though he was later able to gain control. Much of this revolt has come from Turkey's economic worsening. Since taking power in 2002, Erdogan has made quite a strong case in favor of his economic prowess, accomplishing an annualized growth expansion rate of 4.9%. However, this growth has been largely fueled by an influx of FDI combined with Erdogan's policies forcing the nation to participate in globalization, granting it large-scale access to international debt markets. As Erdogan's time comes to an end, confidence is beginning to wane. In addition to the political turmoil the nation is embroiled in, the Turkish lira has taken somewhat of a nosedive against the dollar, forcing investors to rethink the nation's dollar-denominated debts.
Confidence
Saying that Turkey is in a state of political turmoil right now wouldn't do justice to the harsh instability it faces. The nation's president, quasi-dictator Recep Tayyip Erdogan, has been in total control of Turkish politics since 2002. However, in recent months, his grip has begun to loosen. Much of this is due to a sharp decline in economic growth, with unemployment reaching above 10% in 2014. This was a trigger for many, and this marked the beginning of the end for Erdogan. With international investors understanding the impact of the political landscape, the lira began a major selloff, triggering the beginning of what has become only the beginning of a weakening of the currency.
Since July of this year, tension has been building between Erdogan and citizens. The charismatic leader has done little to satiate these largely frustrated constituencies, continuing to make claims targeting key Turkish allies, including the United States. Recently, Erdogan claimed to have proof that the United States was a key financier behind the Islamic Caliphate. With allegations of this level arising quite frequently, it is unlikely that Erdogan will have many heads of state left that he will be able to consider allies.
As the protests rage on, many have abandoned their jobs and taken up the cause of revolution and radical reform. What is most interesting about this, though, is that viewed through the lens of the labor market, there really isn't much of a wage slack. In fact, high unemployment has not only led to the classic fall in supply and demand levels, but it has also proved inhibitive to wage growth being bid upwards, as a substantial portion of those employed aren't employed because they would rather be fighting for reform. As such, it is highly improbable that the nation will be able to return to economic prosperity.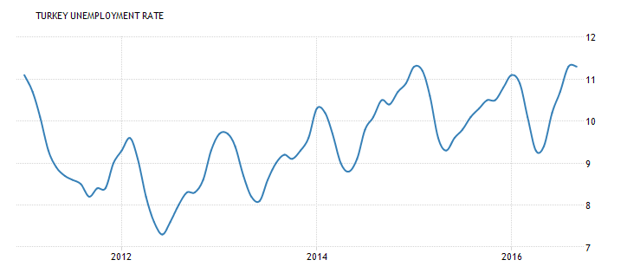 The above chart, graphing Turkey's unemployment rate, clearly illustrates a steady increase in the figure. In 2014, at the time of the brief government overthrow, unemployment stood at north of 10%. Today, the figure is above 11%. It is highly likely that a reaction, although slightly delayed, will be swift and powerful, perhaps being the final revolt necessary to overhaul current leadership.
Although this would be a best-case scenario for those bearish on Turkey, there is a significant margin of safety built in. Even a neutral scenario, one in which the protests rage on though Erdogan is finally able to successfully control them, would continue to have a negative impact on the nation. In this case, poor economic figures themselves would continue to contribute to decline, eventually reaching a point in which radical reform would be necessary.
In addition to all this, there is an exceedingly low probability that Turkey will receive much FDI this year. Many claim, however, that there was a sharp increase in FDI last year, and the trend therefore shows that it shall continue. However, it is most likely that the figure reflecting FDI last year was merely a reflection of a last effort by Erdogan to encourage the flow of capital into the nation to reinvigorate growth to previous levels. In truth, these levels are highly unsustainable, as growing tension and rising unemployment work to further stagnate growth. As such, there is little hope for another influx of FDI, not to mention it would do little to help a government on the verge of being ousted.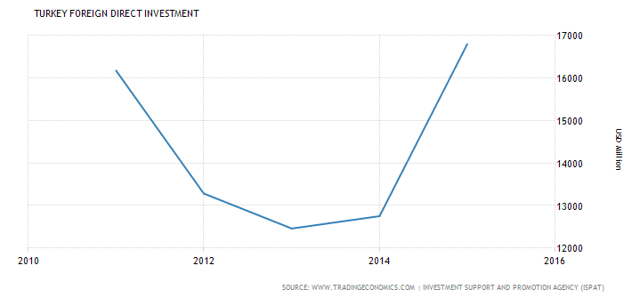 Foreign Exchange Weakness
So far only Turkey as a self-contained nation (economically speaking), except for the marginal possibility of an influx of capital from other nations, has been discussed. However, delving into the nation's problems on a global level yields even more of a negative outlook.
The US dollar is considered the standard reserve currency, and it is widely accepted to be the one with the most clout. In recent weeks, due to a Fed rate hike coupled with the possibility of many of president-elect Donald Trump's policies coming to fruition has helped the dollar finish out the year on a strong note. With Trump not actually even taking office until late January, there is a strong probability that the dollar has only begun its new rally. The president-elect's entire economic agenda is all focused upon "putting America first" and achieving consistently high levels of American growth. Whether or not one agrees with these policies, it's difficult to argue that he hasn't instilled this message in millions, creating an air of exuberant confidence regarding US equities along with the dollar. The below chart shows the S&P 500 Index, which has performed relatively well this year overall: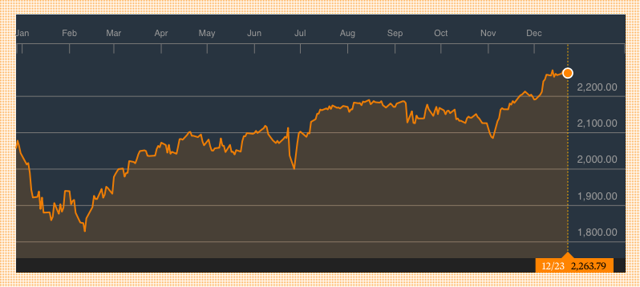 It can only be expected that this is just the beginning of Trump's policymaking. Therefore, the dollar is on track to perform well in 2017, built on the fundamental prospect of a highly growth-oriented period in modern American history. Unfortunately for Turkish dollar-denominated debt and Turkish equities, this is not a good thing.
As the dollar continues its bullish run and the lira continues its fall, the USD/TRY pair will continue to rise. The consequence of this manifests itself in Turkish companies not being able to service these dollar-denominated debts, resulting in defaults, and international creditors having to remark these as NPLs, creating a tag-on effect for other nations. Within the context of Turkey, though, rising defaults will result in a lower credit rating, a move that shouldn't come as a surprise to the country, given that it already had its rating downgraded in September. Even if the rating wasn't downgraded, there would still be a systemic increase in borrowing costs for Turkish corporations, only worsening their problems. The below chart shows the USD/TRY FX pair, illustrating how instability has weakened the lira: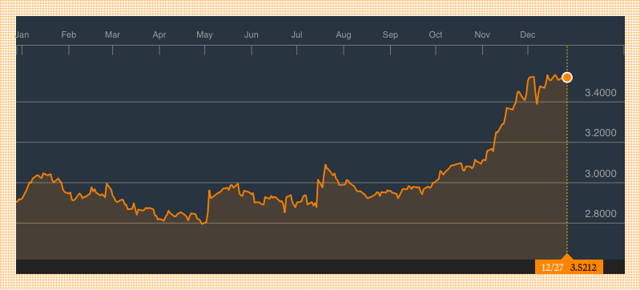 As defaults rise, international investors, those concentrated in EM markets in particular, would sell Turkish equities, most likely resulting in a liquidity crisis. This chain reaction acts as a loop of sorts, in which the constantly weakening lira results in a greater number of NPLs, resulting in an equities selloff, and ultimately resulting in a liquidity crisis.
Opportunities and Closing Remarks
In terms of capitalizing on this opportunity, there are a variety of possible trades that could be executed. One of the most obvious ones is to go long the USD/TRY pair, effectively shorting the lira against the dollar. Aside from an FX trade, one could be short Turkish equities, in particular those that have been capitalized due to borrowing in dollar-denominated credit markets. To further expand upon the equities angle, one could use either naked options or a spread. In a plain vanilla trade of this sort, one could buy puts while underwriting calls. Note that this involves significantly more risk, and it is important to understand the methods of hedging that could be employed to limit downside exposure. To directly short a specific debt instrument would be another angle, though this could come with high costs for a retail investor. As an institution, buying a CDS on a particular debt instrument would be another option.
Turkey's future is largely "up for grabs" at this point, and it is likely that in these circumstances the bears will come out on top. Given the political climate of the nation coupled with economic slowdown and an ever worsening credit problem, it's more than likely that a period of mass restabilization will need to occur. Before any period like this, however, it's necessary to be rid of the current detrimental aspects of the nation. The leadership of the nation is one such aspect. It's only a matter of time before Erdogan is deposed, and when that time comes in the near future, uncertainty will reign supreme, crushing the value of the lira. As the lira weakens against the dollar, the already unpromising circumstances regarding Turkish corporations that have borrowed in dollars will worsen, contributing to further chaos.
Disclosure: I/we have no positions in any stocks mentioned, and no plans to initiate any positions within the next 72 hours.
I wrote this article myself, and it expresses my own opinions. I am not receiving compensation for it. I have no business relationship with any company whose stock is mentioned in this article.