It's no secret that AB InBev's (NYSE:BUD) revenue has been plateauing over the last few years. The emergence and swift growth of craft brewers has placed new pressures on the company, as consumers have shied away from leading brands. While BUD has been making efforts to enter the craft market through acquisitions such as Goose Island and recently Devil's Backbone Brewing, the company has been unable to solve its revenue growth problem.
The key to AB InBev's turnaround isn't its entrance into craft, but a general decline in the craft market. Now that the Fed has officially embarked on its interest rate hike, the craft beer market will begin to face pressure. Their low-scale business model will force many out of the market as capital projects become more expensive. Over time, consumers will also begin to feel the burden of rising interest rates and may cut back on discretionary spending. This financial burden on smaller brewers should give AB InBev an opportunity to take back market share and acquire some smaller competitors at a substantial discount.
In order to value the stock we used a scenario-weighted discounted cash flow model and historical financial data from S&P Capital IQ. We applied probability weightings to three macroeconomic scenarios over the short term and derived a weighted intrinsic value of $120. Our long term revenue growth rate is a conservative 2%.
The biggest driver of our $120 valuation on BUD is an estimated economic contraction probability of around 50% within the next four years. We believe there is substantial evidence that the equity market is in a bubble and that rising interest rates could eventually add enough stress to trigger a sell off. For instance, the Shiller P/E is at levels only previously reached prior to Black Tuesday and the Tech Bubble. Our anticipated market reset lowers our weighted equity discount rate substantially, but has little effect on weighted free cash flow growth. This is because Anheuser-Busch is essentially recession-proof. As the economy turns sour, people look to cut costs in discretionary areas and move towards cheaper staple products. This shift back towards big beer companies should give AB a huge boost in revenue, despite economic conditions. Don't believe me? Just take a look at the company's financial statements during the Great Recession. BUD reported revenue growth of 18%, 19%, and 56% in 2007, 2008, and 2009 respectively.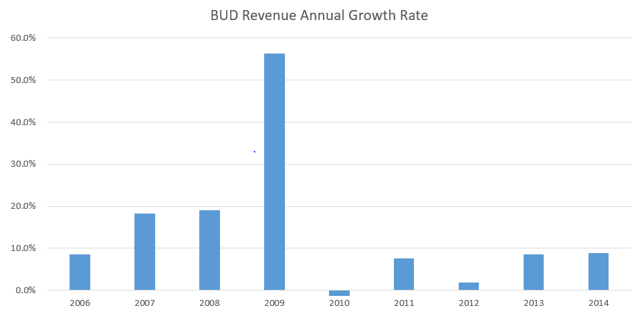 Data Source: S&P Capital IQ
On top of our valuation, we also like the fact that AB currently yields a hefty 3.86% dividend. Besides the obvious benefits, a large dividend like this on a company so massive tends to attract more long-term investors which can reduce day-to-day volatility.
Disclosure: I am/we are long BUD.
I wrote this article myself, and it expresses my own opinions. I am not receiving compensation for it (other than from Seeking Alpha). I have no business relationship with any company whose stock is mentioned in this article.