"Invest at the point of maximum pessimism"
-Sir John Templeton
At this point, Valeant is being plagued by the following: headline risk, bankruptcy risk, very few institutions would go within a mile of this name - career risk as well as uncertainties, tax loss selling (why not harvest losses from a stock down 86% this year? - and taxes are expected to drop so people will use the deduction sooner rather than later), and its viewed as the worst house in a bad neighborhood (pharma).
In looking at a couple scenarios, I believe there is a 15% chance Valeant goes to zero (or close to it). For that to happen, management would have to lose control of the business, drug prices would have to come down significantly, and VRX would have to lose PBM connections. This would weigh on EBITDA and debt covenants - thus disrupting Valeant's hope of crawling out from underneath its 30.5 billion in debt.
Taking a look at a scenario of a Salix sale for 8.5 billion - JP Morgan's model suggests that by 2019, VRX proforma Debt/EBITDA would be 3.75x, debt would be ~15 billion, interest expense would decrease by ~35% per annum (compared to no sale of Salix), and then trend down from 1$ billion in 2016 to 966, to 862 in subsequent years.
In 2019, with proforma debt $15 billion and Debt/EBITDA of 3.75x, VRX could be near debt free in 2023 and be generating, at the low end, 4 billion in EBITDA (assuming stagnant EBITDA from 2019-2023). At ($28/share) 2019 proforma EV would be $25 billion, analyst's (ex-Salix) estimates for 2019 EBITDA are 4 billion, that would put VRX's EV/EBITDA at 6.25x - avg. pharma comp currently trades at 11x EV/EBITDA. Given VRX's strong brands, pipeline of various drugs coming on line in the next 2 years (134 projects in total), we will assume EBITDA will be flat at 4 billion from 2019 until VRX is debt free in 2023, slap a 5x EV/EBITDA on VRX and the Equity would be worth ~20 billion, or $56/share. Granted, VRX does have an uphill battle over the next 6 years to become debt free (they could always refinance when leverage is more reasonable, but for simplicity we will assume CF's will almost entirely go toward taking down debt). If managed and executed well VRX could be a 4 bagger over the next half decade. At the current price, there is a light at the end of the tunnel for VRX, and no, its not the light of a train coming to run them over.
Salix was acquired by VRX in 2015 for ~16 billion with debt, if management/board feels a sale is the right move, then Salix could be sold for 8.5 billion (Takada (Japanese company) was reported to be in serious talks in November, since the deal fell through the yen weakened 15% verse the dollar, thus the conservative 8.5 billion price tag down from 10 billion). The Salix sale would eliminate bankruptcy fears and would be a meaningful near term catalyst that would rerate the stock price.
The second scenario involves Valeant not burning the furniture to keep the house warm - instead, selling off non-core assets to decrease debt while growing EBITDA via Salix & B&L franchises, as well as the pipeline. Then refinance the debt at more reasonable rates when leverage and Debt/EBITDA are at more normal levels, this could turn out to be an even better story for the long term as VRX could hang on to its valuable core franchises that are growing. On the Q3 call management emphasized this strategy. The downside is interest payments on the massive debt load will eat into cash flows. The stabilization of interest rates and EBITDA are two factors that could cause VRX to bottom. Interest expense is expected to be 1.64 billion in 2017, 1.62b in 2018, 1.5b in 2019. That compares to 2017 estimate of 4.14b EBITDA, 4.4b EBITDA, 4.6b EBITDA. Representing EBITDA to Interest Expense of 2.5x, 2.7x, 3x. Interest expense eating into cash flows would weigh on a speedy recover to an optimal capital structure; creating a rockier and riskier path but once debt is manageable, the equity will have to rerate higher. This scenario, shown below, would imply fair value of $54/share for VRX by 2022 (based on 6.5x EV/EBITDA blended with an 8x multiple on 2022 EPS - reflecting uncertainty). Upside to target would come from favorable refinancing terms, downside could come from EBITDA contraction and higher interest rates.

Valeant has made dozens of acquisitions just over the past couple of years, certainly not all have panned out, but with 70+ billion in Market Cap wiped off the stock and the equity now valued at below 5 billion - Valeant isn't the one trick pony as its being valued as, they have a commanding presence in markets with several core franchises and drugs, and a pipeline set up to revitalize EBITDA over the next couple years.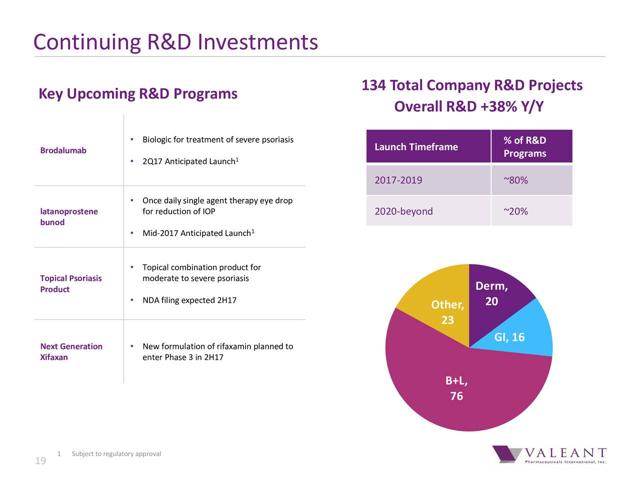 Bausch & Lomb, the crown jewel, is widely viewed as one of few successes of VRX and is largely separate from the performance of other VRX divisions - B&L revenues are growing mid-single digits and EBITDA slightly higher than that - B&L will do 1.5b in EBITDA in 2017 and is likely worth 10x EBITDA - for a total value of 15 billion. Since buying the company in 2013 for just over 8 billion, Valeant has been able to greatly expand its eye health portfolio, which has been growing by double-digit percentages thanks to the acquisition and an aging population. Valeant was able to cut $900 million in costs out of the eye care business.
Key Risks
Valeant may face liquidity issues near term if EBITDA dips to near 3 billion (analyst estimates are 4.1b in 2017) - most likely from mismanaged relationships, drugs sales slowing from competition, and significant price deflation in drug segments. The company should have a minimum interest coverage ratio (trailing 12 months adjusted EBITDA/interest expense) of 2.0x to comply with the covenants. Current adjusted EBITDA/interest expense ratio is 2.6x as 3Q trailing 12 months adj. EBITDA was $4,629M and trailing interest expense was $1,800M. The long case falters if EBITDA doesn't stabilize in 2017. There is not much margin for error on the operating performance side, due to VRX's debt load.
VRX fines are expected to be 200mm at the most, think of this being offset by zero based budgeting cost savings targeting of 100mm in annual savings.
Other Analysis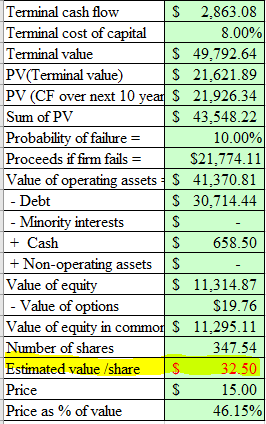 The dean of valuation, Aswath Damodaran, NYU Finance Professor, recently ran a thorough DCF analysis on the stock and believes fair value is $32.50/share, suggesting the shares could more than double from here.
Also, Mr. Ackman, stubborn or not, likely wouldn't waste his time and capital on rebuilding Valeant if there was not potential for them to come out on the other side.
Bill Miller - Miller views the investment as a public LBO (leveraged buyout). In a leveraged buyout, a private equity group buys a public company without much debt by using a lot of debt. Subsequently, they improve operations and sell off assets to pay down the debt to manageable levels quickly. If it succeeds, tremendous gains can be had with this strategy.
Although the game plan with Valeant is similar, use cash flow and sales of non-core assets to de-lever, with a public company this is much more difficult to do. Leverage problems that are out in the open can create difficulties that would not have occurred for a private company.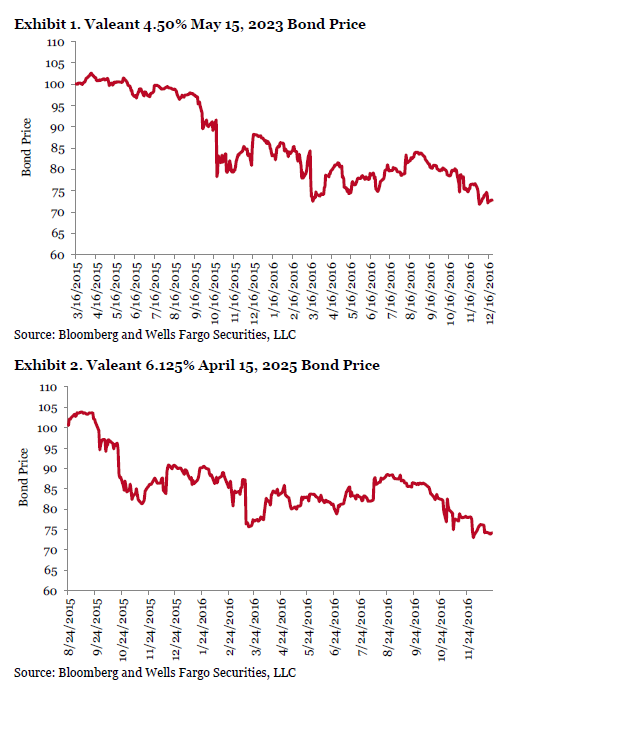 The above shows the selloff in VRX bonds and may hint at VRX doing a deal at some point in the near future if the price is right, this could be a near term catalyst and at least cause short covering (10% short float) as well as attract new bidders if VRX focuses on shoring up its balance sheet.
In April, creditors of the 2018 tranche managed to negotiate a fee with Valeant, which relaxed Valeant's obligations to maintain an interest-coverage rate of 2.75x from 3x to avoid technical default. EBITDA is going to be the key focus for Valeant as they seek to de-lever.
The chunk of VRX's debt isn't due until 2019/2020. FCF will cover the debt for the next couple of years; FCF combined will asset sales and a 2018/2019 refinancing will allow VRX some breathing room. The question is, "will the debt market be open to Valeant in years to come?" This depends on the operating results, analyzed below.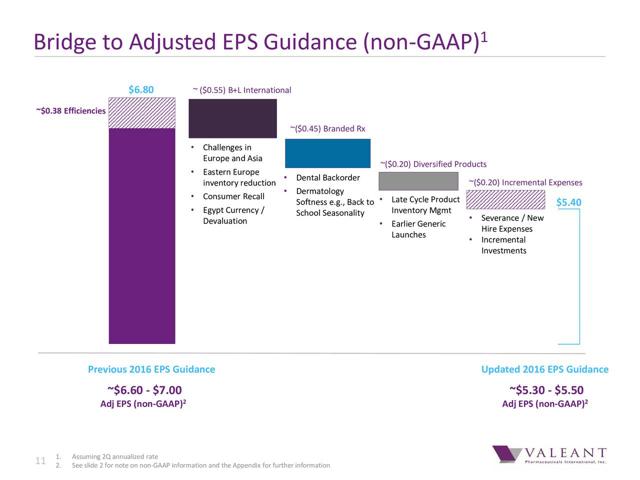 The reason VRX has yet to find a bottom is that operating results themselves have not bottomed, the above highlights some reasons for the wide miss on EPS guidance in 2016. Should these challenged prove temporary and operating earnings stabilize and find growth from new drugs, VRX will bottom. At the moment, bankruptcy risk is in the front on the mind of many investors and the only way to alleviate the risk is favorable asset sales and/or EBITDA stabilization.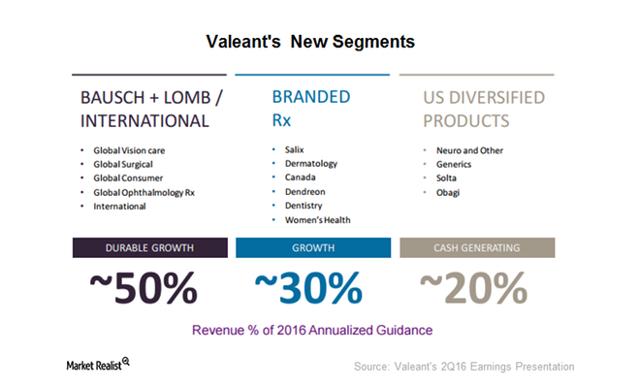 Breakdown of VRX Segments
Branded Rx segment was down 23% or about $250 million compared with the year ago quarter, with a 9% volume decline and a 15% decline in our net selling prices. Within the segment, dermatology was down 52% or $224 million on a 30% volume decline and a decline in net prices of 22%. The decline in volume was mainly attributable to Jublia, Solodyn, and Ziana, the latter for which a generic entered the market this quarter. GI was down $23 million or 5% with a 5% increase in volume, more than offset by a 15% decrease in our net prices across the GI portfolio. revenues were up 16%, or $115 million. Part of this increase is attributable to our GI business, where our pipeline inventory increased roughly four-tenths of a month relative to Q2. Ophthalmology Rx was down 8% or $9 million with volume up 2% and price down 10%. Rxs for our ophthalmic products decreased 9% versus Q3 of 2015, and that's due to increased competition and a rebuilding of the sales force due to turnover. Dermatology fell 50% due to a 30% decline in volume and 20% decline in price. The decline in volume was mainly attributable to Jublia, Solodyn, and Ziana; Ziana, in particular, faced competition from a generic during the quarter. Dermatology represented 54% of the segment's revenue during the quarter, down from 70% in the year earlier period. The loss of the Philidor relationship, and the loss of distribution via certain pharmacy benefit managers has hurt Dermatology. The 15% net price decline across the GI (Gastrointestinal) portfolio was offset by a 5% jump in the volume. Dermatology, which had been a key business for Valeant, was off 52% and totaled $223 million in 3Q16.
Diversified Products declined 17%, or $92 million on a 10% volume decline and a 7% decrease in our net prices. The big driver was neurology and other, which was down 23% or $96 million with a 13% decrease in volume and minus 10% in price. The decrease in volume reflects generic competition for Xenazine, Ammonul and Edecrin. In generics, the decline reflects increased generic competition for select products. CFO on Q3 call, "We simply do not expect to be able to overcome the overall growth drag of the neuro and generics businesses in 2017. We have the expected loss of exclusivity of Nitropress later this year. And in early 2017, you've got Isuprel, Syprine, Mephyton and Virazole, and then you've got the year-over-year impact of the previous genericization of Edecrin, which went generic in Q2, and Ammonul, which went generic in March of 2016. In generics, we've had some good fortune in the generics business this year, which we don't expect to continue on into 2017. And so, net-net, these are going to be down and they're going to be down in a material way".
Core/B&L/Durable Growth - The remainder of our business, the majority of which includes our core assets is expected to be healthy and grow in 2017 top line in the mid-single digits and produce operating profit growth in the high-single digits.
Positively, the struggles with the Diversified segment are less meaningful as they stand at only ~20% of revenues. Core/B&L has durable high single digit EBITDA growth for the next couple years and comprises 50% of revenues. Branded RX is likely fixable as prices stabilize, dermatology rebounds as VRX regains distribution via certain pharmacy benefit managers. If Salix is held on to, growth is expected to ramp up in outer years.
Management cited GI and dermatology as growth drivers in 2017, coming of a low base and an extremely rough year, Branded Rx should stabilize from here.
The company has had to respond to its "price gouger" reputation by showing restraint on further price increases. This has hamstrung results as VRX seeks to avoid further conflict - that combined with new management " kitchen sinking it", aka getting all the bad news out now and setting the bar low so they can improve the business in 2017 and earn their stripes. This should lead to a tighter belt in 2017 and greater focus on expenses and operational execution.
On the Q3 call management noted a zero-based budgeting program that is expected to result in cost savings in the range of $75 million to $100 million in 2017. Management expects gross profit will increase by an annualized $150 million to $250 million by 2020.
For purposes of conservatism, below is a segmented operating results analysis that factors in continued trends going into 2017- B&L Revenues +5%, Branded Rx (-11%), Diversified (-17%).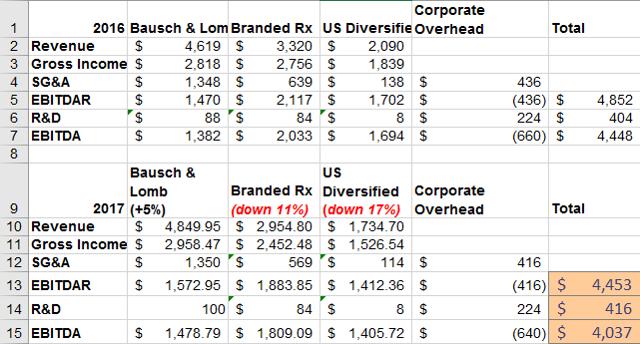 The above exemplifies continuation in Diversified's downtrend, only moderate stabilization out of Branded Rx, and middle of the road growth in B&L.
In looking down the road a ways, I believe there is a 15% chance Valeant is a zero and a greater that 70% chance your looking at an equity value of at least 15 billion (B&L itself is currently worth this). For a rational speculative position, VRX's potential stands out. As Buffett says, "only swing at fat pitches", VRX looks like a hanging curveball set to be hit for a four-bagger grand slam. The difficulty lies within timing an entry, timing a bottom in VRX shares has been a fool's errand, it is likely wise to nibble on the shares in case further adverse developments emerge (like an equity raise). This allows one to work into a full position if there are big down swings in the short term.
Disclosure: I/we have no positions in any stocks mentioned, but may initiate a long position in VRX over the next 72 hours.
I wrote this article myself, and it expresses my own opinions. I am not receiving compensation for it. I have no business relationship with any company whose stock is mentioned in this article.