Oil prices have been less volatile in last few days as there is only one major factor that is weighing in on oil at the moment. WTI and Brent were trading at $54.09 and $56.29, respectively, at the time of writing this article. Looking at last few weeks, it is pretty evident that the upcoming OPEC-non OPEC production cut is going to have a major impact on oil prices in the near future. As trading is expected to remain sluggish due to the ongoing holiday season, oil prices will start moving more strongly after the first week of January.
OPEC and non OPEC production cuts will dominate oil prices
It is true that the OPEC-non OPEC deal has made investors bullish again, but the timing of these production cuts are also important for the markets. It needs to be noted that the OPEC will reduce around 1.2 million barrels per day "from" January 2017, and these cuts will be calculated for a six-month average period. This means that there is no surety that OPEC members will start cutting their production almost immediately. "There are mixed expectations of the cuts, trading is thin so the first two weeks of January would be critical to watch. If there's any misstep or any indication of disagreement to (the deal), we would see crude prices dropping," said Michael McCarthy of CMC markets. In my opinion, volatility in oil prices will increase in the month of January, as markets will be carefully tracking the level of production cuts made by OPEC and non OPEC members.
Many analysts are expecting oil prices to average at $58 in 2017
In a report published by Bloomberg, a group comprising of 24 oil analysts have predicted that Brent could average $58 per barrel in 2017, while WTI will be around $1.4 cheaper than Brent during the same period. "OPEC is aiming for a much-needed lift to the oil price, given the stretched fiscal balance sheets of every producing nation. As per Ed Morse from Citigroup: "The question really should be what happens afterwards - how fast is U.S. shale going to come back?" In one of my previous articles, I had explained how any increase in oil price (beyond $50 per barrel) will result in an increase in U.S. oil production. It must be noted that the U.S.-based drillers have already added 200 rigs since May 2016, and this count will increase even further as oil prices surge ahead. However, in my opinion, oil may face stiff resistance between $50-$55 per barrel in the next two months.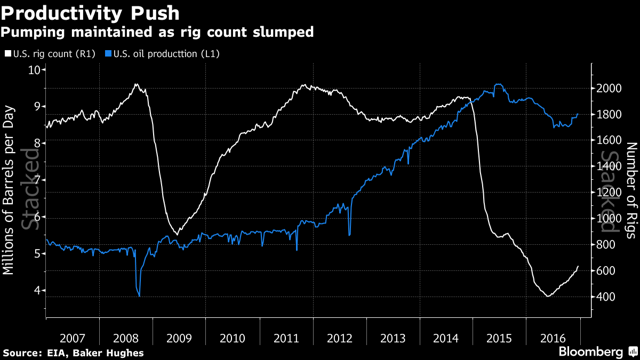 Conclusion
Oil is currently hovering near $55 per barrel. Investors must note that any substantial increase in oil price (from the current level) will result in a massive surge in U.S. shale output. And, oil prices will only increase substantially if OPEC and non OPEC player like Russia quickly reduce their output by 1.8 million barrels. However, if they keep the markets guessing, oil prices will remain volatile and may increase gradually over time. And then, there is another question -- does Saudi Arabia dominated-OPEC really want the U.S shale industry to benefit from high oil prices? So, in my opinion, OPEC and non OPEC member Russia will reduce their oil output in small stages.
Disclosure: I/we have no positions in any stocks mentioned, and no plans to initiate any positions within the next 72 hours.
I wrote this article myself, and it expresses my own opinions. I am not receiving compensation for it (other than from Seeking Alpha). I have no business relationship with any company whose stock is mentioned in this article.