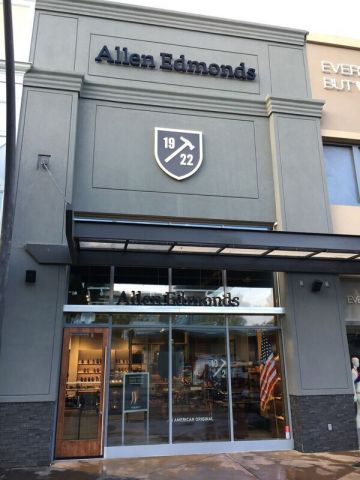 Caleres (NYSE:CAL) recently hit new highs as its stellar Q3 report and the Allen Edmonds purchase have investors and analysts alike cheering. The AE buy certainly looks good - although the price may have been a bit dear - and with the rest of the business performing well, CAL now looks to me like a buy. A reasonable valuation and a business that has proven resilient in the face of a tough environment make me think the new highs are justified.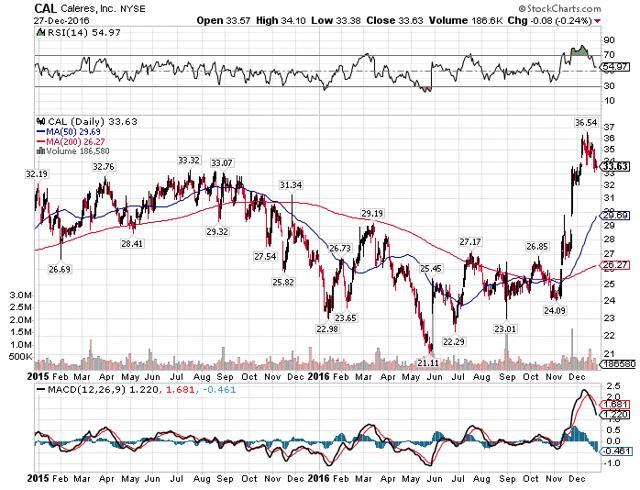 Revenue was up fractionally, but that was due in part to planned reductions in the company's brand portfolio that were part of an effort to boost margins. Famous Footwear saw comp sales rise 2.1% overall and 2.7% during the critical back-to-school season. The Brand Portfolio saw total sales decline by 3%, but again, that was planned due to the exit of certain products. Overall, CAL's revenue performance - particularly in this tough retail environment - was very good. In addition, the revenue gains for both segments were sizable improvements on the first two quarters of the year, so CAL is certainly moving in the right direction.
Mix shift negatively impacted gross margins at Famous Footwear, leading to a decline of 110bps. Fortunately, those losses were offset by a 320bps gain in gross margin by the Brand Portfolio segment as the product category remix led to a sizable increase. Those outstanding gains are repeatable and sustainable, and we should see gross margins permanently reset higher as a result. Obviously, new gains will be much harder to come by, but, with margins now substantially higher, operating profitability certainly looks brighter going forward.
Famous Footwear saw its operating profit decline 170bps due in part to the loss of gross margins, but also rising SG&A costs. Those losses were offset by the gains in gross margin from the Brand Portfolio as well as declining SG&A as a percentage of sales. The 380bps gain in operating margins from the Brand Portfolio is not a fluke, and we should continue to see double-digit operating margins going forward. If CAL can get Famous Footwear's margins moving in the same direction, this thing could be a rocket ship, because right now, Famous Footwear is the anchor holding back the rest of the business.
With the AE acquisition boosting total sales growth to nearly 6% next year, CAL looks well positioned to grow into 2017. The impact of AE on profitability isn't yet clear - the company's custom shoe model has a very high cost structure - but the addition of around 70 stores and a web business will certainly bolster growth. With EPS expected to grow 15%, CAL's forward multiple of 14.2 makes the stock reasonably priced. That level of growth assumes some margin expansion, which we know will happen as the Brand Portfolio hasn't yet anniversaried its mix changes. Like I said, the wildcard here is Famous Footwear's margins. If they rise, CAL's EPS will grow much more than 15%, but if they don't, there is some downside risk.
But given the momentum of Brand Portfolio's margins as well as Famous Footwear's encouraging comps, I think the stock is cheap. Paying under 1X its projected growth rate on a forward basis is very attractive for a business that has proven to be plenty resilient through this tough period in retail. I like the AE acquisition although I'll reserve full judgment until the financial implications are known; $255M is a lot to pay for 70 stores and a web business. But either way, it is done, and one thing I'm sure of is that it will boost growth and bring the up-market to CAL's lineup. I like CAL very much here despite the recent rally, and indeed, it is one of the few retailers left in this market that is actually cheap.
Disclosure: I am/we are long CAL.
I wrote this article myself, and it expresses my own opinions. I am not receiving compensation for it (other than from Seeking Alpha). I have no business relationship with any company whose stock is mentioned in this article.