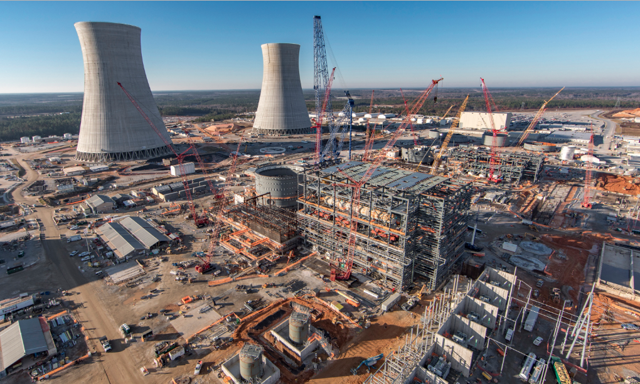 Bullish On Utilities For 2017? Mott Is Not.
In an article last week (10 Big Theme Predictions For 2017), one of the sectors Seeking Alpha contributor Mott Capital Management was bearish on was utilities:
Utilities (NYSEARCA:XLU) and Consumer Staples (NYSEARCA:XLP) are the worse-performing sectors in 2017. Rising yields will pressure these stocks all year round. These stocks tend to be more defensive in nature and have higher dividend rates. With yields rising, investors will be selling their slow-growing dividend stocks to find better returns elsewhere.
After reading that, we were curious what institutions had been doing with the Utility sector ETF in dark pools, so we looked XLU up on Squeeze Metrics (reminder: we have an affiliate relationship with that site, and get compensated if readers join). Readers of our recent article on Deutsche Bank (NYSE:DB), Seeking Alpha In The Dark, may recall how trading in dark pools - private exchanges where institutions avoid the transparency of public markets - offered insight into where that stock was headed. We tried something similar with XLU, pulling up a chart of the last month's worth of trading days on it: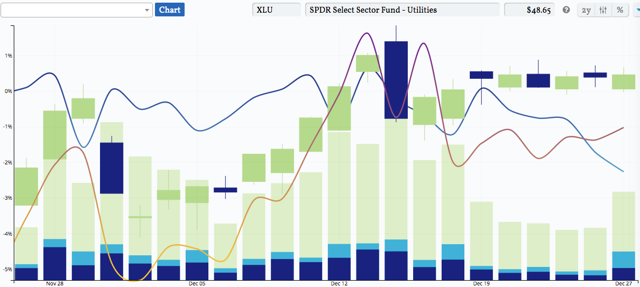 Recall that the Dark Pool Indicator, or DPI, measures how bullish or bearish dark pool investors are on a security: below 50% is bearish and above 50% is bullish. On Tuesday, XLU had a DPI of 43% (bearish), preceded by a DPI of 50% on Monday (neutral), but the other 20 trading days on that chart had bullish DPI levels.
Next, we pulled up a similar chart on one of XLU's largest holdings, Southern Company (NYSE:SO):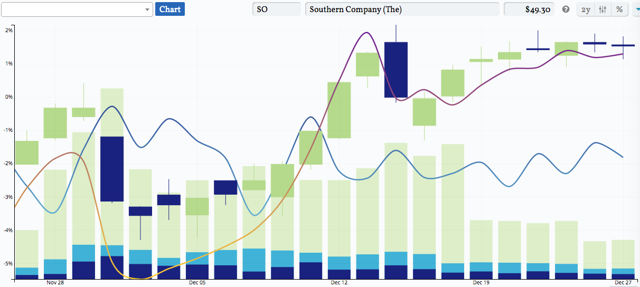 For Southern Company, eight of the 22 trading days had bullish DPI figures, and 14 had bearish ones. We found that interesting, particularly since XLU and SO have had nearly identical returns over that time frame: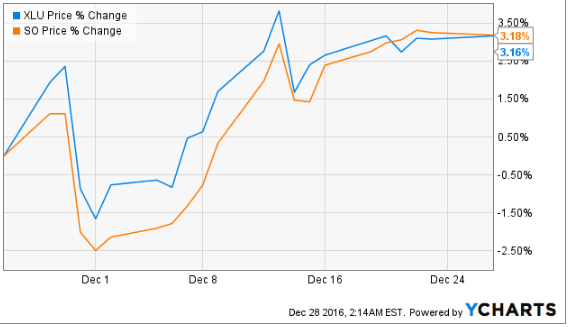 The relative bearishness of dark pool investors on Southern Company suggests it might underperform XLU early next year. If you're long Southern Company and still bullish on it, but want to add some downside protection in the event Mott Capital's bearishness about the sector ends up being right (and SO ends up doing worse), we'll look at a couple of ways of limiting risk while staying long below.
Downside Protection For Southern Company
If you'd like a refresher on hedging terms first, please see the section titled, "Refresher On Hedging Terms," in this previous article of ours, Locking In Gold Gains.
Hedging Applied SO With Optimal Puts
We'll use Portfolio Armor's iOS app to find optimal puts and an optimal collar to hedge SO, but you can find optimal puts and collars without the app by using the process we outlined in this article, if you're willing to do the work. Either way, you'll need to know your "threshold," which is the maximum decline you are willing to risk. This will vary depending on your risk tolerance. For the examples below, we've used thresholds of 15%. If you are more risk averse, you could use a smaller one. All else equal though, the smaller the threshold, the more expensive it will be to hedge.
As of Tuesday's close, these were the optimal puts to hedge 1,000 shares of K against a greater-than-15% decline by mid-May.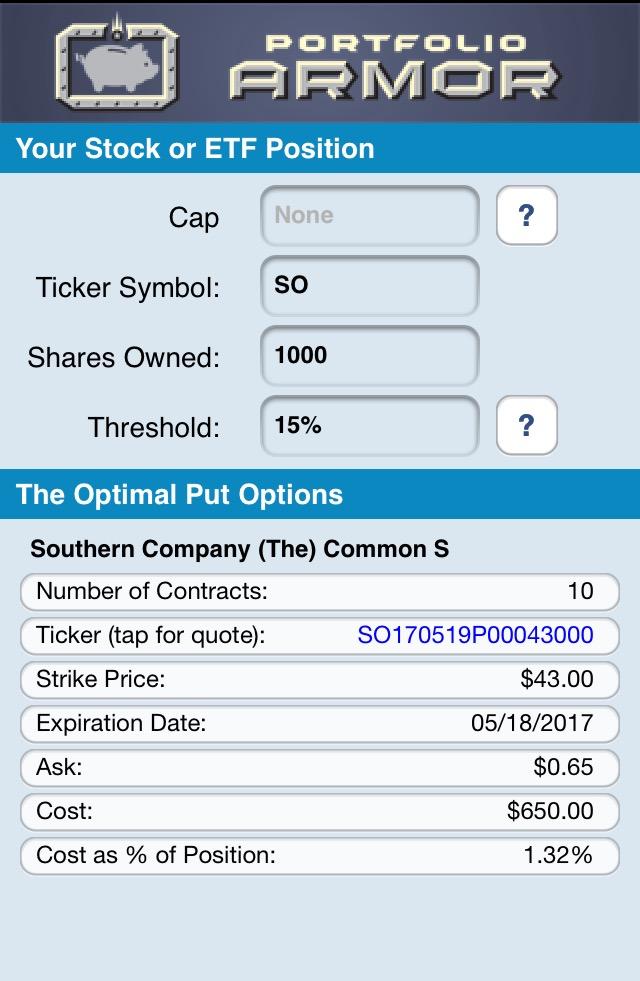 As you can see above, the cost of this protection was $650, or 1.32% of position value. A few notes about this hedge:
To be conservative, the cost was calculated using the ask price of the puts. In practice, you can often buy puts for less (at some price between the bid and ask).
The threshold includes the cost. In the worst-case scenario, your position would be down 13.68%, not including the hedging cost.
The threshold is based on the intrinsic value of the puts, so they may provide more protection than promised if the underlying security declines in the near term, when the puts may still have significant time value.
If you want to reduce the cost of hedging without increasing your threshold, you can try hedging with a collar instead.
Hedging SO With An Optimal Collar
When hedging with collars, you need another number in addition to your threshold, your "cap," which refers to the maximum upside you are willing to limit yourself to if the underlying security appreciates significantly. As of Wednesday, the Portfolio Armor website estimated a potential return of about 1% for K over the next several months. We used 6% as a cap instead.
As of Tuesday's close, this was the optimal collar to hedge 1,000 shares of SO against a greater-than-15% drop by mid-May, while not capping an investor's upside at less than 6% by then.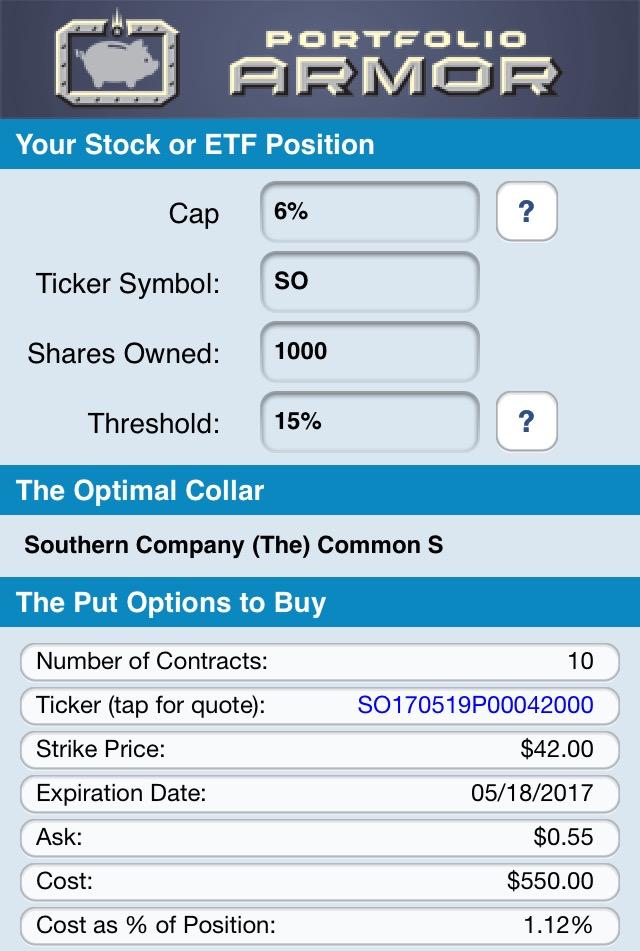 The app was able to use a less expensive strike on the put leg than in the optimal puts, due to the net cost of the collar. Te cost there was $550, or 1.12% of position value, as you can see above. But, as you can see below, the income generated from selling the call leg was a bit more, $640, or 1.3% of position value.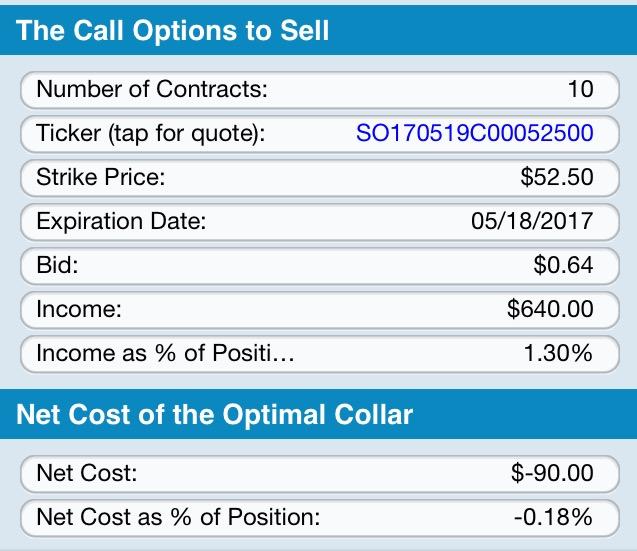 So the net cost of this hedge was negative, meaning an investor opening it would have collected an amount equal to $90, or 0.18% of position value. Similar to the case with the optimal puts, the cost here was calculated conservatively, using the ask price of the puts and the bid price of the calls, so an investor opening this hedge would likely have collected more than $90 when doing so.
Disclosure: I/we have no positions in any stocks mentioned, and no plans to initiate any positions within the next 72 hours.
I wrote this article myself, and it expresses my own opinions. I am not receiving compensation for it (other than from Seeking Alpha). I have no business relationship with any company whose stock is mentioned in this article.