At this time of year, it can pay off big to focus on selectively buying beaten-down stocks that have the potential to rebound sharply in the New Year. It is not unusual to see certain stocks jump 10% to 30%, or even more between the last week of December and on into the first couple weeks of January. I have found that the largest percentage gains are often posted by small caps and stocks that trade for around $5 per share or less. That's because small-cap and low-priced stocks typically get hit the hardest due to limited liquidity, and this creates the biggest bargains. There are also bargains in higher-priced and large-cap stocks, but usually you have to look for these in sectors that have been decimated, which in past years have been banks and oil stocks. This year, I see opportunities in healthcare, drugs and biotech.
I think the opportunity to buy tax loss bargains is just about the only "free lunch" for regular investors on Wall Street. I have been focusing on this strategy for years, and because of this, I make most of my gains between December and January. As we all know, stock prices are about supply and demand. Great news increases the demand for a stock and pushes up the price. For example, NVIDIA Corp. (NASDAQ:NVDA) recently posted strong results and has been getting a ton of exposure from the media in recent weeks about how it is going to be a leader in supplying chips for self-driving cars and AI, or artificial intelligence. All of the "great" news has pushed the stock up to obscene levels, and it now trades for around 40 times earnings. I think this stock is priced for perfection and that it is in a bubble that will eventually deflate.
NVIDIA now trades for about $116, and the company is expected to earn $2.70 per share in 2017. Here is what I said to a friend of mine recently about NVIDIA (this is based on the hypothetical idea of owning 1,000 shares of the stock): If I owned a company that was earning $2,700 per year in profit (or $2.70 per share times 1,000 shares), would you buy it from me for $116,000 (or 1,000 shares times $116 per share)? He said that would be crazy, and yet, in essence, that is what people are doing with NVIDIA's shares today. You can do the same math on a bigger scale if you like. Let's try 10 times bigger. For example, my company is earning $27,000 per year in profit (just as what 10,000 shares of NVIDIA will earn based on estimates of $2.70 per share for 2017), would you like to buy it from me for $1.16 million? I sure would love to be able to sell my company at this valuation because then I would just put my $1.16 million into a mix of a tax-free muni bond fund and a junk bond fund that yields about 6% to 7% and therefore would generate about $60 to $70,000 in annual income, which is a great deal more than the $27,000 my "company" was making.
Part of the reason I bring up NVIDIA's shares right now is not just because of valuation; it is also because the recent Trump victory appears to be impacting the stock market and (most likely) even NVIDIA's shares. President-elect Trump has made it clear he plans to lower taxes and that is probably causing many investors with large gains want to consider holding off on selling those stocks until the New Year, which is now just days away. NVIDIA has been of the best performing stocks in the market for the past year and just about anyone who owns it has gains on it since it is now trading very close to a 52-week high of about $116 while the low is $24.75 per share. If I owned a lot of NVIDIA stock right now, I would love to hold off just a few more days before selling it, which would allow me to postpone paying taxes on it for another year, but also would probably allow me to pay less in taxes on it based on the presumption that Trump will cut tax rates in 2017. The problem with this thinking is that there are a whole lot of investors (the herd) who are thinking this way and have the exact same plan. Because of this, I expect that stocks like NVIDIA will see a significant amount of selling pressure in the first days of January.
That makes me think about how I can profit from going against "the herd", and one way would be to short NVIDIA with the expectation that the price could drop in January as a supply of shares becomes more available from investors who were waiting until 2017 to register taxable gains. However, using this same logic, I can also potentially make substantial profits by mid-January by considering what stocks shorts have made gains on during 2016. Short sellers who have made money on stocks that have been beaten down are probably also waiting to cover in early 2017 in order to postpone taxes on these gains for another year and also to probably pay a lower tax rate under Trump. I believe the rebound in certain beaten-down stocks will be even greater than normal this year, because this is the first time in many years that investors are being incentivized to wait to take gains due to what is likely to be major forthcoming tax cuts in 2017.
I believe the anticipation of forthcoming tax cuts by the Trump Administration in 2017 has created a special opportunity right now. The opportunity is for investors to seek not just beaten-down stocks that will rebound once the extra supply of shares from tax loss selling ends, but also to focus on beaten-down bargains that have a strong level of short interest. The best friend of the short sellers right now is the (temporary) extra supply of stock being pushed onto the market for tax loss reasons, but that will be over by January 1. When you combine this with the possibility of a sudden burst of buying pressure that could be coming from short sellers who have been waiting to cover in January, then you have the makings of what could be a powerful rebound in certain stocks.
With this in mind, I believe there is a very special and strategic opportunity right now for investors to buy cheap stocks that will not only rebound into January, since tax loss selling pressure will be gone, but also to see even larger gains that are likely to be fueled by short sellers who are especially motivated to wait to cover their short positions because of the promise of lower taxes under Trump. This is a very simple strategy whereby we are anticipating the end of the extra selling pressure that is created by investors doing tax loss selling ("the herd"), and the probable motivation by short sellers (also "the herd") to postpone taxes for another year and probably pay reduced taxes by waiting to cover in the first days of 2017. If we can anticipate the moves made by "the herd" and make our moves before they make their moves, it is likely to result in strong profits, especially this year. Just to be clear, I am not predicting big gains for the overall market in the first couple weeks of January, just for select stocks that appear strategically predisposed for a rebound. Based on this logic and strategy, here are two top picks that appear poised for a significant rebound into 2017.
Medical Properties Trust (NYSE:MPW) is a real estate investment trust, or "REIT", that is primarily focused healthcare facilities. I wrote about this stock in a recent article so I am just going to update a few points as follows. This stock has clearly been forming a bottom for the past several weeks (in spite of tax loss selling), and I believe it is poised to rebound into the first few days of January. After a drop from around $14.50 per share to just around $12 now, this stock is undervalued and has a generous yield of nearly 8%. Furthermore, this company has increased the dividend by about 20% since 2013, and because it has historically announced dividend increases in the first quarter of every year, another dividend hike could be coming soon.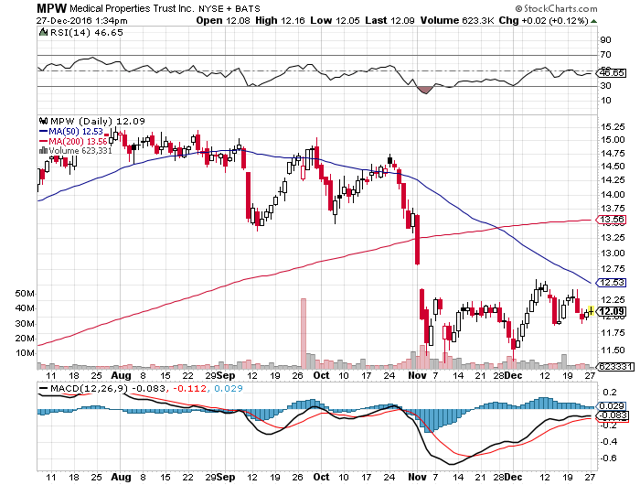 Here is why I see a great opportunity to buy now. This stock clearly has formed a bottom, minor interest rate increases do not dent the appeal of a nearly 8% yield, and the focus on medical care facilities means this investment is relatively recession resistant, especially when compared to a REIT focused on hotels or apartments. Furthermore, if this stock can trade at around $12 per share now even with tax loss selling pressure, imagine what it could trade for when there is no tax loss selling pressure. Then, let's add that short sellers who have made money on this lately could be planning to try to lock in gains by covering in early January since that will allow them to postpone taxes for another year and probably pay less tax under a Trump Administration. According to shortsqueeze.com, over 32 million shares are currently short. With an average trading volume of just over 3 million shares, the short interest represents about nine days of average trading volume, or around 13% of the float. That is enough to cause a short covering rally, especially since trading volume tends to be light in the last days of December and in the first few days of January. My (conservative) January price target range for this stock is between $13 and $13.50 per share (the 200-day moving average is currently $13.56 per share), but it could go even higher if a short covering rally occurs. However, analysts at RBC Capital also believe this stock is undervalued and expect it to rebound, therefore, it has set a $17 price target.
Genworth (NYSE:GNW) is a mortgage and long-term care insurance company. I have traded in and out of this stock over the past several years as it has been volatile and offered investors many buying and selling opportunities. This company has a prosperous mortgage insurance business, but the long-term care division has been challenging, and there have been some charges taken in order to boost reserves. In October, Genworth's shares were trading for around $5.20, but then a buyout offer was announced by China Oceanwide (OTC:HHRBF) for $5.43 per share in cash. Self-made multi-billionaire Lu Zhiqiang is the chairman of China Oceanwide, and he has made investments in financial and insurance stocks in the past. His net worth is estimated to be $4.7 billion, which is significantly more than Genworth's total market capitalization of just around $2 billion.
I believe many investors are asking themselves why did Genworth's shares drop after getting a buyout offer since a takeover deal would normally send a stock soaring. I think there are a number of reasons for this. I don't think there is anything wrong with this deal as long as it gets regulatory approval. China Oceanwide and its chairman seem to be well financed and savvy buyers of financial assets. I think the announcement of the deal at $5.43 per share "capped" the potential upside for investors, and that was a disappointment for many shareholders. After all, if Genworth was trading at $5.20 per share just before the deal, then it makes sense to sell the stock because the most you might get is another 23 cents or just around 4% upside, and that is only if you patiently wait for months and if the deal goes through. The lack of a real takeover premium also created a situation whereby it made sense for short sellers to step into this stock and that created selling pressure as well.
Most takeover deals offer a significant premium and yet still trade for a discount to the deal price just in case the deal fails to go through. However, in this case, there was really no premium and therefore the market price of Genworth's stock was quickly adjusted downward in order to provide a typical discount in the event a deal does not go through. Here is an example of another deal which has some similarities. In October 2015, Walgreens Boots Alliance (NASDAQ:WBA) announced a deal to buy Rite Aid (NYSE:RAD) for $9 per share. When that news came out, Rite Aid's shares dropped about 8% to just around $7.97 even though the buyout price was significantly higher. Clearly, some investors believed there could be some antitrust or other regulatory issues with this deal and therefore wanted some type of "risk-premium" or discount to be built into the shares in the event the deal was not approved. Now that deal approval appears to be more likely, Rite Aid's shares are trading at about $8.40 per share. I believe the deal to buy Genworth has a strong chance of going through, and that when updates are announced and regulatory hurdles are cleared, the current discount (to the buyout price of $5.43 per share) of about 35% in Genworth shares will shrink.
If the deal goes through, then Genworth's shares could rise by about 35%, but I also believe that if the deal falls through, the shares will rise as well. That is because investors will again have more potential upside if they buy Genworth's shares. Right now, tax loss selling and some uncertainty as to whether the deal will go though are holding the stock back. Here is how I see it. If the deal goes through, that will bring about the certainty of shareholders receiving $5.43 per share in cash, and if the deal collapses, it will create the certainty of knowing Genworth can benefit from rising rates and the stock no longer has a cap on it.
I recently started buying Genworth shares again because at just $4 per share, I see a "win-win" situation for shareholders. If the deal goes through, I will see gains of about 35%, and if it does not go through, I could see even bigger gains especially in the long run, as Genworth appears to have probably better options to create shareholder value. For example, the rising interest rate environment has sent many financial stocks soaring recently, but this deal seems to have capped it for Genworth. Since the election, other mortgage insurance stocks like Radian Group (NYSE:RDN) have surged about 50%, and MGIC's (NYSE:MTG) shares are up about 30%. Based on recent statements from the Federal Reserve, many analysts now believe we could see four rate hikes in 2017 and 3.5% yields on 10-Year Treasury bonds. That rate environment would be hugely beneficial for Genworth, and yet none of this appears to be priced in as it has been left out of the major rally in financial stocks due to the deal capping the upside at $5.43 per share.
Besides the fact that the end of tax loss selling could help push Genworth's shares higher, here are a couple of other positives to consider. Genworth Australia (GMA.AX) and Genworth Canada (MIC.TO) are trading near 52-week highs right now. These are very valuable and liquid assets, and Genworth owns stakes of about 50% in each of these publicly-traded companies. Genworth Australia has a current market cap of about $1.62 billion, and Genworth Canada has a market cap of $3.14 billion. That means Genworth's stakes in these companies are valued at about $2.4 billion, which is actually more than the current market cap of the company itself, which is about $2 billion. That shows a lot of potential value that could eventually be unlocked, especially if GNW succeeds in turning the long-term care division into the consistently profitable business that it once was. Genworth has been asking for and receiving major policy premium increases, and that, combined with mortality rates, should get this division back on track.
According to an RBC Capital Markets analyst, Genworth is a "Trump stock" as it should benefit from lower corporate taxes and rising rates. When searching for "Trump" stocks, the analyst looked for companies with a low price-to-earnings multiple, a domestic orientation, superior operating leverage, high corporate taxes, and greater volatility. The list of "Trump" stocks has 40 small- and mid-cap stocks in it. According to shortsqueeze.com, there are nearly 15 million shares short, and with an average trading volume of about 5 million shares traded daily, this represents about three days worth of trading volume. This is not enough to cause a short squeeze, but it could add to the potential buying pressure in early 2017, as tax loss selling ends and as investors look for solid value in the New Year.
I think Genworth could get more for its shareholders without the deal, but let's assume it goes through, in which case, shareholders get $5.43 per share in cash. This would be a gain of roughly 35%. That is too large of a discount, especially for a stock that could be better off if the deal is not completed. Because of this and the other positive factors surrounding this stock, like rising rates and the potential for significant corporate tax cuts and deregulation by a Trump Administration, I believe the discount to the deal offer of $5.43 per share will narrow significantly. I think the combination of these factors along with the end of tax loss selling and some short covering will push Genworth's shares back above $4.50 in January, which offers investors a potential gain of about 10% in just a short time, and yet, even at about $4.50, still would offer additional upside of more than 20%, if the buyout deal goes through.
I have a couple of other stocks that could be poised for a significant rebound into January, and I plan to write about those very soon. Please consider following me if you want updates on these stocks or more articles about strategic and deep value contrarian investing.
Data is sourced from Yahoo Finance. No guarantees or representations are made. Hawkinvest is not a registered investment advisor and does not provide specific investment advice. The information is for informational purposes only. You should always consult a financial advisor.
Disclosure: I am/we are long MPW, GNW.
I wrote this article myself, and it expresses my own opinions. I am not receiving compensation for it (other than from Seeking Alpha). I have no business relationship with any company whose stock is mentioned in this article.