For most of this year, it has been our position that the Federal Reserve has failed in its responsibilities to prepare the US economy for tighter monetary policy with higher interest rates in 2017. To a large extent, our calls have been validated by the last Fed policy meeting where markets were given additional clarification in the statement that accompanied the rate hike announcement.
Here, we can see that the Fed is already revising higher its original expectations for borrowing costs - and this is something that should continue to benefit our long trade in Citigroup Inc. (NYSE:C).
Our previous article on Citigroup suggested that the stock was on the verge of a breakout, and some readers expressed concern over some of the price weakness that was being seen at the time. The comments discussing the article became particularly interesting, however, as the stock started trending in the right direction. Harryly83 asked, on December 13th: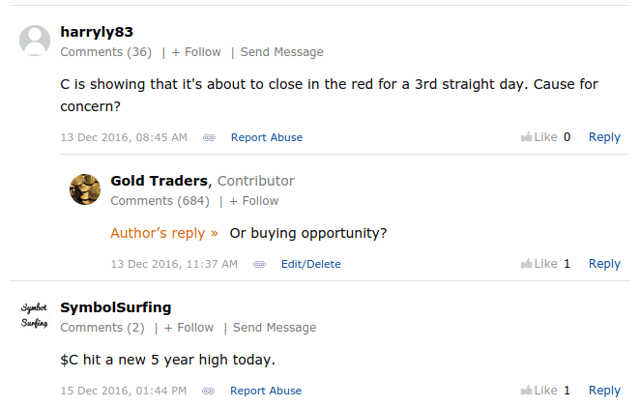 Results like these speak for themselves, so investors will now be looking for ways to ride the wave in specific market sectors that are poised to benefit both from the current macro outlook and under the pro-business growth agenda that has been proposed by the Trump administration.
Questions to Ask
So the real question going forward is whether or not our outlook for higher interest rates imposed at a faster rate will become a reality. This will be critical for Citigroup in generating the earnings performances that will not be expected by market analysts when they are forming their price targets for the first part of next year.
Citigroup is currently trading at a 19% discount to book value, which is arguably the best metric to use when determining positioning stances within the banking industry, and well below the trend seen in companies like Wells Fargo & Co. (NYSE:WFC), which currently trades at 156% of its book value. This ultimately, means that Citigroup is well positioned within a sector that is well positioned for further rallies as we head into next year.
Chart View: Citigroup Inc.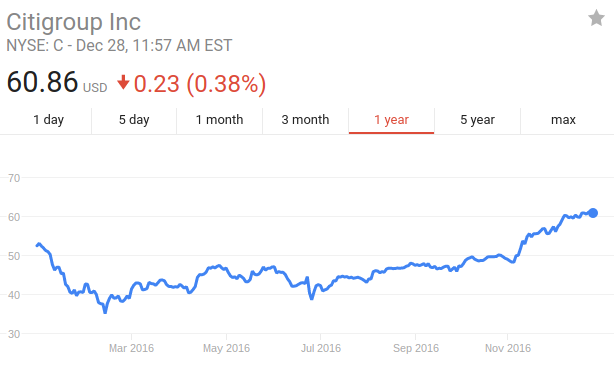 Chart Source: Gold Traders
As a protective measure, we have moved up our stop loss to 57.90 which is below cluster support as any sharp moves through here could change the shorter-term outlook. From a valuation perspective, it will continue to be important to monitor shorter-term price activity because we are literally in "uncharted" territory from the longer-term perspective.
This type of viewpoint tends to be most beneficial in determining when trend activity is ending, so we will continue to approach our position with these factors in mind.
Chart View: US ISM Non-Manufacturing PMI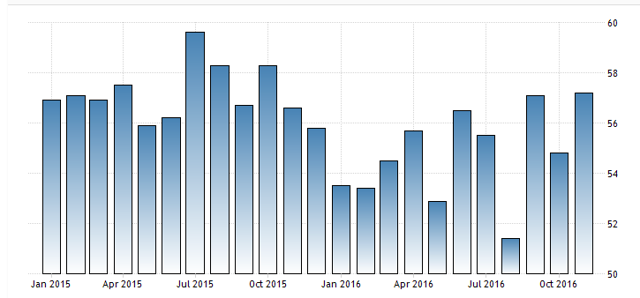 Chart Source: Gold Traders
Central to our stance is the policy maneuvering that is being suggested by the Fed over the next two quarters. It is our belief that the Fed has been far too complacent with its interest rate strategy and that we will need to see some significant revisions here as consumer inflationary pressures start to become more obvious. Data surveys like the ISM non-manufacturing PMI continue to support our viewpoint as expansion in the services sector is likely to start filtering into other aspects of the economy.
From a specific stock choice perspective, we see all of this supporting instruments like SPDR S&P Bank ETF (NYSEARCA:KBE), which includes tracks the performance of the S&P Banks Select Industry Index, and includes Bank of America Corp. (NYSE: BAC). For now, we will hold our positions in Citigroup until we see specific macro releases that bring more doubt into our sector outlook.
Disclosure: I am/we are long C, BAC, KBE.
I wrote this article myself, and it expresses my own opinions. I am not receiving compensation for it (other than from Seeking Alpha). I have no business relationship with any company whose stock is mentioned in this article.