I wrote my last article on Fogo de Chao (NASDAQ:FOGO) back in July 2016. I explained that it was one of my favorite picks in the restaurant industry due to its unique concept, great economics and superior long term growth prospects. Today, 6 months later, the share price is pretty much flat and the opportunity still exists. While the business may be going through some temporary and short term issues in Brazil and elsewhere, I remain very bullish on the concept and will keep on holding for the long run. Here is why:
Superb Concept with Exceptional Economics
I do not only like the business, I also greatly enjoy the product. Having eaten at Fogo restaurants at multiple occasions, I have always been very pleased with the overall dining experience. I believe it to be a truly differentiated concept with a superior value proposal to most other restaurants.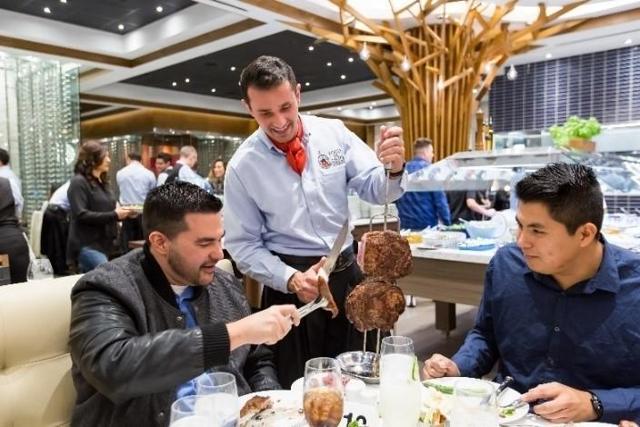 Simply compare the Brazilian Steakhouses of Fogo de Chao to the average other steakhouse. While regular steakhouses sell "food", Fogo sells a "dining experience". In a normal restaurant, you get in, sit down, order from the menu and wait 20 minutes for the waiter to come and serve you. It is almost always the same functioning and it may sometimes get boring.
Fogo provides a different system in which the dining experience is fun, exciting and just more than food.
When you enter a Fogo de Chao restaurant, you sit down and immediately after ordering drinks, start getting served food if desired. Numerous chefs are constantly walking through the dining room with various freshly grilled cuts of high quality meat and the client is able to try anything he wishes, in the quantity he wishes.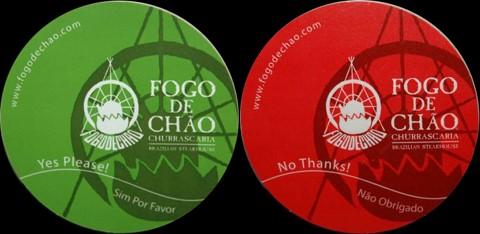 Every customer receives a disk (as seen on the right) with one side being green and other red. Whenever, the customer desires to get served more food, all he has to do is turn the green side on the table; indicating to the chefs that the client is ready for another round. When the client wants a break, or is done, he simply turns the red side up.
It is a simple but powerful concept. Clients achieve a superior enjoyment as they get to always be served by the chef at the table who directly cuts the meat in front of them. It is a nice feeling that a regular restaurant rarely provides. You get to fully control what piece you want, when you want it and in what quantity you want it for a flat price.
At a regular steakhouse, the client typically orders one cut of meat and has to eat the same meat the whole night. At Fogo de Chao, the client can for the same price, try out many different pieces. The tastes never get repetitive as something new and fresh is always on its way to the table.
To summarize, this concept provides superior value to the client as a combination of higher quality of service, higher diversity of meats, unlimited quantities, and the unique environment of getting meats cut freshly at the table in front of you by the chefs themselves. This conclusion of "superior value relative to peers" has been well proven in the US market as clients have demonstrated their willingness to accept higher bills at Fogo compared to other restaurants.
The high pricing power makes the economics of the business very compelling:

The profitability of Fogo de Chao is unmatched by most competitors and truly exceptional for a restaurant. Competitors do not come even close. The contribution margin of Fogo stands at 31.4% while the average of peers is at only 19.2%. As such, the margin is more than 50% superior to peers.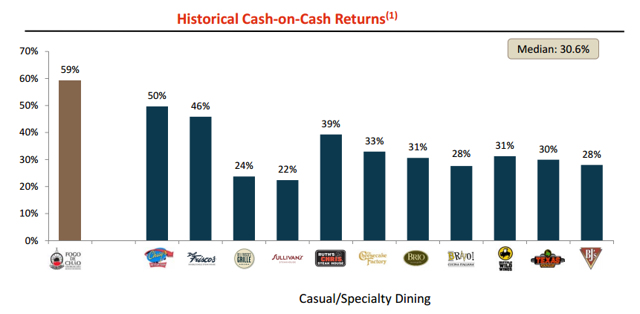 Fogo de Chao restaurants are true cash cows. Historically new restaurants have produced returns in excess of 50% per year and have hence been paid off in only 2 years. This is unmatched by rivals and again demonstrates the strengths of Fogo's business model. By retaining its earnings, Fogo de Chao is able to keep on reinvesting in new restaurants, grow very quickly and create tremendous value for its shareholders. Today, Fogo de Chao aims to grow its earnings at a rate of 18 to 20% per year for the foreseeable future and this high growth is only possible because of these superior economics.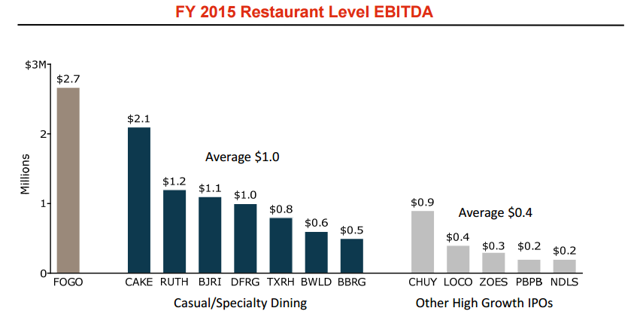 On average each Fogo de Chao restaurants attract over 130,000 guests per year proving once again that the concept is extremely desirable. As a result of the high volume and the high margin, Fogo delivers more than 2 times the average casual / specialty dining EBITDA and more than 5 times the average restaurant EBITDA of recent IPOs.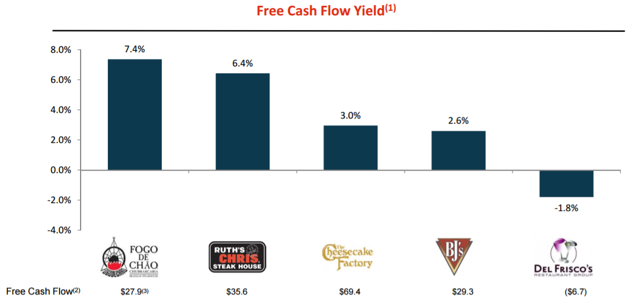 Lastly, the Free Cash Flow Yield of Fogo de Chao restaurants is also very competitive and often superior to competitors. This is essential for financing future growth and positions Fogo to provide long term value to investors.
The Long Term Growth Story is Above Average
What I like about Fogo de Chao is that its growth story is very predictable and easy to understand. All it has to do is keep on opening new stores in new locations and enjoy the great economics of the product. Additionally, it can improve the efficiency of its existing restaurants and achieve same store growth to supplement total growth.
Despite the recent issues that Fogo run into (Brazil's economy; same store stagnation; food cost;…) and the temporally slowed growth, the long term picture remain highly promising.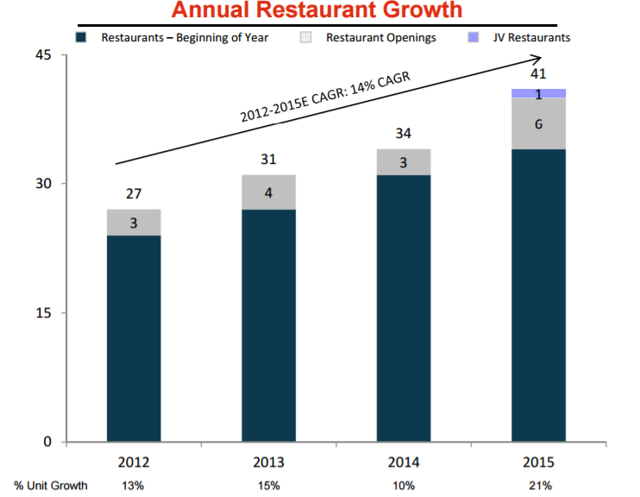 Restaurant openings are significant and will continue to grow in the future. Fogo sees potential for over 100 restaurants in the US alone and aims to expand the store count by at least 10% a year.
Here is a snapshot of their historical track record of successful growth: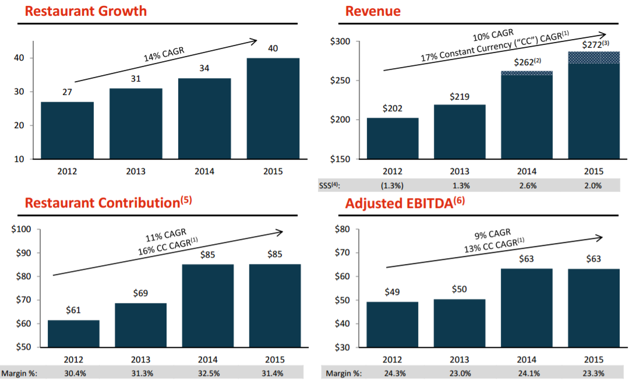 International Expansion Remains Overlooked
Fogo de Chao recently opened its first JV restaurant in Mexico City and a second one in Saudi Arabia. These JV deals have very attractive terms for Fogo de Chao and will help supplement growth in a capital efficient manner. According to the terms of these JV deals, Fogo is expected to receive a 3% royalty fee, and 50% of the cash flow once the JV partner has recovered his initial cash outlay. Today a second lease is already under process in Mexico.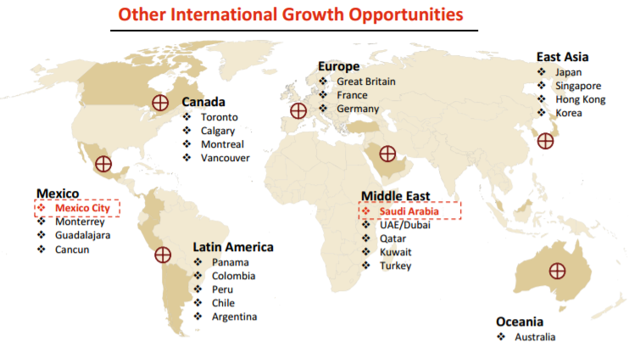 The concept could work in almost any major city in my opinion. Having recently traveled to Cardiff, UK, I noticed a restaurant called "Viva Brazil" which was completely full of clients. The concept was very similar to Fogo de Chao and might perhaps been copied. I researched the company and found out that it had already opened 4 restaurants in the UK and was doing very well.
Final Thoughts
Fogo de Chao is my #1 pick in the restaurant industry for total long term returns. The way there will be volatile but I don't mind and will utilize each opportunity to average down if the bull case remains identical. I anticipate Fogo de Chao restaurants to soon be located in most major cities not only in the US, but around the world. I am today long and look forward to adding to my position at today's attractive valuation.
If you enjoyed this article, please scroll up and click on the "Follow" button next to my name to not miss my future articles on other opportunities.
Disclosure: This article is for informational purposes only. It is not a recommendation to buy or sell any security and is strictly the opinion of the writer. Readers are expected to conduct their own due diligence or seek advice from a qualified professional.
Sources: Fogo de Chao Investor Relations
Disclosure: I am/we are long FOGO.
I wrote this article myself, and it expresses my own opinions. I am not receiving compensation for it (other than from Seeking Alpha). I have no business relationship with any company whose stock is mentioned in this article.