By now, it's fairly obvious that the automotive sector is undergoing tremendous changes. On one hand are a series of global mega trends driving the sector. I have discussed those trends in an article on Seeking Alpha. On the other hand, are increased competitive pressures brought along by companies such as Google (NASDAQ:GOOG) (NASDAQ:GOOGL), Tesla (NASDAQ:TSLA) and Uber (UBER). Google has made substantial investments in autonomous vehicles. Uber and Lyft (LYFT) have given consumers a reason to avoid buying cars altogether.
Recently, Google has created a new business unit called Waymo for its autonomous driving technology. This is a signal that Google thinks its autonomous vehicle technology is ready for commercial use and can start delivering revenues. Soon after the Waymo announcement, Honda (NYSE:HMC) announced that it's in talks with the company to test Waymo's self-driving technology in its vehicles. Some industry analyst have suggested that given the increased demand for capital and resources required to develop self-driving technology, Honda can potentially free-up resources by partnering with Waymo.
Cities and countries across the globe are rethinking the car-centric transportation solution. The car-centric solution centered around people owning and driving their cars to and from work. But, some consumers are deciding to go without a car given the myriad options (Uber, Lyft combined with local transportation) now available in certain cities that solve the first mile/last mile challenge. This trend is expected to put pressure on car sales in the near future.
Harman International (NYSE:HAR) is well positioned to take advantage of one of the mega trends - intelligent driving.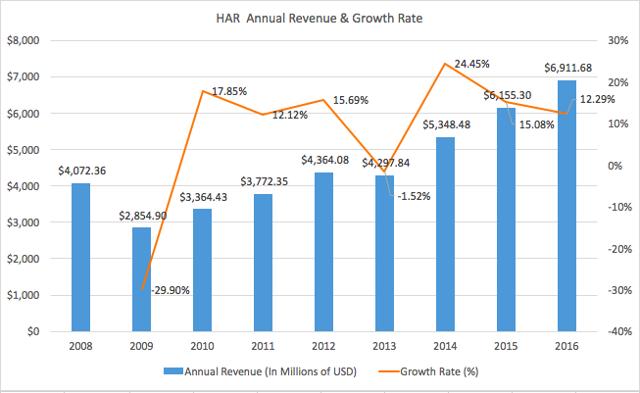 Exhibit: Harman Annual Revenue and Growth Rate
(Source: Company Filings)

Exhibit: Harman Revenue from Business Segments 2006-2008
(Source: Company Filings)

Exhibit: Harman Revenue from Business Segments 2014-2016
(Source: Company Filings)
We are in the nascent stages of the development of the connected car. Its technical expertise in designing and integrating navigation, speech recognition and human-machine interfaces will play a key role in self-driving vehicles of the future.
The increased connectivity in vehicles has put the spotlight on cyber security. Harman has made acquisitions to bolster its capabilities in cyber security. In March of 2016, it acquired TowerSec Ltd. This company specialized in offering intrusion prevention system for in-vehicle networks and an on-board embedded software system to prevent attacks on the vehicle's telematics systems.
Today, software on laptops and mobile phones can be updated regularly. Given that cars have a life of 10 years or more, the electronic hardware need to be modular and upgradeable. WSJ recently reported a story about cars made by BMW (OTCPK:BMWYY) that were about to lose their 2G internet connectivity because AT&T (NYSE:T) and Verizon (NYSE:VZ) are shutting down their 2G service. To avoid problems like this, hardware and software need to be upgradeable. This will be front and center in a connected car. Tesla has been a pioneer in this area by offering over-the-air (OTA) updates for the software in its cars. Harman understands the importance of OTA and has acquired Red Bend, a provider of software management technology for connected devices, over-the-air software and firmware upgrading services.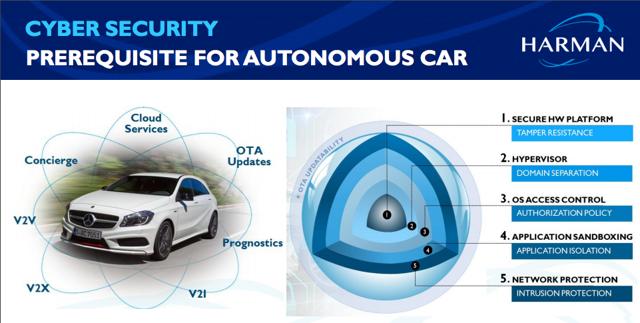 Exhibit: Cyber Security a Key Requirement in a Connected Car
(Source: Company Filings)
Cloud services, along with features such as voice recognition, will be another key infrastructure component for connected cars. Cloud services will provide everything from navigation to entertainment in a connected car. Amazon Echo (NASDAQ:AMZN) offers a glimpse into the importance of cloud services to an internet-of-things device such as a connected car. The Echo device uses a vast array of back-end cloud services to answer questions, play music or help buy stuff (Amazon reported that its Echo speakers topped its best-seller list).
Harman understands the importance of cloud services. Its 2015 acquisition of Symphony Teleca adds to its cloud capabilities. Its connected services business segment include the operating results of Symphony Teleca, Red Bend and its automotive services businesses. According to Harman, this segment creates software solutions that integrate design, mobility, cloud and analytics and brings the benefits of the connected world to the automotive, retail, mobile, healthcare, media and consumer electronics markets. The customers in this segment includes BMW, Daimler (DDAIY), the Volkswagen Group (OTCPK:VLKAY), Jaguar Land Rover, Microsoft (NASDAQ:MSFT), British Telecom and Polycom (NASDAQ:PLCM).
Why Harman shareholders may be right about demanding a higher price?
Recently, WSJ reported that Atlantic Investment Management, which owns a 2.3% stake in Harman, will vote against the merger with Samsung (OTC:SSNNF). The merger will probably not be derailed, given the small stake that this firm has in Harman.
Some of the capabilities that Harman has been building is still in its infancy in a car. There are not many cars with Wi-Fi connectivity. Other than pioneers like Tesla, there are not many examples of OTA software updates in a car today. So, the market for many of the software capabilities that Harman has to offer is very much untapped. Growing income levels in China and India are driving car sales in those two countries. There is still a vast untapped potential for the products and services that Harman has to offer in those markets. Atlantic Investment Management may be right to ask for a better price.
The connected car market is evolving fast and a company needs to stay nimble and be willing to make acquisitions or change strategic direction quickly. Harman, as an independent organization, has already demonstrated its speed and agility. By focusing on brand building and strategic acquisitions, it has built substantial scale to compete in the global OEM market.
Harman has also built a fairly diverse business (Harman generates over 60% of its revenue from the auto market) with focus on acquiring great brands that can fetch a premium price both in the auto and consumer markets. It has good gross margins compared to Delphi (NYSE:DLPH) (Gross Margin = 19.8% in 2015) and Visteon (NYSE:VC) (Gross Margin = 13.3% in 2015). Harman had a gross margin of 30.3% in fiscal year 2016.
For more on Delphi, please read:
Delphi Automotive: Building a Bridge To The Future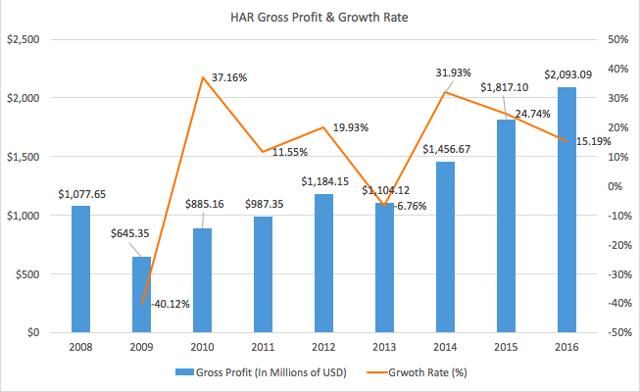 Exhibit: HAR Gross Profit and Growth Rate
(Source: Company Filings)
Mergers always pose a risk and this will be no different. If it completes its merger with Samsung, it will become part of a large conglomerate with a vastly different culture and a large bureaucracy. This may slow it down and add uncertainty during the period when focus is critical. Harman has done well as an independent company and there is every reason to believe that the current management can successfully navigate the rough and tumble world of OE manufacturers.
Why Samsung may be over-paying for Harman?
Ever since the great recession of 2008-2009, we are in the midst of one of the longest economic expansions in U.S history. During this growth period, the U.S auto market has done extremely well. The Asian auto market may be largest by volume and the fastest growing, but the average selling price of a car sold in the U.S is higher compared to markets like India (For more on this, please read my blog post on the mega trends).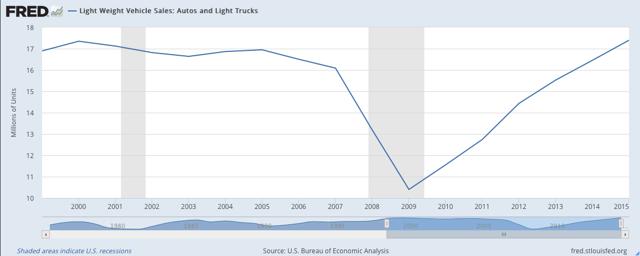 Exhibit: U.S. Light Weight Vehicle Sales
(Source: St. Louis Federal Reserve)
The U.S. auto market is starting to show signs of strain. A New York Fed research note indicated that over 6 million Americans are delinquent on their auto loans. U.S. car makers are also idling plants in the first quarter of 2017 due to oversupply concerns. Part of the reason for the idling is a dramatic change in consumer preference. Consumers now prefer SUVs over sedans and dealers have an oversupply of sedans that they need to sell before they can take more inventory. But the other part of the reason could very well be that the U.S. auto market, after years of strong growth, may be slowing down. If the auto market slows down, that could have an impact on Harman's revenue and profitability. If that happens, Samsung could potentially buy Harman at a lower price.
McKinsey & Company pointed out in a recent article that OE manufacturers like Delphi, Visteon and Harman will have to compete against new competitors such as Google and Apple (NASDAQ:AAPL). This is because software is becoming an integral part of an automobile. Companies like Google and Apple have huge financial flexibility driven by their higher gross margins and available cash for investments compared to Harman and other OE manufacturers. Apple (Gross Margin of 39.1% in 2016) and Google (Gross Margin of 61% in the quarter ending September 30th, 2016) can easily take losses in the products they offer to the auto makers in an effort to gain market share.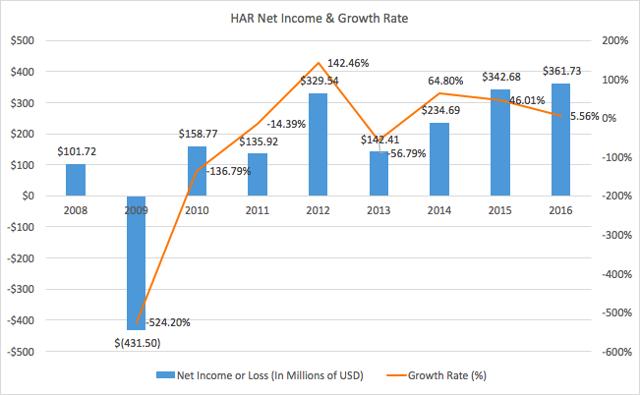 Exhibit: Harman Net Income & Growth Rate
(Source: Company Filings)
If Harman shareholders buy into the premise that in the long-term Harman can be a leader in the OEM space for connected car, they would vote against the merger with Samsung and potentially ask for a higher offer from Samsung or wait for a competing bid. If the shareholders believe that slowing auto markets and increased competition would put a lot of pressure on Harman, they would take the current offer by Samsung.
Disclosure: I/we have no positions in any stocks mentioned, and no plans to initiate any positions within the next 72 hours.
I wrote this article myself, and it expresses my own opinions. I am not receiving compensation for it (other than from Seeking Alpha). I have no business relationship with any company whose stock is mentioned in this article.