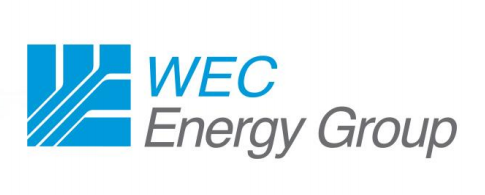 WEC Energy Group (NYSE:WEC) is a utility company based in the upper Midwest. It has been growing earnings and dividends at a very good clip, especially for a utility. Its merger with Integrys seems to have increased its earnings growth. At the current market price, it's more than 10% below my target price and is very much a buy. Its nearly 9% decline in price over the last 6 months represents a solid buying opportunity. WEC is another member of the DG50™ that Mike Nadel gives a performance update for in this article.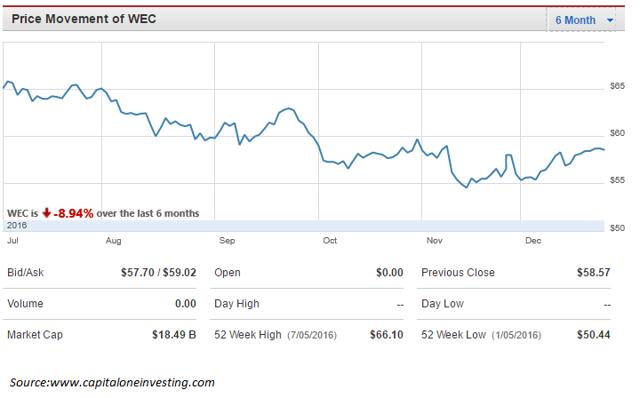 Is WEC a good investment partner?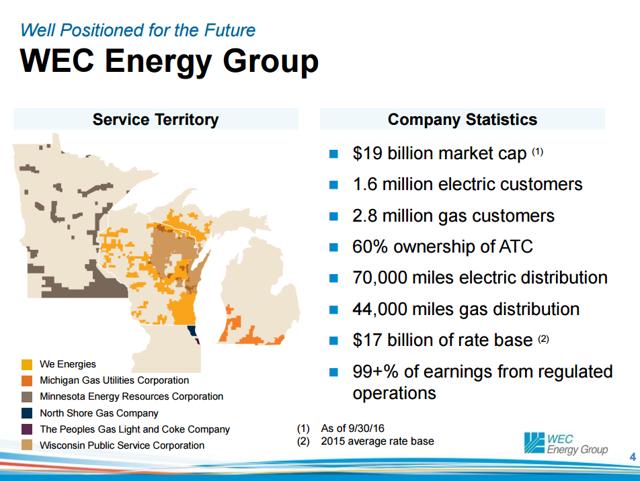 This first slide from a WEC investor presentation shows some basic facts about the company and where its customers are located. Its well worth reading in its entirety, but I have included the most important slides below. WEC has customers spread across four states, most with favorable regulation environments. It sells both gas and electricity and owns distribution systems for both.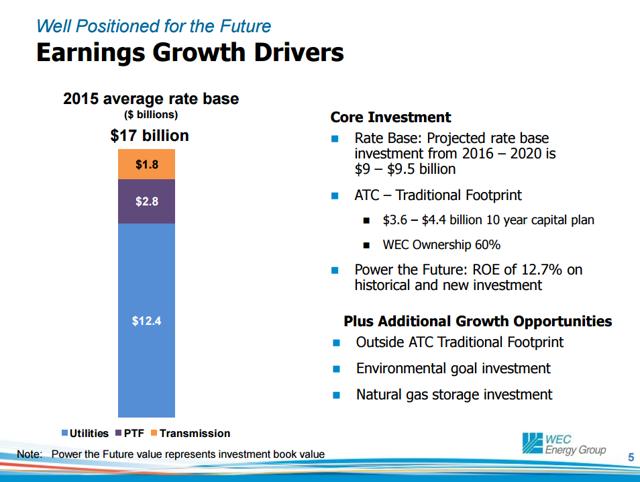 This next slide shows, the WEC management has identified areas that are most likely to provide future growth and that they are targeting them for investment.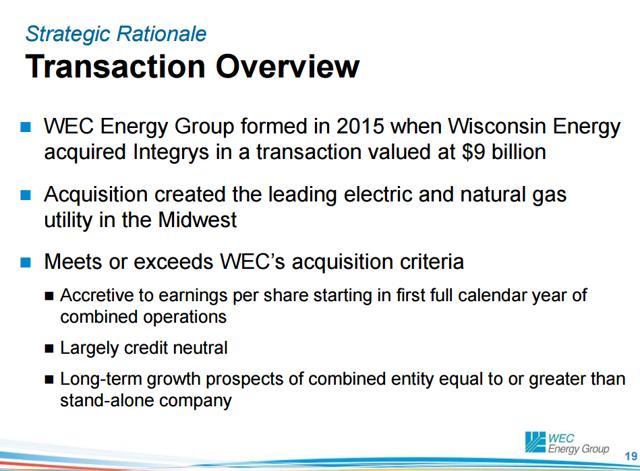 This slide shows an evaluation of the acquisition of Integrys. Growing just to get bigger is a way to waste valuable capital, so it's important to have goals and metrics to evaluate whether or not an acquisition is a good fit. Its also important to look back after an acquisition is completed to make sure that the pre-acquisition evaluation correctly evaluated the acquisition. This slide shows that the Integrys acquisition did meet expectations.
This slide shows WEC credit ratings. Because adding utility infrastructure is a capital intensive operation, good credit is important to keep costs down. With all its various units rated at least A-, WEC had access to low cost capital.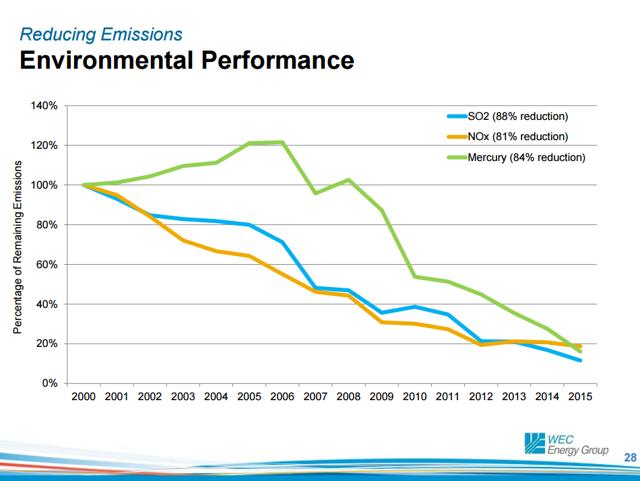 No matter what the incoming Trump administration decides about carbon emissions, emissions of pollutants will continue to be an issue for power plants. With more than half of its plants using coal, WEC has potentially large emissions problems. The slide above shows that for SO2, NOx and Mercury emissions, WEC has already reduced them by more than 80% from 2000 levels. From the perspective of future costs, this likely precludes any big expenditure to reduce emissions in the near future.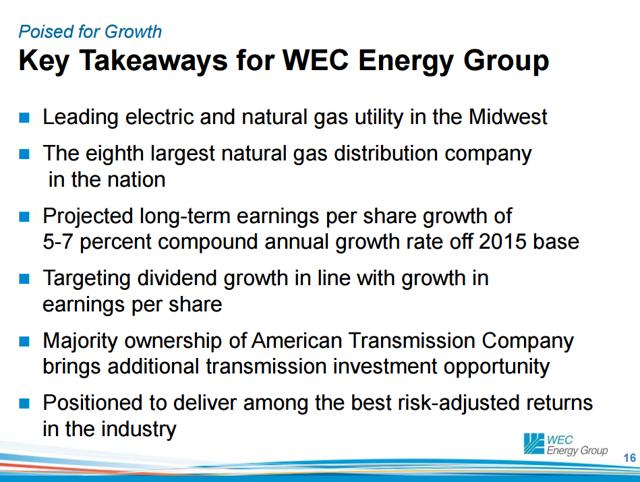 This slide shows that WEC has a plan for growing in the future. The key takeaway is that the plan projects earnings growth of 5%-7% a year going forward. It also plans to grow the dividend in line with earnings growth.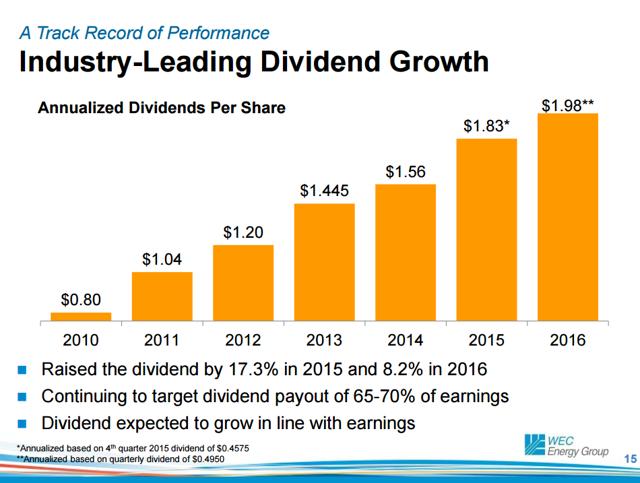 As a dividend growth investor, this last slide is one I always like to see in investor presentations. It shows a growing dividend and that the company sees growing the dividend as important to the investor. While I don't expect to see dividend increases like the one in 2015, this slide shows a good 15 to 20 cent increase in the dividend each year.
WEC shows a good customer base, good planning for the future, intelligent acquisitions, good credit and a dividend growth history with a planned growth in earnings to support further dividend growth. That's what I want to see in a utility that I pick as an investment partner.
What's a good price?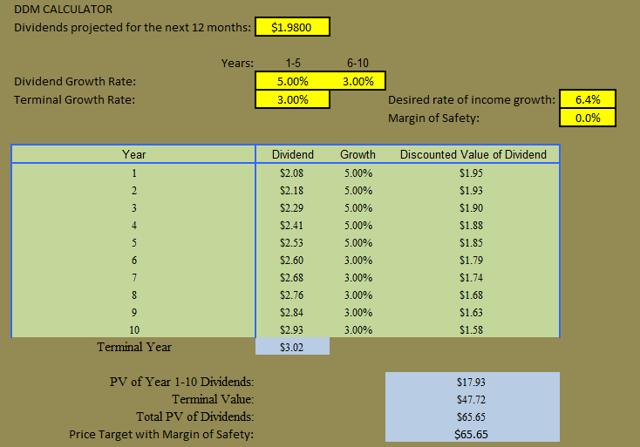 To figure out a good price, I do a DDM calculation using my Excel®-based DDM calculator (pictured above - you can see the web-based calculator I based it on here and read a discussion on how the formulas were developed here). When evaluating utilities, I use the lowest dividend growth rate from the CCC List, but that produced a price I thought too high. So instead, since WEC management had given guidance that the dividend would increase in line with earnings and WEC expected earnings to grow from 5%-7% per year, I used 5% for the short-term dividend growth rate (rather than the lowest DGR value from the CCC list of 8.2%). With a $1.98 annual dividend, a terminal growth rate of 3% and a rate of income growth (used to discount future dividend payments) of 6.4%, the DDM calculation indicates a PV of future dividends is $65.65.
With the current market price of $58.57 and using the 5-year growth rate of the dividend of 16.9%, it gives WEC a Chowder number of over 20. Even at my higher buy price, the Chowder number is 19.9. Since both those numbers exceed a requirement for a regular company to have a Chowder number above 12, and even more so for utilities to have Chowder numbers over 8, I see the current market price of WEC as a buy.
Can options help?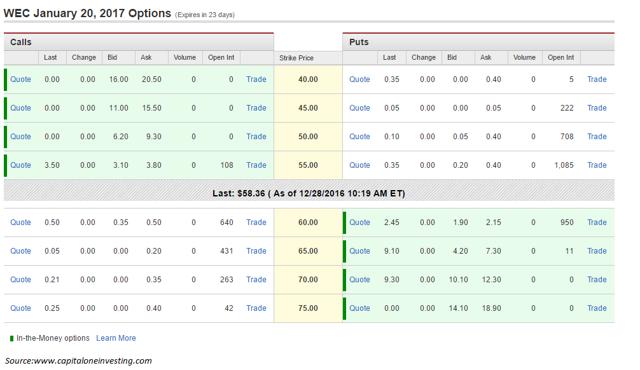 With the price target so much higher than the current price, options don't need to do very much. On the put side, the January expiration date looks like it has a good contract at the $60 strike price. With the bid being $1.90 it should be easy to get a contract that will give the investor the shares at a slight profit to buying them at market price. With a Delta of -0.61, it will also give the writer about a 60% chance to get the shares, or pay a very nice premium to wait for the price to come down.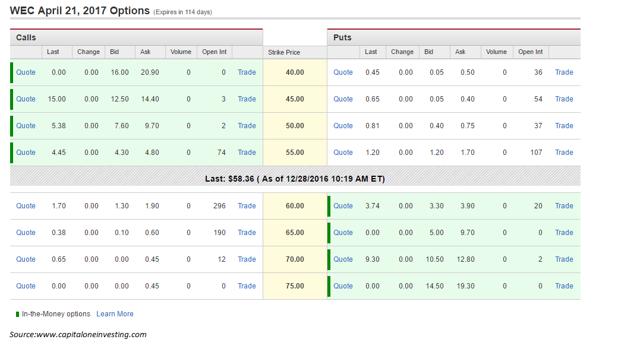 For a covered call, I needed to go out to the April expiration date to find a reasonable contract, since I don't want to sell shares for less than $65. At that point the $65 call should get you about $35 before commissions. While the Delta is low at 0.15, there still is a chance that the shares might be called away. If you have several hundred shares of WEC and got them well below $65, this might be worth writing multiple contracts on, but it's not a lot of reward for just a single contract.
Conclusion
WEC is a solid dividend-paying utility with impressive recent growth. While I don't think it can continue to grow the dividend as fast as it has over the last 10 years, it should still be able to grow the dividend more than 5% a year. At today's price this utility is priced at a bargain and well worth considering for a core position in any dividend growth investors portfolio.
Note: I hope you all got something out of this article. I do appreciate the time you took reading it. If you are one of those who follow me here, I appreciate it; if you'd like to include yourself amongst those individuals, please hit the "Follow" button next to my name as well as following other contributors whose work you enjoy. As always, please leave any feedback and questions you may have in the comments below.
Disclaimer: This article is intended to provide information to interested parties. As I have no knowledge of individual investor circumstances, goals, and/or portfolio concentration or diversification, readers are expected to complete their own due diligence before purchasing any stocks mentioned or recommended. The price I call fair valued is not a prediction of future price but only the price at which I consider the stock to be of value for its dividends.
Disclosure: I/we have no positions in any stocks mentioned, and no plans to initiate any positions within the next 72 hours.
I wrote this article myself, and it expresses my own opinions. I am not receiving compensation for it (other than from Seeking Alpha). I have no business relationship with any company whose stock is mentioned in this article.