Over the last few months, we have reiterated a few times that we believe that today's market is risky. Valuations are expensive and political and economic risks are high. This situation requires extreme care and scrutiny into current and future positions. Unfortunately, not many stocks or industries are at fair value.
One of the few sectors that has the potential to offer returns, in our opinion, is the pharmaceutical sector. Political claims sent pharma stocks into a tailspin. Both Clinton and elected President Trump repeatedly campaigned that they wanted to lower drug prices. In a recent Time interview, Trump said "I am going to bring down drug prices… I don't like what's happened with drug prices." Do we know how he is going to do that? Obviously not.
Trump says and tweets about a lot of things. It is difficult to speculate about what exactly will happen, but it is well known that politicians attract votes with promises they already know they can't maintain. A recent example is the Brexit campaign (many associated Trump with Brexit). Farage was the main promoter of Brexit. The leave campaign argued that leaving the EU would provide £350M/week in savings that could be redirected to the national health system.
A few hours after "leave" won, Farage said that the NHS-savings claim was false and a mistake. Watch this funny video where he tries to explain the "misunderstanding." The Trump campaign was similar to the Brexit campaign. Full of promises, no details and lots of propagandistic tweets. Despite these uncertainties, Trump's words have negatively impacted pharmaceutical companies' stock prices. The graph below shows that both pharmaceutical companies, even generics (light orange), have fallen 15%-20% since the beginning of the year.

We believe that Trump will make a lot of noise, but won't implement many changes. However, even if these changes materialize, the Pharma industry is not a unique blend of firms. Value and opportunities can be found in the generic segment.
Why generics?
First, the pharma selloff is overdone (and generics are part of it). The main reason for the price fall of these stocks is political turmoil. As explained above, we believe that this is exaggerated. Second, the pharma industry is going to be supported by demographics. Everyone knows that the world population is aging, that the baby boomers are wealthy and retiring. They want to live longer and healthier and will spend money on medicine to do so. The following infographic from the United Nations summarizes what could happen over the next few decades. Pharma companies are going to benefit from these demographics.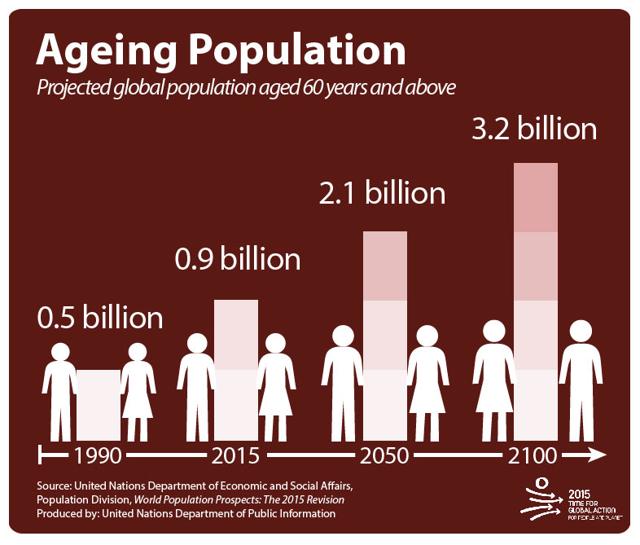 Third, even if Trump somehow does something to bring drug prices down, generics are actually cheaper compared to patented drugs, so why would a political party be harsh on them? Eventually, they will be incentivized, for example, with faster FDA approval. In his recently announced First 100 Days Action Plan, he said that: "Reforms will also include cutting the red tape at the FDA; there are over 4,000 drugs awaiting approval, and we especially want to speed the approval of life-saving medications." Generics are likely to benefit from this plan. The IMS and McKinsey forecast that the market for generics will grow from $206B in 2015 to $292B in 2020.
Risks
We believe that two main risks currently exist. First, a few days ago, U.S. Department of Justice filed charges in generic drug price-fixing probe. The U.S. Department of Justice accused two former generic pharmaceutical executives of colluding with other generic manufacturers to fix prices - the first criminal charges stemming from a two-year investigation. Companies in the congressional probe have since publicly disclosed that they have received subpoenas, including Mylan NV (MYL), Allergan (AGN), which later sold its generics business to Teva (NYSE:TEVA), Lannett (LCI), Impax Laboratories (IPXL), Endo International (ENDP), Sun Pharmaceutical Industries (OTCPK:SMPQY), Taro Pharmaceutical Industries Ltd. (TARO), and Mayne (OTCPK:MAYNF). This shows that generics are not immune from criticism and price discussions. However, in our opinion, they are safer because they might be the solution to the high-price problem.
As noted by World Finance, according to the 2016 Generic Drug Savings report produced by the Generic Pharmaceutical Association (GPhA), nearly 3.9 billion of the 4.4 billion prescription drugs distributed in the US during 2015 were not brand name drugs, but instead the FDA-approved generic equivalent. GPhA noted that generic drugs represent 89% of prescriptions dispensed in the US, but make up only 27% of total drug costs. This presented more than $227B in 2015 savings to the US healthcare system, and more than $1.46T of savings between 2006 and 2015. These numbers clearly show that promoting generics could be a way to reduce the American healthcare tax bill. Therefore, the market reaction is unjustifiably steep and the current prices offer interesting buying opportunities.
Second, another risk is represented by the fact that generics are "commodity producers." When the product that a company is selling is no different from its competitors, the company faces pricing pressures and does not have much of a competitive advantage or pricing power. Therefore, we extensively surveyed the market and spotted two companies that we believe have a competitive edge: Akorn (AKRX) and Teva . A few days ago, we discussed Akorn, today we present Teva.
TEVA
Teva Pharmaceutical Industries is a leading global pharmaceutical company that delivers high-quality, patient-centric healthcare solutions. Headquartered in Israel, Teva is the world's largest generic medicine producer, leveraging its portfolio of more than 1,000 molecules to produce a wide range of generic products in nearly every therapeutic area. In specialty medicines, Teva has a world-leading position in innovative treatments for disorders of the central nervous system, including pain, as well as a strong portfolio of respiratory products. Teva integrates its generics and specialty capabilities in its global research and development division to create new ways of addressing unmet patient needs by combining drug development capabilities with devices, services and technologies.
We like Teva for three reasons. First, despite being in the generic segment, where as we said, it is difficult to gain a competitive advantage, we believe that Teva has an advantage over its competitors, namely its size. Along the lines of Wal-Mart (WMT), being the market leader helps to reach economies of scale that competitors cannot obtain. The slide below shows that Teva has a market share almost double than its closest competitor. Teva is also a leader in the U.S. with 18% market share. It is important to note that Teva recently acquired Actavis for $40.5B and this will strengthen its position.
Second, the company is growing. Unfortunately, most of this growth is coming from M&A activity. Yet, this aggressive strategy has paid off in the past. From 2006 to 2016, Teva significantly increased its dividends from $0.24 to $ 1.36 per share that represents an interesting 3.8%. Company revenues increased from $8.4B in 2006 to more than $22B this year (forecasted, source: GuruFocus and 4-traders). Yet, it is important to note that revenues have been stagnant from 2012, so most of the growth has been achieved in the period 2010-2012.
EPS has been $1.49 in 2013, $3.56 in 2014, $1.82 in 2015 ($5.46 non-GAAP) (source: GuruFocus). We don't like non-GAAP measures, but let's explain the large difference between GAAP and non-GAAP. According to TEVA, non-GAAP results exclude the following items - inventory step up, amortization of purchased intangible assets, costs related to regulatory actions taken in facilities, equity compensation, purchase of R&D in process, legal settlements and reserves, acquisition restructuring and other expenses and impairment, impairment of financial assets and other special items and their related tax effect. In particular, in relation to 2015, two major expenses explain the difference between GAAP and non GAAP: $631M in legal settlements and $1.1B in impairments. It seems to be reasonable to argue that these are non-recurring items. Analysts forecast EPS to be $4.37 in 2016, $5.29 in 2017 and $5.71 in 2018.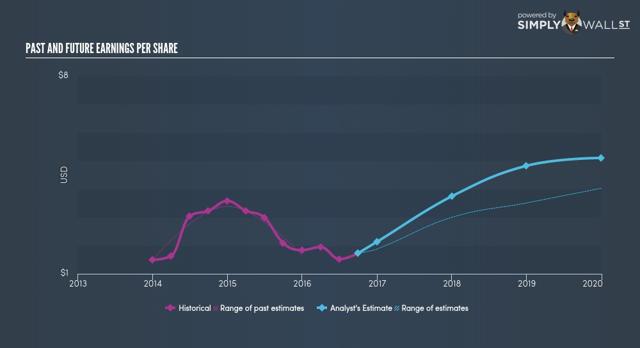 (Simply Wall Street)
Over the last couple of years, TEVA has outperformed analysts' expectations in every quarter.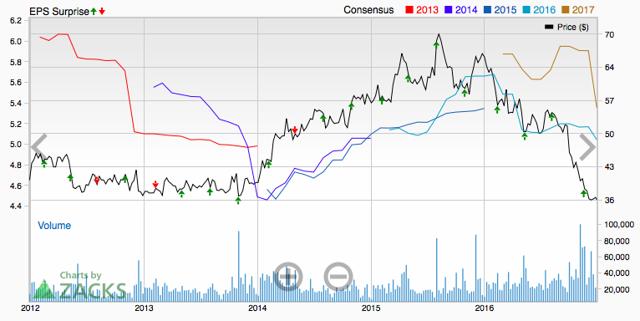 (Zacks)
Third, despite its growth and good fundamentals the stock price has plummeted. This year, it has lost 45%. It is now trading close to its 52-week low. Is there something wrong with the company? Honestly, the company has problems, but it is also very cheap. We need to evaluate the pros and cons.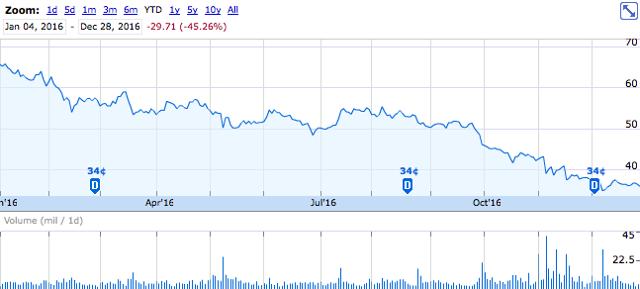 (Zacks)
TEVA Fundamentals
The company offers low ROE, ROA and ROC. These returns are generally below the industry (biotech and pharma). ROE stands at 6%, ROA at 3.9%, while ROC at 6%.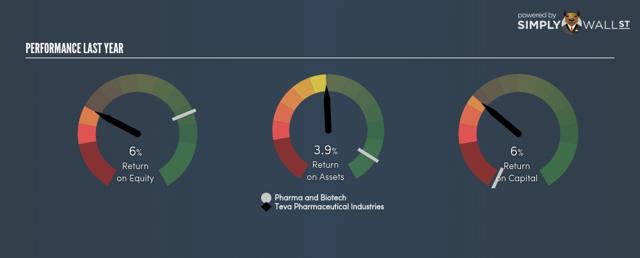 (Simply Wall Street)
The recent M&A activity, and the associated debt burden significantly bloated TEVA balance sheet. The company now has $36B in debt, equal to its equity. However, the company's assets are inflated by $40B in goodwill (40% of total assets).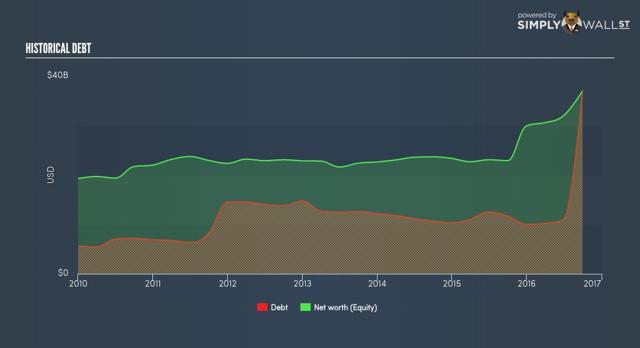 (Simply Wall Street)
TEVA corruption settlement
In addition to the recent investigation into price fixing, the company has recently been investigated for corruption. Upon learning of initial FCPA concerns from both Teva employees and the U.S. government in early 2012, Teva began a voluntary and comprehensive investigation into its global operations, in addition to responding to the government's specific requests for documents and information. Teva engaged independent counsel to assist in the investigation and conducted a global corruption risk assessment and a multi-country survey. Beginning in 2012, Teva accelerated the pace of changes to address these issues by naming a global head of compliance and completely transforming their governance program and processes on every level. This resulted in actions including, terminating problematic business relationships with third parties, separating relevant employees from the company, overhauling the management of several subsidiaries, and ceasing operations in several countries. They have also restructured the company through a new global organizational structure and chain of command that reduces risks. This investigation led to a settlement that cost the company $519M.
Valuation
From 2010 to 2015, Teva traded at an average P/E multiple of 17.3 (source: 4-Traders). It now trades at 8.36X 2016 and 6.9X 2017 forecasted earnings. Simply Wall St, based on a cashflow model, values the company $62 per share, a steep premium compared to the current $36.

(Simply Wall Street)
Conclusion
We believe that the pharmaceutical sector has received too much negative attention. Despite the risks, a few companies offer good entry opportunities. In our previous article, we recommended Akorn. Today, we have analyzed Teva. We believe that the company is in a position to thrive in the generic market, and that it is priced very attractively. Yet, we don't like management's aggressive M&A strategy. We don't like very aggressive companies since large acquisitions rarely create value for the shareholders. Contributors argue that Teva has overpaid for Actavis (its latest and largest acquisition) by at least $14B. This does not surprise us since most M&A deals are too expensive. Previous corruption issues add further doubts. Unfortunately, there is no amount of profit that can convince us to invest in a company where we do not like the management. We have sold our positions in Bayer (OTCPK:BAYZF) for similar reasons. We like Bayer, but we have sold our shares because of the Bayer-Monsanto (MON) acquisition.
As always, thank you for reading. If you wish to follow our future articles, just click the "Follow" button next to our name at the top. We would also be interested to know what you think about the generic pharma industry. If you would like us to cover a company, please let us know in the comments. If you are interested in Integer Investments, please visit our website: integerinvestments.com. Thank you for reading!