Gold (NYSEARCA:GLD) is generally regarded a precious metal that can serve as a hedge against inflation and an insurance policy for paper currencies and the high level of debt that they often represent. Gold can often serve as a "go-to" asset in times of increased market volatility and uncertainty.
The current general consensus on Wall Street appears to be that President-elect Donald Trump will usher in a new era of prosperity for the U.S. economy by fixing the tax code, removing regulatory constraints, and fixing unfair trade deals. Combine that with the Federal Reserve's intent to raise interest rates further in 2017, and the outlook for gold is generally thought of as "bad." Indeed, since the Nov. 7th election results and the Fed's raising of the discount rate, gold is down from roughly $1,280 to the current price of $1,155 (around 10%).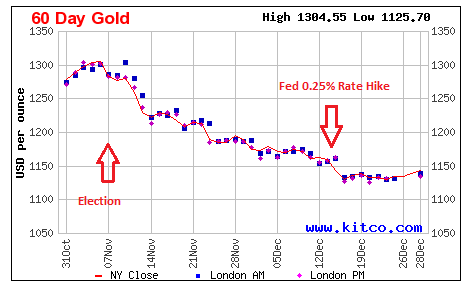 Source: Kitco
However, what if Trump turns out not to be the "Magic Bullet" that can fix all that ails the U.S. economy? Going further, what happens if Trump's actions actually cause the economy to go backwards? Currently, investors don't seem to even consider these two potential outcomes. This is exactly why it is more important than ever to have some exposure to gold.
I must admit, I was surprised to see the magnitude of the gold selloff following the presidential election. I say this because, in my opinion, Trump represents one of the most uncertain President-elects to take office in my lifetime. He could be a good thing or a bad thing.
There certainly seems to be trouble on the horizon. It's very easy to cut taxes, much harder to cut spending. During the last Republican administration (under George W. Bush), taxes were cut and spending shot up drastically. This was chronicled in a great article titled The Cliff We All Saw Coming by Brendan Greeley of Bloomberg that was published back in August of 2012.
According to Mr. Greeley, the fiscal crises the country faced at that time was predicted 10 years ago because they were built into the Bush tax cuts. Experts arguing against the tax cuts at the time predicted $1 trillion deficits in 10 years, and that is exactly what happened. Greeley's proof was year-by-year deficit data, which I have summarized in this chart:
Tracking the Year-by-Year Fiscal Deficit (2001-2010)

Year

Major Policy Enacted

Fiscal Deficit

(Billions)

2001

Economic Growth & Tax Relief Reconciliation Act

+ $128

2003

Jobs & Growth Tax Relief Reconciliation Act

- $158

2004

Working Families Tax Relief Act

- $413

2005

Tax Increase Prevention & Reconciliation Act

- $318

2007

Tax Increase Prevention Act

- $161

2008

Emergency Economic Stabilization Act

- $459

2009

American Recovery & Reinvestment Act

- $1,500

2010

Tax Act

- $1,200
These are OMB numbers and hard to refute. It is clear from the table the fiscal deficit went from a $128 billion surplus (the so-call "Clinton surplus") to a $1.2 trillion deficit in a 10-year span beginning with the Bush tax cuts implemented in 2001. The charts below show how these fiscal policies affected the price of gold: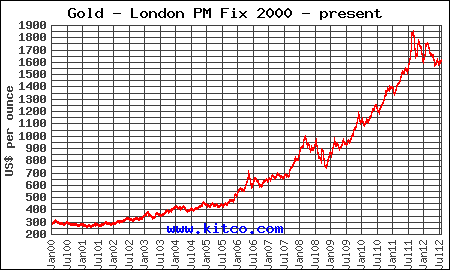 That is, the price of gold shot up over 6-fold. This could easily happen again if the Trump administration follows the Bush administration's tax and spend policies.
Trade
Meantime, more and more business leaders (of both parties) appear to be less than comfortable with Trump's approach to trade policy - specifically as that applies to China. According to the U.S. Census Bureau, YTD through October of this year, China was America's #1 trading partner at 15.7% of total trade: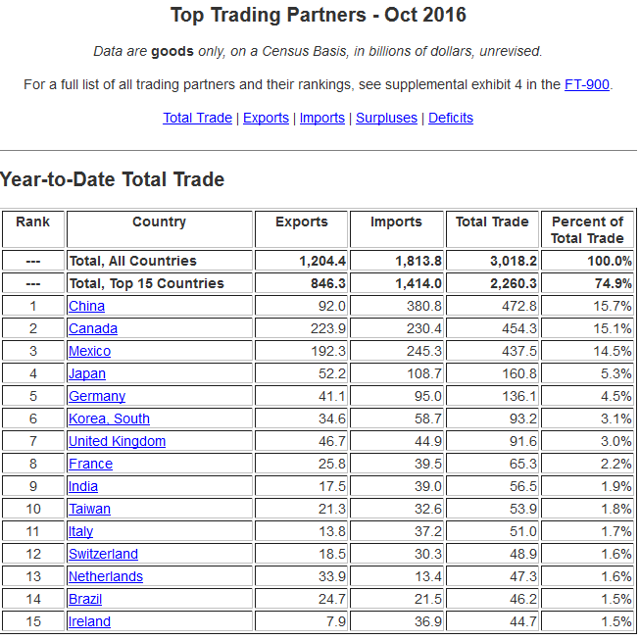 Source: U.S. Census Bureau
Mexico, another country that Trump has singled out, is America's third largest trading partner at 14.5%. Now don't get me wrong, I am all for hammering out good trade policies, and I think some of the trade deals the U.S. has signed have been disastrous. But a trade war with China and/or Mexico would have severe and drastic consequences, not only to American's who buy these goods, but also to American companies that have operations in those countries. And many big American companies have a good portion of its operations in China and Mexico.
Foreign Policy
On the foreign policy front, the incoming Trump administration appears to be on a totally different track than the outgoing Obama administration. We have seen that just this week with two prime examples: Israel and Russia.
With respect to Israel, the U.S. refused to veto a U.N. resolution condemning Israeli settlements on the West Bank. Netanyahu says Israel has proof that the Obama administration was behind the resolution - something Secretary of State Kerry flatly rejected. Meantime, Trump tweeted:
The United Nations has such great potential but right now it is just a club for people to get together, talk and have a good time. So sad!

- Donald J. Trump (@realDonaldTrump) December 26, 2016
And earlier, it was reported that Trump's choice as Ambassador to Israel - David M. Friedman - was looking forward to doing the job "from the U.S. embassy in Israel's eternal capital, Jerusalem." That is, moving the embassy from Tel-Aviv to Jerusalem - a move that will certainly not go over well with the Arabs in the region.
As if having two long-time allies like the U.S. and Israel play out such an important disagreement in the public press (and on Twitter...) wasn't enough, tensions with Russia are also on the rise. Today, the Obama administration ejected Russian diplomats and placed further sanctions on the country due to what the administration says is proof that the Russians had indeed meddled in the U.S. presidential election. Meantime, Trump appears to be more supportive of Putin on the issue of hacking. But this is what I mean by volatility and chaos - prior to Trump, who would have imagined a Republican president that would cozy up to Putin on such an issue?
Summary & Conclusion
The consensus seems to be that happy times are here again and that gold is not worth owning these days. That is exactly why investors should own it and the recent selloff offers investors a very good entry point, in my opinion.
I am keeping an open mind and wish Trump all the luck in the world. I hope he can fix many of the problems facing America. But if the U.S. reverts to the tax and spend policies of the last Republican administration, gold is going to skyrocket. And that could easily happen if the U.S. gets into yet another unfunded war in the Middle East. The last one cost $6 trillion+ and still counting. Likewise, a trade war with China and/or Mexico would likely have very negative consequences for the U.S. economy and U.S. based companies. Yet at this point, all of these potential outcomes certainly seem within the realm of possibility. But the truth is this: none of us really knows what the future has in store. And that is another reason why investors should have a 5% position in gold bullion.