A leader in the ridged plastic film industry, Kleopatra Holdings, parent company of Klöckner Pentaplast Group (Pending:KP) has filed for an IPO with a $100 million placeholder. Due to a 2007 leveraged buyout by Blackstone, the company has been saddled with substantial debt. Some things to keep in mind about this upcoming IPO:
Their Sales Are Diversified
From both a segment and geographic standpoint, Kleopatra's revenue is diversified. By segment, food and consumer packaging makes up the largest part of their sales at 37%, pharma accounts for 25%, specialties are 22% and labels are 14%. Geographically, most of their revenues come from North America (40%) and Western Europe (37%). However, they still have sales in Asia Pacific (9%), Central and Eastern Europe (8%), and South America (7%). Also, important, they have 3,700 customers, in which no single customer accounts for more than 4% of their sales.
They Are Heavily Leveraged
There is no question Kleopatra needs these IPO proceeds to ease themselves from their burden of debt. They have about $1.27 billion of long-term debt sitting on their books and it is causing their bottom line a lot of trouble. Their balance sheet is upside down with a shareholders' deficit of $468 million. Whatever proceeds Kleopatra collects from this IPO will most likely go straight to paying down this heavy debt. However, even if they collect upwards of $100 million, it will not be enough to turn their book around. Paying down this debt will take a long time and investors should anticipate a rough bottom line and no dividend any time soon.
Revenue Is Declining
Kleopatra is not making good progress across their topline. Revenue was down 5.2% for 2016 to $1.4 billion. They have a negative 3-year growth rate of -3.26%. Given their negative book value and negative net margin, declining revenue is going to make this stock a hard sell for many investors. This creates a big problem as much of Kleopatra's manufacturing operation costs are fixed. If sales continue to decline and they cannot control their fixed costs, it can have a negative impact on their margins.
(click to enlarge)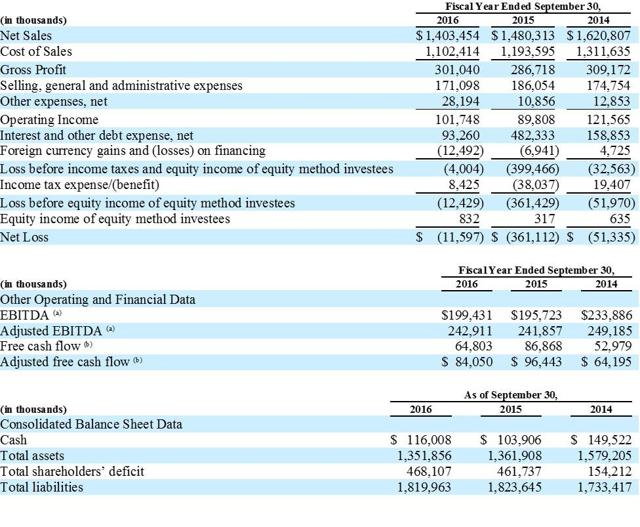 Source: Kleopatra Holdings S-1.
They Are Not Profitable
For 2016, Kleopatra had negative net income of -$11.6 million, which is due largely to the interest expense from the huge debt they are suffering from. Their operating margin is positive and a little inconsistent. For 2016, they had an operating margin of 7.2%, up from 6.1% in 2015. However, in 2014 when their revenue peaked, they had an operating margin of 7.5%. Although their revenue has been declining, they have increased their gross profit margin year over year for the last 4 years. The problem remains that their debt expense is eating through all their operating income and then some.
Conclusion
I don't see this IPO settling well with investors. The huge debt and declining revenues are not going to be greeted warmly by Wall Street. There is just not much appeal here. I believe they can restart their revenue growth with innovative products and strengthen their balance sheet, however it is a long road ahead, and it's not a journey I'd be interested in taking with them.
Disclosure: I/we have no positions in any stocks mentioned, and no plans to initiate any positions within the next 72 hours.
I wrote this article myself, and it expresses my own opinions. I am not receiving compensation for it (other than from Seeking Alpha). I have no business relationship with any company whose stock is mentioned in this article.