I'm a little surprised at the lack of interest in Lear Corporation (NYSE:LEA), given its quality set of operations and storied history. Sure, the company is near fifty-two week highs, but that is the case for nearly all of the market, and it really should have performed better this year. Like most automotive companies, the company was hammered hard in the early 2016 sell-off, but it never quite recovered like other names like Tenneco (NYSE:TEN) or Gentex (NASDAQ:GNTX), despite excellent operating results that were well ahead of expectations. The market appears to be focusing intently on so-called "peak auto" sales, and what that might mean for the future of the automobile industry.
Macroeconomic concerns notwithstanding, Lear Corporation is my current top automotive pick given the business climate. Founded in 1917 as American Metal Products, the company has been making seat assemblies for the auto manufacturers for a century now, and it has relationships with nearly every single player in the industry. Seat assemblies, luckily, is not Lear Corporation's only business line. While the acquisition of Guilford Mills ($243M, automotive seat and interior fabric) and Everett Smith ($844M, leading global provider of automotive leather) bolstered Lear's core operations, the company truly transformed itself in 1999, buying UT Automotive from United Technologies (NYSE:UTX) for $2.3B. This was a game-changing acquisition, which gave the company exposure to the growing automotive electrical distribution business, which operates as both a growth driver and a means of diversification.
Understanding Growth Above Auto Industry Production
While Lear Corporation does have some hefty exposure to Ford (NYSE:F) and General Motors (40% of fiscal 2015 sales), the company's products are used on more than 350 models of vehicles worldwide. The initial expectation of many is to assume that growth will be roughly tied to vehicle sales worldwide, with a particular emphasis on North American sales (43% of consolidated sales). That really hasn't been reflective of reality for Lear. Despite the global industry posting 4% compound annual growth ("CAGR") for the 2010-2015 period, Lear Corporation posted sales growth of 9%. While some of this was inorganic growth (~$1B in acquisitions done at roughly 1x acquired revenue), that is only responsible for a portion of the $6.2B in sales growth over that period.
So why the difference? There are two sides to that story, as both of the company's segments have different growth drivers. Seating appears to have seen some marginal market share gains against competitors (JCI, Faurecia, Magna), but primarily, improving results come down to the fact automakers are willing to spend more money per seat from Lear than they were five years ago. This is particularly the case in the luxury market where Lear holds a stranglehold on the market (BMW (OTCPK:BMWYY), Land Rover, Jaguar). Quality has always been in demand: Automakers know that seating is probably the most key part of the vehicle to ensure a sale, likely only secondary to overall exterior design. To pull out a common trope, the seat is what links man to machine. Technology is the new driver of higher average sales prices, and that link is only expected to deepen with time, even beyond what we might expect. There has been a move by many manufacturers into so-called intelligent seating, which can adapt settings automatically to a consumer's needs, all based on biometric readings. While this technology is likely five to ten years away from being mainstream, Land Rover (which uses Lear products nearly exclusively) unveiled its auto-fold seats this year, which allow car owners to adjust seats via smartphone app (pre-sets) before entering a vehicle in the upcoming model year (2017). Measured steps are the trend, which is only going to complicate design and construction, increasing the moats of the larger players.
Lear's Electrical business, meanwhile, has been a story of growing component use, along with the company's strides into connectivity. When Lear acquired UT Automotive in 1999, cars were simply less complicated electronically. OBD-II (on-board diagnostics) was just getting started, and elaborate on-board electronics (traction control, knock sensors, steering correction) were in their infancy. At the time, the company's electrical business was just wiring systems and junction boxes. That gradually changed, with the acquisition of Grote & Hartmann in 2005 ($275M), which gave the company exposure to smaller electronics (terminals, connectors). Building off that foundation, Lear has stepped forward on the technological spectrum, now offering connected gateways, GPS modules, 4G/5G communication, and security systems.
If you're thinking that these two segments - once very different - have the potential for overlap, you'd be right. CEO Matthew Simoncini shared his thoughts here on the most recent conference call, where this team - very upfront and vocal about their perceived value of the firm - spoke about their advantages versus pure seat competitors like Adient (NASDAQ:ADNT):
These two business segments are converging. I think one of the advantage is that we have, quite frankly, over a firm like Adient or Magna or even a Faurecia is the fact that we have over 600 software engineers in Electrical, and that's driving a lot of this Intelligent Seating that's really going to be the next-generation how this product looks like in years, five years to 10 years from now.
I'm 100% on board with management's opinion here, and recent results speak to that. You can see the escalation in the company's earnings, even over just the past several years: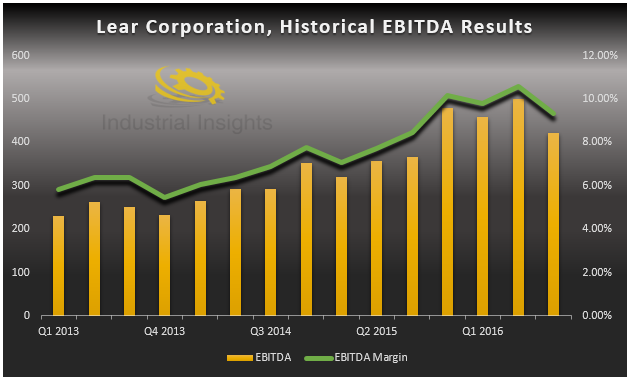 *Author-created graphic, sourced from company SEC filings
Of note, the above is GAAP earnings, and the dip you see in the most recent quarter was primarily driven by $17M in restructuring costs related to a plant closure - expect a return to solid growth in Q4, along with an uptick in EBITDA margins.
Most important here is the quality of earnings. Lear Corporation carries very little debt; just $565M net of cash at the end of Q3 2016. Interest coverage is massive, and net debt/TTM EBITDA is just 0.3x. This gives Lear massive flexibility on the balance sheet when it comes to making another big play on the mergers & acquisitions front, or as an attractive target itself to a potential buyer.
The Likely Elephant In The Room
Lear Corporation filed for Chapter 11 bankruptcy in 2009, a necessary step in order to get the $3.6B in debt it held at the time under control. Like now, Lear Corporation was heavily reliant on domestic automotive manufacturers like General Motors (NYSE:GM) (23% of 2009 sales), which went through its own bankruptcy during that period. Making matters worse, at the time Lear Corporation was more significantly exposed to larger vehicle types, like trucks and SUVs. Domestic automobile production fell by almost half from 2007-2009, with a harder hit on larger vehicles. The weight of the interest load on the company was just too high. Chapter 11 was quick, with creditors taking a share of the new stock issuance, along with warrants and convertible bonds. The Board of Directors all got the boot, and long-term CEO (forty years) Bob Rossiter resigned in 2011. The company simply isn't the same as it was then, and the balance sheet certainly isn't in anywhere near as bad of shape.
If you're worried about a repeat of the automotive blowout of that time period, that is fine - but it is highly unlikely to repeat itself in a similar fashion. Beyond that, Lear Corporation's current capital structure today is so clean that you are in a much better place owning it over any other companies I can think of within this space. Don't take my word for it. Moody's upgraded the company's debt rating to investment grade this past quarter, which follows an S&P upgrade to investment grade last year. Ratings agencies don't throw those ratings around lightly, particularly for companies with recent bankruptcy. That is a testament to the change Lear Corporation has undergone, and it really does not deserve the discount it is getting by the market.
Money-Printing Machine
The company is dirt cheap (5x EV/EBITDA), and free cash flow generation is massive (12.3% FCF yield). As I mentioned earlier, management is vocal in trying to inform investors of that value. CFO Jeffrey Vanneste elaborated recently:
From a multiple standpoint, right now, we're in the mid- to low fours on an EBITDA basis [author note: company was cheaper during Q3 conference call], which is ridiculous. We're the number one seat-maker in the world as far as profitability and sales growth and performance. We have a Electrical segment that is over $4 billion and to subscribe a mid-four type multiple to a company like this is just ridiculous. So, we think it's the best investment in the space.
Such steep discounts imply significant earnings contraction in the future, or are discounting the company because of repeat bankruptcy fears. Both are unlikely. Management remains confident in retaining a 5% organic growth rate above overall global vehicle sales (controlled for currency). Overall, worldwide unit sales are expected to continue to grow at a 4% unit rate through 2020, fairly in line with GDP growth expectations. The European market is likely to perform the weakest, with the highest growth from the Asia-Pacific region. Nothing extraordinary there; expectations are similar to historical growth (4% from 2011-2015). Lear Corporation has not yet set 2017 guidance, but I expect its view will be similar. This suggests mid-single-digit growth over the next several years at minimum, with higher upside if overall mix continues trending towards larger luxury vehicles, in which Lear Corporation owns higher market share, along with higher realized average selling prices.
This bodes well for an underappreciated portion of the company's operations: unconsolidated Chinese joint ventures. Like many Western companies, Lear has relied on joint ventures with local companies as a means to gain access to the market. Partnerships like these help break the ice between international interests and state-owned businesses, which otherwise would have tenuous relationships at best. Over the past several years, Lear Corporation has built billions of dollars' worth of non-consolidated assets in China, with current operations carrying more than $1B in backlog. Net income contribution from non-consolidated entities has grown from $38M in 2013 to my own expectation of $69M for 2016; that is sharp growth, and really speaks to the market share Lear and its partners are managing to take as they expand their presence in China.
Takeaway
Lear Corporation spent the better part of 2014-2015 trading at a 7x EV multiple, which by itself suggests 25% upside from today's prices. I think that a return to those levels is more than fair, and I think higher multiples are actually more likely as the market begins to see Lear Corporation more on the basis of its technological offerings (new climate controlled seat technology, adaptive seating, wireless communication, data), rather than as just another cut-and-dry OE parts manufacturer. As a potential reference, peer Delphi Automotive (NYSE:DLPH), which has its own electronics business (and is competing with Lear on 48-volt electronic connectivity), trades at 10.5x EV/EBITDA. As a result, it is easy to craft a case for 50% upside for Lear based on multiple expansion, and investors will get paid handsomely to wait via the company's extensive shareholder return program, which has returned billions to shareholders over the past five years via dividends and share repurchases. The company is very shareholder-friendly, posting high single-digit annual shareholder yields on average for the past five years. With the market continuing to poke and prod at new all-time highs, finding real value is certainly more scarce, and I don't think you can do much better than this one.
For deep dive research on asymmetric risk/reward plays in the Industrial and Basic Materials sectors (particularly small and mid-caps), consider investing alongside me and other subscribers within Industrial Insights. Get cutting-edge information with proven results.
This new offering doesn't mean I will be cutting down on quality or my allocated time towards my free offerings on Seeking Alpha. Follow me (by clicking the "Follow" button at the top of this article next to my name) to receive general stock market research and commentary, especially on under-followed small/mid-caps across a wide variety of sectors and industries.
Disclosure: I am/we are long LEA. I wrote this article myself, and it expresses my own opinions. I am not receiving compensation for it (other than from Seeking Alpha). I have no business relationship with any company whose stock is mentioned in this article.