Teck Resources (NYSE:TECK) performed exceptionally well in 2016, rising from the low single digits to the mid-$20s. I don't think the stock will repeat that strong performance in 2017. However, I do think the stock will outperform the S&P 500 with strong double-digit gains. Teck Resources' recent 20% pullback has the stock at an oversold level. The stock remains undervalued as compared to its peers and the broader market. The company has multiple catalysts that will drive the stock's outperformance from this undervalued level.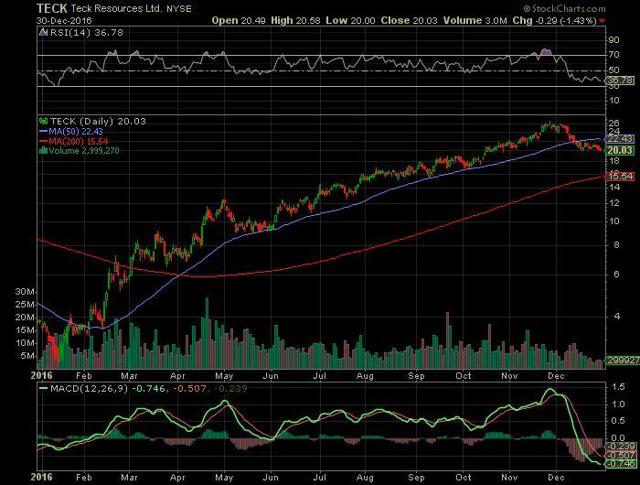 Teck Resources is poised to benefit from an improving economy and from President-elect, Donald Trump's plan to spend $1 trillion on U.S. infrastructure over a 10-year period. New construction starts are expected to increase 5% in 2017. That forecast was projected before the U.S. Presidential election. So, if Trump gets his infrastructure plan passed, we could see a higher percentage increase in construction spending. Teck Resources will benefit from its mining of copper, metallurgical coal and other minerals.
The company recently reached an agreement with customers to obtain a price of $285 per tonne for its steel-making coal. This price is significantly higher than the $92 from mid-2016 and the $200 from September that Teck was obtaining for its coal. The higher price primarily resulted from tighter global supply. Therefore, an increase in construction/infrastructure projects will help to support the price from the demand side.
During the first 10 months of 2016, construction spending increased 4.5% over the same period in 2015. I expect construction spending to continue to grow in 2017 as the economy picks up steam. This will create more demand for Teck Resources' copper (piping) and zinc (for galvanizing steel) to be used in residential and non-residential buildings.
The demand for zinc is expected to increase 2.1% in 2017 after increasing a little over a half of a percent in 2016. This will help boost revenue for Teck Resources.
Valuation Still a Bargain
Teck Resources is still trading at a bargain even after its strong rise in 2016. The reason for this is because the stock was practically left for dead when it dropped to the low single-digits in early 2016. The stock was extremely undervalued then, but it is still undervalued with plenty of room to grow.
Here's how Teck Resources compares to its peers:
| | | | |
| --- | --- | --- | --- |
| | Teck Resources | Vale S.A. (NYSE:VALE) | Rio Tinto plc (NYSE:RIO) |
| Forward PE | 6.23 | 11 | 12.2 |
| Forward EV/EBITDA | 3.32 | 6.05 | 5.43 |
| Forward Price to Book | 0.81 | 0.95 | 1.65 |
Data Source: 4-Traders.com (Thomson Reuters)
I used forward-looking valuation metrics in the chart which are based on expected 2017 figures (consensus). These three mining companies are all valued attractively below the S&P 500 (NYSEARCA:SPY), which is trading at 18X expected earnings for 2017. Teck Resources has the advantage of having the lowest valuation. Therefore, the stock is likely to outperform the S&P 500 and its peers as the company achieves strong, above average growth in 2017.
Teck Resources has the strongest growth among these three companies:
Expected Growth

for 2017 (consensus)

Teck Resources

Vale

Rio

Revenue

35%

5%

9%

EBITDA

82%

8%

18%

EPS

130%

-24%

25%
Data source: 4-Traders.com (Thomson Reuters)
With the lowest valuation and strongest expected growth, Teck Resources' stock is poised to outperform its peers and the broader market if the company meets or exceeds estimates.
The Risks
The demand for Teck Resources' zinc, copper and steel-making coal could turn out to be lower in 2017 and beyond if construction spending is less than expected. The demand for the company's products could also be lower than expected if Trump's plans for infrastructure projects are not passed or if the spending for those projects turns out to be significantly less than what he wants to push through.
Conclusion
Teck Resources is oversold and still trading with a bargain valuation. The company is likely to achieve a strong boost in revenue and earnings from the improving economy and for increased infrastructure spending. The stock should easily move back to $25 for an increase of 25% within the next six months. With the valuation so low and the expected growth so high, I think the stock can hit $30 by the end of 2017. This would take the forward PE to 10 on expected EPS of $3.28 for 2017 for a 50% gain.
Disclosure: I/we have no positions in any stocks mentioned, and no plans to initiate any positions within the next 72 hours. I wrote this article myself, and it expresses my own opinions. I am not receiving compensation for it (other than from Seeking Alpha). I have no business relationship with any company whose stock is mentioned in this article.
Additional disclosure: If you like my analysis, click on FOLLOW at the top of the article near my name. That will allow my articles to display on your homepage as they are published. The article is for informational purposes only (not a solicitation to buy or sell stocks). I am not a registered investment advisor. Investors should do their own research or consult a financial advisor to determine what investments are appropriate for their individual situation. This article expresses my opinions and I cannot guarantee that the information/results will be accurate.