Following past boom/bust cycles, the oil business appears to have bottomed in February 2016 at $27 a barrel. The bruising multi-year bust in crude oil prices was the biggest reason for the world stock market sell-off from late 2015 to early 2016 of roughly 15% overall. The cruel irony of ultra-low prices is its disruptive effect on regular exploration activity. A short-term oil market depression in expectations disproportionately slashes oil drilling activity. Oil exploration budgets for 2017 are down 65% from 2014 and the smallest in 12 years, DESPITE a record estimate for global demand next year. In the long-run, oil & gas development and production may fail to keep pace with the steady growth in total demand. Will the 2015-16 "bust" sow the seeds of the next "boom" phase in pricing?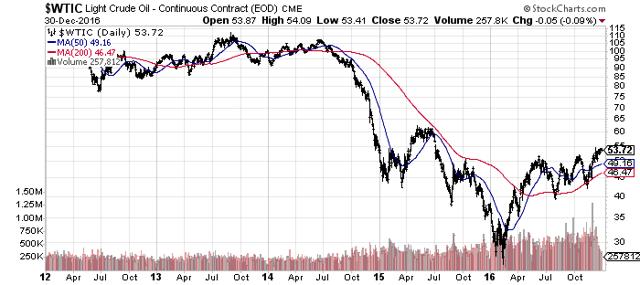 The 75% decline into early 2016 proved to be one of the biggest oil price busts EVER. It is not a leap of faith to believe the coming spike higher could be truly historic in 2017-19, especially if we see determined OPEC supply constraints or unexpected output shocks (new wars) from the Middle East. Real world estimates of total production costs for oil point to sharply higher prices in coming years if expanding demand for energy is to be met by supply. Below is one of my favorite visual charts from 2015, projecting total costs by 2020. A jump in the U.S. Dollar currency value since 2015 has likely lowered the cost structure on the chart by $5 to $10 a barrel (as oil is generally priced in dollars overseas), but the point remains clear - sustainable production levels require much higher oil prices than today's $54 quote.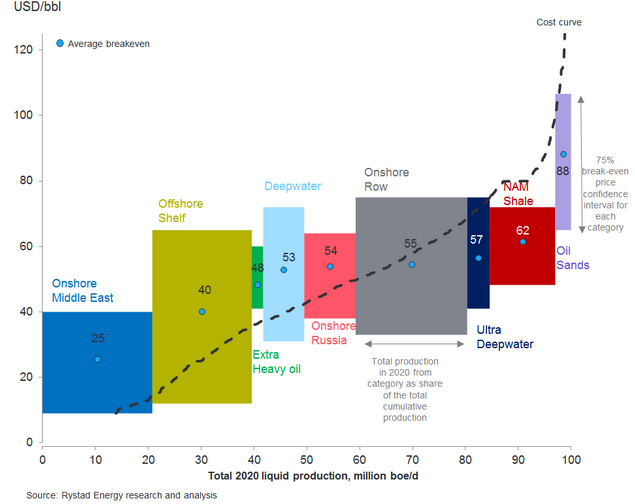 While the market has been marginally oversupplied the last several years, global demand for oil continues to climb. From 91 million barrels a day in 2013, IEA estimates call for 98 million in daily demand by the end of 2017.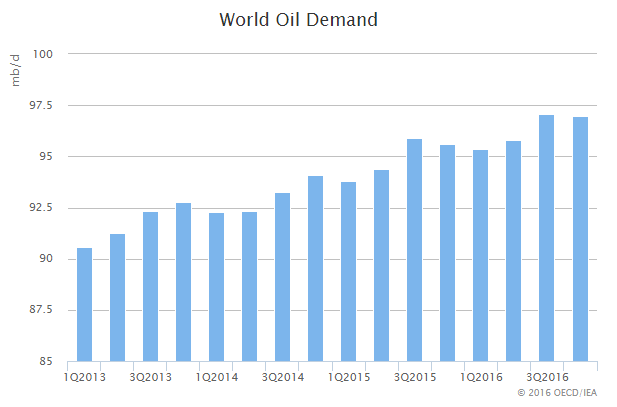 When looking at oil's importance in the cost curve for manufacturing and discretionary consumer spending patterns, the upward price direction in crude oil of late is adding significant pressure to inflation. Using my own estimates, the strong Year over Year trend in nearly every commodity including oil during December 2016 vs. 2015 will likely bring U.S. CPI numbers well above the Federal Reserve bank's target of 2% in coming months. The spike in commodities off their late 2015 and early 2016 lows is a major reason the FED just raised rates in December, and bond prices worldwide have turned down sharply since the summer.
From a contrarian point of view, investors and Wall Street analysts may not be taking oil inflation upside seriously. Like every other commodity bottom I have traded the last 30 years, it is hard for rearview mirror thinkers to visualize a strong rebound in prices after years of losses.
If oil is about to surprise to the upside in 2017, what should an investor do? Based on my Victory Formation momentum system three large capitalization oil businesses have witnessed large scale buying, greater than alternatives and competitors the last six months. ConocoPhillips (NYSE:COP), Suncor Energy (NYSE:SU), and Halliburton (NYSE:HAL) today have the best combination of factors to consider for my investment dollars, especially on weakness into January. You can review some relative price performance charts below against the S&P 500 large cap index and Energy Sector SPDR ETF (NYSEARCA:XLE).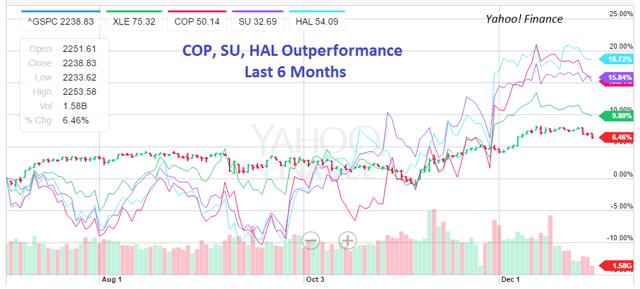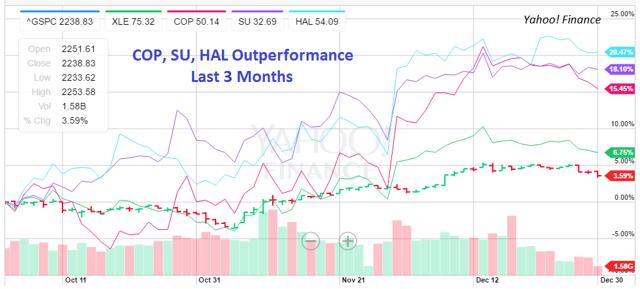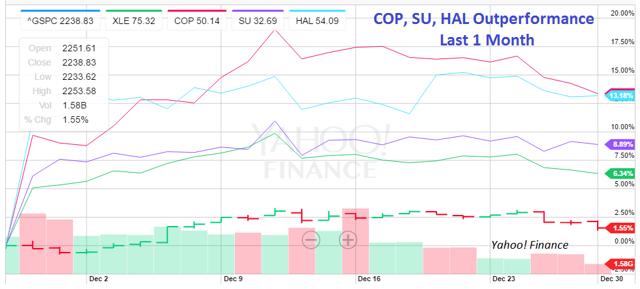 ConocoPhillips
ConocoPhillips is one of the largest oil & gas producers in the U.S. After spinning off its Phillips 66 (NYSE:PSX) refining unit as a separate company in 2012, the remaining organization is now a pure play on oil & gas prices/output with unique scale and assets mainly in America. The knock against Conoco is its large debt holdings and leverage, not unlike similar oil businesses in late 2016. The bruising energy price drop over several years has forced expensive restructurings and non-cash asset write-downs quarter after quarter.
2016 Wall Street consensus estimates are for about $5.5 billion in cash flow, $25 billion in sales, and an operating loss of $3.5 billion. If you believe oil & gas prices will not recover in 2017, Conoco is probably fairly valued at an equity market capitalization of $62 billion. 2017 numbers should improve smartly, given crude oil stays around today's $54 a barrel and natural gas near $3.50 per MMBtu. Wall Street is projecting $10 billion in cash flow on $34 billion in sales, with break-even to slightly positive operating earnings for 2017.
Using conservative 2017 Wall Street estimates, a stock price multiple on annual cash flow per share of 6x, revenues around 2x and accounting book value near 1.5x, roughly equals the 5-year average ratios since splitting from the refinery/downstream business. The upside for investors appears when oil prices rise back above $70 a barrel to meet growing demand. Conoco shareholders will reap all the gain as a "profit" for oil & gas price increases beyond today's $54 a barrel and $3.50 per MMBtu. For example, at $100 a barrel oil by 2018 and $5.00 per MMBtu natural gas, the present stock price is selling for just 3x "forward" cash flow and 1x sales yearly. An investor would expect a double in the share price if Wall Street continues to use historical pricing models.
NOTE: Without a price rise in crude oil next year, the odds of a shortage situation start to snowball dramatically in 2018-19, as older oil fields are depleted and new ones fail to replace production volumes. Basically, oil prices jump a little now or considerably MORE LATER, all else being equal. This scenario assumes energy demand does not fall from a global recession any time soon, which has increased odds if President Trump insists on protectionist barriers to the U.S. economy.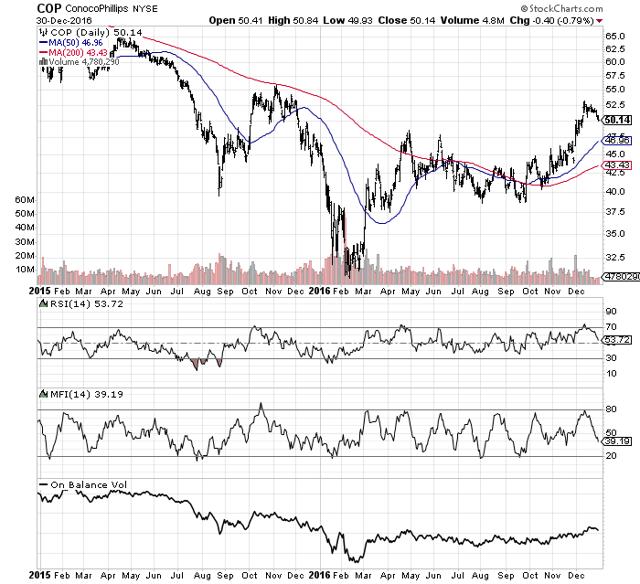 Suncor Energy
Suncor is the largest integrated energy company in Canada. With oil & gas exploration and production assets spread widely, plus refineries, gas stations, wind farms and ethanol plants, this business entity has a lower than normal risk profile in the oil investment universe.
Because of its diverse operations and more stable operating results, Suncor trades at higher valuation multiples than Conoco. The 10-year average of stock price to trailing annual cash flow per share is 9x, sales 2x, and book value 2x. Just like Conoco, Suncor is selling very near these ratios using consensus 2017 numbers, instead of trailing results at the oil bust low of 2016.
Operating profits are substantially better than Conoco also with its diversification and lower debt/leverage at the oil price cycle low. Suncor's fiscal 2015 stockholder equity number was roughly the same size as its liability total, similar in design to the Exxon Mobil (NYSE:XOM) or Chevron (NYSE:CVX) major integrated-oil balance sheet. Wall Street is projecting break-even profit numbers for 2016 and significant operating income in 2017. If your goal is to take on less downside risk, Suncor's lower than industry-norm debt level in 2016 and potential to restructure/sell non-core assets give this selection stronger investor capital protection.
Warren Buffett was a large shareholder in both Suncor and Conoco during 2013-16, but his timing for owning stakes has proven well off the mark. He purchased both near peak pricing years ago, then unloaded most of his shares in 2016 at the oil cycle low. You cannot win all your battles, I guess.
Suncor has invested heavily in higher-cost oil sands projects in Canada the last decade. If we get into a supply crisis situation years down the road with prices well above $100 a barrel again, Suncor should be able to bring to market new supply relatively quickly. If you believe abnormally high liquid fuel prices are in the offing, or want a buy and hold oil hedge investment with unlimited upside potential, Suncor makes a unique choice.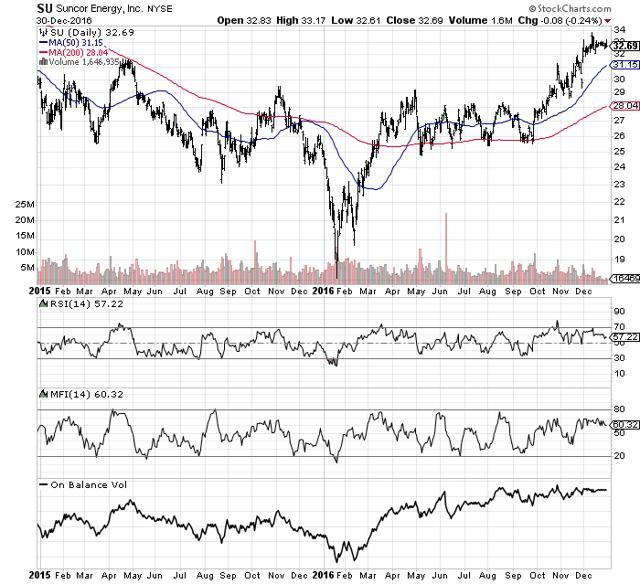 Halliburton
Halliburton is the second largest oil services company in the world by sales, next to Schlumberger (NYSE:SLB). The high percentage surge from $28 a share in February to $54 today is in anticipation of demand growth for its leading refracturing technologies. A continuation of the oil price rise this year into 2017 will likely translate into an oversized climb in Halliburton's refrac demand/sales. Perhaps the lowest cost avenue to pump more oil from underperforming wells and older shale varieties left for dead, refracturing expands extraction rates and extends the existing life of oil deposits, especially in America. Current estimates are a small 5% of U.S. wells have used refracturing techniques to date.
I would argue the oil industry, refracturing in general, and Halliburton in particular will be some of the biggest beneficiaries of a Trump presidency and Republican majority in Congress. With Halliburton's greater than typical political connections, including former Republican Vice-President Cheney as an employee, Trump's less strict EPA standards (deregulation) and jobs first focus should improve Halliburton's business outlook tremendously without any uptick in oil & gas prices.
In 2015 the company attempted to purchase Baker Hughes (BHI), the third largest global oil services business. The failed bid, blocked by U.S. anti-trust powers, cost Halliburton a steep $3.5 billion in deal break-up fees. This amount and preparations for a prolonged industry downturn encouraged the company to issue $7.5 billion in low interest rate debt in 2015, between 2.7% and 5.0% for borrowing costs annually with maturity dates of 2020-45.
As a result of this funding, Halliburton is well positioned financially to grow its business, after a successful restructuring period in 2015-16. At the September quarter reporting period, the company held $12 billion in current assets vs. $17 billion in total liabilities. While writing off some $7 billion in accounting equity since 2014, the majority of Halliburton's liabilities are lower cost, long-term ones not due for many years. Financial liquidity remains excellent if oil prices rebound and bring new business orders for the firm.
Halliburton's common equity appears a little pricey at 14x annual cash flow estimated for 2017 by Wall Street analysts, against a 10-year average around 10x. Price to 2017 sales projections stand at 2.5x today vs. a 10-year average of 2x sales. The upside for Halliburton shareholders is the potential for high rates of renewed business growth (an oil boom), if refracturing activity explodes in the U.S. incentivized by improving oil profits at drillers and explorers. In all honesty, the stock price seems to be discounting much better times for Halliburton into 2018. Already in 2016, results for this year and next have been on a regular "upgrade" schedule. The company reported its first profitable quarter in a while during September, and is expected to be well into the black for operating income next year, assuming flat to slightly higher energy commodity pricing on the horizon.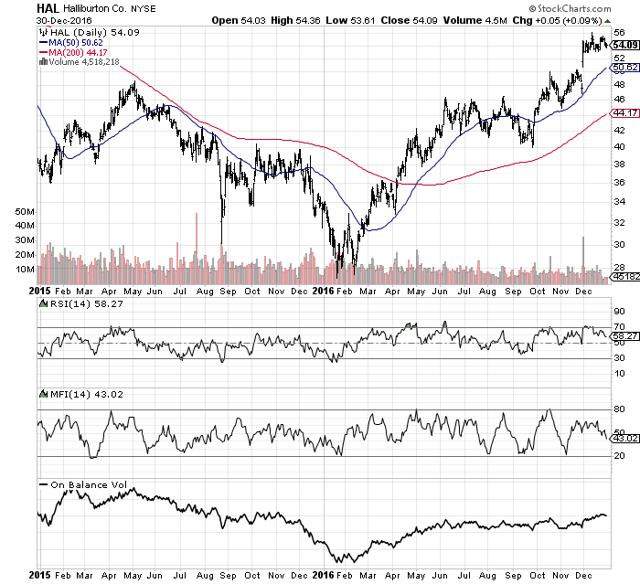 Conclusion
While a list of oil and energy related investments may prove excellent long-term buys today, my focus is on blue-chip equities of the largest size, showing both strong underlying fundamental value and impressive trading momentum. The risk/reward idea is to buy into lower than average risk situations with better than average reward potential in coming quarters or even years. ConocoPhillips, Suncor and Halliburton fit this criteria the best. Please do your own due diligence and research before purchasing any investment. I believe these three are worth your time and effort digging deeper. Really big gainers in the stock market start out as small winners first. My system is a tool for identifying small winners that have a decent chance to become outperformance gems in the future.
Disclosure: I/we have no positions in any stocks mentioned, but may initiate a long position in COP,SU,HAL over the next 72 hours. I wrote this article myself, and it expresses my own opinions. I am not receiving compensation for it (other than from Seeking Alpha). I have no business relationship with any company whose stock is mentioned in this article.