Background
Once again, I will open the year on Seeking Alpha with a report on my Dividend Growth Portfolio [DGP].
I created the DGP in 2008 to demonstrate dividend growth strategies and techniques, and to show one person's experience running an actual stock portfolio.
From its inception, the DGP has been all-real:
The portfolio exists at E-Trade.
It was funded with real money.
It contains real stocks selected and managed by decisions made in real time based upon information available when the decisions were made.
I offer the DGP as a genuine example of investing. Real investing, of course, takes place without the benefit of 20-20 hindsight. It involves behavioral psychology as well as math. All decisions must be made under conditions of uncertainty, thus activating the behavioral finance challenges that we read about.
In other words, real investing is a lot different from back-test models. My hope is that the real portfolio provides educational situations and examples that other investors may recognize and benefit from discussing.
I do not present the DGP as the best of its kind or a model for anyone to follow. It is simply me pursuing a goal in the real world.
The DGP's starting value was $46,783 in 2008, and no new money has been added since inception. That simplifies many calculations for demonstration purposes.
All capital gains or losses as well as dividend income have been generated as a result of the original amount invested. Dividends have been reinvested (but not dripped). Returns are net of expenses.
The DGP now has more than 8 years under its belt. For me, it is a great learning tool as well as a money-making enterprise. I have benefited from the comments and suggestions offered by the great Seeking Alpha community over the years.
Objective: 10-by-10
The goal of the Dividend Growth Portfolio is to generate a steadily increasing stream of dividends paid by excellent, low-risk companies.
From the beginning, I expressed the portfolio's goal as delivering income that would rise to 10 percent yield on cost within 10 years of inception. I call that goal "10-by-10."
The 10-by-10 target translates easily to dollars. The goal was to have the DGP generating $4,678 per year (that is 10% of the portfolio's initial value) by June 1, 2018 (i.e., 10 years after it started).
This objective is an income goal, not a wealth goal. I am more interested in the ability of the DGP to produce reliable, growing income than the portfolio's sheer size. This is an important distinction because it influences the type of securities that I buy as well as how I manage the portfolio.
As will be explained later, I will fall short of the 10-by-10 target in 2018. The target will be hit a little later than that.
The portfolio has a secondary goal, which is to be competitive with the S&P 500 in total returns. That goal has been achieved throughout its life.
The Portfolio
The DGP has 19 positions. The target number of positions is 20-25.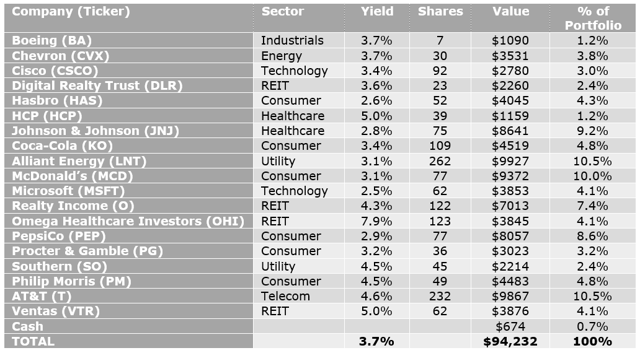 Two positions - Alliant (NASDAQ:LNT) and AT&T (NYSE:T) - are a little over the maximum position size guideline of 10% for this portfolio. In the early part of 2017, I will investigate whether to sell some of either stock to bring its size back within the guideline. If I do sell, the proceeds will be reinvested elsewhere.
According to the portfolio analyzer at Simply Safe Dividends, the DGP has a beta of just 0.6, meaning that this has been an unusually non-volatile portfolio compared to the S&P 500.
2016 Performance Overview
| | | | |
| --- | --- | --- | --- |
| | 2014 | 2015 | 2016 |
| Dividends Received | $2,945 | $3,247 | $3,365 |
| --Annual Increase | | +10% | +4% |
| Year-end Value | $81,694 | $82,240 | $94,232 |
| --Annual Change | | +1% | +15% |
2016 Income Performance
Last year's income growth was anemic, at 4%. That's the least annual growth since the portfolio started. Here is a record of dividends received since inception.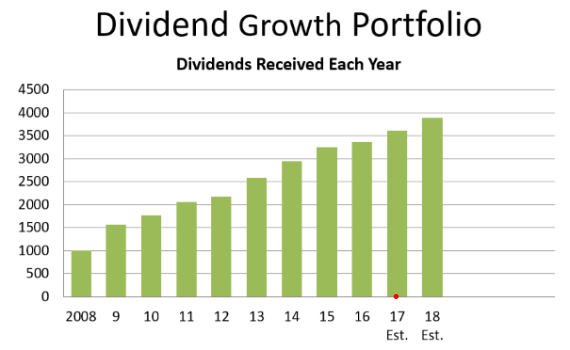 The bars for 2017 and 2018 are estimates (+7% per year). The red dot at the bottom of 2017 simply indicates that no dollars have been received yet in the new year. The dot will move up as the year progresses.
The parade of increasing green bars is why I do this. They illustrate how dividend income can increase each year without the addition of outside money to the portfolio.
The portfolio contained 19 stocks during most of the year, and they produced more than 25 increases. A couple of the stocks increase more than once per year. One stock - PepsiCo (NYSE:PEP) - allowed its final quarterly dividend payment of 2016 to slip into January 2017. The chart reflects money actually received during the calendar year.
The DGP had a below-par growth year in 2016. Dividend income increased only 4%. There were several reasons. The most significant was Kinder Morgan's (NYSE:KMI) severe dividend cut at the end of 2015. I sold the position, but I was not able to replace all of the income immediately. There were also a couple of miniscule increases from other companies, like 1% from Chevron (NYSE:CVX) at the end of the year.
The dividends from a dividend growth portfolio rise for 3 reasons. First, dividend growth companies increase their dividends annually (some more than once per year). Second, if the dividends are reinvested, those dollars buy more shares. More shares = more income, because dividends are declared per share. Third, occasional swaps and other portfolio management activities sometimes bump up the income rate.
Of course, sometimes the growth process gets interrupted, known technically as dividendus growthus interruptus. That happened when KMI slashed its dividend.
The portfolio's current yield is about 3.7% compared to about 4.0% at the end of last year. (Current yield is calculated as the portfolio's current annual dollar delivery rate divided by its current value.) Current yield varies from month to month as dividends, share counts, and stock prices all change.
The current yield right now is a little down mostly because prices are high. The central tendency for this portfolio over its lifetime has been to yield about 4%, although it has been as low as 3.5% and as high as 4.4%.
Another way to calculate yield is by calendar year. In 2016, the portfolio delivered $3,365 in dividends from a starting value of $82,240. That works out to a yield for 2016 of 4.1%.
Reinvesting Dividends
Unlike many dividend growth investors, I do not drip dividends. Instead, I let them accumulate to $1,000 and then select a stock to invest in. My reason for doing that is to always invest in well-valued stocks.
Over the years, tens of thousands of dollars get reinvested. So far in this portfolio, almost $21,000 has been reinvested. That's almost half the original starting amount. I don't want any of those dollars to go into overvalued stocks if I can help it.
I made 4 reinvestments in 2016:
February: Along with the proceeds from a sale, I used dividends to buy 60 shares of Cisco (NASDAQ:CSCO), creating a new position (see article).
May: Along with proceeds from a sale, I used dividends to buy 45 shares of Southern (NYSE:SO), creating a new position (see article).
August: Bought 7 shares of Boeing (NYSE:BA), creating a new position (see article).
November: Along with proceeds from a sale, I added 32 shares of Cisco, increasing the position begun earlier in the year (see article).
I am carrying $674 cash into 2017, so the next reinvestment will come in March after the kitty grows back up to $1,000 from dividends flowing in. I expect to gather enough dividends to make 4 investments again in 2017.
Transactions and Turnover
Dividend growth investing is a low-turnover strategy. It is a collecting strategy. Over time, you collect money and shares of stocks. Income return rises as described earlier. Total return follows along like a dog on a leash - including sometimes running backwards until the leash runs out, then other times running ahead of itself.
Occasionally, I do sell stuff. In 2016, I made the following sales:
February: Closed position in BHP Billiton (NYSE:BHP) (32 shares for $621). I combined the proceeds with dividend cash to open the position in Cisco.
April: Reduced position in Realty Income (NYSE:O) (48 shares for $2,992). The position had become too large and overvalued. I used the proceeds to increase the position in Ventas (NYSE:VTR).
May: Closed position in Shaw Communications (NYSE:SJR) (87 shares for $1,593). I combined the proceeds with accumulated dividends to start a new position in Southern.
November: Sold shares of Quality Care Properties (NYSE:QCP) received in spinoff from HCP (NYSE:HCP) (7 shares for $91). I combined the proceeds with dividends to add to the position in Cisco.
Altogether, the 4 sales mean there was turnover of about 6% in 2016. Dividend growth investing is a low-turnover strategy.
Total Return
While total return is not a primary focus of this portfolio, I do track it and compare it to SPY, an ETF that tracks the S&P 500. In 2016, my portfolio increased 15% in total value, while SPY increased 12% with dividends reinvested (source).
Over the life of the portfolio, the DGP's total return is +101% compared to SPY's +92%, both with dividends reinvested. If I had invested the original amount ($46,783) into SPY at the end of May 2008 and reinvested its dividends since then, its total value would now be about $89,823. My portfolio's actual value is $94,232.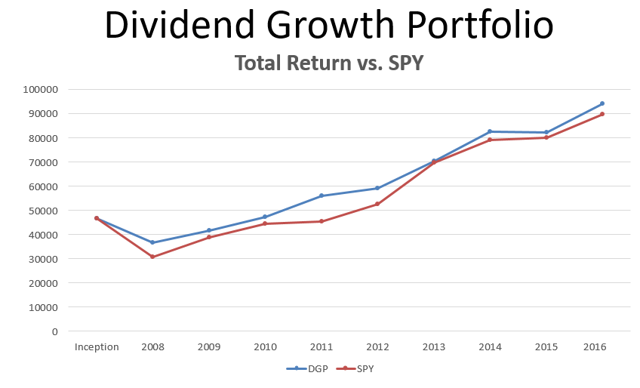 SPY's current yield is 2.0% (source), or just over half of the DGP's. That 2-to-1 relationship has remained pretty consistent for the life of the portfolio.
Looking Ahead to 2017
As I have said many times, no one can predict the future.
But I do predict that I will not hit the 10-by-10 goal by June 2018. It would take unusual increases to get to that goal, and I don't expect it to happen.
The portfolio's current run-rate for dividend delivery is about $3,500 per year. If that increases 7% in 2017 and 3% more by June 1, 2018, the run-rate would be about $3,880. That would be a yield on cost of 8.3%. So the outcome of this 10-year project would be 8.3-by-10 instead of 10-by-10.
I do expect to make 4 dividend reinvestments in 2017. And I may do a little rebalancing by trimming oversized positions.
The following is a calendar of dividend increases expected in 2017. As you can see, 3 increases have already been announced, including a big one from Boeing payable in March.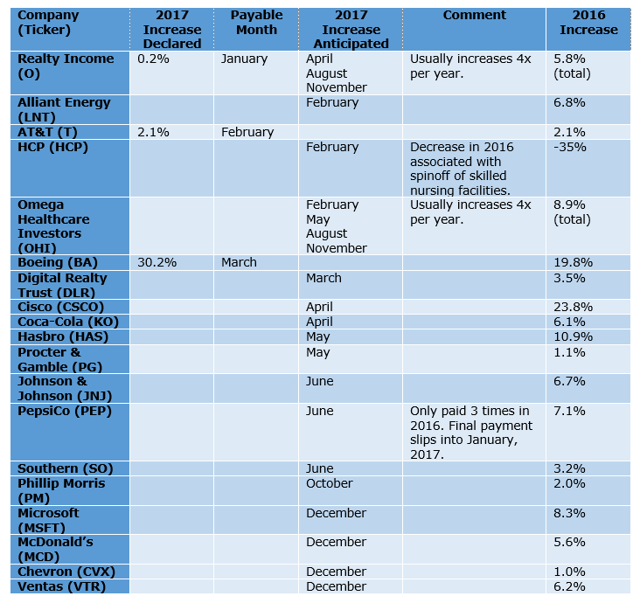 Finally, one side note about 2017. I just kicked off a basic dividend growth portfolio on Motif Investments. If you want to read more about this project, click here. If you want to see the portfolio on Motif, click here.
Thanks for reading, and I look forward to your comments.
Disclosure: I am/we are long ALL STOCKS IN THE PORTFOLIO. I wrote this article myself, and it expresses my own opinions. I am not receiving compensation for it (other than from Seeking Alpha). I have no business relationship with any company whose stock is mentioned in this article.