For year end 2016, the Seeking Alpha Marketplace held a three part roundtable that was attended by its authors. The questions asked to each of the participating authors were about a look back at 2016, a look forward to 2017 and a top pick for 2017 by each author. The three parts are below:
· Marketplace Roundtable: Looking back at 2016, December 26, 2016
· Marketplace Roundtable: 2017 Looks Geopolitically Cloudy, With A Chance Of Stronger Growth, December 28, 2016
· Marketplace Roundtable: Top Picks For 2017, December 30, 2016
Since I only recently became an author of the Seeking Alpha Marketplace, I missed out on contributing to parts 1 and 2 of the 2016 year end roundtable. Below are my answers to the questions that were posed to the authors for parts 1 and 2. My top pick for part 3 was published along with picks of the other authors.
Looking back at 2016
Seeking Alpha: What was the big theme from 2016 in your view, and how did affect your investing approach?
Negative interest rates and yields at their all-time lows was the theme that will be remembered for 2016. From February to when Trump was elected, I was extremely defensive and was prepared for a crash. My primary recommendation during the period was to effectuate a black swan or a 90/10 crash protection strategy with 90% of liquid assets to be invested into short term U.S. Treasuries and the balance into high risk stocks or venture capital.
Seeking Alpha: What was the biggest lesson you take away from the year?
1. With the Brexit and the Trump victories and the increasing terrorism the world is moving fast to nationalism and protectionism. My SA article, "Trump's Nationalism And Protectionism Already Being Priced Into Markets" elaborates on this new global development and the effect that its already having on the markets.
2. The SEC's implementation of Dodd Frank resulted in the market for micro-cap companies crashing. It has also caused an extreme divergence between the historical valuations of large cap and micro-cap stocks.
Seeking Alpha: Which of your articles from this year do you feel stands up best at the end of the year, and why?
My May 20, 2016, article "Digital Transformers Sending Industrials to Graveyard" stands up best. The argument made was that the digital economy was immune to recessions and depressions since its business model is based on disrupting the brick and mortar economy. All six of the buy recommendations that I made in the article appreciated by 4% to 52%. Four of them significantly outperformed the S&P 500.
Performance for "Digital Transformers Sending Industrials To Graveyard"
Seeking Alpha article recommendations @ 12/30/16
| | | | | |
| --- | --- | --- | --- | --- |
| Company | Price @ 5/16/16 | status | Price | % Change |
| LinkedIn (LNKD) | $127.04 | closed** | $195.96 | 52% |
| Netflix (NASDAQ:NFLX) | $89.12 | closed* | $125.59 | 41% |
| Priceline (PCLN) | $1,283.47 | open | $1466.06 | 14% |
| United Parcel (NYSE:UPS) | $101.65 | closed* | $115.97 | 14% |
| Alphabet (NASDAQ:GOOG) | $716.49 | open | $771.82 | 8% |
| Disney (NYSE:DIS) | $100.36 | open | $104.22 | 4% |
*removed 12/23/16, **acquired
Note. Buy prices utilized are from May 16, 2016, Equities.com article with same subject matter but slightly different title.
Looking forward to 2017
Seeking Alpha: What big themes do you expect from 2017, and how are you preparing?
There will be three dominant themes for 2017. My November 21, 2016, article "Headwinds for S&P; Tailwinds For Small And Micro-Caps" covers items 1 and 2 below:
1. The appreciation of the U.S. dollar versus all currencies will have a negative impact on U.S. multinational companies and will result in a contraction of the S&P 500's PE multiple.
2. Increasingly higher U.S. interest rates will cause all yields to rise globally and increase the risk of a European recession.
3. The amending of trade policies will cause cross currents for the world's equities and currency markets. See my "Trump's Nationalism and Protectionism Already being Priced Into Market's" article dated November 14, 2016.
I am recommending a defensive posture and that a significant portion of liquid assets be invested into short term Treasury securities. There will be an opportunity to buy long term bonds during the first half of 2017.
Seeking Alpha: What's a big risk you see in the market for 2017, and how are you preparing for it?
The big risk for 2017 is a U.S. recession that could begin in the second half of 2017. The recession would be caused by an appreciating U.S. dollar and higher U.S. interest rates.
My primary focus for 2017, is on the deeply undervalued micro-cap companies which are the most undervalued that I have witnessed though out my 40 years in the markets. The Dodd Frank Act, which for the first time ever made brokers criminally liable for recommending speculative shares culminated with the micro-cap market crashing in 2016. The crash was the impetus for me to begin my hunt to find the 100 best micro-caps and for my decision to become a Marketplace author for Seeking Alpha and launch the Trophy Investing 100™.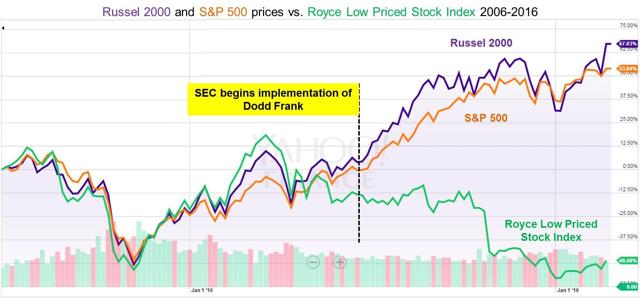 For the first half of 2017, I am also recommending large cap digital economy companies which are undervalued based on their Free Cash Flow Yields. This includes Microsoft (NASDAQ:MSFT). See "Microsoft Enters Trillion-Dollar Sweepstakes", December 23, 2016. Finally, I predict that the S&P 500's close at the end of 2017, will be lower than its 2016 close. See my December 2, 2016 article, "Will Hangover From Market's Party For Trump Last 2 Years?".
Seeking Alpha: What could drive success for your investing style that the market is not pricing in yet?
Utilizing my cash flow expertise and analytics to identify and recommend the shares for those companies which are extremely undervalued to be bought. Conversely, my cash flow expertise and analytics can also be utilized to identify and recommend the shares of those companies that are great shorts. When the next recession arrives I predict that there will be many short selling opportunities.
Seeking Alpha: What is one of your favorite picks for 2017, and, in a sentence or two, why?
My pick, Live Ventures, Inc. (NASDAQ:LIVE), was one of the micro-caps that I recommended in my November headwinds and tailwinds article. I am also predicting that LIVE shares will be the top performer for the stock market in 2017 even though its share price has already increased by 50% since being recommended. LIVE shares rank as my best ever micro-cap find ever for the following reasons:
Shares extremely liquid for a micro-cap.
Very dynamic 33 year old CEO who stepped in to turn around company has since acquired 40% of its shares outstanding.
Based on my free cash flow analysis the shares are insanely undervalued.
Diversified holding company business model identical to Berkshire Hathaway's (NYSE:BRK.A) (NYSE:BRK.B).
Grew by 100% for fiscal 2016 and will continue to grow at 50% to 100%.
Throughout 2016, I recommended a total of 11 companies in all of my articles that were published by Seeking Alpha. All of the companies were recommended in either my "Digital Transformers Sending Industrials to Graveyard" or my "Headwinds for S&P; Tailwinds For Small And Micro-Caps" article.
To benefit from my sifting through the aftermath of the crash to find and recommend the best 100 micro-caps as soon as possible, I recommend a subscription to the Trophy Investing 100™ which includes a free two-week trial. A subscription includes access to ongoing research coverage for the named companies including Live Ventures. The policy is to provide continuous research coverage on every company named to the Trophy Investing 100™ for a minimum of three years.
The 4 minute 34 second video below titled "Diverging Market Creating Rare Investing Opportunities" is about the divergence of the markets, which was created by Dodd Frank and the search for the 100 micro-caps.
Disclosure: I/we have no positions in any stocks mentioned, and no plans to initiate any positions within the next 72 hours.
I wrote this article myself, and it expresses my own opinions. I am not receiving compensation for it. I have no business relationship with any company whose stock is mentioned in this article.
Editor's Note: This article covers one or more microcap stocks. Please be aware of the risks associated with these stocks.