MLPs (as measured by the Alerian MLP Index) dropped back a bit over the last 4 days of the year, but as measured by the equal weight version, MLPs were slightly higher. In both cases, MLPs outperformed the S&P 500 (NYSEARCA:SPY). Oil and natural gas prices were both up, and both finished the year with massive gains after the carnage of the last few years.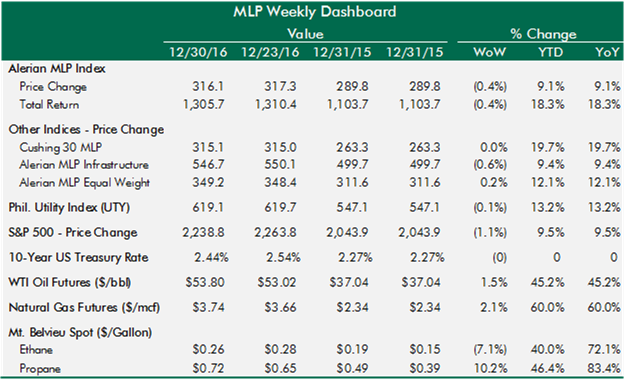 The AMZE total return for the year was 22.5%, more than 400 basis points higher than the adjusted market cap (traditional) Alerian MLP index. This disparity of returns is a reminder of how much some of the smaller MLPs have rallied off the bottom, but it is also a reflection of the unusual underperformance of Enterprise Products Partners (NYSE:EPD). It's unusual because this year was the first since 2009 that EPD has not beaten the Alerian MLP Index.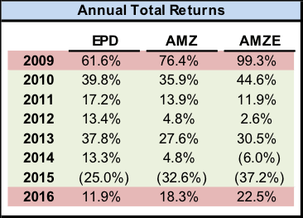 The stock outperformed even with an ~20% weight in the index because of fund flows into MLP fund vehicles that own big stakes in EPD, which is the most liquid MLP. That phenomena has been challenged of late. In 2017, one of the biggest questions facing the sector is whether EPD waits for conditions to improve, or does something to improve their access to capital.
Status Update
December's 4.4% return kept a few streaks going, including 3 positive quarters and 2 positive months for the MLP Index. It also broke the streak of 2 straight negative Decembers, just like the positive November broke the streak of two straight Novembers. Up next, January has been negative for two straight years, but has historically been a strong month for MLPs.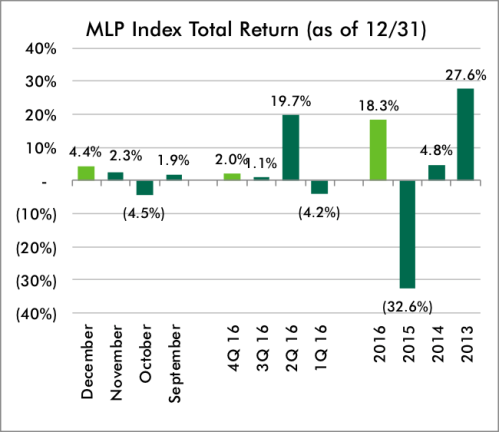 For 2016 overall, MLPs finished up 18.3%, beating the S&P 500 for the first time since 2011. It was a year characterized by a constant struggle for MLPs to find their footing, as investors watched distribution levels get adjusted to more sustainable levels with volatile re-pricing around those events and wild swings in commodity prices.
It seems MLPs have finally found solid footing the last few months and will begin to again take steps forward. Stumbles may yet occur, but inertia and tailwinds should enable the recovery to continue.
Winners and Losers
Global Partners LP (NYSE:GLP) led the entire sector for the second straight week. The bottom 5 was unusually populated by large-cap MLPs like Plains All American Pipeline (NYSE:PAA), ONEOK Partners (OKS) and Boardwalk Pipeline Partners (NYSE:BWP). Natural Resource Partners (NYSE:NRP) made it a second straight week in the bottom 5 as well.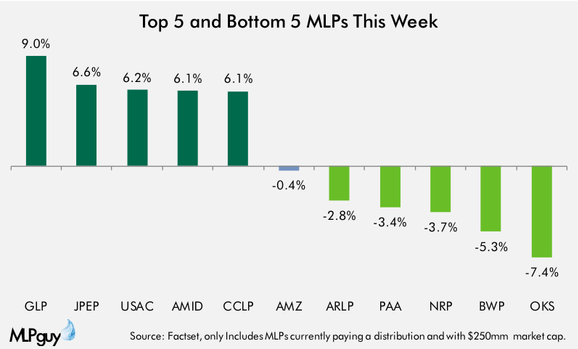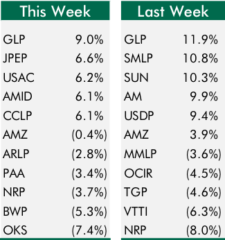 YTD Leaderboard
SunCoke Energy Partners (NYSE:SXCP) finished the year as the top-performing MLP among all that still pay distributions. Ferrellgas Partners LP (NYSE:FGP) was the biggest loser, stumbling a number of times. VTTI Energy Partners (NYSE:VTTI) rallied this week to avoid the bottom 5, and despite some strength in the last month, high-multiple MLPs Phillips 66 Partners LP (NYSE:PSXP) and Shell Midstream Partners, LP (NYSE:SHLX) couldn't escape the bottom 5.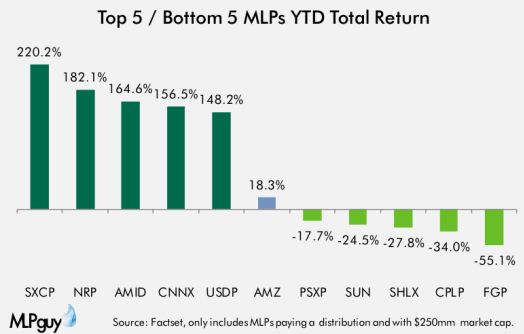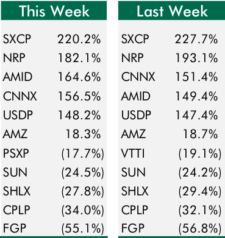 General Partners and Midstream Corporations
General partners and corps underperformed MLPs for a second straight week. In fact, Tallgrass Energy GP (NYSE:TEGP-OLD) and NuStar GP Holdings, LLP (NYSE:NSH) were the only ones to post a positive return this week. For NSH, it was a second straight week near the top, but you shouldn't read much into trading the last few weeks of the year.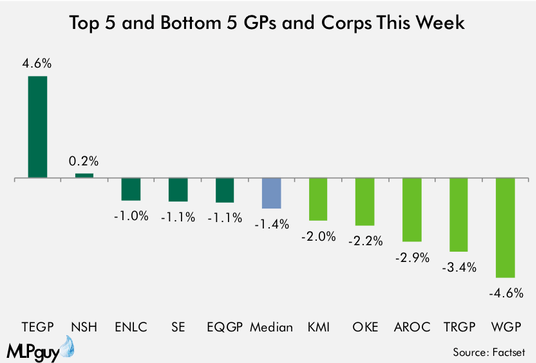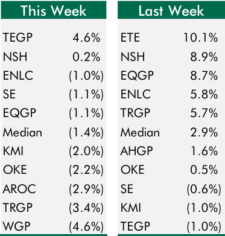 News of the (MLP) World
Basically, no MLP news this week. Expect that to change next week, so buckle up for another wild year of transactions.
Capital Markets
M&A
SHLX announced acquisitions of interests in Gulf of Mexico pipelines for an undisclosed purchase price (press release).

The company will acquire 10% interest in Proteus Oil Pipeline, 10% interest in Endymion Oil Pipeline and a 1% interest in Cleopatra Gas Gathering Company.
The size of the transactions was not announced, but SHLX did note the EBITDA multiple was 7.7x.
Other
Golar LNG Partners (NASDAQ:GMLP) announced early termination of charter contract for the Golar Spirit FSRU vessel (press release).

Charterer Petrobras (NYSE:PBR) agreed to pay 62% of EBITDA remaining on the contract to terminate the charter in June 2017 versus the August 2018 original end date.