People ask me why I only write about Valeant (VRX). The answer is simple: I write about Valeant because by focusing on one company, I can give readers a depth of perspective not found from authors with a generalized focus.
Today, I bring you serious alpha and potentially market-beating information.
Rumors have come out that Takeda Pharmaceutical Co. (OTCPK:TKPHF) has secured $13 billion in financing and is now resuming talks to purchase Valeant Pharmaceuticals International. This news led to a substantial rally in the price of the stock.
Through cross-referencing information about Valeant, I have found compelling evidence suggesting this rumor is a hoax. Consequently, Valeant stock will correct when the market opens on Tuesday.
Investment Thesis
A potential hoax led Valeant stock to sustain a significant rally on Friday the 30th of December 2016. Should the market realize the news is false, there will be a large selloff in VRX as the market opens on January 3rd, 2017.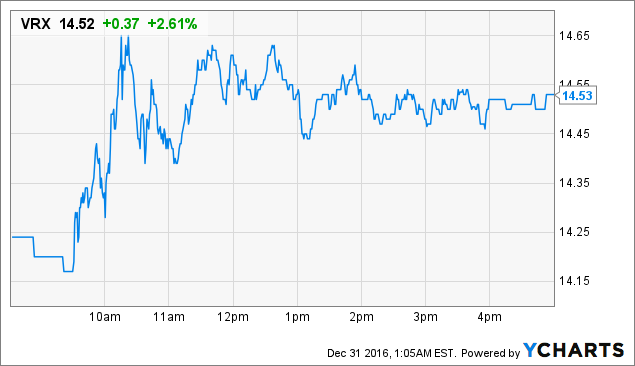 Investors who are convinced by the evidence presented in this article can act on this thesis by shorting VRX with leverage or weekly puts for maximum upside potential.
The Evidence
December 30th 9:30 am-4:00 pm
Rumors filter through the investor community. These rumors suggest a resumption of Valeant's talk with Takeda Pharmaceutical Co. to purchase Salix and suggest a sum of $13 billion.
As a result of these rumors, VRX sustained significant upward volatility. Here are some of the statements posted on Seeking Alpha:
Takeda has secured the necessary financing, about 13 billion dollars granted by HSBC and Deutsche Bank, to resume negotiations for the purchase of Valeant.

Someone posted this on Yahoo Finance....

I guess you didn't see the news today that Takeda is again in negotiations to buy Salix. I guess it doesn't occur to you that 9 to 10 billion dollars received makes the talk of an equity raise utterly ridiculous

I'm sorry man. It's in the news on my Schwab account

It's said that Takeda received financing and has resumed talks with Valeant

A while back I had heard read that Takeda has $15B earmarked for acquisition - won't be surprised if they indeed end up coughing up $15B for buying out Salix. Do others think that Valeant should sell Salix for anything close to $13B or higher?

Or ever if Salix is bought off Valeant for 13+ billion as report of Takeda funding suggests. No need for refi, no need for any further financing.
These rumors repeatedly link to a Spanish language source called Interconomia.com. Here is the full report.
Translation:
Takeda has secured the necessary financing, about $13 billion granted by HSBC and Deutsche Bank, to resume negotiations for the purchase of Valeant. Valeant, which trades at about $14.5 a share, has a capitalization of $4.8 billion. Takeda's $13 billion funding suggests that Valeant's share premium could be 30%. The remainder would be used to assume Valeant's debt.
Deconstruction of the Fake News
1. Why would news of Valeant, a Canadian firm, selling an asset to Takeda, a Japanese firm, be found on this Spanish-language news outlet before English outlets?
2. There is no mention of this story in either Takeda's press releases or Valeant's.
3. This website, Interconomia.com, has been used to spread fake news about Valeant before. This is the final nail in the coffin:
On November 23rd WhoTrades' author Chris Lau posted an entirely false rumor suggesting Valeant had agreed to sell Salix to Takeda for $9.3 billion.
Where did the author source this information? Interconomia.com
Note: This is not to suggest that Mr. Lau is in anyway associated with these rumors. Interconomia misled him as it has misled all of us. The author runs an excellent blog on Whotrades, and he is a trustworthy source of information.
Conclusion
Interconomia.com has been used to spread false news about Valeant before and is not a credible source of information about the company. Also, there is no mention of this story on either Valeant's or Takeda's press releases.
Evidence suggests this rumor is completely fake and consequently, Friday's rally in VRX will correct sharply when the market opens on Tuesday. Investors who agree with this thesis can take immediate action to short or sell VRX with leveraged puts for maximum upside.
Disclosure: I am/we are short VRX. I wrote this article myself, and it expresses my own opinions. I am not receiving compensation for it (other than from Seeking Alpha). I have no business relationship with any company whose stock is mentioned in this article.