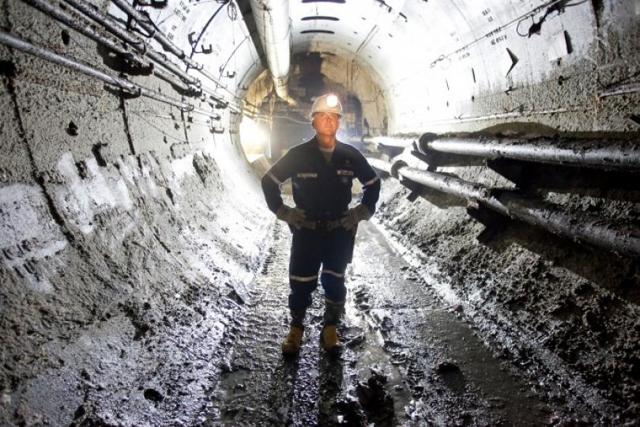 Source: ibtimes - Cameco's chief geologist Doug McIlveen stands in a tunnel inside the uranium producer's Cigar Lake mine Photo: Reuters
Uranium was apparently formed in supernovas about 6.6 billion years ago and is a relatively common metal, found in rocks and seawater, according to world-nuclear.org. Uranium does not trade on an open market like other commodities. Buyers and sellers negotiate contracts privately; prices are published by independent market consultants Ux Consulting and TradeTech, according to Cameco (NYSE:CCJ). With the identified uranium resources, at the current rate of nuclear energy consumption, uranium will run out in 230 years. Of course, there are still economically unidentified uranium resources in this planet. Just for comparison, based on economically recoverable oil resources, oil is going to run out in 55 years at the current rate of consumption.
Uranium 28 Year Trend Chart: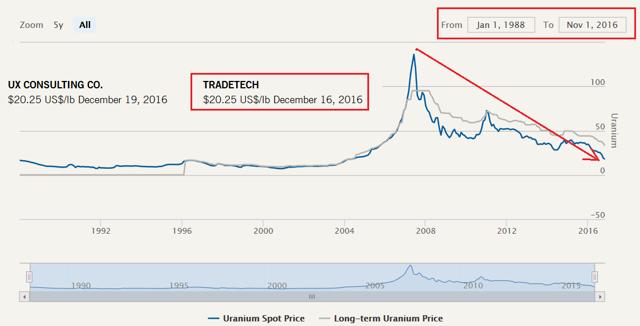 Uranium 1 Year Trend Chart:

The main use of uranium in the civilian sector is to fuel nuclear power plants. One kilogram of uranium-235 can theoretically produce about 20 terajoules of energy (2×1013 joules), assuming complete fission; as much energy as 1500 tonnes of coal, according to Wikipedia. The article focuses on supply and demand of uranium and how low uranium prices will go down.
Supply
According to the NEA (nuclear energy agency), identified uranium resources total 5.5 million metric tons, and an additional 10.5 million metric tons remain undiscovered-a roughly 230-year supply at today's consumption rate in total; further exploration and improvements in extraction technology are likely to at least double this estimate over time. The report further says as follows:
The extraction of uranium from seawater would make available 4.5 billion metric tons of uranium-a 60,000-year supply at present rates."
World uranium production is projected to increase to 87,900 tons of U3O8 in 2020.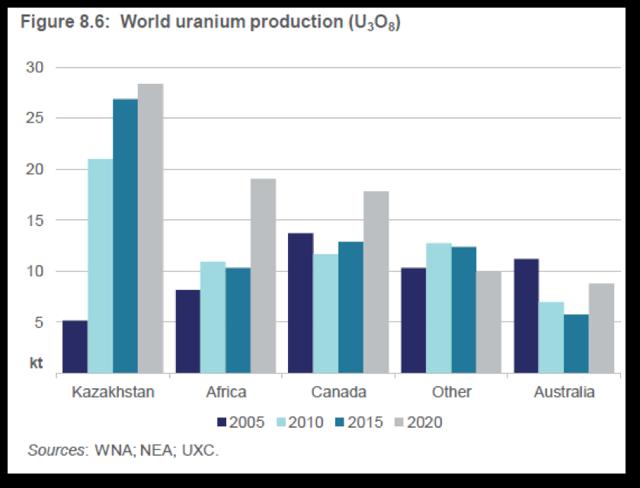 Demand
Uranium is sold only to countries which are signatories of the Nuclear Non-Proliferation Treaty (NPT), and which allow international inspection to verify that it is used only for peaceful purposes, according to world nuclear association.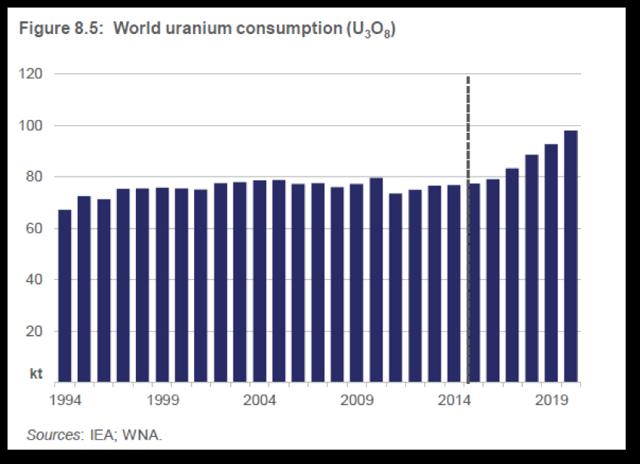 The world uranium consumption is projected to grow at an average annual rate of 4.8 per cent from 2015 and to total 97,900 tons of U3O8 in 2020.
Has it bottomed yet?
Simple economy tells us that if the demand dominates the supply, the price will go up. For example, the recent oil crisis was caused by oversupply (supply dominated the demand).
= Projected Supply in 2020: 87,900 tons
= Projected Demand in 2020: 97,900 tons
= the demand is expected to dominate the supply in 2020 by about 12%
Based on this scenario, it is safe to say that uranium spot price will increase.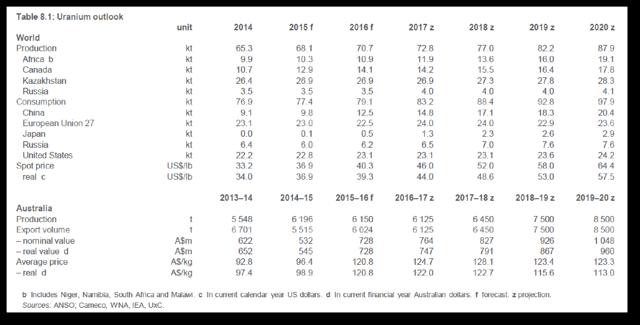 Uranium Stocks
The top 7 uranium producing public companies are:
Cameco 2015 uranium production: 14,200 tons
AREVA (AREVA) 2015 uranium production: 11,002 tons
BHP Billiton (NYSE:BHP) 2015 uranium production: 3,144 tons
Uranium One (NYSEMKT:UUU) 2015 uranium production: 6,250 tons
Paladin Energy (NYSEARCA:PDN) 2015 uranium production: 2,457 tonnes
Ur-Energy (NYSEMKT:URG) 2015 uranium production: 391.77 tonnes
Energy Fuels (NYSEMKT:UUUU) 2015 uranium production: 234 tonnes
Cameco 5 Year Chart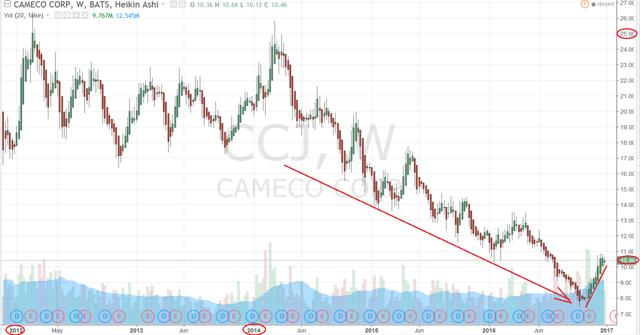 Energy Fuels 5 Year Chart
Source: Tradingview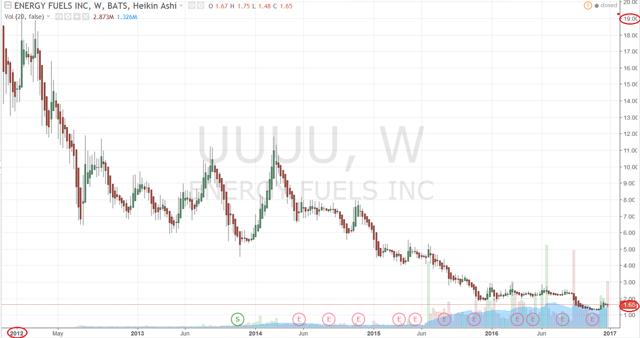 Source: Tradingview
Nuclear Energy Statistics
In 2015, 13 countries relied on nuclear energy to supply at least one-quarter of their total electricity.
In 2016, Nuclear power plants provided 12 percent of the world's electricity production.
Today, only eight countries are known to have a nuclear weapons capability. By contrast, 55 countries operate about 245 civil research reactors, with over one-third of these being in developing countries.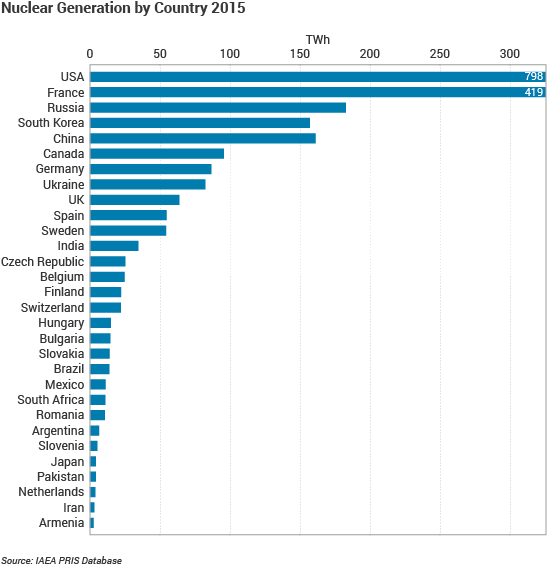 Positives
Nuclear energy is clean energy with near-zero CO2 emissions.
Based on economically recoverable and identified oil resources, we have enough oil for 55 years.
Negatives
In terms of safety, the 2011 disaster at Fukushima created an irrational disconnect between sentiment and uranium fundamentals, according to the report.
Uranium can only be sold to some countries.
Here is some information about how uranium is mined:
Uranium can be extracted in an open-pit mine, in an underground mine or using a technology called in-situ leaching recovery. In-situ leaching recovery is when the uranium minerals are dissolved in liquid underground, the liquid is pumped to the surface and the uranium is then extracted out of the solution.
Conclusion
As per the below chart from the U.S energy information administration (NYSEMKT:EIA), the forecast for the next 23 years:
1) Nuclear energy demand is expected to increase.
2) Natural gas demand is expected to increase.
3) Renewables demand is expected to increase.
4) Coal demand is expected to decrease or become stagnant.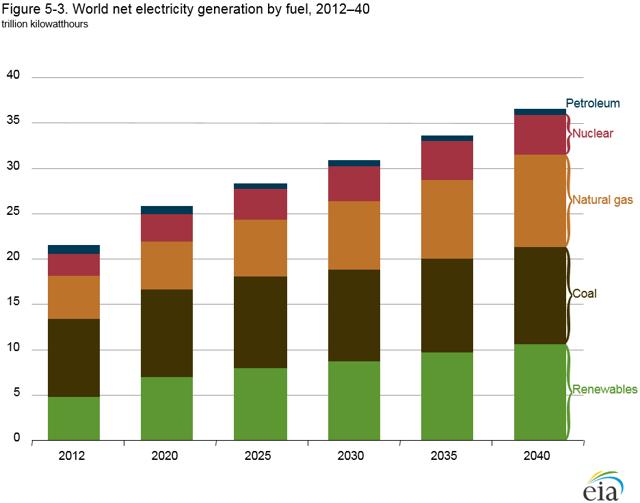 In a worst case scenario, there is a possibility renewables and natural gas production could dominate nuclear energy production. If that is the case, uranium prices may stay where they are now. Based on my analysis, it is difficult to say whether the uranium price has bottomed or not as this is totally different from oil. As we know, the oil price is recovering now (it was traded at a low of around $27 in Feb 2016). There are so many limitations with uranium; uranium can be sold to only certain countries which are signatories of the Nuclear Non-Proliferation Treaty (NPT).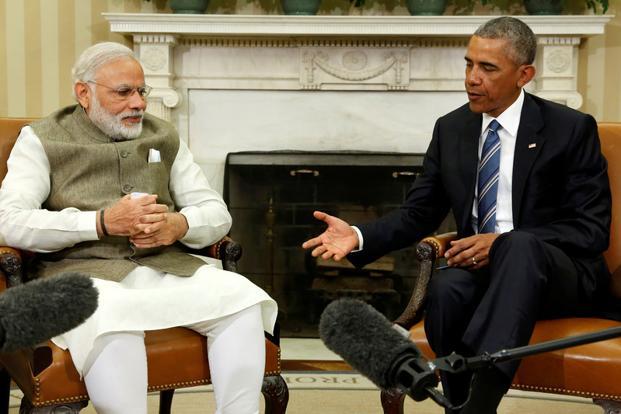 Source: livemint
According to the report, the 48 members of the NSG (nuclear suppliers group) include the five nuclear weapon states, US, UK, France, China and Russia. India is fighting hard to get NSG membership. The report further says as follows:
With India committed to reducing dependence on fossil fuels and ensuring that 40% of its energy is sourced from renewable and clean sources, there is a pressing need to scale up nuclear power production. This can only happen if India gains access to the NSG.
If India gets NSG membership, it will ramp up nuclear energy production. Even though the uranium stocks are trading at an all-time low lately, the recovery will be very slow. I expect there would be a limited upside to the uranium stocks.
Is Uranium searching for the bottom? Yes, the bottom would be around $17 ~ $20 per lb. The stocks mentioned in this article are for reference only as this article focuses on the commodity uranium only.
Disclosure: I/we have no positions in any stocks mentioned, and no plans to initiate any positions within the next 72 hours.
I wrote this article myself, and it expresses my own opinions. I am not receiving compensation for it (other than from Seeking Alpha). I have no business relationship with any company whose stock is mentioned in this article.
Editor's Note: This article covers one or more stocks trading at less than $1 per share and/or with less than a $100 million market cap. Please be aware of the risks associated with these stocks.