Periodically, I have been updating readers on my "5 Ways to Beat the Market". These strategies have been shown to generate long-run outperformance versus the S&P 500 (NYSEARCA:SPY) through factor tilts towards stocks with characteristics that have historically generated market-beating performance. All of these strategies are accessible through low-cost exchange-traded funds, giving long-term focused Seeking Alpha readers a passive way to consistently beat the market over time.
In this update to the series, I will briefly cover the background of each strategy and demonstrate its performance in 2016.
Size
The first factor tilt I will describe - the size factor - has been discussed in academic literature for several decades, with the earliest literature describing the outperformance of small-cap stocks over time periods dating to before the Great Depression. The size factor was memorialized in the Fama-French Three-Factor Model that helped earn Eugene Fama the Nobel Prize in Economics in 2013. The Fama-French Three Factor Model observes that small-cap stocks tend to outperform large-cap stocks, and low market-to-book stocks tend to outperform high market-to-book stocks. Adding these observations to the Capital Asset Pricing Model better describes stock market performance than beta alone. Beta is a financial measure of risk arising from general market movements. Since we are trying to beat the general market, it makes intuitive sense that alpha would be found in a size factor that was used as a supplement to better describe overall returns.
Our first way to beat the market, as proxied by the S&P 500, is then to simply buy smaller-capitalization stocks. Below I have depicted the average returns of the S&P SmallCap 600 Index and shown the returns of this index graphed against the S&P 500. The first graph is for the full dataset available via Bloomberg, and the second graph shows the performance in 2016. This index is replicated through the iShares Core S&P Small-Cap ETF (NYSEARCA:IJR) with an expense ratio of 0.12%.
Over the 22-year dataset, small-cap stocks have outperformed by 171 bp per year, a roughly 50% cumulative outperformance over this time horizon.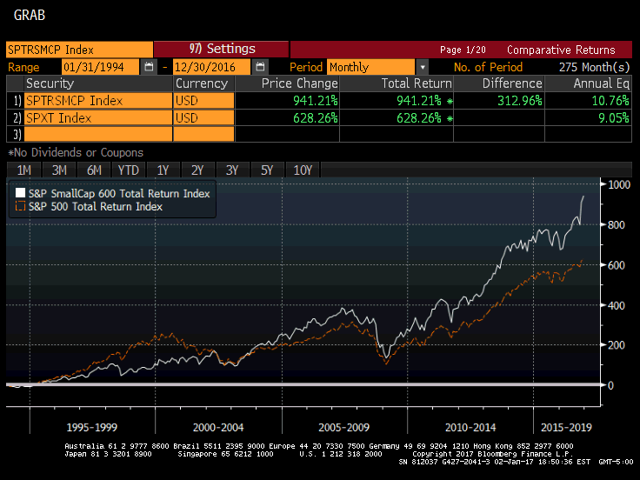 The S&P SmallCap 600 Index returned 26.56% in 2016, while the replicating fund IJR returned 26.61% over the course of the year, assuming dividends were reinvested into new shares. The daily cumulative total return of the underlying indices for the leading exchange-traded funds for my chosen small-cap index and the S&P 500 are graphed below. Note the tremendous outperformance by small-caps late in the years as these domestic-focused, higher-beta stocks reacted more positively to the market hopes of pro-growth policies by the new administration.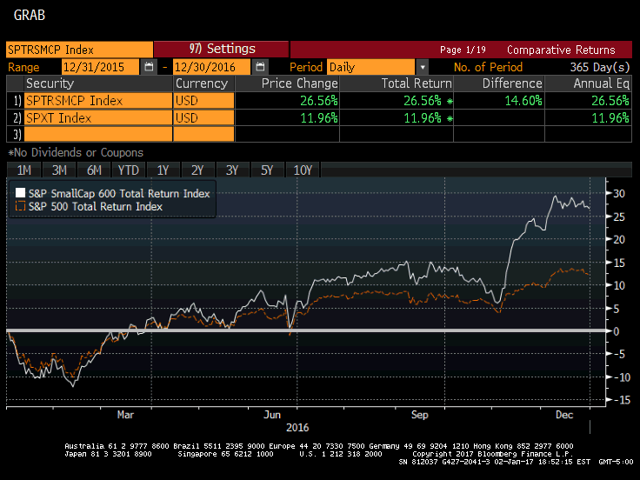 While I have demonstrated that the size premium has generated long-run absolute outperformance, it has also been challenged by many market prognosticators over recent years. These critics suggest that the size premium has varied significantly over time, is subject to calendar effects, is not universally present across international markets, and is subsumed by proxies for illiquidity.
In a series of recent articles, I have shown the efficacy of marrying the small-cap factor tilt with other key attributes to generate outperformance over very long time intervals. Some might question why I used the S&P 600 over the more readily replicated Russell 2000 as my small-cap index. After all, the largest fund that mimics the Russell 2000, the iShares Russell 2000 ETF (NYSEARCA:IWM), has $39 billion of assets under management, nearly 50% larger than the aforementioned IJR. Part of this choice has to do with the financial viability standards that are part of the inclusion rules for the S&P 600. This qualitative tilt is important to generating outperformance in small-cap stocks.
Below is a table that I used in my article "Small Caps and Low Volatility: A Long-Run Study." This article looked at a dataset from Kenneth French that examined the historical returns of 25 portfolios based on size and volatility dating back to 1963. Note that the highest returns are in a combination of small-capitalization and low-volatility stocks (upper left), and that high-beta, small-cap stocks (upper right) have actually generated negative returns.

Similarly, in my article "Looking At Small-Cap Value," I demonstrated that a combination of small capitalization and value has also generated long-term outperformance, beating the market by 4.7% per year in a dataset stretching all the way back to 1926.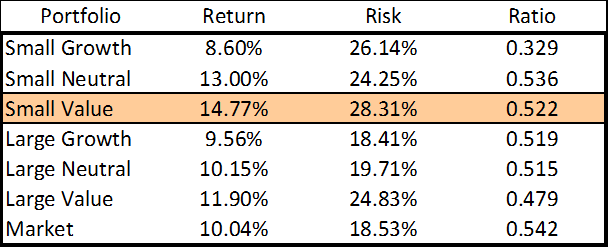 How do you capture the combination of small-cap/low-volatility and the combination of small-cap/value? In previous articles, I have used the PowerShares S&P SmallCap Low Volatility Portfolio ETF (NYSEARCA:XSLV), which generated a 31.4% return in 2016 to capture small-cap/low-volatility. To capture small-cap/value, I have suggested using the Vanguard Small-Cap Value ETF (NYSEARCA:VBR), which returned 24.9% on the year. Both of these strategies strongly outpaced the S&P 500.
For long-term investors with a buy-and-hold approach, the size factor has generated long-run structural alpha over the recorded history of modern finance. Combining the size factor with low volatility and value has enhanced long-run outperformance even further. Over the next four business days, I will be publishing updated results for four additional proven buy-and-hold strategies that can be replicated through low-cost indices and demonstrating their performance in 2016.
Disclaimer: My articles may contain statements and projections that are forward-looking in nature, and therefore, inherently subject to numerous risks, uncertainties and assumptions. While my articles focus on generating long-term risk-adjusted returns, investment decisions necessarily involve the risk of loss of principal. Individual investor circumstances vary significantly, and information gleaned from my articles should be applied to your own unique investment situation, objectives, risk tolerance and investment horizon.
Disclosure: I am/we are long IJR, SPY, XSLV, VBR. I wrote this article myself, and it expresses my own opinions. I am not receiving compensation for it (other than from Seeking Alpha). I have no business relationship with any company whose stock is mentioned in this article.