As I had predicted last August, the Mexican peso has taken a significant fall against the U.S. Dollar.
With uncertainty regarding what a Trump presidency would mean for Mexican trade with the United States, it logically follows that the peso went on to tank against the greenback from a high of 0.055 to 0.0485: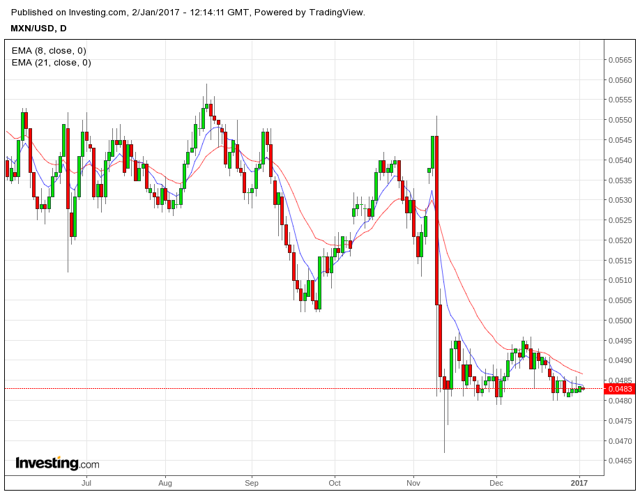 Since then, we have seen the peso oscillate around this level. However, is there a case that the peso could be an "undervalued" currency going into 2017?
From the perspective of risk-reward, higher interest rates have already been priced into the dollar, and the peso has already suffered the effects of uncertainty resulting from a Trump win. In this regard, it is certainly a possibility that the peso could have bottomed out.
In the past few months, it has become more apparent that Trump's negotiation tactics have been focused more on other major trading partners such as those in Asia - Mexico is hardly alone in potential renegotiation of trade deals. The withdrawal of the United States from the Trans-Pacific Partnership upon commencement of the Trump administration is a case in point, and a signal that Trump may well choose to focus on countries other than Mexico for the time being, when it comes to trade.
Additionally, with Trump promoting a policy of protectionism, we are now seeing China seek to expand its trade relationship with Mexico. China is Mexico's second largest trading partner, and while exports to China have grown very minimally compared to imports, the nature of the relationship between China and Mexico could well strengthen should trade with the United States be significantly impeded going forward. I expect that this would result in a positive effect on the peso should we see Mexico diversify its exports to other major trading partners.
Moreover, while the current rhetoric from president-elect Trump is to significantly halt unfair trade with Mexico, the focus is mainly on preventing U.S. companies from setting up bases in Mexico and removing jobs from the United States. On the area of American exports, Mexico still represents a highly significant market to the U.S. in terms of commodities such as gasoline, with a high of 12.08 million barrels being exported in October of last year. In this regard, it is highly possible that talk of sanctions against Mexico are overblown, and the peso could gradually rise as the market realizes this.
All in all, I see the peso as a "low-risk, high-reward" trade at this time. While the nature of the trading relationship with the United States has yet to be determined, Mexico still represents an important market to the United States and has potential to further strengthen its trading relationship with China.
Disclosure: I/we have no positions in any stocks mentioned, and no plans to initiate any positions within the next 72 hours. I wrote this article myself, and it expresses my own opinions. I am not receiving compensation for it (other than from Seeking Alpha). I have no business relationship with any company whose stock is mentioned in this article.