When a deal is too good, and the right people are behind it, accept the gift. Oaktree Capital (NYSE:OAK) is that gift and you, the smart investor, should buy (or write puts).
First, some background. Investing is not easy. Accepting advice from OAK's Chairman, Howard Marks, surely the novice can be lucky and performance can obfuscate skill by virtue of markets moving in the 'right' direction. Similarly, the professional can be crushed by mistimed or misplaced conviction. With indices rising to all-time highs and passive (ETF and indices) investing outperforming professionals, the herd can mistake results for causation.
While my 2016 is now recorded as one of my personal best, that performance is only from the rear view. As I manage for performance, different from my team who manages risk, the road ahead is cloudy. Not to suggest rain or storms are imminent, but simply what is unknown is cause for caution. Mistakenly, this leads many to cash, fixed income, and some to metals, but none of these are hedges or at least hedges that I like. Rather these often exacerbate risk.
Fixed income witnessed a historical collapse as rates rose against Duration. Cash, and notwithstanding Fed action verse speak, still generates nil. And metals remain either manipulated by fiat or hoping the later fool to pay more.
Diversification & Alternatives
Oaktree Capital is ready for allocation of your dry powder. OAK is a leading global alternative investment management firm with a concentration in credit strategies. According to OAK, its core competence is investing across the capital structure (myriad forms of debt and equity*) of global investment categories: distressed debt, corporate debt, control investing (where distressed debt converts to equity), convertible securities, real estate and listed equities (non-consensus value).
OAK Asset Allocation (OAK website)

Corporate Debt 38%
Distressed Debt 26%
Control Investing 18%
Real Estate 8%
Convertible Securities 6%
Listed Equities 4%
*Debt structures include closed-end, open-end and evergreen vehicles. Evergreen funding is a renewable debt instrument that pushes back the maturity date periodically so that the time until maturity remains relatively constant while the instrument is in place. This structure differs from traditional debt that has a defined maturity date.
Few investors have the expertise or exposure to properly vet, allocate, let alone the discipline to allocate to alternative investments. Howard Marks, author of "The Most Important Thing," and the Co-Chairman of OAK is someone to ride along. The lessons are endless in the compilation of essays for any value investor and a financial bible. There are way too many 'most important things' to list here because the list is comprehensive and any abbreviation is simply unjust to the others. Investing is an art and Marks offers us a front row seat through OAK.
Under the Hood:
Edgar Lee, one of his managers sums OAK's primary tenants and underscores the present opportunity:
I think one of the most important investing lessons I have learned at Oaktree is that you can't call the bottom, so you have to be willing to average down and buy on the way to it. When the market moves lower… we need to identify those securities that are trading at a discount to their intrinsic value in order to generate great returns for the long run.
I found it instrumental in Lee's assessment that OAK does not wait for a market's turn for confirmation. They are anticipatory. As a result, they buy into value, knowing prices can improve. And then add to conviction as prices improve. OAK is ahead of trends.
This chart dating back to 2012 shows OAK rarely sub $40. Three (3) circled events were followed by impressive returns; ~100% in 2012, 20% in 2016, and TBD in 2017.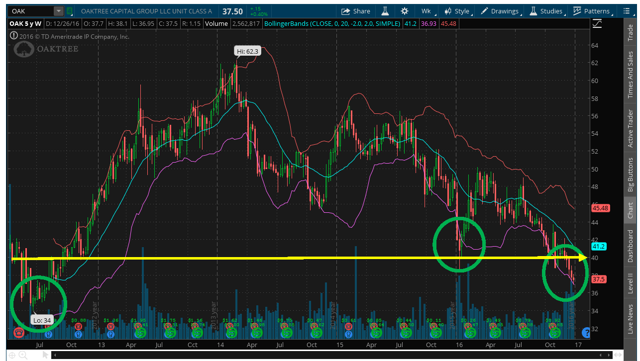 In the span of 5 years, it comes with little surprise OAK is nearly never on sale. But today's gift generates a variable return of capital that ranges from $1.89-$4.71 in annual dividends; the current dividend is $2.25 and current yield is 6.67%. I've not found correlation to coverage, but I welcome it when it is. For OAK, the ratio is more of my own hangover from traditional business enterprise so my takeaway is that management is shareholder-friendly and distributes its wealth.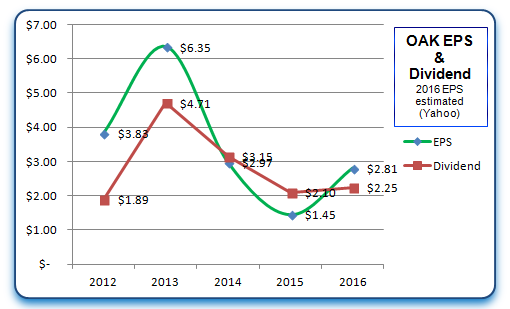 (source TD Ameritrade, Chart author)
The Trade & How to Express Your Opinion:
In a world that remains starved for yield, owning OAK outright makes tremendous sense. The yield is a comfortable alternative to anything hedging in nature or otherwise defensive. Owning OAK now is certainly consistent with buying low and finding value. Last close $37.50.
As an options trader, I always look for opportunities to collect premium versus spending money (outright buying). OAK is unique in that the extrinsic values for its option series are nearly limited to anticipated dividends of the time horizon. So whereas your available buying power may be limited or margin balances negative, consider writing an ITM Put option as a temporary surrogate for stock ownership. Shown below is the option I prefer as of this writing. The $40 Put for $4.60 (use limit orders).

Doing so deposits $460 directly into your brokerage account and lowers your 'If Put' cost basis to $35.40. Note however, doing so obligates you to buying 100 shares (per contract written) at a net price of $35.40.
Note: To get these and more articles on options and equity opportunities as soon as they are published, click on my profile and hit the big orange "Follow" button and choose the real-time alerts option.
Disclosure: I am/we are long OAK. I wrote this article myself, and it expresses my own opinions. I am not receiving compensation for it (other than from Seeking Alpha). I have no business relationship with any company whose stock is mentioned in this article.
Additional disclosure: Short OAK Put options