By Scott Tzu
News out of the Apple (NASDAQ:AAPL) camp last week was that Nikkei was reporting a 10% cut in iPhone production heading into the New Year. In an exclusive that Nikkei wrote late last week, they reported,
Apple will trim production of its iPhone family around 10% on the year in the first quarter of 2017, according to calculations by The Nikkei based on data from suppliers.

This comes after the company slashed output in January-March 2016 due to accumulated inventory of the iPhone 6s line at the end of 2015. That experience led Apple to curb production of the iPhone 7, introduced in September, by around 20%. But the phones still have sold more sluggishly than expected. Information on production of the latest models and global sales suggests cuts in both the 7 and 7 Plus lines in the coming quarter.
Immediately this sent shockwaves through Apple stock as it started to move lower on volume when the news was released late last week. It has also gone to further a lot of bearish arguments about the company as detractors and shorts wish to push the narrative that Apple is only a smartphone company and that the company has found itself supersaturated and unable to move phones the way that it once was. Fun narrative, but complete nonsense.
We disagree with these negative sentiments and believe that Apple remains one of the best values on Wall Street. we wanted to take a couple of minutes and explain why we think the Nikkei report is not a big deal and also why a one time repatriation allowance for corporations could see Apple move hundreds of billions of dollars into the United States that they could then use for a number of purposes, the most notable of which would be returning it to shareholders.
First, to address the Nikkei report. As you may or may not recall, Nikkei issued a similar report last year claiming that production needed to be cut 10% heading into 2016, as well. Without even addressing the fact that Apple was not in the meat of a major product refresh cycle, the iPhone then went to on to produce positive year-over-year growth from 2015 to 2016 in the first quarter. 9 to 5 Mac reported in January of 2016,
Apple reported $75.9b in revenue, $18.4b in profit, 74.8m iPhones sold, 16.1m iPads sold, and 5.3m Macs sold. Although the October through December period was probably a stacked quarter for Apple Watches sales, the company doesn't break out category sales for that product for "competitive" reasons.

That compares to $51.5 billion in revenue, $11.1 billion in profit, 48m iPhones, 9.8m iPads, and 5.7m Macs reported in the previous quarter. During the same holiday quarter a year prior, Apple reported $74.6b in revenue, $18 billion in profit, 74.4m iPhones, 21.4m iPads, and 5.5m Macs for comparison. Analysts were predicting around $76.6b in revenue, 75m iPhones, 17.3m iPads, and 5.8m Macs.
If Apple can see the same type of growth moving into 2017, iPhone estimates would handily beat expectations, we estimate.
Lest we also forget that this "exclusive" was based on estimates and not a source. Nikkei sourced their story "according to calculations by The Nikkei based on data from suppliers."
Let us also not forget that we are in a lull before a major product refresh. Expectations were extremely low for the iPhone 7 as most Apple fanatics and analysts were already focused on the iPhone 8. We wrote an entire article about this, talking about how the market had glazed over the potential for the iPhone 7 and was already focused on the next major upgrade, set to come within the next year. In that article, we stated,
Throughout the iPhone 7 news cycle so far, all we have been hearing about is the iPhone 8. We have heard about how much better it is going to be and we have heard that it will be the upgrade worth waiting for. We look forward to fantastic sales and an upgrade worth getting excited about from Apple with the iPhone 8, but what does that mean for us now?

But it really looks as though the iPhone 8 is the model that both consumers and (more importantly) the media are going to be looking for. People are looking for that stunning design upgrade, perhaps incorporating a curved screen or a front phone face where almost all of the surface area is display. Those seekers will have to wait for the next iteration of the iPhone.
So with the iPhone 7 we have a phone that wasn't even supposed to be much of a hit to begin with. It smashed initial expectations when Apple came out and noted that it was selling extraordinarily well and all we are seeing here is a similar report from Nikkei like we saw heading into last year, the likes of which was not a terribly bad year for Apple. It was a year in which the media ate some crow on iPhone. That crow eating looked like this,

It is true that the law of large numbers applies to this company because they are such a plentiful and robust manufacturer of smartphones, but that doesn't mean that these production cuts will be a marked negative on the company or its stock.
We expect iPhone sales to dwindle over the coming year, that is for sure. As it has been on the heels of a major product refresh, sales always have a tendency to hit a bit of a wall. However, we think those reevaluating their investment in the company, questioning the company's 2017, and those who are selling stock due to the Nikkei report are not seeing the bigger picture. This production cut is relatively normal, it is not going to make a materially significant difference, and for the most part is the non-event that the market figured it to be by the end of the day that the news was released, when trading had essentially returned to normal.
We also think selling here would be missing one of the biggest potential wild cards that shareholders could greatly benefit from in 2017. President elect Trump has made it crystal clear that he wants to look for ways to help companies repatriate cash into the United States. Apple, as many people know, has hundreds of billions of dollars offshore. If the government offers a way for these companies to repatriate this cash paying less or little tax than they would normally have to, we can easily see Apple moving hundreds of billions of dollars back into the United States, cash that they could immediately commit to returning to shareholders.
We don't think this scenario is as much of a longshot as people give it credit for. The cash isn't doing them any good offshore, the company generates an extraordinary amount of cash and so it doesn't need this cash to service its debt, and shareholders have been begging for further capital deployment for as long as we can remember.
It makes sense to go in and buy back stock here in the same way that it makes sense for investors to hold shares that they already own here and not dump them just because of something like this Nikkei report. Apple stock is cheap. For a technology company, the company is priced at a multiple that does not give it credit for the amount of innovation it performs and the sector with which the goods it produces reside. We continue to think that Apple is for the most part perpetually undervalued and we note that if it saw multiple expansion to mirror the way that companies like Microsoft (NASDAQ:MSFT) trade, the stock could easily appreciate far more than 50% in very short order.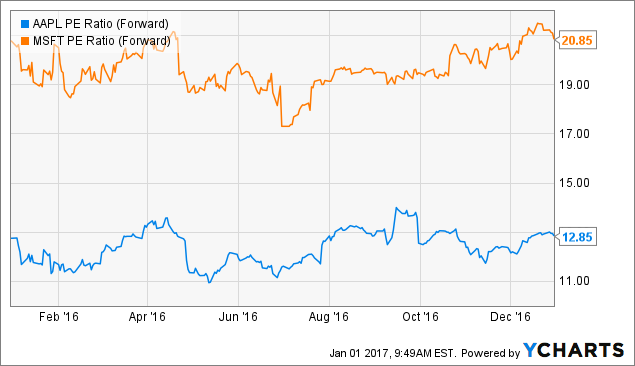 AAPL PE Ratio (Forward) data by YCharts
Whether or not Apple decides to move into software as a service or other offshoots of its hardware production business remain to be seen. However, with the prospect of capital moving back to the US and Apple potentially looking at being a content provider and a SaaS business, we continue to think that the company is undervalued and will buy here despite the Nikkei report.
Disclosure: I/we have no positions in any stocks mentioned, but may initiate a long position in AAPL over the next 72 hours. I wrote this article myself, and it expresses my own opinions. I am not receiving compensation for it (other than from Seeking Alpha). I have no business relationship with any company whose stock is mentioned in this article.