Notes for the readers
Topdanmark (OTCPK:TPDKY) is primarily traded on the Copenhagen Stock Exchange under the ticker TOP:DC. I will be referring to the Danish symbol for the article. Note: Amounts are in DKK unless mentioned otherwise. DKK-USD 0.14147, price of 1 DKK in USD as of December 31, 2016. Furthermore, most of the figures are based on the annual reports of Topdanmark and of its main competitors.
Corporate Profile: An Insurer Focused on Its Domestic Market
History of the group
The origins of Topdanmark go back to the 19th century. Topdanmark was created by the merger of several companies that covered dairy accident risks and employers' accident risks in Denmark. In fact, in 1898/1989, the mutual insurance company Mejeriernes Ulykkesforsikring and the mutual insurance company Arbejdsgivernes Ulykkesforsikring (employers' accident insurance) were founded. 10 years later, Mejeriernes Ulykkesforsikring expanded to include farming. Furthermore, the company changed its name to Mejeriernes og Landbrugets Ulykkesforsikring (dairy and agricultural insurance). In 1972, Mejeriernes Ulykkesforsikring and Arbejdsgivernes Ulykkesforsikring merged into Topsikring gs and a life insurance subsidiary was created. In 1985, the company decided to become a public company and changed its company form accordingly. Topdanmark A/S went public on the Copenhagen Stock Exchange. Topdanmark entered into distribution agreement with BG Bank and took over BG Pension. In 2000, Industriens Arbejdsskadeforsikring (workers' compensation insurance) was acquired by the Danish insurer. From 2011, Sampo (OTCPK:SAXPY) started acquiring Topdanmark's share to hold 44.11% stake in 2016.
Topdanmark in 2015
With 2015 revenues of DKK 15.2 billion, Topdanmark is a European insurer focused on its domestic market and is the second largest insurer in Denmark.
Topdanmark groups its operations into two main business segments:
L/S, which posted DKK 6.2 billion in revenues last year. The group's main contributor market in this segment is Denmark (more than 98% of the written premium)
P/C, which generated DKK 9.0 billion in revenues in 2015. Topdanmark is mainly active in Denmark (99.9% of the written premium). The P/C activity is split into two segments: The Personal segment, which sells policies for individual households and the SME and Industrial segment, which offers policies for Danish-based SME, agricultural and industrial businesses
All the other group subsidiaries, holdings, and service companies are directly or indirectly owned by the group's holding company, Topdanmark A/S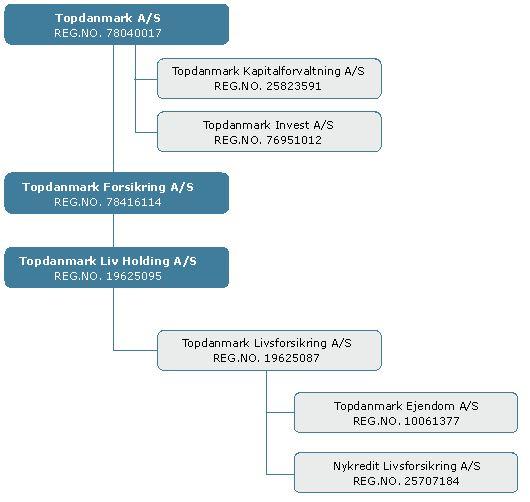 Source: Topdanmark's Investor Relations website
The main shareholder of the group is Sampo, a Finnish insurer which holds 44.11% stake in 2016. It is also important to note that Topdanmark held 9% of its own shares at the end of 2015. It is due to the stock repurchase program set up every year by the company.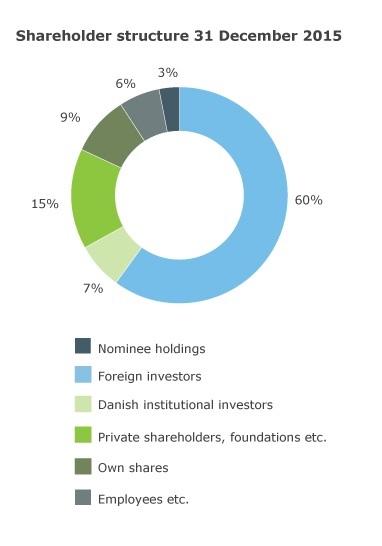 Source: Topdanmark's 2015 annual report
Competitive Position: A Leading Insurer in Denmark Giving Priority to Profitability Over Growth in P&C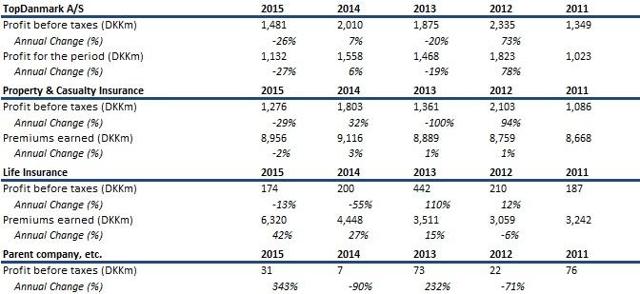 Source: Topdanmark's annual reports
Topdanmark is the second largest insurer in Denmark and sells its policies through its own channels and banks (a few years ago, the Danish insurer entered into distribution agreement with a lot of Danish insurers). The key feature of Topdanmark's business model in P&C is to give priority to profitability over growth. That's why the earned premium increased only 3% from 2011 to 2015. However, the profit before tax increased by 17% during the same period to reach DKK 1,276 million. The increase of the profit is mainly due to a strong operating performance and to the increase of the investment income. This focus on profitability has generated a loss of major industrial customers in the SME and industrial segment. In the personal segment, Topdanmark has introduced a new sales strategy for distribution through its certified sales representatives in order to improve the quality of its portfolio. In Q3 2016, the earned premium in P&C declined by 1.3% to DKK 6,672 million while the results for the non-life insurance activities increased by 25.3% to DKK 1,282 million, proving that an insurer which gives priority to profitability over growth has understood what it needed to do. We could expect Topdanmark to write a lower level of premium in 2016 than in 2015 (2016 estimated GEP: DKK 8.8 billion).
In life division, the gross earned premiums increased by 95% to DKK 6.3 billion from 2011 to 2015. However, the profit before tax declined by 7% to DKK 174 million during the same period. Because of the low interest rate environment, Topdanmark decided to sell more and more unit-linked policies. In 2015, the unit-linked pension schemes represented 94.0% of new sales. Unit-linked pension schemes represented 94% of new pension schemes written in Q1-Q3 2016. Regarding the results of the first nine months of 2016 (DKK 135 million profit before tax or a 51% YoY increase), we could expect Topdanmark to deliver better results in 2016 than in 2016. In our view, the profit on line insurance would reach 200 million, mainly driven by the commercial development initiated by the Danish insurer.
Operating Performance: A Strong P&C Performance Partially Offset by An Erratic Performance in Life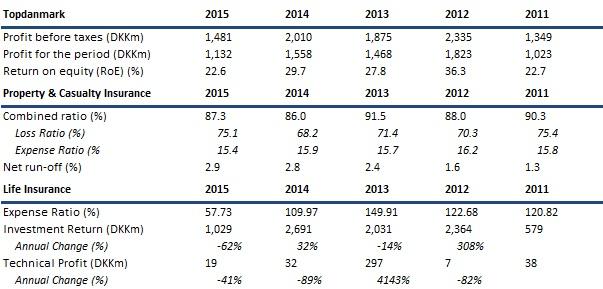 Source: Topdanmark's annual reports
From 2011, the Danish insurer never delivered a combined ratio above 100%. It's mainly due to a strong cost steering which has impacted the level of earned premiums. In other words, Topdanmark prefers having a declining top line and maintaining a combined ratio around 88% than writing underpriced policies to increase its market share. During Q1-Q3 2016 period, the combined ratio was stable on a YoY basis (85.1% vs. 85.2%). The loss ratio improved by 0.8 point reaching 68.8% while the expense ratio deteriorated by 0.6% to 16.2%. The deterioration of the expense ratio was driven by a number of factors as the increase in the payroll tax imposed on Danish financial businesses (a 0.2 percentage point impact), a 1.8% contractual wage increase (a 0.2 percentage point impact) and non-recurring expenses for managerial adjustments. In our view, the FY 2016 combined ratio should be at the same level than in 2015 (87-87.5%).
In life division, the results were mainly driven by the strong positive return from investments and offset generally a weak operating performance. In 2015, the drop of the investment income impacted harshly the profit of the life activities. In order to compensate the drop of the investment income, driven by a low interest rate environment and an adverse development in foreign equities, the insurer is now more focused on the unit-linked policy market. The improvement of the technical profit on life insurance and a better asset allocation in Q3 2016 are a positive sign of Topdanmark's life business transformation.
With a profit of DKK 1,127 million for the first nine months in 2016 (DKK 861 million in Q1-Q3 2015) we could expect Topdanmark to reach at least the same level of profitability than in 2014 (DKK 1,558 million) or an expected RoE of around 28%. The company is very profitable but remains very dependent from the investment income. Furthermore, the P&C profitability could also deteriorate if the premiums continue declining without any cost reduction program.
Stock Repurchase Program and Dividend: A Greedy Company Which Looks for Its Own Shares
As mentioned by Lars Thykier "Topdanmark distributes its earnings by way of share buyback. Since 1998, it has made decisions to cancel own shares totaling 77.0% of the share capital." In other words, Topdanmark is an alien in the world of the listed European insurers. Was it a bad move? From 2013, the share price increased by 100.7% to around DKK 179.8. Not a too bad move for an insurer which does not pay any dividend. In our view, the insurer will continue repurchasing its own shares, unless Sampo will put pressure on the Danish insurer to start a dividend program, as it was mentioned in this article.
A possible upside which could come from another insurer
As mentioned in another article, the main shareholder of the Danish insurer is Sampo, which holds currently more than 40% of Topdanmark's outstanding shares. Sampo could decide to take over the company. If it were the case, we could expect that the offered price would include a premium, because the Board of Directors did not recommend Topdanmark's shareholders to accept the latest bid (which is a no-premium offer) announced by the Finnish insurer. In other words, the management could accept to sell the company to Sampo but the Finnish company should pay for it!
The Major Risks Facing Topdanmark
Some events could impact Topdanmark's profitability either permanently or temporarily. Every long investor who would like to invest in the Danish international insurer should be aware of these major risks.
1) A Deterioration of the P&C profitability
Even if the company delivers every year a combined ratio lower than 100%, the decline of the premiums could impact negatively the combined ratio. If the expenses remain at the same level, the combined ratio will increase mechanically, deteriorating the profitability of the P&C activities.
2) The low rate environment
As for many multi-line insurers a big part of Topdanmark's business is linked to the life operations. A permanent low rate environment could impact negatively Topdanmark's life business, especially the with-profits policies. That's why Topdanmark decided to increase its focus on unit-linked products. However, the Danish insurer places a strong emphasis on bonds, which totaled around 84.2% of the portfolio as on September 2016. Hence, the insurance company could be harshly impacted by a big jump in the interest rate but has huge interest in a progressive rise of rate in order to roll its debt securities portfolio.
Stock Valuation: A Profitable but Slightly Overvalued Company
To assess the intrinsic value of Topdanmark, we used an approach based on the following valuation methods:
Historical Ratios: P/E, Price/Sales and Price/Book.
Valuation Multiple: EV/EBITDA, P/E and Price/Book. As a peer review, we have chosen the following companies: Sampo, Storebrand (OTCPK:SREDY), Gjensidige (OTCPK:GJNSY), Vienna Insurance Group (OTCPK:VNRFY) and Tryg A/S (OTC:TGVSY)
DCF Valuation: We decided to model three scenarios based on EPS:
Best: 5% annual growth for the next 15 years. In this scenario, we consider that the insurer maintains its very strong operating performance level in P&C and reduces the costs in its life division. Furthermore, the company is repurchasing its own shares year after year. The terminal growth rate is 2%.
Base: A 2% annual growth for the next 15 years. The combined ratio is below 100% and the life division continues growing. The terminal growth rate is 1%.
Worst: A 0% annual growth for the next 15 years. The terminal growth rate is 0%. In this scenario, we consider that the stock repurchase program offsets the profitability deterioration in both P&C and Life divisions.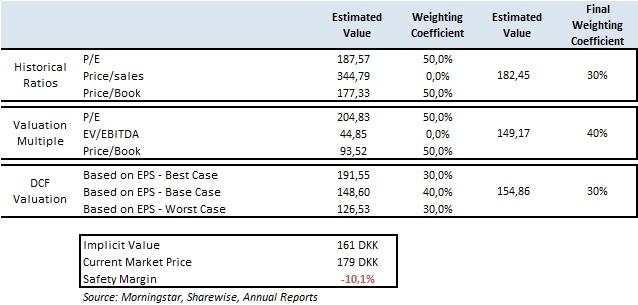 Regarding the current market price, the stock seems to be overvalued by 10%. However, it is important to note that the DCF model is very sensitive to the assumptions made concerning the annual growth. If we would decide to take more optimistic assumptions, the intrinsic value would increase accordingly. In our view, the current intrinsic price range is DKK 160 - DKK 185.
Conclusion
Slightly overvalued at the moment, Topdanmark remains very well positioned in its domestic market. Strong FY 2016 results could boost the stock price of the Danish insurer. If Mr. Market would react differently, it could be a good time to invest in Topdanmark.
Notes for the readers: Interested in other analyses mainly focused on both insurance sector and service sector (mainly the industry "Home Furnishing Stores")? Please do not hesitate to follow me. Thank you for your support. I wish you all the best for 2017!
Disclosure: I/we have no positions in any stocks mentioned, and no plans to initiate any positions within the next 72 hours.
I wrote this article myself, and it expresses my own opinions. I am not receiving compensation for it (other than from Seeking Alpha). I have no business relationship with any company whose stock is mentioned in this article.
Editor's Note: This article discusses one or more securities that do not trade on a major U.S. exchange. Please be aware of the risks associated with these stocks.