Gilead Sciences (NASDAQ:GILD) had the dubious distinction of being among the worst performing S&P 500 stocks of 2016. The share price fell 27.07% over the course of the past year.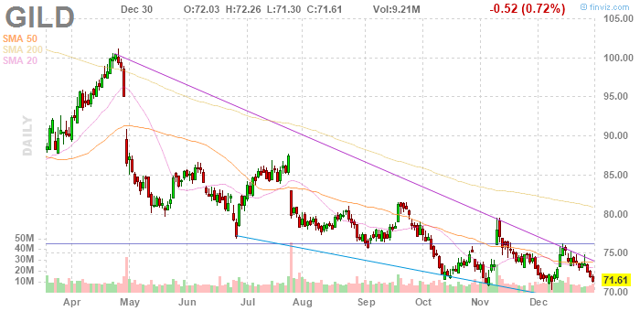 At this time, Gilead Sciences is a $93.91 billion dollar company trading just above $71 at a price-to-earnings ratio and forward price-to-earnings ratio of 6.64. It offers a 2.63% dividend yield and a payout ratio of 16.40%. In short, it is extremely cheap relative to the overall market, but two questions have to be answered: why is it so cheap; and is it a value trap, and therefore unworthy of long-term consideration?
On the first point, the reasons are competitive ones and pipeline ones - Gilead's hepatitis C drugs (Harvoni and Savoldi) are under threat from cheaper alternatives such as Merck's (NYSE:MRK) Zapatier drug, and many investors are skittish as a result as sales of these drugs dropped over $3.3 billion in the first nine months of 2016. This situation was further aggravated by a Delaware federal court case in which Merck alleged that Gilead infringed Merck's hepatitis C drug development patent was recently decided in Merck's favor, and Gilead instructed to pay $2.5 billion in damages. Gilead is appealing the decision.
Furthermore, the company's pipeline has experienced a slew of failures over the past year. To take two examples: in November they stopped all development of the simtuzanab antibody, following the cancellation of a mid-stage study for treating idiopathic pulmonary fibrosis in January and poor results in November attempting to treat nonalcoholic steatohepatitis and primary sclerosing cholangitis. And since September, Gilead has had to terminate two clinical studies regarding the antibody GS-5745 in treating ulcerative colitis and Crohn's disease respectively.
In consequence, Gilead enters 2017 with investor confidence ebbing away. However, while 2016 has not been a sterling year for Gilead, there is no reason to think that the company is on its way out. First, the appeal against the Merck patent decision could work out, as a previous California federal court case between the two found Merck engaging in a pattern of misconduct. This absolved Gilead from having to pay $200 million in damages, so there is every chance that an appeal of the Delaware court decision could go Gilead's way.
As regards the pipeline issues - while there have been failures there, there have also been successes. In June clearance was received from the FDA for its Epclusa drug, the first that can treat all strains of hepatitis C. Combined with Harvoni and Savoldi - which, despite the sales slump, are still very profitable - Epclusa will ensure that Gilead's revenue and net income streams continue to increase as they have over the previous five years.
| | | |
| --- | --- | --- |
| Year | Revenue ($) | Net Income ($) |
| 2011 | 8.39 billion | 2.80 billion |
| 2012 | 9.70 billion | 2.59 billion |
| 2013 | 11.20 billion | 3.07 billion |
| 2014 | 24.89 billion | 12.10 billion |
| 2015 | 32.64 billion | 18.11 billion |
This increasing revenue and net income, in addition to a cash hoard of $32 billion, puts Gilead Sciences in a perfect position to make several acquisitions in the next few years. In November, Barron's Ben Levisohn named potential targets such as Alexion Pharmaceuticals (NASDAQ:ALXN), BioMarin Pharmaceutical (NASDAQ:BMRN), Incyte (NASDAQ:INCY), TESARO (NASDAQ:TSRO), and Vertex Pharmaceuticals (NASDAQ:VRTX) which Gilead could acquire to bolster its weakened pipeline.
To summarize, Gilead Sciences has had a rough 2016, and Mr. Market has punished it in consequence. However, the company remains a profitable biopharmaceutical player with significant cash on hand to either fund further research and development into improving its pipeline, or to make significant acquisitions. Either way, shareholders are unlikely to be disappointed if they start a position at this valuation.
DISCLAIMER: I am not a financial professional and accept no responsibility for any investment decision a reader makes. This article is presented for information purposes only. Furthermore, the figures cited are the product of the author's own research and may differ from those of other analysts. Always do your own due diligence when researching prospective investments.
Disclosure: I/we have no positions in any stocks mentioned, but may initiate a long position in GILD over the next 72 hours. I wrote this article myself, and it expresses my own opinions. I am not receiving compensation for it (other than from Seeking Alpha). I have no business relationship with any company whose stock is mentioned in this article.