Investors in Ford (NYSE:F) are likely happy to put 2016 in the rear-view. The company's shares underperformed the S&P 500 (NYSEARCA:SPY) by 20.7% including dividends. This underperformance came despite record auto sales for the year and an incredibly low P/E ratio. Even the dividend, which reached 5%+ many times through the year, did little to help the stock besides to act as a backstop to further erosion of share price. It was an abysmal year by almost all measures.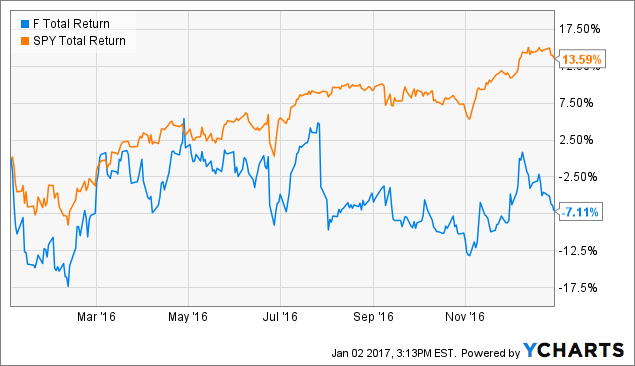 F Total Return Price data by YCharts
Even at a price that is six times earnings enthusiasm for shares couldn't get much lower. The lack of enthusiasm comes from a lack of positive catalysts and plentiful threats from Tesla (NASDAQ:TSLA), Uber (Private:UBER), Lyft (Private:LYFT) and the other random automotive companies. The companies debt, which we should all understand now after my horrible mistake last year when incorrectly guessing the dividend would be raised, can also share some blame. Even if we separate the debt out and realize that automotive debt is only at $10 billion and their cash stash is at $13 billion the subprime auto loan fears rear their ugly heads (though Ford is in a very good position on that front, too). There are plenty of dark clouds to keep both long-term investors and short-term speculators on the sidelines but you know what they say about every dark cloud.
The dark clouds hanging over Ford have a silver lining in the form of a 7% dividend yield that doesn't show up in any standard screens. Last year Ford did something that was mostly unpopular; instead of raising the annual dividend management opted to provide a special dividend. Whether you view that as a way of management illustrating a lack of confidence in their future or a smart move from a cyclical company is immaterial, the fact is that Ford provides a 7% yield and the announcement could come next week based on managements intentions to continue this practice.
The quarterly payout of $0.15 is enriched with the $0.25 special payout and it affords investors some flexibility in how they approach Ford.
Buy and Hold
Ford's seemingly depressed share price and the upcoming large payment is a great thing for the classic buy-and-hold types that turn on the DRIP and let compounding go to work. Practicing this indicates that you feel Ford will rebound from the current doldrums in five, 10 or 20 years. Younger individuals like myself can more easily risk our capital in this instance. Ford has been around for quite some time and betting that Ford will continue to exist for another hundred years isn't too risky. At this price, and with this yield, it could be an investment that provides a significant return for the patient.
Timing Your Buy
Investors could also practice some market timing here. The $0.40 payout provides some "insurance" in the event the share price goes down. Last year the dividend was declared on January 12th after trading ended for the day. Ford paid it out on March 1st to shareholders of record for January 29th and the ex-dividend date was January 27th.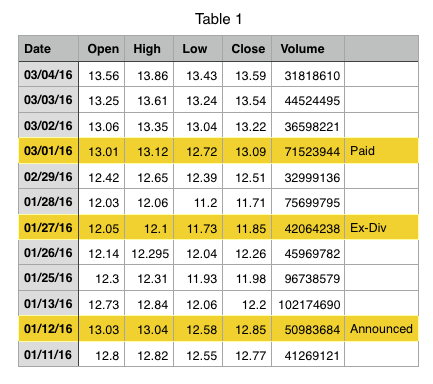 On the morning of January 28th they also announced their 4th quarter earnings which came out strong with a beat of $0.08 and $40.3 billion in revenue. We can see that the market did not appreciate the lack of a dividend raise with shares opening lower on the 13th and dropping as low as $12.06 on volume that was double the 12th. The market should see what is coming this time around and a special dividend may even be taken as a positive announcement. In the following days shares dipped to a low of $11.20 on the 28th even with strong earnings; concerns about the coming year and auto sales weighed heavily and Ford's conference call didn't help with management striking a cautious tone for 2016. Investors also could have sold their shares off after hitting the ex-div date. The first of March showed a pretty strong rebound in share price driven in large part by huge volume thanks to many of the dividends being reinvested.
Ford announces their 4th quarter and full year 2016 results on January 26th, this makes me think that ex-div will be January 25th with a dividend announcement on January 10th. The payment is almost certainly coming on March 1st. With only one year to back test this it isn't solid by any means, but if you were so inclined selling on the date the dividend is paid will likely get you one of the better prices as you sell into the reinvested dividends of others. With strong earnings and upbeat guidance from management your return would improve considerably. Personally I wouldn't pursue this route unless I was okay with holding whatever shares I bought if I couldn't exit quickly with a gain.
Options
I won't spend much on this aspect of a strategy but it is worth considering for investors. There are hundreds of different combinations you can go with, but just taking a quick look can help start the process.
To make this easier we will make some assumptions. The first assumption is that you bought 100 shares at $12.15. Secondly, you're okay with them being called away and we are assuming they will be, even the $14 strike.
Looking at the March 17 options which would be beyond the dividend payment there are a few ways to go with this. Taking a look at the $12, $13 and $14 strike price the below table can help out.

If your option isn't exercised you at least get the premium, which for the $14 calls would be $6 on top of the $40 in dividends you received, not too bad. The $12 strike has a very high probability of being called away so writing that contract is more risky if you actually want to keep your shares. You could even write several contracts at different strikes if you have the shares available to juice the return even more and limit the risk. I'm not one to dabble in options but I have to say that it is pretty appealing with Ford and this special dividend. Those of you more familiar with options probably have much better ideas queued up, but I had to include this.
Conclusion
Despite what you think about Ford their yield is pretty great and savvy investors could do worse. One risk not discussed yet is that if Ford decides to not announce a special dividend or a regular raise, this would likely send the stock into a tailspin and none of this matters then anyway.
The nearly 7% yield is one to consider for many different types of investors. The underlying business at Ford is also solid and in my opinion the entire auto market is getting bludgeoned for no reason, but that could be another discussion all on its own.
I hope you all got something out of this article. I do appreciate the time you took reading it. If you are one of those who follow me here, I appreciate it; if you'd like to include yourself amongst those individuals, please hit the "Follow" button next to my name as well as following other contributors whose work you enjoy. As always, please leave any feedback and questions you may have in the comments below. Best of luck to you all.
Disclosure: I am/we are long F.
I wrote this article myself, and it expresses my own opinions. I am not receiving compensation for it (other than from Seeking Alpha). I have no business relationship with any company whose stock is mentioned in this article.