Over the past five quarters I have been following a closed-end fund portfolio designed to provide high current income, a sustainable capital base and reasonable tax efficiency. The project was initiated as a demonstration of the income-generating power of CEFs for investors looking for sustained current income. I began this exercise at the start of October 2015. At the time I felt strongly that there were bargains across the board in the closed-end fund universe. As is typical for closed-end funds, valuations had exaggerated the downturns in the broader markets. Discounts were strikingly deep across the spectrum to the extent that funds that had been running double-digit premiums had fallen into discount territory. It was a time to buy.
To get the full background on the model, refer to my article from October 2015 ("A CEF Portfolio For High Current Income With Capital Preservation") and the one-year summary from October 2016 ("Retirement Income: High-Yield, Sustainable Capital CEF Portfolio Continues To Shine At One Year"). The second reference reviews the history, so I'll not rehash that information here in detail.
Portfolio Objectives
High yield for current income. The model is designed to be a retirement income portfolio where income is withdrawn on a monthly or quarterly basis. Instead of the more-or-less standard 4% rule, I set my income objective at 8% (5% for tax-free funds). Excess income beyond that goal is reinvested in the funds that are most out of balance.
Sustainable principal value. Capital growth is not an explicit objective, but I felt that maintaining to sustain principal at this yield would require periods of capital growth to offset inevitable periods of capital erosion. Thus, some selections were added for their potential for growth even if their income falls short of the portfolio's target.
Tax efficiency. I envision the funds as being held in a taxable account of an investor at a relatively high marginal tax rate. Thus, I have a couple of tax-free municipal bond funds in the mix, and I include several funds that feature tax-managed strategies. Typically this means the funds are managed to pay at least a portion of their distributions as return of capital, which is tax-deferred until such time as the fund is sold. It would, however, be difficult to attain the first two objectives from only tax-efficient income producers, so there is a significant portion of the portfolio in fixed-income funds that pay distributions as ordinary income. The importance of this third objective and the degree to which an individual will choose to adjust the overall strategy will of course depend on the individual tax situation. For accounts held in tax-advantaged accounts, this can be largely irrelevant.
The Portfolio
The portfolio is built on 15 equal-weighted funds and is based on an initial $100,000 investment made on October 1, 2015. No new money has been added.
Holdings at the close of 2016 were:
Equity-Common
Equity-Preferred
Fixed Income - Taxable
Fixed Income - Tax-Free Municipal Bond
Real Estate
At last quarter's review, I replaced PIMCO Strategic Income Fund (NYSE: RCS) with AIF and PIMCO Dynamic Income Fund (NYSE:PDI) with PCI. Interested readers can review the October, 2016 article for the rationale for these changes.
Asset allocation by category is shown in this chart.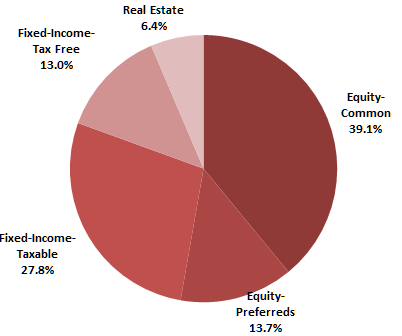 Fourth Quarter Results
This table summarizes the quarter's results.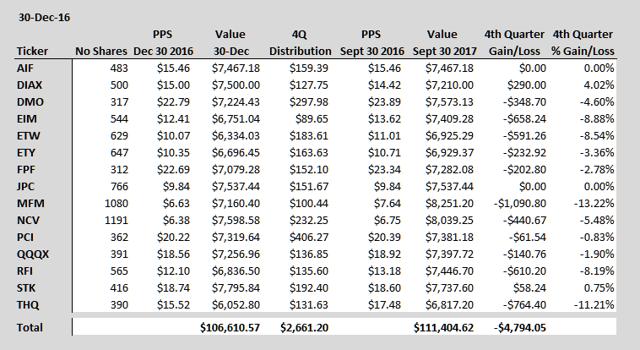 As we see, income objectives continue to be met. Annualized yield for the quarter based on the quarter's starting value was 9.56%. This was enhanced by special distributions from PCI and DMO. PCI added a special distribution of $0.64/share, the equivalent of 3.9 months' normal distributions. DMO added a special distribution equal to a single month's payout.
Despite the income kick from the special distributions, there was only a trivial income gain from the previous quarter which had paid $2645.27. Several factors contributed to this. First, two funds cut distributions. EIM dropped its monthly distribution per share from $0.055 to $0.0538 (-2.2%). This was the second cut in the past two quarters for the fund and is part of a worrisome trend in tax-free municipal bond funds. Municipal bond funds are cutting distributions across the board as the extended period of low interest rates continues to take its toll on the category. JPC cut its distribution -4.5%.
Additionally, there was a hefty income cost in the change from RCS to AIF. RCS currently carries a 10.92% yield; AIF's is 8.54%, almost two and a half points lower. However, RCS was priced at a 27.86% premium at the close of Q3; the profit to be gleaned from that premium was the incentive to sell the fund, which had been purchased near par a year earlier. The fact that the premium has fallen to 14.75% and the share price has lost 14.2% over the quarter validates the decision to sell the fund. AIF, on the other hand, ended the quarter exactly where it started, so one can certainly see this swap as a net gain.
There was a loss of capital value this quarter for the first time since the portfolio's inception. The bottom line decline of -$4795.05 is a -4.28% loss for the quarter. Interest rate concerns negatively affected the fixed-income, preferred stock and real estate funds. And while it turned out to be a quite a good quarter for equity, that broader market performance was not reflected in the equity holdings here as most posted losses. The Dow option-income fund, DIAX, which has had something of a disappointing record previously, was an exception with its 4.02% gain.
It's clear that the losses in the equity funds are a reflection of inadequate diversification within the category. The portfolio's equity sector allocation is strongly weighted toward technology (STK and QQQX) and healthcare (NYSE:THQ). In addition, the two Eaton Vance option-income funds, ETW and ETY, are heavily allocated to technology stocks for their option strategies. The technology and healthcare sectors were left behind in the post-election upswing. In retrospect, this was a mistake in the initial choices of investments. I'm not inclined to correct this immediately for multiple reasons, but I will be thinking about it over the next quarter and plan to effect some gradual corrections to optimize equity diversification. It certainly looks to be timely for adding exposure to energy MLPs. So, I'm currently looking at the MLP offerings among closed-end funds with an eye to making changes along these lines in my own accounts. I'll try to get updates out as I make decisions on this front.
These next tables summarize performance of this model portfolio for the quarter, the year and since its October 2015 inception.
Income has been solid.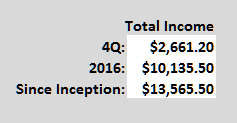 The goal of capital sustainability has been met. Despite the off-quarter just completed, the fund's value has increased 6.58% since its inception.

When income and capital appreciation are considered together, the model portfolio has gained just over 20% for its five-quarter history. This puts it roughly on track with the broad equity market represented by SPY's 20.34% total return (which assumes reinvestment of all dividends rather than the removal of cash for current income) and well ahead of the high-yield fixed-income markets represented by iShares High Yield Corporate Bd (NYSEARCA:HYG) which posted a 12.60% total return (again, this includes reinvestment of all dividends).

Total income of $13,565.50 since inception was substantially in excess of the 8% (5% for the muni-bond funds) that was removed as current income. For the fourth quarter there was an excess of $544.52 to reinvest. Adding that to the $2590.55 previously reinvested gives a total of $3,135.07 added to the portfolio, nearly half of the portfolio's gain in value.
Summing up the income performance: Over five quarters this $100,000 CEF portfolio has generated $13,565 in distribution income, or 10.85% annualized yield on the initial investment. Over the five quarters $10,430, for a 8.34% annualized yield on investment, was taken as cash income with the remainder reinvested. This was accomplished with no loss of initial capital; indeed, with a 6.6% (5.28% annualized) gain in portfolio value. I ask you to consider that in the context of the conventional 4% withdrawal rate commonly recommended for retirement income.
The question here is: Can this performance be sustained? Clearly there were mistakes made in the initial selection of investments, and these mistakes proved costly this quarter. While I stated that diversification was a priority, too little attention was paid to within-category diversification, especially for the equity holdings. As I said above, I'll be looking at moving a bit out of technology. Candidate sectors that appear to me to be poised for outperformance in the near future include energy and financials. Both of these are well-represented in the CEF equity universe and offer attractive opportunities for the income investor.
Reinvestments and Changes
The one portfolio change I've made, effective at the Dec 30 close, is to sell DMO. DMO is a mortgage bond CEF, in my view one of the best of the category and a worthy holding. But its premium has run up to over 10%. I see nothing that justifies that premium, and I consider it timely to take the profit that's on the table. Furthermore, the changes in PCI strategies position that fund much more heavily in the mortgage market, so dropping DMO avoids that duplication. This is a move I have made in my own investments where I no longer hold DMO.
My choice to replace DMO is Miller/Howard High Income Equity Fund (NYSE:HIE). I discussed HIE a few months ago ("Retirement Income: Own This 11.3% Yielding CEF For 8 Years"). It is a value-focused, dividend-income, equity fund managed by Lowell Miller. The fund is heavily into sectors poorly represented by the equity funds of the portfolio and adding that diversification is a priority at this time. It is carrying a -4.84% discount and is paying a hefty 11.24%. This is less than DMO's 12.37%, but its income should carry significantly less tax liability. DMO's distribution is entirely ordinary income; I estimate HIE's income to be somewhat more than half from qualified dividends. Depending on one's marginal tax rates the after-tax difference between the two yields should be negligible or even in HIE's favor despite its lower yield. In this regard I'll note that HIE has recently announced a policy change increasing the allowed investment in MLPs from 15% to 25% of the portfolio. This is to take advantage of the moderate valuations in the energy sector, but it will also increase the ordinary-income fraction of the distribution. I'll not go into any more detail on HIE here, but I will try to get out an updated report with my current thinking on the fund in the near future.
Liquidating DMO returned $7224. A one-fifteenth, equal-weight allocation to a replacement fund is $7,107. The difference plus the $544 in excess income this quarter gives us $661.57 to reinvest in the existing funds. I'll add 70% of that ($463.10) to the most underweight fund, THQ, adding 30 shares to that holding. The remaining 30% ($198.48) will go to buy 20 shares of the next most underweight fund, ETW.
This table shows some key metrics for the funds in the portfolio. I've pulled out a comparison of DMO and HIE to illustrate their relative valuations at this time.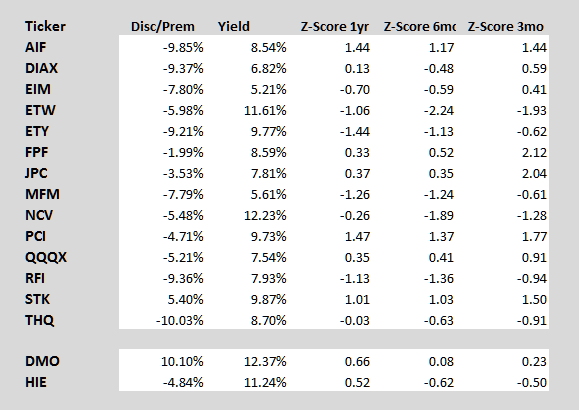 With these changes the portfolio going forward into 2017 looks like this: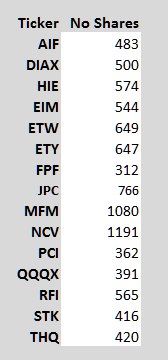 As this is a model exercise, I have not been making changes to the portfolio mid-quarter primarily because it's a lot easier to maintain the exercise by only dealing with it once every three months. However, I will be looking closely at MLP funds over the next week or so with an eye to adding from the category to my own holdings. If I decide that one or possibly two of these funds have a place here I will report back with an update then. Otherwise, I'll return to this exercise at the end of March for the next quarterly update.
Disclosure: I am/we are long AIF, DIAX, ETY, HYG, NCV, PCI, QQQX, STK, THQ. I wrote this article myself, and it expresses my own opinions. I am not receiving compensation for it (other than from Seeking Alpha). I have no business relationship with any company whose stock is mentioned in this article.
Additional disclosure: I am not an investment professional and this article does not constitute investment advice. I am passing along the results of my research on the subject. Any investor who finds these results intriguing will certainly want to do all due diligence to determine if any security mentioned here is suitable for his or her portfolio.