In early December, I was hunting around for an idea to write about for Seeking Alpha. I started thinking about the millennial generation and decided to do a little research.
It wasn't long before I came across this article from Forbes which highlighted the fact that, for various reasons, some 80% of millennials are not invested in the stock market.
As I pondered the reasons given, I thought to myself; "Hey, several of these are right up my alley. Perhaps I have something to offer." From that came the idea to write an article suggesting that millennials make investing their New Year's Resolution for 2017.
In that article, I got very specific, suggesting both the best brokerage to use together with 7 great ETFs with which to get started.
For ease of reference, reprised below is the table showing the 7 ETFs as well as a suggested weighting in each for a hypothetical 25-year-old investor.
| Symbol | ETF Name | % of Portfolio |
| --- | --- | --- |
| IVV | iShares Core S&P 500 ETF | 20.00% |
| IJH | iShares Core S&P Mid-Cap ETF | 15.00% |
| IJR | iShares Core S&P Small-Cap ETF | 15.00% |
| VEA | Vanguard FTSE Developed Markets ETF | 27.00% |
| VWO | Vanguard FTSE Emerging Markets ETF | 8.00% |
| VNQ | Vanguard REIT ETF | 5.00% |
| AGG | iShares Core U.S. Aggregate Bond ETF | 10.00% |
| TOTAL | | 100.00% |
If you're interested in reading more about the reasoning behind all of these choices, it's all there in the article linked above.
I concluded that article by promising that I would not leave things in the conceptual realm but would actually build a hypothetical version of this portfolio with an opening balance of $100,000, and based on closing prices for the 7 ETFs on Friday December 30, 2016. Further, that I would be using Google Finance to track the results moving forward.
In this article, I do exactly that, as well as offer a little further detail regarding the 7 ETFs themselves, and why I chose these specific ETFs for the portfolio.
Building The Portfolio
With that background, have a look at the picture below, and then I'll offer some comments about the portfolio.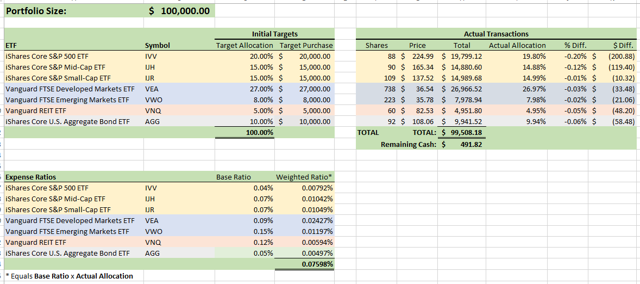 The color coding in the pictures above will help you visualize the connection between the broad asset types included in the portfolio and the ETFs related to that asset type. The peach color represents U.S. stocks, the blue color foreign stocks, the light red REITS, and finally grey representing bonds.
I decided to base the portfolio on an initial investment of $100,000. With a portfolio of this size, we will receive some decent dividends along the way. I will track these and reinvest them as I see fit, along with possibly rebalancing the portfolio from time to time.
In the upper-left-hand corner, you see the target purchases required to establish our desired allocations. On the right, you will see the actual number of shares, and prices, that I was able to obtain based on the closing prices of the 7 ETFs on December 30, 2016. In each case, I bought as many shares as I could of each ETF without exceeding the target dollar amount.
I also calculated the weighted expense ratio for the overall portfolio by multiplying the expense ratio for each ETF by its allocation in the portfolio and then summing. You will note that, given our allocation, our overall expense ratio is right at .075%.
I plan to use the S&P 500 - simply because it is a diversified, commonly accepted, and easily tracked index - to evaluate the overall performance of our portfolio. The closing price of the S&P 500 index on December 30, 2016 was 2,238.83.
Lastly, for some historical context as time moves forward, the S&P 500 index stood at 2,139.56 on November 8, the day of Donald Trump's surprising victory in the presidential election. Apparently based on the assumption that Trump's win portended a much more robust economic and business environment than under the previous administration, the U.S. stock market rallied strongly into year-end, with the S&P 500 up 4.64% over that period and the Dow up even more dramatically. As I result, I would simply note that our portfolio positions were purchased at what I consider to be a rather expensive juncture, particularly for the U.S. market. I actually considered maintaining a cash reserve of 5-10% when making the initial purchases. However, since this portfolio is specifically designed for millennials - young individuals with an investment horizon that stretches out many years - I ultimately decided to go "all in." It will be interesting to see how this all plays out as we move into 2017.
Google Finance
I mentioned that I would build the hypothetical portfolio in Google Finance. This is a wonderful free resource that can help you build and track your portfolio. Here, then, are the opening transactions I executed in Google Finance:

If you look closely, you will see the eight transactions I entered to build the portfolio. First, I used the "Cash - Deposit/Withdraw" functionality to "deposit" $100,000 in cash to the account. Next, once I knew the closing price for December 30, 2016, I entered 7 "purchases" of ETFs.
Note that, in the above picture, you are looking at the "Transactions" view. Below is the "Overview" view. It shows all 7 positions, as well as a cash balance of $491.82, exactly matching what is shown in my Excel sheet above. Google Finance will also keep track of all dividends we receive in the future as well as any further transactions I decide to initiate.

If you want to get a little practice, feel free to try it out by duplicating what I have done. Then, you will feel more comfortable using the tool to track an actual portfolio you either have or establish in the future.
Brief Notes on the Seven ETFs
Here are a few brief notes on the 7 ETFs themselves.
First, in the introductory article, I featured the fact that each of these ETFs can be traded commission-free in the TD Ameritrade account I helped you to open. This fact also serves to answer certain questions that may be asked. For example, one reader of the previous article asked why I had not selected the iShares Core S&P Total U.S. Stock Market ETF (NYSEARCA:ITOT) as opposed to IVV. The simple reason? While I love ITOT and hold it in my personal portfolio, it is not included in TD Ameritrade's list of commission-free ETFs.
Second, in addition to their rock-bottom expense ratios, each of these ETFs have Assets Under Management (AUM) in the billions of dollars. The smallest has $15.6 billion in AUM and the largest a whopping $91.3 billion! This leads to incredible liquidity and tradeability. Further, the newest of these ETFs has been around for almost 10 years, and several of them have inception dates as far back as 2000. In other words, each of these ETFs is a rock-solid fund with a long track record.
Third, each of these ETFs was carefully selected to ensure that there was no overlap in the portfolio. In other words, IVV tracks different individual securities than does IJH, and VEA tracks different securities than VWO. This means that, in the aggregate, the portfolio tracks these separate asset classes very faithfully. This construction will allow me the greatest flexibility to demonstrate the use of powerful rebalancing techniques as time moves forward.
IVV, IJH & IJR - I would describe these 3 iShares ETFs as siblings of the same family. They track the S&P 500, S&P MidCap 400 and S&P SmallCap 600 indexes, respectively. A little math tells you that, together, these ETFs track some 1,500 stocks across all segments of the U.S. market, all without any overlap. All three ETFs have inception dates in May, 2000. IVV has $91.3 billion in AUM, making it the second-largest ETF in the world in terms of asset size, trailing only the venerable SPDR S&P 500 ETF (NYSEARCA:SPY). IJH and IJR are no slouches either, with AUM of $34.6 billion and $26.4 billion, respectively. IVV carries a miniscule expense ratio of .04% and IJH and IJR come in at an extremely respectable .07%. You can read a little more about IVV in this article from the ETF Monkey Focus series.
VEA & VWO - Between them, these ETFs track foreign stocks in the developed and emerging markets, respectively. VEA has AUM of $37.5 billion and a wonderful expense ratio of .09%. For an ETF dealing in foreign stocks with all the associated trading expenses, this is excellent cost control. VWO has AUM of $44.1 billion and an extremely competitive expense ratio of .15%. As it happens, I have also recently reviewed these in the ETF Monkey Focus series. You can read about VEA here and VWO here.
VNQ - VNQ is often described as sort of the pre-eminent player in the field, the "big daddy" if you will. With an inception date of 9/23/04, 157 REITs in the portfolio, $31.4 billion in Assets Under Management (AUM), a low .12% expense ratio, and great daily trading volume leading to a wonderful average price spread of .01%, there are many reasons this ETF has been described using terms such as "the king" and "top of the charts." If you'd like to read more, you can find a review of this ETF, along with two competitors, in this article.
AGG - Holding down the fort with respect to the bond allocation in our portfolio, AGG has AUM of $41.6 billion and a wonderful expense ratio of .05%. You can read a little more about IVV in this article from the ETF Monkey Focus series.
Summary & Conclusion - And Some Thoughts on Disclosure
So there you have it. Between the previous article introducing the portfolio and this article outlining its actual construction, you have both the theoretical and practical details of how to launch a long-term, low-cost, diversified investment portfolio.
I look forward to providing regular updates as we move forward together into 2017.
Oh yeah, one last thing in terms of disclosures. While, in the formal disclosure, I only show myself owning 3 of the 7 ETFs featured in this portfolio, please understand that as a practical matter I own all of these asset classes in my personal portfolio. For example, as shared above, I own ITOT, which at some level replicates the combination of IVV, IJH and IJR in this portfolio. If you would like to take a detailed look at what I hold in my personal portfolio, I disclosed it here. Please understand, I am in my 50s, so my asset allocation will be a little more conservative than what I am recommending for you, but that's the way it should be. I simply wanted to reinforce the concept that everything you will read from ETF Monkey will be fully transparent, and that I myself practice the very same things that I am preaching to you. I take great pride in that, because I never have to feel the least bit 'slimy' about anything I write.
Until next time, I wish you . . .
Happy investing!
Author's note: At the top of this article, next to my name, you will see a "Follow" button. If you like my work, I would be profoundly grateful if you would take a minute to do this, as well as feature my work to friends, colleagues and/or relatives who may be interested in the subject matter. Growing one's readership base is critical to any author and I am no exception. Your support will enable me to continue my efforts.
Disclosure: I am/we are long AGG, VNQ, VWO. I wrote this article myself, and it expresses my own opinions. I am not receiving compensation for it (other than from Seeking Alpha). I have no business relationship with any company whose stock is mentioned in this article.
Additional disclosure: I am not a registered investment advisor or broker/dealer. Readers are advised that the material contained herein should be used solely for informational purposes, and to consult with their personal tax or financial advisors as to its applicability to their circumstances. Investing involves risk, including the loss of principal.