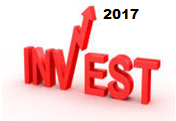 Cash Hoarding Era May Be Coming To An End
We can gain some insight into the economic confidence of business leaders by monitoring shifts in investments in plant, property and equipment. With business leaders anticipating tax cuts, investments in infrastructure, and a more-friendly regulatory environment under the Trump administration, conditions are more favorable for capital expenditures. From The Wall Street Journal:
Despite years of near-zero interest rates that made borrowing cheap, many big U.S. corporations have been hoarding cash or plowing money into safer pursuits in the wake of the recession. Some, like General Motors Co. (NYSE:GM) and railroad CSX Corp. (NYSE:CSX), borrowed to prop up pension plans. Others, including Home Depot Inc. (NYSE:HD) and Yum Brands Inc. (NYSE:YUM), used cheap debt to repurchase shares. Meanwhile, overall spending on building new factories or upgrading aging equipment languished. That is likely to change soon. "We could be in store for a significant (capital-expenditure) boom," said Charles Mulford, an accounting professor at Georgia Institute of Technology in Atlanta.
Rare Annual Signal Last Seen Before Secular Turn In 1982
The return of "animal spirits" to both the corner office and financial markets (NYSEARCA:SPY) aligns with this week's stock market (NYSEARCA:VTI) video, which covers a very rare annual signal that was nailed down on December 30, 2016. From Yahoo Finance:
"Outside years, as Citi's chart outlines, are big-time bullish for stocks into the next year. In the last 81 years, there have been only two "outside years" before 2016 (which will meet the standard if the S&P 500 closes above 2,135; it's currently trading near 2,250): 1935 and 1982. Both of these years were followed by the S&P enjoying double-digit gains - +28% in 1936, and +17% in 1983 - which potentially sets the table for a monster rally into 2017."
The video covers the importance of what an outside year tells us about market (NYSEARCA:VOO) psychology and makes numerous comparisons between 2016-17 and the 1982-84 period. A kind viewer noted on Twitter the time investment to review the evidence covered in the video is "time very well spent for long-term investors."


Trump Could 'Ignite Animal Spirits'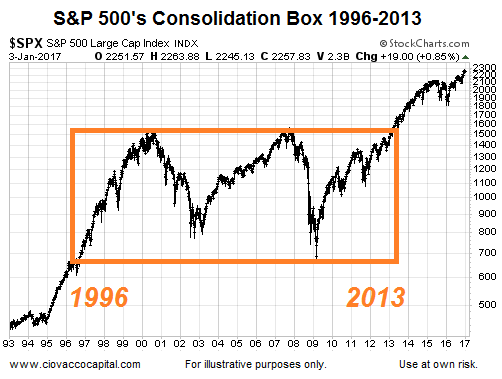 How is it within the realm of possibility the U.S. stock market is entering a new secular bull market after consolidating for over 16 years? One theory was covered recently by Bloomberg:
Economic changes under the Donald Trump administration may be more significant than shifts from "the socialists to the capitalists" in the U.K., U.S. and Germany from 1979 to 1982, according to Bridgewater Associates founder Ray Dalio. Comparing Trump to Margaret Thatcher, Ronald Reagan and Helmut Kohl, Dalio said the incoming administration may have a much bigger impact on the U.S. economy than can be measured by tax changes and fiscal spending. The Trump era could "ignite animal spirits" and attract productive capital, the billionaire fund manager wrote in a LinkedIn post on Monday.
Disclosure: I am/we are long SPY, VTI. I wrote this article myself, and it expresses my own opinions. I am not receiving compensation for it. I have no business relationship with any company whose stock is mentioned in this article.