When Box (NYSE:BOX) went public at the start of 2015, the stock surged on opening day. Typical of the period, the cloud-based software company that helps businesses with data collaboration and management quickly fell from those highs.
Now down nearly 50% from the highs and two years later, Box offers a completely different valuation proposition. The recent pick as a top stock for 2017 by Drexel Hamilton caught my attention considering the quality of the other firms on the list. Should one unwrap this gift in 2017?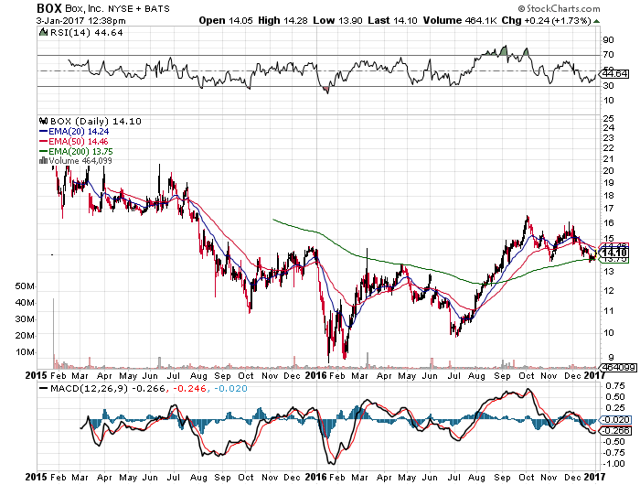 Improving Valuation Equation
About a month ago, Box reported FQ3 results that included a milestone of quarterly revenues in excess of $100 million, along with solid guidance. In its first quarter as a public company, it only had $63 million in revenues for FQ414.
The combination of the lower stock and higher revenues completely changes the value equation on the stock. The key P/S multiple is naturally down in half now, as next year's revenue is targeted at $500 million.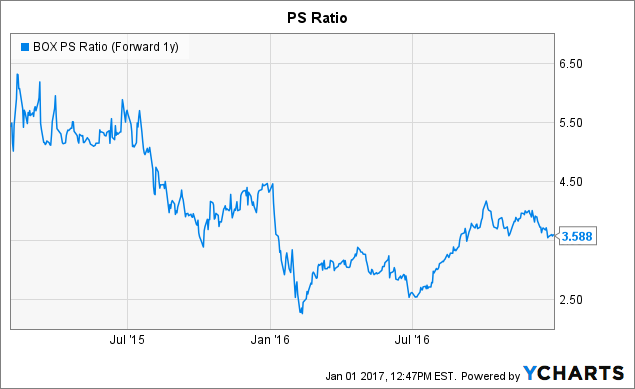 BOX PS Ratio (Forward 1y) data by YCharts
Of course, the real issue was the concern over money-losing operations. Box has already cut losses in half since going public.
Typical of this type of business, the more crucial metrics are around billings and cash flows. While the Q3 operating loss was $17 million, Box only used $7 million of cash in operations. Free cash flow was still negative, but the improvement was dramatic from last FQ3.
Drexel Hamilton Call
What was attention grabbing was the bullish call by analyst Brian White of Drexel Hamilton. He placed Box on a list of top tech stocks for 2017 that included Apple (NASDAQ:AAPL), Salesforce (NYSE:CRM), Splunk (NASDAQ:SPLK) and Twilio (NYSE:TWLO).
The group generally underperformed the market, which was up about 10% over the last year. Twilio went public during the year and ended 2016 near the lows.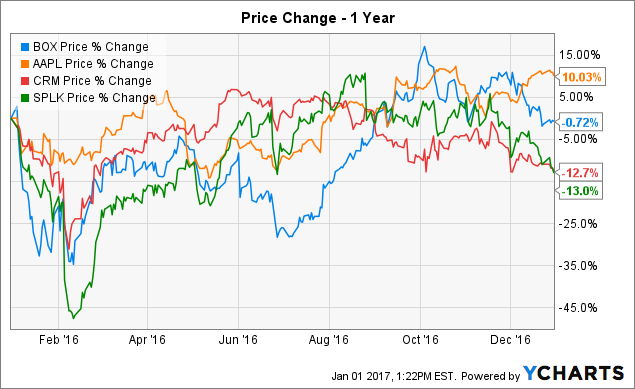 After looking back over the last few months, analyst Brian White has increasingly been bullish on Box. Part of his push for 2017 is a belief that the enterprise software company has innovation in the form of Box Governance and Box Zones products that will contribute to growth this year.
Even back in September, Drexel Hamilton viewed Box as underappreciated due to an increasingly large total addressable market reaching $45 billion, while revenues sit at only 1% market share.
Takeaway
The key investor takeaway is that time and lower stock prices can reduce all that ails the stock of a growing company. Box appears ready to finally deliver on the bullish forecasts of Drexel, making the stock worth finally unwrapping.
Disclosure: I am/we are long AAPL. I wrote this article myself, and it expresses my own opinions. I am not receiving compensation for it (other than from Seeking Alpha). I have no business relationship with any company whose stock is mentioned in this article.
Additional disclosure: The information contained herein is for informational purposes only. Nothing in this article should be taken as a solicitation to purchase or sell securities. Before buying or selling any stock you should do your own research and reach your own conclusion or consult a financial advisor. Investing includes risks, including loss of principal.