Starbucks (NASDAQ:SBUX) has witnessed a super strong period of company expansion and investor enthusiasm since bottoming in late 2008 during the great recession. Moving from under $4.00 per share, split adjusted to over $60 in 2016, it is hard to argue Starbucks can grow at a similar clip the next eight years. Truth be told, a clear overvaluation position today for the stock may collide with a list of factors in 2017 to churn investor stomachs. Below is a chart of the spectacular Starbucks equity performance, returning 15x your investment including dividends from late 2008 to the end of 2016.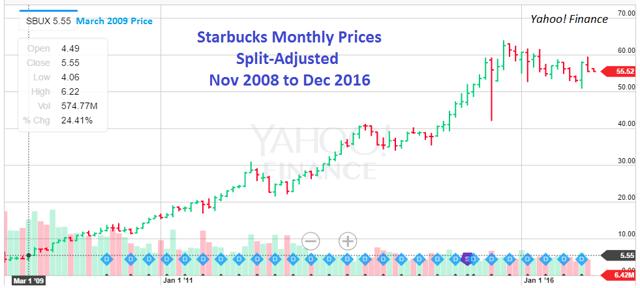 Wall Street's high-end valuation
Basic valuation measures highlight Starbucks is on the expensive side of its past 10-year average of trailing four quarter operating results. Stock price to yearly cash flow per share has averaged a multiple of 17x. Today's 19x number is nearer the 25x peak in early 2016, against an 11x low in December 2008. The current Starbucks 4x fiscal 2016 sales valuation is similarly above its 3x 10-year average. Adding financial leverage through stock buybacks in 2015-16, the current 13x market capitalization to accounting book value is well above the 7x average the past decade. Including some growth in operations during the first few months of 2017, a fundamental "fair" valuation of closer to $45 a share today seems appropriate.
What could go wrong?
#1 Accelerating Wage Growth Raising Costs - With 254,000 employees globally, labor costs are one of the biggest variable components of creating a cup of coffee to sell. American wages are particularly important, as company-owned stores in U.S. accounted for roughly 50% of total sales in fiscal 2016. Labor costs overall represent better than 25% of each sales dollar at Starbucks. Rising wages mean higher consumer prices and lower levels of corporate profitability, all else being equal.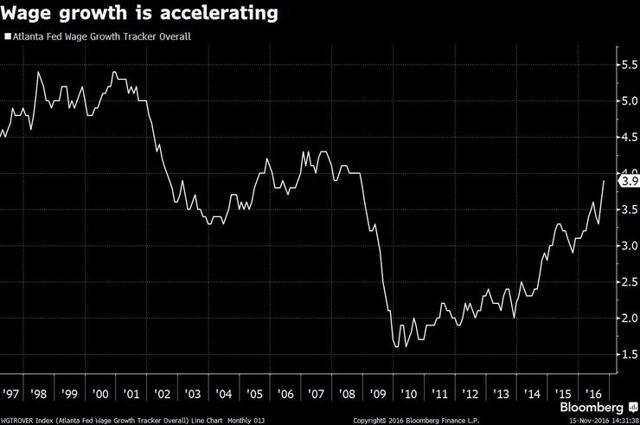 In this vein, the 4% year-over-year increase in American wages during late 2016, gains concentrated on the lower end of the pay scale (Starbucks employees), is something to worry about as a shareholder. U.S. wages are now growing at their highest rate since the recession ended in 2009. Starbucks actually moved up the annual January pay increase to October, and gave a minimum 5% to everyone. Without large future pay raises (cost increases), it may become difficult for Starbucks to retain good employees, hurting the business in a number of ways.
#2 Rising U.S. Dollar Negatively Affects Overseas Profits - At the end of fiscal 2016, of the 25,000 total stores both company owned and licensed franchises, 12,000 were located outside the U.S. The American market is getting saturated with Starbucks locations, and prices for a cup of coffee can run as much as $5. The company's growth is largely a function of opening new stores and keeping costs under control. So it is easy to understand the push to open new restaurants overseas. The short-term problem with foreign sales is the stronger late 2016 Dollar translation when bringing profits home. The 10% to 15% rise since summer in the U.S. Dollar value against many currencies means the same unit of profit made in Europe or Asia is converted to only 85 or 90 cents on the dollar versus May or June.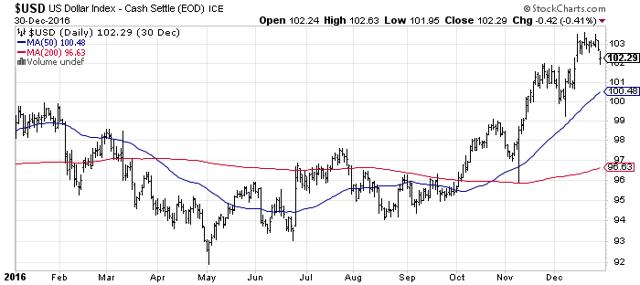 The first quarter of fiscal 2017 will start to see some of the backwards effect on profits from a rising U.S. Dollar value. The bad news for shareholders is the worst year-over-year comparisons will not show up until the middle of 2017. Adding insult to injury in an already fuzzy overseas operating picture, Starbucks is pinning its plan for future growth on a huge China expansion.
#3 China Growth Strategy May Backfire - Starbucks has outlined an aggressive and risky plan to move deeper into China. From its latest earnings conference call, Howard S. Schultz founder & CEO:
Now, as I have said before, we are doubling down on China. We currently operate roughly 2,400 Starbucks stores in 114 cities in China, and employ over 30,000 passionate partners. And because we have consistently invested ahead of the growth curve, we can continue to open over a store a day, a rate of growth that will continue or accelerate into the foreseeable future.

We now have over 500 stores in Shanghai alone, a city of over 24 million people, making Shanghai the city in the world with more Starbucks stores than any other, and we continue to add stores. We remain on plan to have over 5,000 stores in China by 2021, and I am convinced that given the trust our customers in China have in the Starbucks brand and experience, and the loyalty they show us every day, in time, we will have more stores in China than we do in the U.S.
Sounds like a great strategy, until we elected Donald Trump as President in November. If protectionist policy rants on the election trail and increasing Tweet storms dissing Chinese interests turn into actual U.S. policy, life for Starbucks in China could morph into a disastrous folly, numbered in the billions of dollars in losses! China will make life harder for U.S. corporations in retaliation, and Trump himself could oblige the return of profits from China a high tax affair.
#4 Rising Gasoline Prices Mean Fewer Coffees - Consumer discretionary spending at company-operated locations in 2016 breaks down to 74% store-made beverages, 19% food items, plus 7% prepackaged items and coffee making equipment. Basically, consumers splurge on high-end Starbucks coffee tastes to help defuse a progressively more stressful lifestyle in America (and worldwide). When the economy is running smoothly, Starbucks makes hay and grows profits nicely. The flip side is a weak economy and/or big drop in discretionary personal income historically has led to growth issues at the company (and most others to be fair). The 2000-02 recession and 2007-09 great recession were the two worst spans to own Starbucks common equity the last 20 years.
Starbucks' same-store revenue growth also stagnates when oil/gas prices rise dramatically. Consumers pull back on restaurant spending when they have less money in their pocket or become fearful of this proposition. Anecdotally, investors in Starbucks should notice large up days in crude oil are often the days this coffee stock performs relatively poorly. Overall, the decent economy and sharp drop in oil/gas prices have goosed operating results at Starbucks between 2014 and 2016. 2017 theoretically may outline the reverse.
In my area of the world, retail gas has moved from $1.80 to $2.30 a gallon the last 12 months. This "necessary" expense has increased out-of-pocket costs in the $5-10 week range for a tank refill, depending on car MPG and miles driven, for the average American. Not a big deal yet, but any spike in crude oil costs in 2017 will likely translate into a noticeable drop in discretionary income for the typical consumer, living paycheck to paycheck. Below are charts of how the year-over-year price trend in oil/gas has changed from a beneficial one in the summer to a drag on consumer spending for less essential items like a Starbucks coffee, after two years of steady improvement.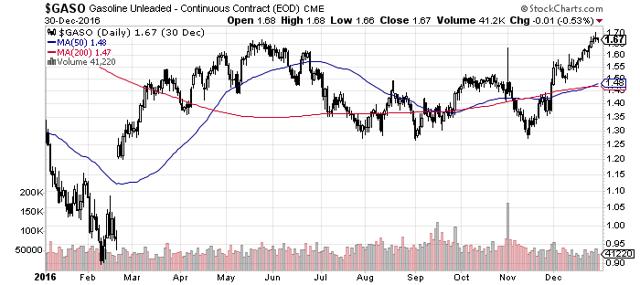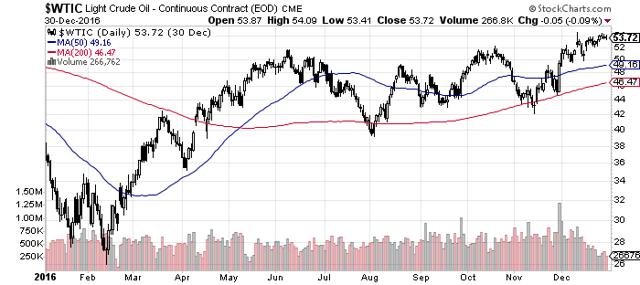 Mark Twain is credited with saying, "History never repeats itself but it rhymes." Perhaps the best historical period to compare and contemplate as an equal to 2016-17, with numerous headwinds starting to hit at the same moment, is 2006-07. The pre-recession span saw this usually strong common equity underperform the general stock market, represented by the S&P 500 index on the chart. Concurrently, oil/gas prices and expectations of future gains rose substantially as measured by the Energy SPDR ETF (NYSEARCA:XLE). You can see the harshly negative effect on the Starbucks stock quote pictured below. Starbucks would eventually decline a whopping 80% into the great recession low of November 2008.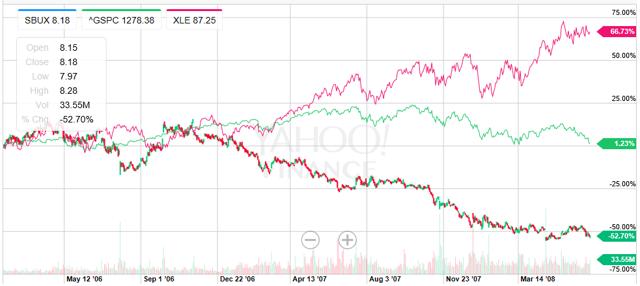 I would guess today's rhyme with history is close to the early 2007 date in the middle of the chart. Below is where we stand right now. The past year has seen a robust pick-up in the oil/gas stocks off a multi-year oil bust low. Starbucks is fading in performance, even as stocks overall zig-zag higher the last 12 months.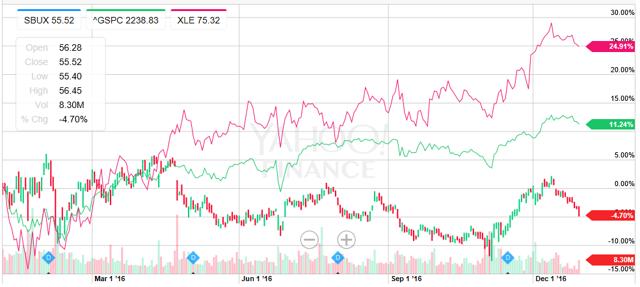 Does the weak 2016 trading momentum in Starbucks and rise in oil/gas prices guarantee a bigger equity drop is coming in 2017? Absolutely not, but you have to believe such a drop is "possible" given the above factors continue to add pressure to the Starbucks operating business. Granted I am not even talking about a full-fledged recession affecting restaurant demand. A large recession during 2017 would surely torpedo the Starbucks stock quote just like 2007-08.
Conclusion
If paid wages/costs at the bottom of the pay scale continue to climb, increasing U.S. currency pricing vs. foreign alternatives hurts reported profit levels overseas, Trump's economic policies discourage overseas growth plans, and rising oil/gas prices damage consumer discretionary spending activity at restaurants, Starbucks' stock could be richly valued.
Just like the difficult 2006-08 period for Starbucks was a result of many similar headwinds to business growth, with an extended equity valuation discounting few problems at the start, the 2017-18 span may prove a downer again. I have been short Starbucks common equity off and on during 2016, as weak momentum-induced sell signals have been suggested by my Victory Formation system.
Please undertake your own due diligence and research before committing capital to Starbucks or any other investment. One can easily argue all of my points of contention may not come to pass, and the company will perform just fine in 2017-18. On the other hand, if all these worries play out in reality, Starbucks could decline much more than the typical Wall Street analyst or long-term investor thinks possible.
Disclosure: I am/we are short SBUX. I wrote this article myself, and it expresses my own opinions. I am not receiving compensation for it (other than from Seeking Alpha). I have no business relationship with any company whose stock is mentioned in this article.