Trump has made it loud and clear for all US based Automakers to keep industrial production with-in the boarders of the US. If not, the consequences for offshoring production faculties in foreign lands will result in a hefty boarder tax for re-entrance back into the US.
In the pre-market, Trump via Twitter (NYSE:TWTR) unleashes a verbal beat down on General Motors (NYSE:GM) sending the equity plunging in the pre-market.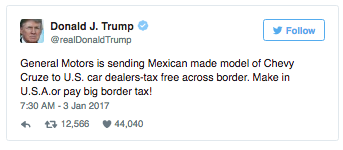 Hours later, after months of Verbal abuse via Trump's Twitter TWTR, Mark Fields the CEO of Ford (NYSE:F) in the 11am est. hour announces to scrap plans for a new $1.6 billion plant in San Luis Potosi, Mexico in favor of expanding a factory in Flat Rock, Michigan for $700 million.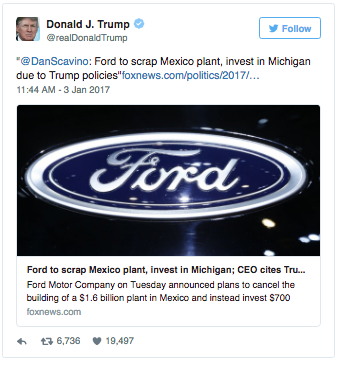 Peso Chart Suggests -13% Ahead
Following the Ford announcement, Peso MXN/USD liquidated -100bps to the .0477 level. The downward trend in the Peso is expected to continue due to the protectionist policies of the incoming Trump Administration. We believe the Peso is pending -13% devaluation suggested by the Fibonacci tool.
On a monthly timeframe, the Fib-Tool drawn from August 2008 high to March 2009 low with extensions to the downside suggests a continuation is of high probability. The continued rejection of the 1.414 extension (.04883) suggests a downside imbalance could be in the vicinity of -13% to the 1.618 extension (.04126).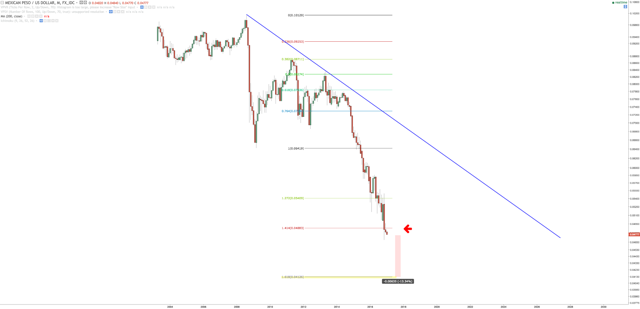 Summary: In making America Great again, there will be clear winners and losers. Mexico just happens to be on the short end of the stick this time around.
Bonus: Ishares MSCI Mexico Capped ETF (NYSEARCA:EWW), Monthly, has violated an ascending diagonal support to the downside. Watch the 200 simple moving average on a monthly basis is to gauge the directional imbalance. Overall, EWW appears to be setting up for a technical disaster as nearly two decades of support breaks.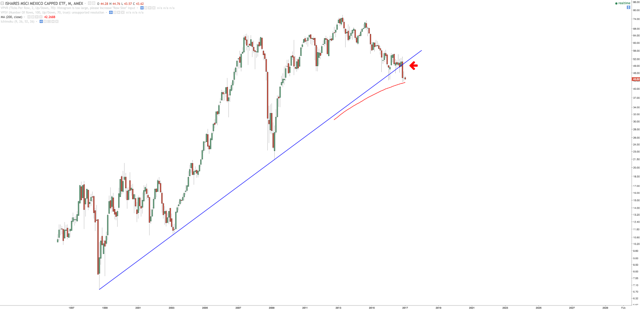 Disclosure: I/we have no positions in any stocks mentioned, and no plans to initiate any positions within the next 72 hours.
I wrote this article myself, and it expresses my own opinions. I am not receiving compensation for it (other than from Seeking Alpha). I have no business relationship with any company whose stock is mentioned in this article.