Despite some analysts prophesying that crude oil (NYSEARCA:USO) would never see $45 barrel again (I'm looking at you Gartman), the commodity staged a late year rally and closed above $50/barrel. As we begin the new year, the commodity is on decent footing, and continues to make higher highs and higher lows. Sentiment is in the bullish camp which generally favors higher prices, and the 200-day moving average is rising, denoting a bull market. Given the fact that both sentiment and the dominant trend are in bullish alignment, I see no reason to bet against the commodity in 2017. I remain long crude oil, and would not be surprised to see the commodity trade as high as $65.00/barrel.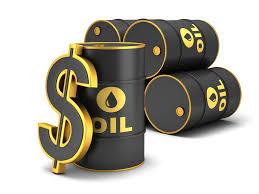 (Source: StockInvestor.com)
Crude oil started the month off with a bang, opening up above $55.00/barrel this morning. Unfortunately, the move has fizzled out as of this afternoon, and the commodity is sitting just over $52.00/barrel. While the close today does not inspire confidence, I do not see this as a bearish omen. Oil was up 9% for the month of December, and a small pullback would be healthy for the long term chart. I am open to a pullback to the 50-day moving average at $49.17, as this would serve to shake out some of the 'late to the party' bulls. If we were to see a pullback deeper than this, the 200-day moving average and trendline should provide strong support at $47.00.

(Source: Investing.com)
Just over a month ago I wrote "Oil: OPEC Deal Puts Bears On The Ropes", and unveiled my new long position in the commodity at $48.45. Oil has had a relentless bid since I got long, and is now trading roughly 10% higher. Despite this gain I am holding onto my position, and see no reason to take profits just yet. The 50-day and 200-day moving average are trending higher, and price continues to make higher highs and higher lows.
My trading strategy is very simple. I go long a market when it makes new 20-day or 50-day highs while above its 200-day moving average, and only exit this position if the uptrend is invalidated. I currently see no reason to doubt the uptrend in oil, and my stop on this trade sits at $44.53 on a closing basis. The reason I have chosen $44.53 as my stop is because this is a level where I believe oil's bull market to be in jeopardy. A close below $44.53 is concerning for 2 different reasons:
1) A close below $44.53 would represent a break of both the uptrend line on crude, and its 200-day moving average. This would be very concerning for the bull case, and would be a significant red flag for me.
2) A close below $44.53 would also represent a lower low below the November 17th and November 28th lows of $44.82 and $44.55.
One of the quotes that I believe to be most representative of my trading style is "Strong opinions, weakly held". This means that while I am very bullish on oil's long terms prospects going forward, I have no problem abandoning my thesis if the market changes. A close below $44.53 would signal a sea change in crude oil for me, and I would happily take my loss and move to cash. When a market changes, it is an investor's job to recognize this change, and act accordingly. There is no need to go down with the ship if one had ample warning of the leak in the hull.
Sentiment
Bullish sentiment on crude oil has seen a massive resurgence from the lows in late August. Crude oil bulls dropped as low as 10% on August 31st, but has since risen to the 70% level. Previous rallies in crude oil did not top out until sentiment reached 80-90%, therefore I don't believe we have seen the top for crude oil just yet. I am open to seeing a pullback, and won't allow a counter-trend move to shake me out of my long position.
Bullish sentiment on crude oil currently sits at 69%, and is trending higher above its sentiment moving averages. I have built sentiment charts with data from the past 20 years in order to help readers better visualize what sentiment on different asset classes currently looks like. Taking a look at the below chart for sentiment, I see no reason to be bearish on crude oil. The 21-day sentiment moving average (red line) tends to act as support for markets, and we can see this has been true of crude oil in the past. The 21-day moving average currently sits at 62% bulls, and I expect a pullback to this level would allow some of the frothy sentiment to leave the market.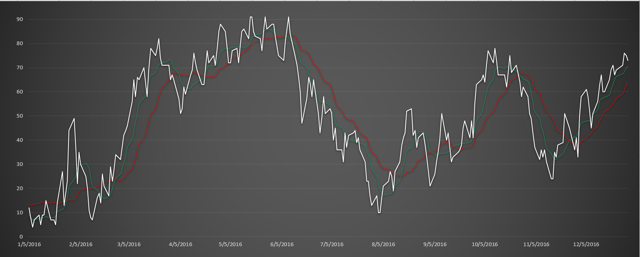 (Source: Daily Sentiment Index, Author's Chart)
Chart Legend - White Line: Oil Bullish Sentiment, Green Line: 10-Day Moving Average, Red Line: 21-Day Moving Average
Seasonality
Taking a look at seasonality for oil, the commodity has made it through its weakest quarter of the year. Q1 tends to be quite bullish for oil seasonally, and this should help to support oil on any dips. The average gain for crude oil in Q1 is 3.9% over the past 30 years. If crude oil were to perform in line with seasonal data, it would close Q1 at a price of $55.82/barrel. I do not factor seasonality into my trading system, but it doesn't hurt to examine seasonal trends to get an idea of what to expect.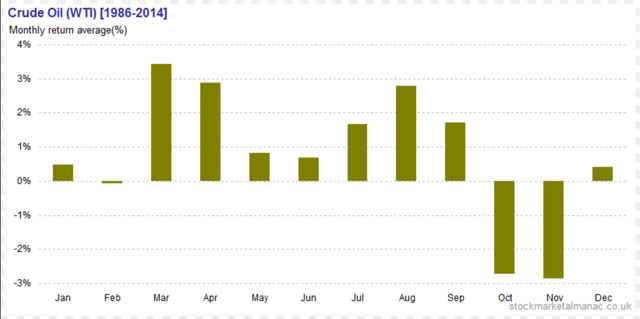 (Source: StockMarketAlmanac.Co.UK)
So how am I positioning myself?
When a market is in bullish alignment based on my Sentiment Trend system and in a bull market, I want to give the market room to run its course. This is why I am using a wide stop on my long trade on crude oil, and will remain in the market unless $44.53 is breached on a closing basis. I have no interest in trying to predict the next 3-5% move in crude oil, as I am focused on positioning myself for the 'big swings'. Jesse Livermore once said "I began to realize that the big money must necessarily be in the big swing". I could not agree more with this statement and have developed my trading strategy around this mantra.
Another of Jesse Livermore's quotes that has stuck with me is the following one:
"The desire for constant action irrespective of underlying conditions is responsible for many losses in Wall Street even among the professionals, who feel that they must take home some money everyday, as though they were working for regular wages".
What Livermore is essentially saying here is that there is no reason to trade just for the sake of trading. If a market is moving in your favor, there is no need to book a profit just to do so. Traders would be better served to let the trend run its course, and change positioning only when the market itself changes.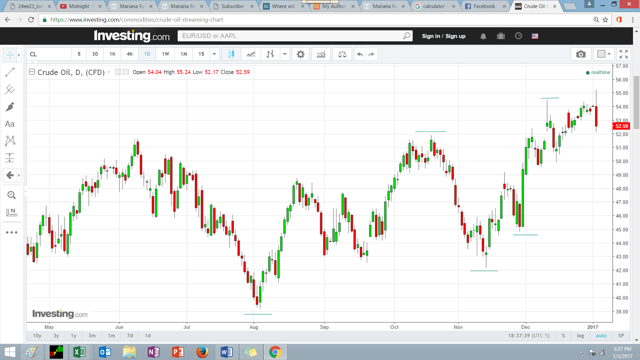 (Source: Investing.com)
Oil remains in a clear bull market, despite many traders denying this fact. This is evident by the higher highs and higher lows on the above chart. The commodity has doubled off of its 52-week lows, and I don't see why the trend has to end right here. Both sentiment and price show that oil is not overbought, and I would not be surprised to see oil at $65 this year. I will be watching closely on any dips, and may add to my current position if I get a sentiment buy signal while price is above the $47.00 level. If crude oil closes below $44.53 I will be exiting my position, and abandoning my bullish thesis.
In addition to my long position in crude oil from $48.45, I have supplemented this with a few energy stocks. I remain long High Arctic Energy Services (OTCPK:HGHAF), Total Energy Services (OTC:TOTZF), Ensign Energy Services (OTCPK:ESVIF), and Seven Generations Energy (OTC:SVRGF). I am long all of these stocks on the Canadian market as I believe they provide better liquidity there.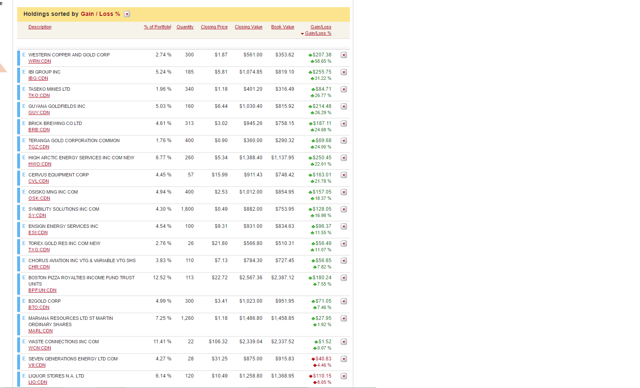 (Source: CIBC Investors Edge Account)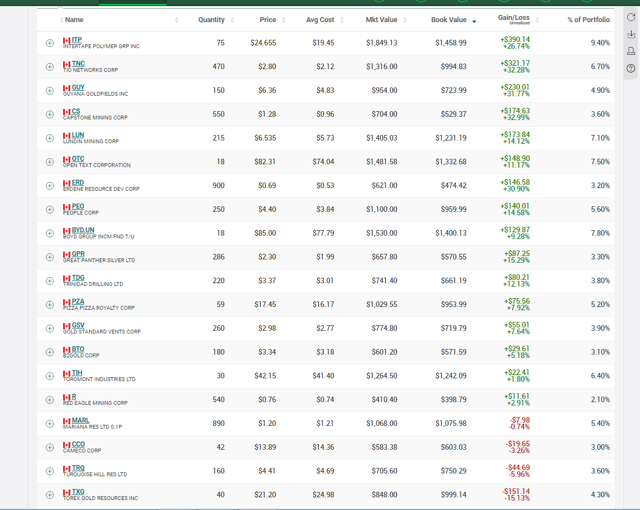 (Source: TD WebBroker Account)
For full transparency, I have shown my two main investment accounts above where I employ a trend following strategy.
Disclosure: I am/we are long USO, HGHAF, ESVIF, SVRGF, TOTZF. I wrote this article myself, and it expresses my own opinions. I am not receiving compensation for it (other than from Seeking Alpha). I have no business relationship with any company whose stock is mentioned in this article.
Additional disclosure: If you liked this article and found it useful, please feel free to follow me by clicking on my name next to my avatar at the top of this article. I also invite you to follow me at www.twitter.com/TaylorDart01 where I routinely share my entries, exits, and stops on new positions, as well as updating followers on sentiment data on markets I am following.


Additional Disclosure:

Futures trading involves substantial risk of loss and is not suitable for every investor. You are responsible for all the risks and financial resources you use from the author's content, and from the application of any aforementioned trading systems. The content above is not an investment research report. You should not engage in trading unless you fully understand the nature of the transactions you are entering into, and the extent of your exposure to loss. If you do not fully understand these risks, you must seek independent advice from your financial adviser. All trading systems are used at your own risk. Any content written herein by the author should not be relied upon as advice or construed as providing recommendations of any kind. It is your responsibility to confirm and decide which trades to make, and the content above should not be relied upon in investment decisions. Past results are not indicative in any way of future returns. In no event should the content by the author be interpreted as an implied promise or guarantee.

The author is not responsible for any losses incurred as a result of using any of his trading systems. The information provided by the author is intended solely for informational purposes and is obtained from sources believed to be reliable. Information is in no way guaranteed. No guarantee of any kind is implied or possible where projections of future conditions are attempted.

None of the content published by the author constitutes a recommendation that any particular security, or investment strategy is suitable for any individual. The author explicitly disclaims any liability that may arise from the use of his material.