The question with Greif (NYSE:GEF) (NYSE:GEF.B) essentially is, "How much turnaround is left?" Admittedly, that's not a brilliant insight on my part; it's obviously been the chief concern of analysts over the past few quarters, as operational improvements have boosted earnings and led the stock to better than double from February lows. And with Greif's various end markets both cyclical and relatively low-growth, and the company still walking away from certain low-margin business, there's unlikely to be some sort of massive top line tailwind.
All told, Greif's "transformation," as management has referred to it, is well along the way. The company now has to get to the more difficult work of simply executing and finding modest ways to drive efficiencies across a still far-flung and diverse set of businesses - and the core question is how much benefit that more difficult work can have.
The Street, at least, seems to think that means growth is at an end. No fewer than four firms have downgraded GEF in the last six weeks (three to Neutral, and BMO to 'underperform' last week). Personally, I'm not quite as pessimistic. FY17 guidance (Greif fiscal years end in October) looks pretty solid, even including interest and tax rate benefits. Greif management seemed pretty insistent on the Q4 conference call that there was more room to improve margins, and the fact that the company hasn't turned its focus to M&A seems to support that assertion.
Considering the nature of packaging end markets, a 17x+ forward P/E multiple might not look terribly attractive, but free cash flow multiples are lower, and nearing the point where essentially zero growth is priced in. Meanwhile, the Class B shares (which are more expensive and assigned a greater portion of net income and dividends) are nearing a 4% yield, which could provide support. I'm not sure $52 is a great price for the Class A shares, but it's not far from one, and I can't help but think the Street might be getting off before the top of the ride.
Is The Greif Story Over?
I understand why an investor might look to take profits at the moment. There's the chart, which doesn't look great of late and still shows a stock that has doubled in less than a year: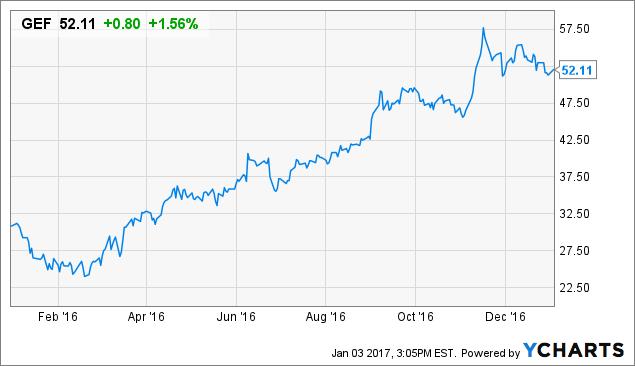 There's top line weakness: Organic sales were roughly flat in FY16, per the Q4 report, for the third straight year. Some of the pressure has come from Greif walking away from business, and that has boosted margins: Gross margins increased 210 bps in FY16 and adjusted EBIT margin rose 190 bps to 9.3%. Initial FY17 guidance looks incredibly strong: A projection of $2.78-$3.08 in class A EPS before special items implies 20% year-over-year growth at the midpoint. But nearly half of that $0.49 increase, per the Q4 call, is coming from non-operating factors:
$0.27 operations
$0.12 interest expense savings
$0.10 lower tax rate
So what comes in FY18? The 10%+ growth from operations seems to imply an adjusted EBIT figure near Greif's target of 10%, and thus suggests that margin expansion will be more difficult. The interest expense savings will be lapped; the tax rate benefit should be as well, though Greif still is working through potential improvements after internal controls were not quite "appropriate," as CFO Larry Wilsheimer put it on the Q4 call.
Containerboard pricing increases are providing a boost to FY17 EBIT, which will have to be lapped next year. The Flexible Packaging business has been the most difficult to improve, posting negative (albeit improving) adjusted EBIT in each of the last three years. It turned positive in Q4, barely, and the Q4 presentation implies a better year in FY17.
There too, however, the heavy lifting seems done, with gross margin up 750 bps in FY16 alone. All told, Greif's improvement seems likely to hit a wall after FY17, and with forward EV/EBITDA over 8x, about where I estimated it should be coming out of Q3, that seems to support that "all right, move along, nothing left to see here" attitude coming out of analysts over the past 6-7 weeks.
Catalysts and Valuation
There is a lot of upside margin opportunity inside our four walls.
That quote comes from Greif CEO Pete Watson in the Q&A of the Q4 call, and after the performance of the last few years, I'm inclined to give Watson some credit for his belief on that front. Watson specifically called out the supply chain and "unplanned downtime" as areas ripe for improvement, and Greif has been able to take some pricing of late. Some of the price increases are simply pass-throughs of higher input costs, but Watson emphasized a focus on managing mix as another driver going forward.
Meanwhile, when asked about M&A, CFO Hilsheimer essentially said that the company, and "a very small group" including Watson and himself, still were "focused 100% on completing this transformation." And it does seem like there's more opportunity. The tax system in Greif appears to be a mess that Hilsheimer (hired in 2014) still is working through. It seems a little too aggressive to assume that Greif has fixed all there needs to be fixed in basically two years (Watson became COO in January 2014 and CEO in late 2015). A year and a half ago, KeyBanc was saying publicly that the turnaround was "not working." And now it's done?
So I do believe Greif will have more room for improvement beyond FY17, even if a 20% EPS increase in FY18 seems unlikely. And while that improvement might seem priced in from a P/E standpoint, with the forward multiple near the high teens, Greif's free cash flow figures are much stronger, with the company tracking toward a run rate of $200 million-plus by the end of FY17, implying a multiple below 14x. That's not far from a zero-growth multiple, and it seems to imply that Greif simply will revert to being a normalized, albeit diversified, packaging provider come calendar 2018.
I would like to see a bit of a pullback; there is some potential downside risk to FY17 targets given cyclical exposure and some pricing volatility in steel (where demand for Greif's drums already has been weakened by softness in the specialty chemicals industry) and other input costs. A 12-13x multiple to $200M+ in FCF implies a high single-digit downside from current levels, or a potential entry point around $47 for the class A and $63 for the class B. The latter figure also implies a 4% yield, which might provide some support even as Treasury yields have risen of late.
But, all told, I think it's a bit too early to assume that Greif's transformation is over, and from a contrarian 'feel' standpoint, there's certainly something attractive about buying at the same time analysts are walking away. I think there's more room for Greif's turnaround to continue - and I think that will create more room for the stock to rise. From a margin of safety standpoint, a discount would be nice - but it doesn't take much of a discount for GEF to look attractive.
Disclosure: I/we have no positions in any stocks mentioned, and no plans to initiate any positions within the next 72 hours. I wrote this article myself, and it expresses my own opinions. I am not receiving compensation for it (other than from Seeking Alpha). I have no business relationship with any company whose stock is mentioned in this article.