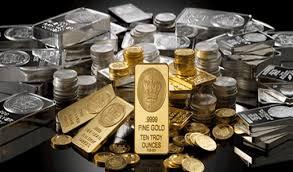 Business Description
Coeur Mining (NYSE:CDE) was incorporated as an Idaho corporation in 1928 under the name Coeur d'Alene Mines Corporation. In 2013, CDE changed its state of incorporation from the State of Idaho to the State of Delaware and changed its name to Coeur Mining, Inc.
CDE is one of the largest publicly listed primary silver producers globally with 35.6m silver equivalent ounces produced in 2015 (15.9m ounces of silver and 328,000 ounces of gold).
With the acquisition of the Wharf mine from Goldcorp in 2015, the company has become a significant gold producer. Its operating mines are in the United States, Mexico, and Bolivia and with additional exploration projects in Mexico and Argentina.
Below is a brief overview of CDE's mines.
Palmarejo
Palmarejo produced 5.1m ounces of silver and 70,922 ounces of gold in 2015. CDE controls a large land position around its existing operations. In April 2015, the company completed the acquisition of Paramount Gold and Silver Corp., and now owns 100% of Coeur San Miguel Corp., which owns the San Miguel project that is adjacent to Coeur's Palmarejo property.
The combined property now consists of the Palmarejo mine and mill, the Guadalupe underground mine, located about 8 kilometers southeast of the Palmarejo mine, the Independencia deposit, located approximately 800 meters' northeast of the Guadalupe underground mine, and other nearby deposits and exploration targets.
In 2009, CDE entered a gold production royalty with Franco Nevada Corporation covering 50% of life of mine gold production for the portion of the Palmarejo complex prior to completion of the Paramount acquisition. In 2014, CDE terminated the gold production royalty effective upon completion of the minimum ounce delivery requirement and subsequently entered a new gold stream agreement with Franco Nevada Corporation.
Under the new gold stream agreement CDE will continue to deliver 50% of the gold produced at Palmarejo but will receive $800 per ounce up from $408 per ounce in the original agreement. Additionally, FNV will contribute $22m to the development of Guadalupe extending the mine life of Palmarejo benefitting both companies. The changes to the FNV royalty agreement is expected to result in $20m higher free cash flow starting in Q4 2016.
Rochester
Silver and gold surface mining operation located in northwestern Nevada. Rochester produced 4.6m ounces of silver and 52,588 ounces of gold in 2015.
Kensington
Underground gold mine located north of Juneau, Alaska. The Kensington mine began commercial production in 2010. Kensington produced 126,266 ounces of gold in 2015.
Wharf
Open pit gold mine located near Lead, South Dakota. Wharf is in the Black Hills mining district of South Dakota and has been in production for over 30 years, during which it has produced over 2.0m ounces of gold. CDE acquired Wharf in February 2015 from Goldcorp Inc. for cash consideration of $99.4m. Wharf produced 78,132 ounces of gold post acquisition in 2015.
San Bartolomé
Surface silver mine in Bolivia where CDE commenced commercial production in 2008. San Bartolomé produced 5.4m ounces of silver in 2015.

The table above shows the relative valuation of several large cap silver and gold miners
Hecla Mining (NYSE:HL), First Majestic (NYSE:AG), Pan American Silver (NASDAQ:PAAS), Silver Wheaton (SLW), Silver Standard Resources (NASDAQ:SSRI) and Endeavor Silver (NYSE:EXK) are primary silver miners. Newmont Mining (NYSE:NEM), Goldcorp (NYSE:GG) and Barrick Gold (ABX) are primary gold miners.
The table shows the companies being fully valued on both EBITDA, P/B and P/E basis. This is partly due to the large rally in H1 2016 but also that LTM financials underestimate the company's profitability.
Net income includes large write offs for many of the companies.
Finally, the limited profitability also signals that at sub $1,200 gold and $16 silver the mining industry is not particularly profitable. As gold and silver mining is very capital intense, the lack of current profitability means there is limited resources available for future investment into new mining projects.
Thus, it is the bear market in gold and silver which has starved the miners for capital that will be one of the fundamental catalyst for higher gold and silver prices.
Valuation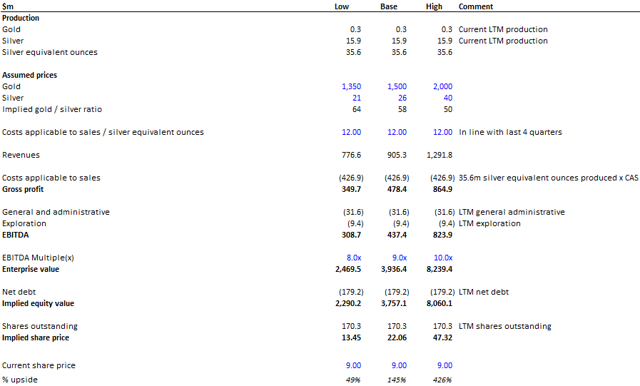 The table above shows the valuation of CDE under various gold and silver price scenarios. The low case assumes $1,350 and $21 silver which are the recent highs in September 2016. The base case assumes $1,500 gold and $26 silver and the high case assumes prices near the 2011 highs of $2,000 and $30. Clearly, each scenario assumes prices higher than current gold and silver prices but if that wasn't the case then there would be no point in buying CDE or any other miner for that matter.
The share price increase in all 3 scenarios is tremendous and reflects CDE's high leverage to a rising gold and silver price as well as the huge falls in gold and silver prices and miners stock prices since the 2011 highs.
Note: 2011 saw gold hit $1,921 which was an all-time high while silver only managed to equal its all-time high of $50 from the early 1980s. Expect big fireworks in the silver price once the $50 all-time high is taken out.
Main Risk Factors
Lower gold and silver prices. This goes without saying but obviously is the main risk. Should gold hit new lows below the recent $1,050 lows, expect CDE and other miners to take another leg lower. Still the resilience in the mining shares suggest the lows in gold and silver from 2015 are "in" and will not be retested.
Political and regulatory risk. The company operations are mostly in stable mining jurisdictions where mining is an important contributor to the overall economy such as the United States and Mexico but also present in more volatile jurisdictions such as Bolivia and Argentina. Changes in the legal environment or regulatory environment could severely affect the company. However, with a diverse portfolio of mines the company should be able to weather any adverse changes.
Potential Upside
Higher gold and silver prices. With precious metals prices forecasted to increase CDE should benefit.
Higher free cash flow from reduced leverage and renegotiated royalty deal. With the recent ATM share issuance and the renegotiation of the Franco Nevada royalty deal, CDE free cash flow should grow considerably even with stable gold and silver prices. If on top gold and silver prices should increase significantly then expect management to introduce a potential dividend, buy back shares or make additional accretive acquisitions.
Additional upside from exploration or undeveloped mines. With the acquisition of Orko silver in 2013 and Paramount Gold and Silver in 2014 CDE acquired development mining projects and land packages adjacent to existing mines. These properties have not been fully explored or brought into production and future exploration / development could unlock additional value for CDE.
Technical Analysis
Weekly Chart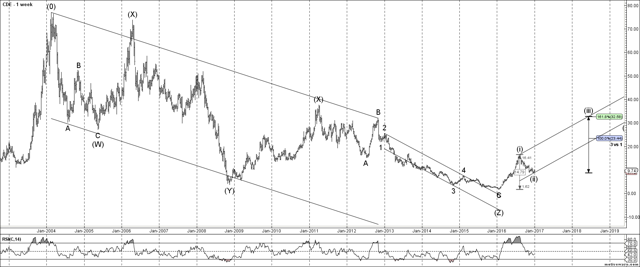 The weekly chart above shows the large bear market in CDE shares starting in 2004 when shares hit $76 per share. Since then it's been downhill from there until the recent lows where shares hit $1.62 towards the end of 2015. During 2016 shares rallied nearly 10x hitting a high of $16.41 before pulling back current prices around $9 per share.
Daily Chart
The daily chart below shows the amazing rally in 2016. While the current decline could have been deeper the fact that silver itself has nearly retraced its entire 2016 gain suggests CDE is poised for an upturn in parallel with higher silver prices. Potential target for the next move higher come in at $23.44 (100% of wave 1) to $32.58 (161.8% of wave 1).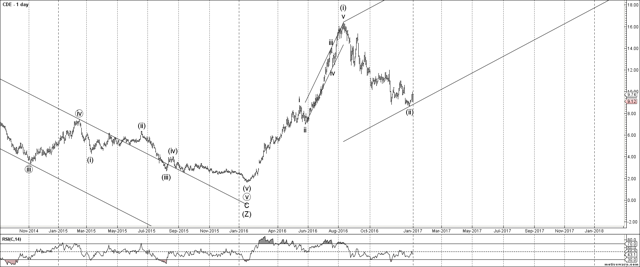 Conclusion
Because of the favorable valuation, the high leverage to silver price and the high quality assets, I have purchased shares of CDE at $9.00 per share. The favorable outlook for gold and silver prices should propel CDE higher in the near to medium future. I expect CDE shares to target the previous 2011 highs of $30 to $35 per share in the next 24 to 36 months.
Important note: Do not forget to follow me to get the latest research on CDE and other long and short investment opportunities.
Supporting Documents
Disclosure: I am/we are long CDE. I wrote this article myself, and it expresses my own opinions. I am not receiving compensation for it (other than from Seeking Alpha). I have no business relationship with any company whose stock is mentioned in this article.
Additional disclosure: This article presents the opinions of the author and does not provide individually tailored investment advice. It has been prepared without regard to the individual financial circumstances and objectives of persons who receive it. Investors are recommended to independently complete their own due diligence and evaluate any investment independently as well as to seek the advice of a financial advisor. The appropriateness or legality of a particular investment will depend on an investor's individual circumstances and investment objectives. The securities, instruments, or strategies discussed in this article may not be suitable for all investors, and certain investors may not be eligible to purchase or participate in some or all of them.
The article is not an offer to buy or sell or the solicitation of an offer to buy or sell any security or instrument or to participate in any particular trading strategy.