Southwestern Energy Company (NYSE:SWN) is a major natural gas producer in America that doesn't get referenced that much in the financial media or here on Seeking Alpha. With a significant footprint in several top natural gas plays in America, including the Marcellus, Utica, Fayetteville (which isn't top tier but it does realize Gulf Coast pricing) shales among others, Southwestern Energy Company deserves a look at.
For starters, Southwestern Energy had a 957,641 acre position in the Fayetteville (in Arkansas) at the end of 2015, along with 425,098 net acres in the Southern Appalachia (centered around West Virginia and Ohio), and 270,335 net acres in Northeast Appalachia (Northern Pennsylvania). It's worth noting that Southwestern has a material presence in Bradford and Susquehanna counties in Northern Pennsylvania, which is home to the core of the Marcellus play.
The average proved developed finding and development cost (PDP F&D) for Southwestern Energy moved from $1.33/Mcf in 2013 to $0.88/Mcf in 2015 as the company shifted to its Appalachian acreage. In the Fayetteville shale, Southwestern's PDP F&D costs is around $1/Mcf which drops down to $0.55/Mcf in NE Appalachia (probably lower in the core Marcellus shale) and $0.31/Mcf in SW Appalachia when targeting dry gas weighted locations.
Southwestern Energy defines PDP F&D costs as adding up all the exploration and development costs incurred over a given period (excluding capitalized interest expenses) and dividing that by the PDP (proved developed) and PUD (proved undeveloped) reserve additions over that period. It is used to gauge how well an upstream firm is able to add economical reserves to its portfolio.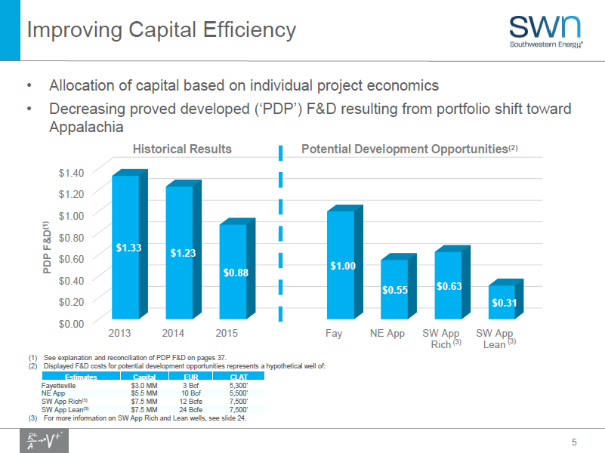 Source: Southwestern Energy Company Presentation
If it wasn't for low domestic gas prices on top of a hefty Appalachian pricing differential, two things I'll get into below, those kinds of low PDP F&D numbers would normally get oil & gas firms excited. However, the macro environment hasn't been too kind to Southwestern especially over the past two years.
A key caveat to keep in mind when viewing the Marcellus/Utica plays is that even the most productive wells brought online in Appalachia are still subject to the same problem. Limited takeaway capacity out of the region and terrible in-basin prices. With Appalachian gas fetching a price at least $1/Mcf below Henry Hub, America's natural gas price benchmark, the kind of strong returns one would expect a firm like Southwestern to realize can often not materialize unless the transportation capacity to out-basin markets is there.
Even after factoring in Southwestern's hedging position in Q3 2016, the company realized a terrible $1.73 per Mcf for its dry natural gas output. That was down from the $2.21/Mcf it fetched in Q3 2015. In Q3, Southwestern's average differential to Henry Hub came in at $1.03/Mcf. Southwestern's hedging program over the first nine months of 2016 wasn't very helpful as it added just $0.04/Mcf to its realized price in a lackluster Henry Hub pricing environment.
Southwestern pumped out 211 Bcfe (billion cubic feet equivalent) net in Q3, equal to just under 2.5 Bcfe/d. Over 57% of that came from its Appalachian operations while the rest came from the Fayetteville.
Investors should keep in mind that Southwestern Energy, as of October 18, had hedged 535 Bcf of its 2017E gas production at an average price of $3/Mcf with 239 Bcf having upside exposure to $3.33/Mcf. What this means is that in light of Henry Hub rallying from the dumps during 2016 up to $3.33/Mcf as of this writing, Southwestern Energy's 2017 cash flow streams should look worlds apart from its lousy 2016 results.
Financials
During the first three quarters of 2016, Southwestern generated $337 million in net operating cash flow while spending $391 million on capital expenditures and $27 million on its preferred dividends. Sharp cut backs to its capex budget is what enabled the firm to bridge a large portion of its cash flow shortfall, which caused the company's production base to trend a little over 7% lower versus the same period in 2015.
The company expects it can hold its 2016 production base flat with a $700 million capex budget (includes capitalized interest expenses), which will be aided by its DUC (drilled but uncompleted portfolio). At the end of 2016, Southwestern forecasted that it will have around 80-90 DUCs primarily in Appalachia.
As the drilling costs for those DUCs have already been reflected on its financial statements, Southwestern Energy could decide to bring those wells online for significantly less. On top of that, those locations can be turned online faster to capitalize on stronger domestic natural gas prices.
During its Q3 2016 conference call, management noted that at strip prices back then, which have since moved considerably higher, Southwestern Energy was on track to generate $1 billion in cash flow in 2017.
That cash flow forecast assumed a material uplift in Southwestern's production trajectory from a decline to growth as the company enters 2017, aided by wells brought online during the second half of 2016. Its DUC inventory most likely will be targeted when the firm does release its 2017 capex budget in February 2017, which makes sense given the more favorable pricing environment.
If Southwestern Energy Company does generate in excess of $1 billion in cash flow next year, which exceeds the cost of keeping its production base flat, the upstream player could see investors flock back to the name.
Balance sheet engineering pans out favorably
With $1.889 billion in current assets (mostly cash), $649 million in current liabilities, and a revised revolving credit facility, Southwestern has proven that its efforts to protect its financial position have been effective. While Southwestern Energy does have $4.651 billion in long-term debt, only $317 million matures in 2017 and (primarily) 2018.
This was made possible by a secondary offering and a tender offering for its debt in the middle of 2016, which materially enhanced its balance sheet. Southwestern was also able to change its revolving credit line from a $2 billion unsecured line that matured in December 2018 to a secured $743 million credit line due December 14, 2020 ($66 million of its previous credit facility remains until 2018), along with a $1.191 billion term loan (also due December 14, 2020).
Due to these maneuvers, an asset sale (55,000 net acres in West Virginia) that raised $450 million before closing adjustments, and the debt tender offer, Southwestern Energy was able to bring down its net debt load by $1.5 billion during the first three quarters of 2016. The company exited Q3 2016 with its term loan fully drawn, nothing drawn on its revolving credit lines (which had $174 million in letters of credit posted against it), and is now in a much better position to ride the current recovery in domestic natural gas prices.
Final thoughts
Marcellus and Utica players are all witnessing a very similar story. They have a strong game on the ground but remain constrained by limited takeaway capacity. Additional pipeline systems that connect Appalachian gas supplies to Midwest and Gulf Coast markets are in the works, but it will take time for those projects to come to fruition.
That being said, the sharp uptick in domestic natural gas prices combined with a far more favorable hedging program should materially bolster Southwestern Energy Company's 2017 cash flow streams. If natural gas remains over $3/Mcf on average this year, Southwestern Energy Company should easily be able to generate in excess of $1 billion in cash flow.
With a maintenance capex level of $700 million (the cost to keep its 2016 production base flat), the company has a lot of flexibility when it comes to setting its budget, flexibility that was also made possible by its balance sheet engineering maneuvers.
Disclosure: I/we have no positions in any stocks mentioned, and no plans to initiate any positions within the next 72 hours. I wrote this article myself, and it expresses my own opinions. I am not receiving compensation for it (other than from Seeking Alpha). I have no business relationship with any company whose stock is mentioned in this article.