There was no shortage of material written about the "growthy" data center REIT sector during 2016, and for better or for worse, much of it has been my doing.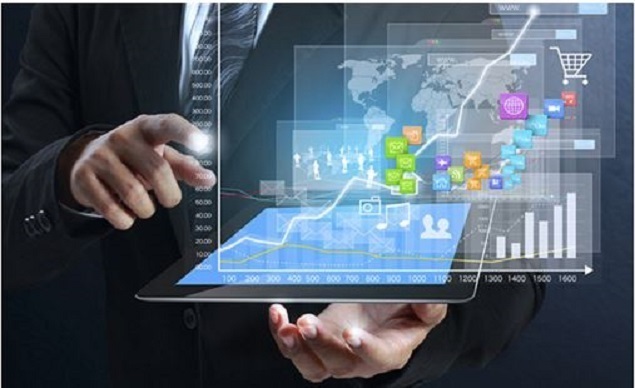 Source: CyrusOne
In addition to my large body of work on Seeking Alpha, I cover business and investing-focused industry news for Data Center Knowledge, where I wrote over 50 articles in 2016.
In a Forbes piece written earlier this year, I explained it this way:
The opportunity to profit by owning data center REITs can easily be understood.

The exponential growth of wireless data, cloud computing, streaming content and big data is a rising tide lifting the fleet of data centers owned by the six publicly traded REITs.

Whenever you binge-watch your favorite guilty pleasure on Netflix or Amazon, enjoy YouTube videos, access Office 365, update your Facebook status on a smartphone - or even reading this (Forbes.com) article - you are accessing digital media and data stored in a bricks and mortar facility.
Data center REITs represent a way for investors to profit from the interconnected network of facilities making this possible.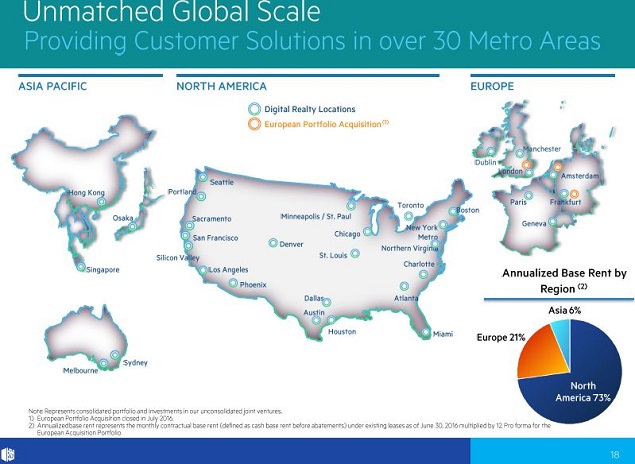 Source: Digital Realty, Large-Scale Global Footprint
Here are two examples of global scale data center footprints, one primarily wholesale (compute, storage and network), and the other primarily retail (colocation and interconnection).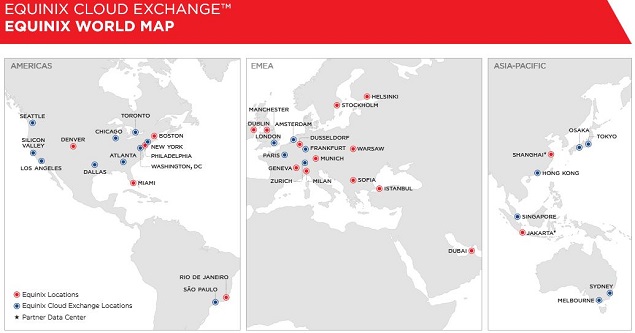 Source: Equinix - Dec. 2016 Cloud Exchange Map
The Vanguard REIT Index ETF (NYSEARCA:VNQ) tracks the MSCI REIT Index (RMZ) and is generally considered to be a good proxy for the broader REIT sector. Investors who want to passively gain exposure to commercial real estate can do so by owning this highly liquid ETF which paid investors during the past 12 months a 4.82% yield.
However, most members of the Seeking Alpha community are looking for ideas to generate higher income or total returns for at least one portion, or bucket, of their total investments.
The six different REITs all pursue slightly different strategies, therefore it requires investors to research and perform due diligence in order to understand how they compare and contrast. The differences can be profound.
My DC REIT Thesis
I suggested at the beginning of 2016 that a simple way for investors to outperform the broader equity REIT sector would be to create an equal weight portfolio of the six data center REITs:
This article compares and contrasts the different business models for readers unfamiliar with the sector.
At the beginning of last year's article, my bullet points were:
The exponential growth of data and cloud computing continues to drive outperformance for data center REITs, my top sector pick for 2016.
I believe that many REIT investors overlook this sector because their brains shut down when they read about gigabytes, infrastructure-as-a-service, megawatts, PUE and latency.
Conversely, technology-focused investors can be equally put off by the confusing alphabet soup used to value REITs, including FFO, AFFO, NOI and NAV.
The "Goldilocks zone" investors who have taken the time to fill in their knowledge gaps have been rewarded by outsized returns during the past two years versus the broader market.
My rationale for investing in data centers was based upon several factors in addition to secular trends in growth of data.
By the end of 2015, it became clear to me that supply/demand fundamentals in key US data center markets were setting up for a strong 2016. My conclusions were based upon presentations made at industry conferences, and reports by industry experts, including top brokers with boots on the ground.
DC REITs - 1H2016 Flying High
Investing in data center REITs worked out much better for investors in 2016 than passively owning REIT mutual funds or ETFs. That was my thesis in a nutshell, and it played out nicely for SA readers with a total return just under 30 percent. As an added bonus, it also outperformed broader market indices, including the Dow 30, Nasdaq 100, and S&P 500.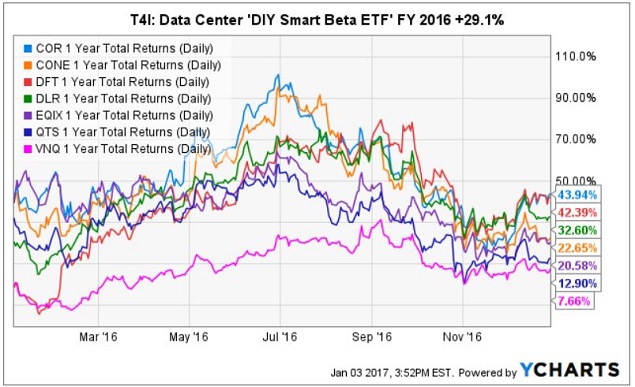 The chart above shows that the total returns for investors who did not trim any positions during the summer ended the year with an attractive 29% return. Readers who decided to take some chips off of the table based upon sky-high valuations did even better. Either way, it was anything but boring along the way.
Frankly, I was a bit surprised that data center REIT valuations to continue to skyrocket the way they did in Q2 2016 after they logged a 20% average return Q1 2016.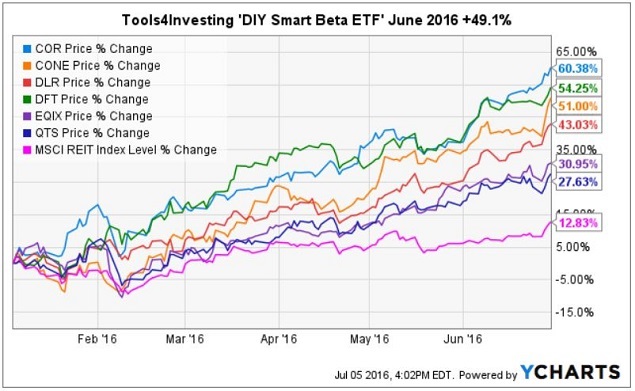 When you include dividend distributions, an evenly weighted portfolio of the six data center REITs returned over 50% during 1H2016. Valuations had become frothy, with multiples spiking into the 20-25x FFO estimate territory. This ultimately led to a roller-coaster ride for investors last year.
By April/May 2016, the data center train had already left the station, and retail investors, institutional investors and many momentum traders did not want to be left behind. By mid-year, data center REIT share prices had quickly reflected several consecutive quarters of strong results, and the large deal pipelines and sales funnels being discussed by management.
DC REITs 2H2016 - Back To Earth
This set up a second half of 2016 that was a bit of a rocky ride. The headwinds from a more hawkish Fed on interest rates had begun to slow the roll of the entire REIT sector. Investors anticipating higher interest rates sold off REITs indiscriminately, with high-flying data centers being hit the hardest.
Election noise heated up in the fall, when volatility spiked on Wall Street. After the November election surprise, president-elect Trump's economic policy statements regarding tax cuts and infrastructure spending sent 10-year interest rates sharply higher. REIT shares sold off again in droves, including data centers, which had already corrected significantly.
By the end of November, the sell-off in REITs had become so ingrained in trader psychology that when CoreSite Realty (NYSE:COR) announced a ~51% increase in the regular quarterly distribution, shares actually sold off -3.5% along with the rest of the REIT sector.
In my mind's eye, this irrational pessimism signaled a buying opportunity for CoreSite and helped to trigger a December rally for the rest of the sector, including: CyrusOne (NASDAQ:CONE), Digital Realty (NYSE:DLR), DuPont Fabros (NYSE:DFT), Equinix, Inc. (NASDAQ:EQIX) and QTS Realty (NYSE:QTS).
I wrote a Data Center Knowledge article highlighting how this change in perception was confirmed by CyrusOne's shares actually trading up on good news later that same week. It has racked up over 500 LinkedIn "shares" since it was published on Dec. 14, 2016.
Bigger Picture
The spectacular gains during the first half of 2016 turned many long-term investors into traders, as unprecedented gains prompted portfolio rebalancing. These gaudy gains had gotten the attention of many "me too" investors who jumped in at the highs, creating frothy valuations.
However, the underlying fundamentals that are driving growth for the six data center REITs is not going away. In many cases, the growth drivers are accelerating going into 2017, including: Internet of Things (IoT), sometimes referred to as M2M, or machine-to-machine communication; Virtual Realty, or VR (such as augmented reality game sensation Pokémon Go); streaming OTT content; and social media.
By far the most relevant and actionable driver has been the massive wave of public cloud leasing which began to grow in 2014, accelerated noticeably during 2015, and burst onto the scene in 2016. This resulted in unprecedented net-absorption in Northern Virginia last year, the largest US Tier 1 data center market, often called Data Center Alley.
Cloud provider demand has spurred expansions in existing building shells, new ground-up data center builds, and site acquisitions for future development. However, what remains to be seen is what actually will be the "new normal" going forward in large markets including: Dallas, Chicago, Silicon Valley, Seattle/Portland and Phoenix.
Investor Takeaway
I shared my rationale for investing in data center REITs with Seeking Alpha readers at the beginning of 2016. Back in April, in a Q&A with former SA Dividends & Income editor Robyn Conti, I discussed why this entire sector was well positioned to continue to outperform.
Last week, as part of the 2017 Positions series, SA published my Q&A discussion with SA Technology Editor Michael Hopkins:
That article covers some big picture trends as well as some company specific discussions.
Many readers who follow me on Seeking Alpha took advantage of the inflection point in early December to add shares or initiate positions. At that time, I shared in articles and related comment threads that COR, CONE and DFT had pulled back to particularly attractive valuations given the rate of FFO growth projected going forward.
Looking Ahead
There are several industry conference presentations this week, which may shed some light on the outlook for 1H2017 and beyond. I intend to write several articles between Seeking Alpha and Data Center Knowledge to update followers regarding key takeaways.
As of this writing (after the bell on Tuesday, January 3rd), Digital Realty just announced initial guidance for 2017:
Digital Realty expects to deliver 2017 core FFO per share within a range of $5.90-$6.10, which represents year-over-year growth in excess of 5% from the midpoint of 2016 core FFO per share guidance of $5.65-$5.75. Foreign currency translation is expected to represent a headwind of approximately 1%-3% in 2017. On a constant-currency basis, year-over-year core FFO per share growth is expected to be approximately 7%.

"The long-term secular demand drivers underpinning data center absorption give us confidence in our ability to achieve mid-single-digit growth in 2017 core FFO per share, despite further headwinds from foreign currency translation," said Andrew P. Power, Digital Realty's Chief Financial Officer. "Our forecast also reflects continued progress towards the 200 basis point EBITDA margin expansion target initially established at our Investor Day in October 2015, as well as solid execution against our objective of achieving operating efficiencies to drive sustained growth in earnings, cash flow and value per share."
Notably, I don't think this guidance of 5.25% constant-currency core FFO growth is setting the world on fire. I would not be surprised if DLR's shares show some weakness. However, Digital CEO Bill Stein tends to under-promise and over-deliver. I am looking forward to listening to the Digital presentation, which could add a bit of color.
I am contemplating whether to launch a Seeking Alpha Marketplace Premium subscription service. I would appreciate any feedback from readers who may be interested. Feel free to share them in the comment thread below, or send me an Inbox message.
I relentlessly hunt for diamonds in the rough and rising stars, in addition to closely following data centers, covering REIT blue-chips, and breaking news. Please consider following me as a Seeking Alpha author if you would like to be notified when my future articles are published.
Disclosure: I/we have no positions in any stocks mentioned, but may initiate a long position in CONE, COR, DFT, QTS over the next 72 hours.
I wrote this article myself, and it expresses my own opinions. I am not receiving compensation for it (other than from Seeking Alpha). I have no business relationship with any company whose stock is mentioned in this article.